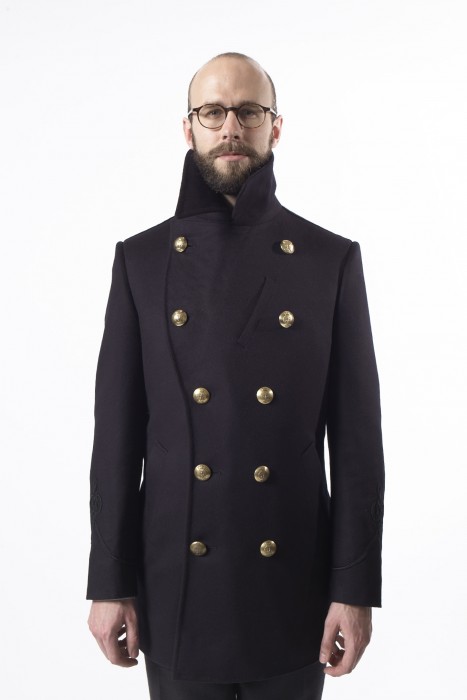 Two weeks ago I finally received the pea coat that Davide (Taub, Gieves & Hawkes) and I have been working on for just over a year. There are a few pieces of clothing that make me literally dance for joy when I get them (such as the Stefano Bemer shoes) and this goes into that category. I don't think I stopped smiling for the first 10 minutes.
Of course, it is more of a bridge coat than a pea coat, given its length. But we've called it a pea coat ever since the initial designs back in 2013, so I'm sticking with it. The important thing is that it is just long enough to cover the longest of suit jackets (Chittleborough & Morgan) and can therefore work as well with tailoring as a jumper and jeans.
Indeed, one of the reasons I love it is that it sits so well between formal and informal clothing. I wouldn't wear it with evening attire, but otherwise it will suit any suit. On the other side, I wouldn't wear it with trainers, but otherwise it will go with anything casual.
The navy colour helps, as does the fact that pea coats are quite popular at the moment. A double-breasted overcoat stands out and looks more formal partly because there so few around. Everyone has an overcoat, but almost no one has a DB.
That conservative design and colour helped Davide and I express ourselves in the details. The strong shoulder, the black frogging, the vintage brass buttons: all of them set this coat apart from anything you would see ready-to-wear, but you don't notice them until you're up close.
For me, this is exactly what bespoke should be. From a distance, all you should notice is the fit. Someone that knows nothing about bespoke should simply think it looks good – striking, sharp, flattering – without knowing why.
In a similar way, the thing I love most about this coat is probably the shape of its front edge. It starts pointing in at the shoulder, bulges slightly at the chest, then sweeps long through the waist, before kicking out ever-so-slightly over the hips. It is beautiful, it is subtle, it conjures the ideal physique in just as powerful way as the side seam. And you rarely see it outside vintage and bespoke.
I'll post more photos of the details when I have them next week.
Photography: Julian Anderson