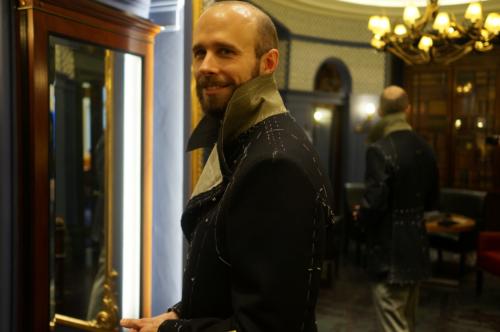 The pea coat being made by Davide Taube at Gieves & Hawkes is slowly coming together.
As with previous projects, we are approachng the design I had in mind wanderingly, through a series of fittings. No matter how much we discuss these things and Davide sketches a concept in advance, when we consider the piece in the flesh several presumptions come to light. Davide naturally cuts a pea coat quite big and boxy, for example, while I always want such coats as close as is practical. This is actually a second fitting, therefore, but it has simply been rebasted to a slimmer fit.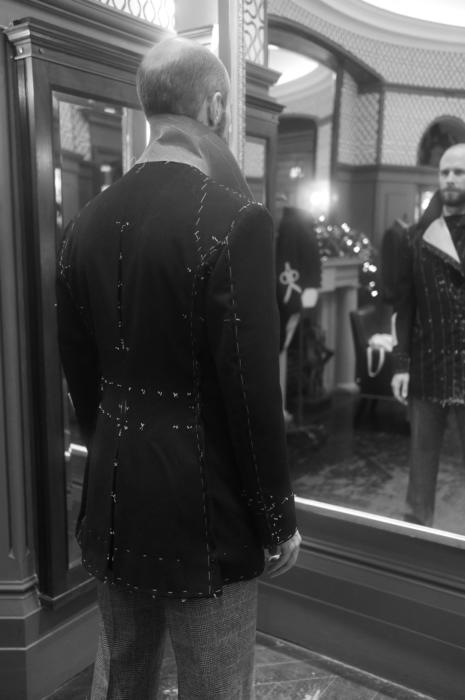 The coat is made to fit over a jacket. It has slightly larger shoulders as a result, and is about an inch longer than a standard jacket. A pea coat is not as warm as an overcoat, but has other advantages, including being much easier to wear on the Boris bikes I often use to travel around London. Perhaps that makes it the modern equivalent of the car coat.
Unlike other overcoats I have had made (including one by Vergallo, coming soon) the fit is not a compromise between covering a jacket and knitwear, and the half-belt at the back will not be adjustable either. Although dark navy in colour, the lines – particularly through the back – will add a lot of visual interest. Although of course they will not be as pronounced as below, with the white basting stitches highlighting the side seams and belt.
We're undecided on dark-brown horn or vintage brass buttons. As is often the case with buttons, the choice will radically change the look of the piece – it's always something worth considering for guys buying suits or overcoats off the peg, for that reason. A couple of alterations and new buttons can make a world of difference.