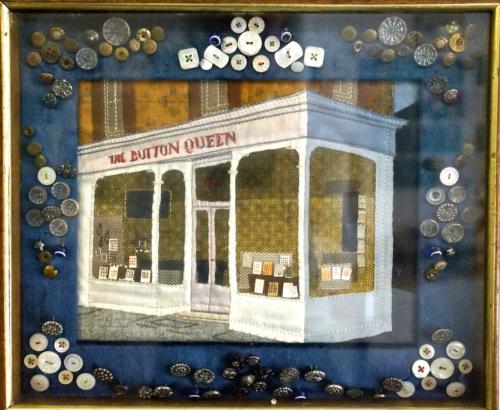 Last week I discovered The Button Queen, on Marylebone Lane in London. It's hard to believe I've never been in before; I don't think I will ever select buttons for tailoring from anywhere else.
The Button Queen has been around since the 1950s. It used to be on Carnaby Street until the 60s, when the swingers pushed them out. They have been on the current premises since 1987 – and before that on the other side of the road. The shop's life has been a peripatetic one, constantly being moved on by new trends or developments. Then again, it feels surprising today that any shop in cental London can turn a profit selling buttons.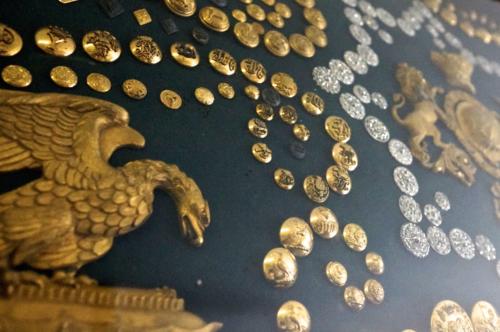 There are precious and rare buttons for collectors. Most of the trade is dress makers and designers, looking for original patterns and materials. But in the middle there is a rich collection of buttons suitable for tailoring.
The problem with most button retailers is that they don't have the sizes required for a jacket's front and cuffs, let alone blazer buttons, overcoat buttons and so on. Much as I love Duttons for Buttons in York, there were only ever a handful of ranges that had the appropriate sizes.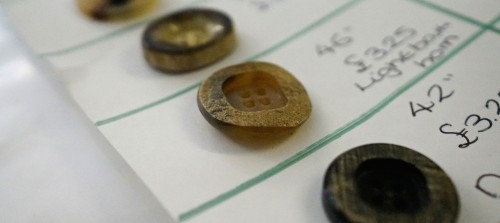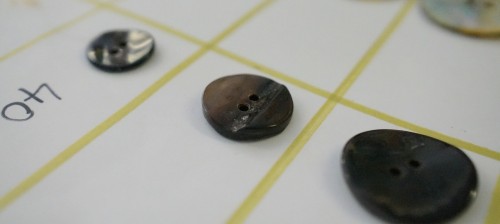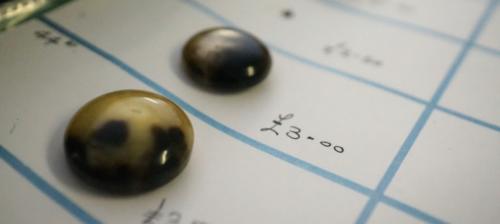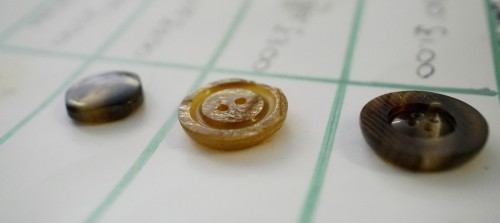 The Button Queen folders that will be of most interest to readers are labelled 'horn buttons', 'shell buttons' and 'blazer buttons'. Possibly 'wooden buttons' as well. Horn has all the colours we expect from tailors, a few extra shades, and some beautiful carved and domed models. These are largely hand-cut Nepalese horn, which ranges from the very rustic (tweed jacket, perhaps) to the beautifully fine and intricate.
The shell folder has the mother-of-pearl you'd expect (again, with a few extra shades) plus my favourites: mussel shell. The blazer-button folder, although contaning a broad range of coats of arms, otherwise aren't that interesting.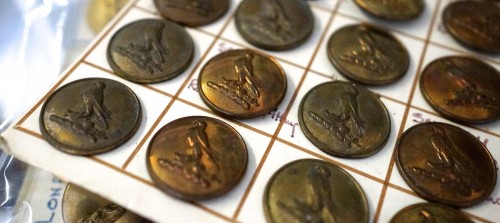 Far more noteworthy are the vintage and rare metallic buttons. For I had come into The Button Queen seeking something antique for my Gieves & Hawkes bespoke pea coat. Martin, the manager, was initially sceptical. Pea coat buttons are pretty large and normally pretty dull. But when I explained that there was a lot of flexibility about the size, he dug out a few old boxes.
I recommend looking at the livery buttons. These were usually worn in two curving lines down the front edges of household staff uniforms, and not designed to do up. They feature the family's coat of arms or crest, and are slightly bigger than jacket buttons, slightly smaller an overcoat's. Nice for a blazer, perhaps.
For the pea coat we found some slightly larger, domed versions. Made from brass, they are nicely tarnished and (according the backs) made in Birmingham in 1927.
I'll include some photos of those in the final pea-coat post. In the meantime, have a look at the models here, and get down to see Martin next time you have a piece of tailoring in need of some personalisation.