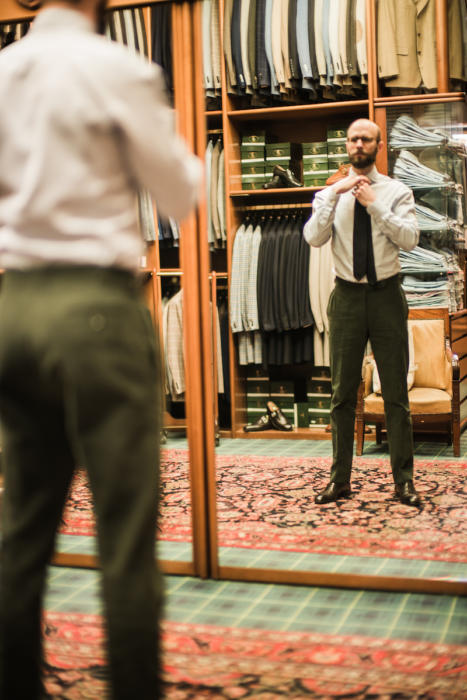 Green cotton trousers – the second part of the three-part commission from Spanish tailors Calvo de Mora. A lovely soft green moleskin from Scabal (Ascona, winter cotton, 501003) with a slightly longer nap.
Non-English cloth merchants tend towards the lighter and softer, often sacrificing body and drape, and that's exactly what these are. Then again, moleskins rarely retain much of a line, and these are very comfortable.
Green trousers, from olive to forest, work well with all sorts of jackets – navy, grey, brown. And of course are a lovely foil to a highly polished brown shoe.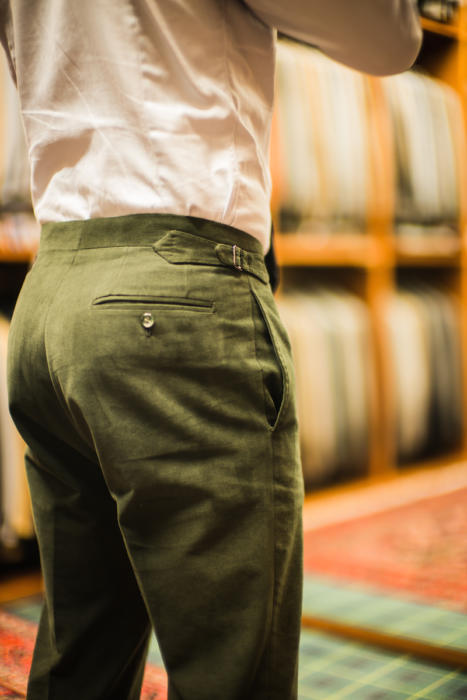 The fit from Calvo de Mora is as good as it gets for a flat-fronted cotton trouser, particularly given how heavily I use the pockets (with my hands, not accessories). Strap and buckle nicely done, and placed on the seam where I like them.
The only odd thing about the make is that Calvo uses synthetics (like a jacket lining) for the pocket bag, which I dislike. You don't want a cold and slippery material in a pocket – it should be warm and robust.
Photos taken in Al Bazar in Milan, with the lovely Gianpaolo (below) attempting to photobomb the shot.
Dark-brown bespoke Oxfords from Cleverley; pale grey shirt from Luca Avitabile; charcoal wool tie from Panta Clothing.