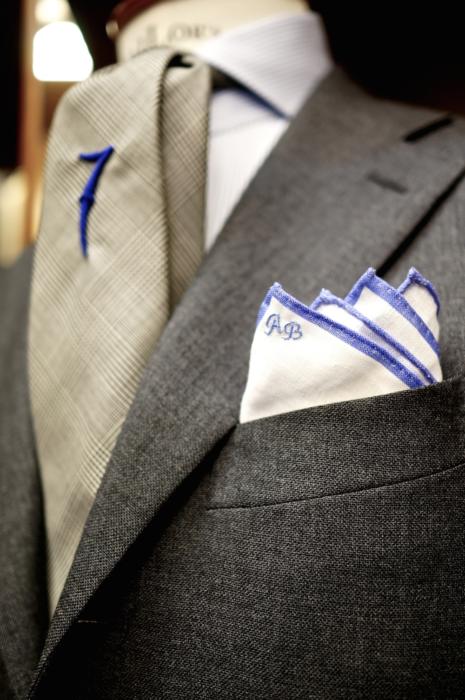 I've known Lino Ieluzzi, the proprietor of Al Bazar in Milan, for a few years now and always admired his style. I wouldn't wear it; I wouldn't recommend it; but it is unique, personal and consistent. The worst thing about so-called peacocks at Pitti is slavish mimicry, rather than a lack of taste. You couldn't accuse Lino of the former.
The same goes for his shop. Much of it isn't to my taste, but the pieces that are I will travel to buy. How many shops in the world can you still say that about?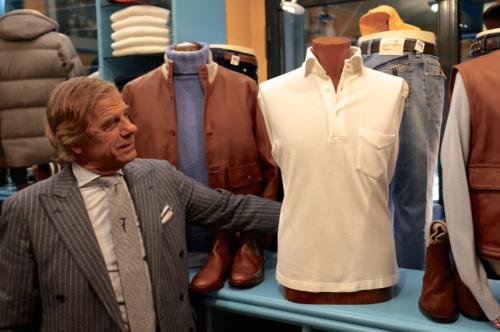 Almost all the clothing in Al Bazar has been designed by Lino to a greater or lesser extent. The tailoring uses a tweaked block – slimmer, obviously – and many cloths that he came up with himself. That translates into bigger and bolder, with bright and exploded checks a particular favourite.
Of course I don't buy the tailoring. And many of Lino's original creations, such as his varsity-style leather jackets, aren't for me. But I have worn the long-sleeved polo shirts (above) for years. Lino designed them originally with Italian shirtmaker Guy Rover, and they now come in dozens of colours and a couple of different weights. The higher collar and closely buttoned sleeve were designed to be worn with tailoring.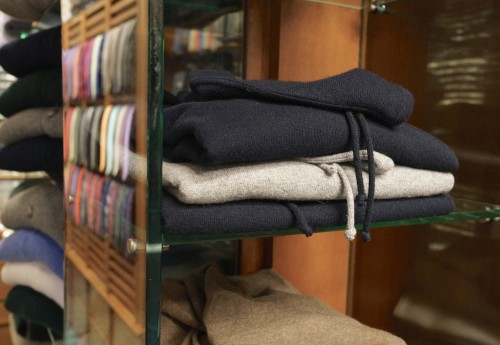 I am now having polo shirts made bespoke by Satriano Cinque, but remain a big fan of Al Bazar's knitwear. The cut is slim – "asciutto" or "dry" – and again suits tailoring as a result. My favourites are the cashmere hoodies (in navy, biscuit and three shades of grey, above) and zip-neck styles with leather elbow patches.
Always worth a visit.