Double denim – in new Anthology tweed jacket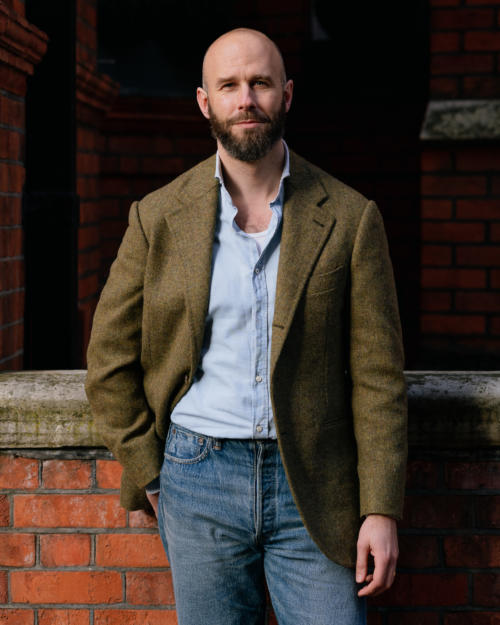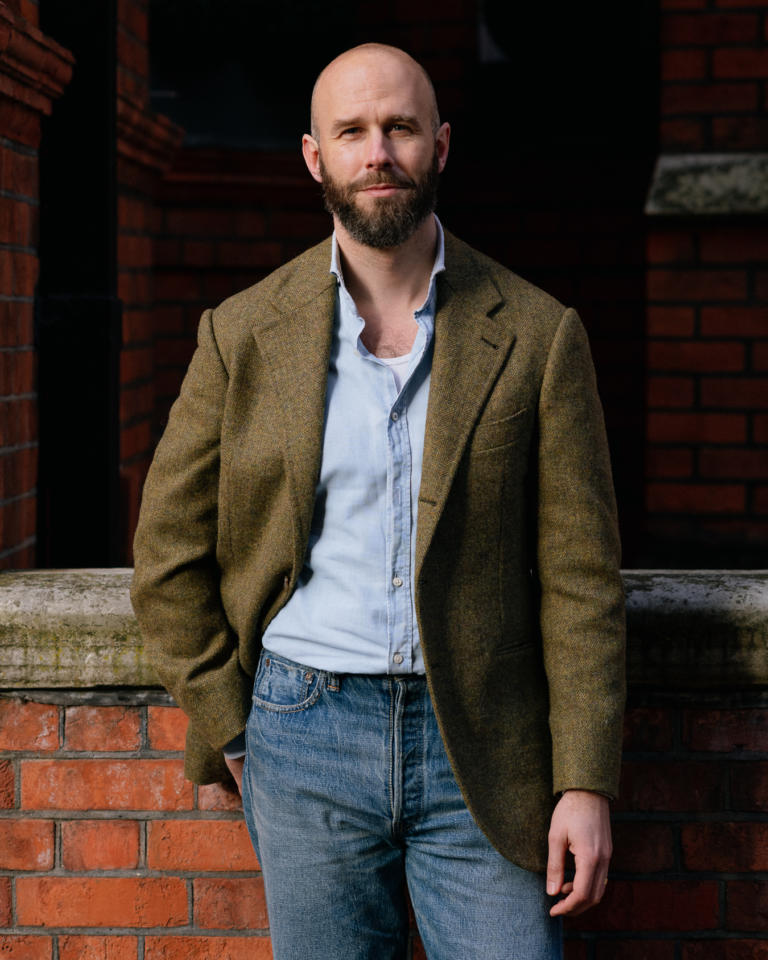 Denim shirts can often be the saviour of classic menswear - adding an obvious casual, even democratic touch to tailoring.
But when should you wear a denim shirt with jeans? When put on what is sometimes snidely, sometimes admiringly, referred to as double denim?
As with most topics we discuss, I think the first thing is to understand what effect you are trying to achieve or avoid.
So, with double denim the risk is that it can look too fashion-y, like trying too hard. Perhaps - worst of all - that you're striving very publicly to look cool.
The biggest reason it can look like this is that the shirt and trousers are matching, and this is not normally how one dresses. You don't wear a navy worsted shirt with navy worsted trousers, or a white T-shirt with trousers in the same material.
Even though railroad workers may have worn a denim shirt with denim overalls historically, no one is doing so today. Because it's not normal, it stands out.
So the way to reduce that effect - if you want to - is to reduce the extent to which top and bottom match.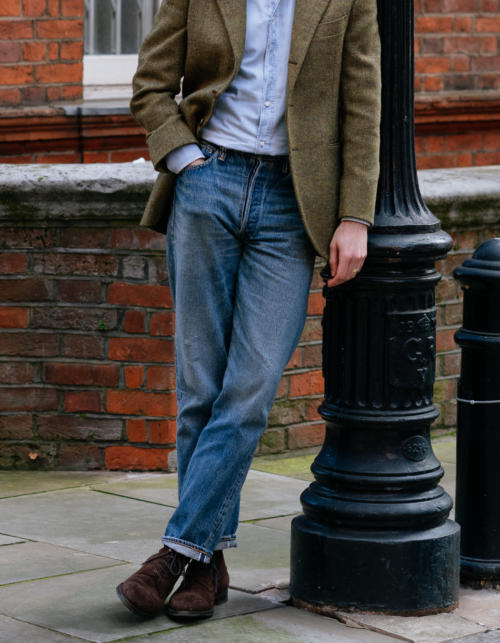 In the shots here - with a great new jacket from The Anthology - I am wearing a denim shirt with jeans. But the shirt is clearly a different shade from the trousers, and is lighter in weight, creating a different texture.
Had I worn something like my Niche western shirt there would have been less contrast. That shirt is closer in colour and weight to these jeans. The same would apply to combining my Bryceland's Sawtooth with darker indigo jeans.
I like the fact that my combination is double denim, but subtly so. It's a nice change from my default blue oxford, and a slightly more interesting choice.
Sometimes I do want more of a look, and then I wear that Niche shirt. But usually I don't. The point is to be aware of the effect, understand how it is caused, and then choose your style.
Don't just say you simply do or don't like something or - worse - that it is bad or wrong.
Aaron Levine - top image above - does a good line in double denim. In that example, it's effective in making the waxed jacket look a little more playful, less rural.
Most of the time when Ralph Lauren does it - second image above - the look is over the top. Not just because of the belt and cowboy hat, but because the shirt is more similar in texture to the jeans as well. But then that's what he wants - he's Ralph Lauren.
Alessandro Squarzi, in the third image, would be fairly subtle in his combination were it not for the southwest belt buckle, and shirt collar over the lapel.
Of course, the effect of double denim is much greater when the jacket is taken off.
Actually this could deserve its own post: to what extent looks work in the configuration photographed, but not when layers are removed. As they inevitably are in real life. I find it particularly the case with roll necks, as we discussed here.
That's probably not worth going into now, however, as I still want to talk about the jacket and jeans.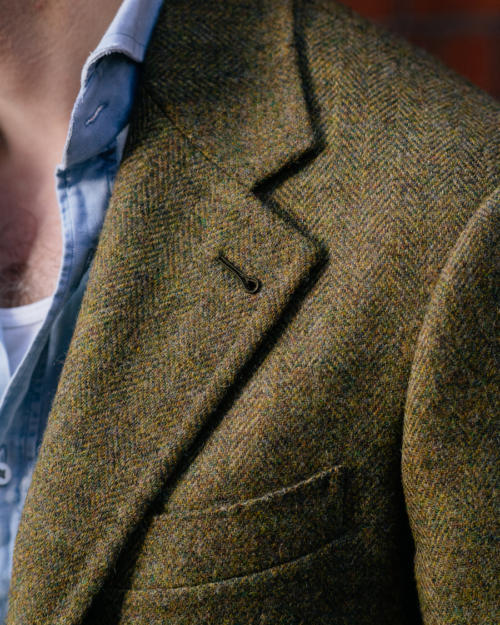 The jacket is my second from The Anthology, made in 17/18oz Fox Tweed (TD14).
It is a direct copy of my beloved grey herringbone from them, and in a material that is intended to make it a direct replacement for this green tweed.
I did make a green-cotton suit with The Anthology between these two which didn't work out, but that was mostly my fault. I didn't realise the cotton had stretch in it, and didn't make it clear how much I disliked stretch in materials. Buzz (Tang, Anthology co-founder) and I have moved on.
In fact, I think the new jacket is a good example of how seriously Buzz takes the customer service side of his business.
He was reticent about making a new jacket for me without the cutter being able to travel to London, even though my pattern was so well established. And he was very keen to make sure every aspect of the new one was correct.
Of course, I only have my first-hand experience to go on, but I have also heard similar praise from PS readers who are customers.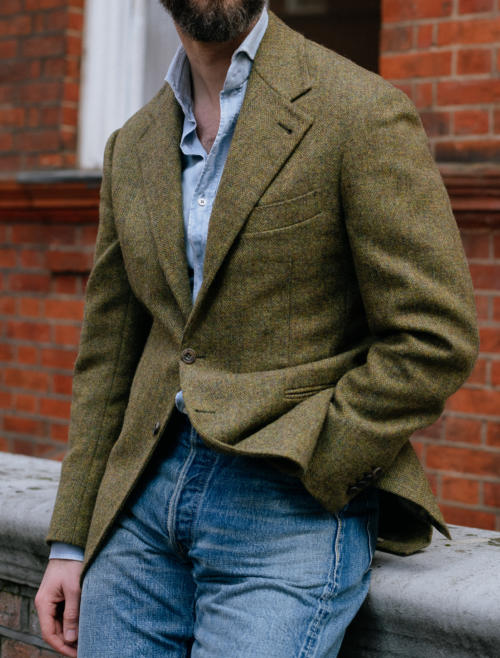 Reflecting that level of service, the jacket was precisely the same style and fit as my previous one (only worth mentioning because so many tailors fail to do that) and it's a style I've come to love.
The slightly dropped shoulder I find flattering, and it compliments the drape in the upper body. The fronts are rounded and open, which makes it more casual and easy to wear with jeans, as here.
And while the finishing might not be at the level of the most expensive tailors in the world, that's something I find I care less about.
The tweed, meanwhile, is a beautiful colour - not as strong as it appears on the Fox website, and with all the wonderful flecks and variation I love in a tweed.
The jeans are the Dartford 0105 model from Full Count, bought from Clutch Cafe.
I had been researching light-washed quality jeans for a few months, looking for something that could be an alternative to my vintage Levi's, given how often I wear those.
It was proving hard to find something in a good wash, medium rise, with a comfortable but slightly tapered leg. Not skinny and not big.
The fit, wash and quality on this Full Count style was perfect, but too wide. Then it occurred to me to have the leg tapered, and I did, with Soldier Blue. I narrowed the leg from the knee downwards, to mimic my vintage pair.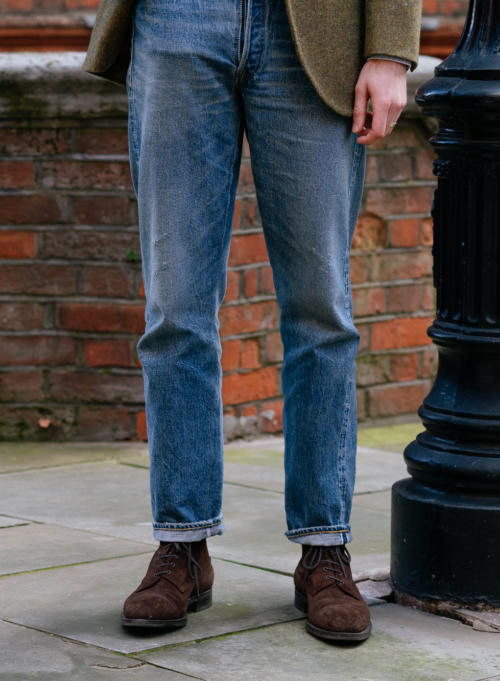 The result is nigh on perfect. Great fit through the top block, easy style, and with make that means they look much more like a pair worn from raw, rather than a more commercial wash.
That's down to Full Count's hand washing and distressing, the quality of the cotton, and little things like cotton thread, which after a few years will also need its own repairs here and there.
The only thing I'd say about the Full Count is that they give quickly - I'd say mine have gained a half inch in the waist. So buy them tight. I bought a size 31 but should perhaps have gone for 30.
But then again, it's much easier to take in denim than to take it out.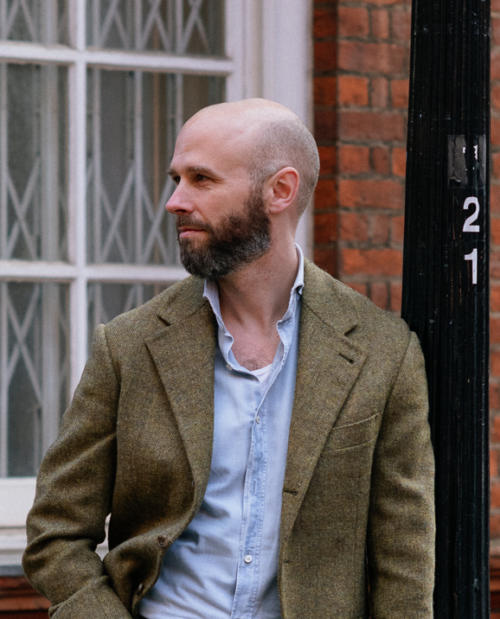 Looking at these pictures again, I'm not sure the vest under the shirt is a good idea.
I like the idea of it in theory, but in practice wearing a white T-shirt underneath (or nothing at all) feels more like me. You can see an example on this post.
The T-shirt perhaps risks looking boring or conventional, but I'd rather that than the opposite, too fashionable or trying too hard.
Which of course brings us full circle.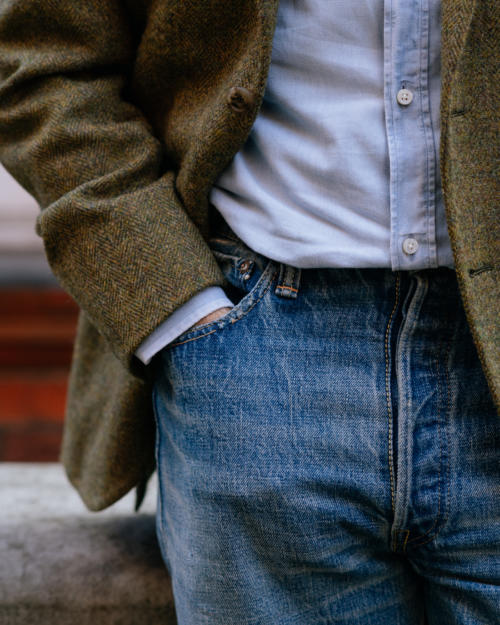 The Anthology plan to return to the UK as soon as they can once quarantine regulations are completely lifted. All existing customers should be in touch with the team already. For more information, contact the team at [email protected]
Pictured below is the Anthology herringbone coat, which I helped them design and they are selling RTW or MTO on their site here. It is exactly the same make and style as last year's polo coat, which you can read about here. The only difference is the lack of a flapped breast pocket.
The boots are Galways from Edward Green in mink suede.
Photography: Alex Natt @adnatt