Massura made-to-measure jacket: Review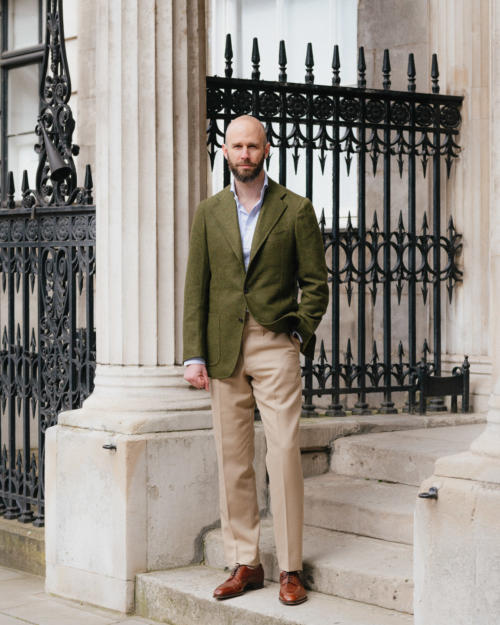 Massura is a German tailoring outfit run by Moritz Kossytorz, based in Munich but using a tailoring workshop in Naples.
The style and make of the tailoring is not much different to other Neapolitan tailors, but I think Massura is worth highlighting for two reasons.
First, there are few such places in Germany, and Moritz serves Cologne and Dusseldorf as well as Munich. (Plus travelling to Zurich and London.)
Second, the services he offers are cheaper than most, with a handmade made-to-measure (MTM) suit starting at €1600 and bespoke at €2500. The structures are also unusual, with RTW made to the same standard as MTM.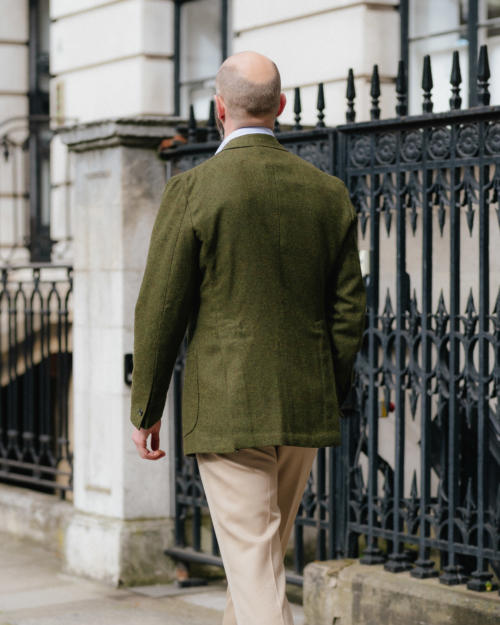 I tried the MTM service, with one fitting in person and two over video/email.
The result was good in many respects, but there were substantial issues with the balance and shoulders at the back of the jacket.
One thing I can say about Moritz, however, is that he is very keen to avoid the trap of being a new, relatively cheap tailor that tries it for a few years and then disappears. He is aware of the dangers and talks of a 'very German' approach to business and customer service.
He has fixed jackets for other clients a few months after they were delivered, and is keen to work on this with me later on. Hopefully when we can see other again in person, rather than over Zoom.
Still, for the moment I felt it was fair to review the jacket as it is, given the fittings we had (MTM is normally just one) and Moritz (below) agreed. I will follow up later on in the year if the jacket is altered.
The levels of tailoring at Massura are not standard, and should be described first.
Bespoke is as normal: full hand make, finishing and padding, with a unique pattern with no limit on fittings. Jackets start at €2000 (all including VAT), suits at €2500. More expensive cloths can add up to €200, but no more.
Made-to-measure, however, is probably closer to semi-bespoke. Most of the making is the same as bespoke. The only difference is that the internal work - the padding and so on - is not as precise, some hand finishing is left off the outside, and some ironwork is skipped. Overall, it apparently takes 30% less time.
The big difference with MTM is the fit. This is done using a block pattern - a ready-to-wear shape - and then adjusted as much as possible. There is also normally only one fitting. It starts at €1200 for a jacket, €1600 for a suit.
Then there's RTW, which is made to the same level as MTM. This was launched last Spring, and this year there will be an MTO version of it too - basically, RTW but with the ability to pick cloth and make simple changes like sleeve and body length.
Perhaps most surprisingly, the RTW and MTM are priced the same, with no extra charged for the fitting and re-cutting (plus travel) of MTM.
I was interested in trying the MTM option, as we've been focusing on offerings like this recently - examples have included Edward Sexton, The Armoury and Anglo-Italian. While I will always prefer bespoke, I wanted to better cover these more accessible services for readers.
The fit of the Massura jacket I think reflects the fact that MTM starts from a RTW block.
Tailors often say I am deceptively difficult to fit. I have fairly regular proportions in terms of chest, waist and height, and these can often lead to a clean look in the front of the jacket (as here).
The biggest issue at the front is my sloping shoulders, and having the right shoulder slightly lower than the left. This can lead to a slight collapsing under the arms, particularly on the right. Moritz actually dealt with this fairly well.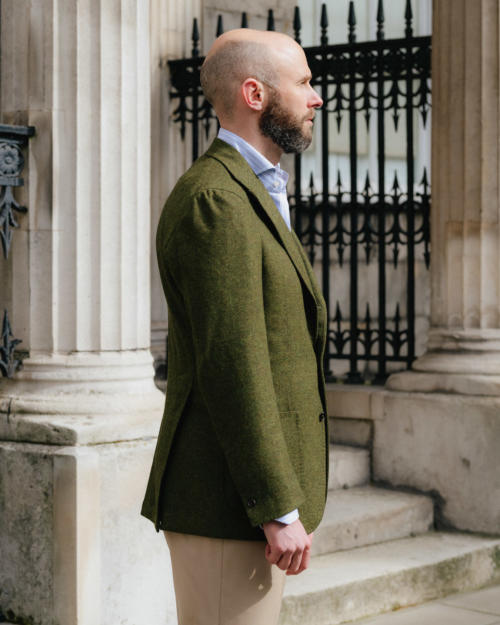 The difficulty comes at the back. My (relatively) long neck, pronounced shoulder blades, hollow lower back and pronounced seat mean that the back of the jacket is more of a challenge. At the very least it has to be a lot longer than the front, to get up and down all those curves.
This seems to be where the Massura MTM had difficulty, and there are issues around the back of the shoulder and armhole, where things are collapsing.
The jacket does appears to have become crumpled somehow during wear, and the collapsing is exaggerated rather by the sunlight. But the photo does accurately show where the issues are.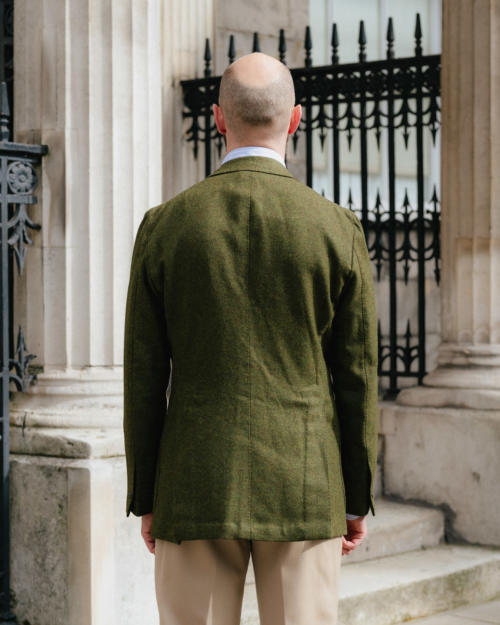 There were a couple of other small issues, such as the left sleeve being longer than the right still. And it could do with more overlap in the vents.
But at this point I'm judging it against full bespoke tailoring, which is not fair. Despite the extensive handwork in this jacket, it is definitely made to measure.
Compared to other MTM I've had, this sits somewhere below average. The fit in the back was much better on the best examples we've covered, such as Saman Amel, Jean-Manuel Moreau and The Armoury.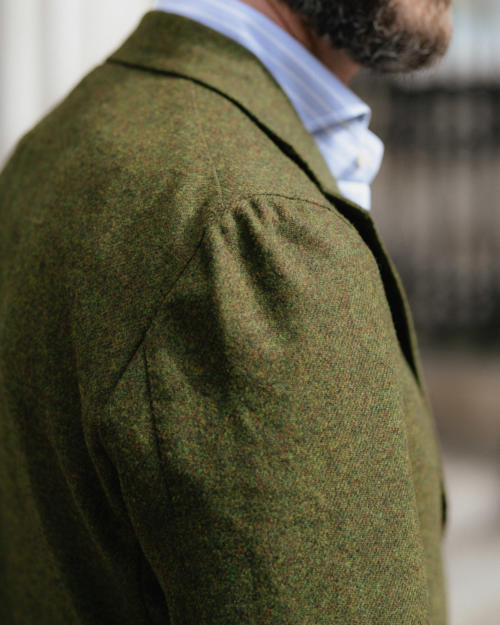 It's probably worth repeating the point about handwork, because it may be this is what some Massura customers buy the tailoring for.
After all, it's hard to find handmade RTW tailoring, and the MTM might suit some people better than me, if they're a better fit for the block. The upcoming MTO is yet one more handmade option.
There are all the functional points mentioned above - hand-padded collar, canvas and so on - plus the finishing inside and outside is good quality for Naples. Not with the finesse of London or Milan, but with nice top stitching throughout the inside and on the lapped seams outside.
Readers have asked a lot about video fittings over the past year, and with Moritz I did have the second fitting over Zoom, plus a third set of changes following some photographs sent by email.
Those didn't improve the jacket a lot, but it's impossible to know whether that was related to them being online or not. Fittings in person will always be better of course, but for me to rate the effectiveness of video I'd really have to try something purely online.
Moritz also made it very clear that, whenever physical fittings weren't possible, an unlimited number of video fittings were available - to try and make up for the lack of meetings in person. I know some other customers have gone this route.
In any case, hopefully the easing of lockdowns over the rest of the year will make this point less relevant.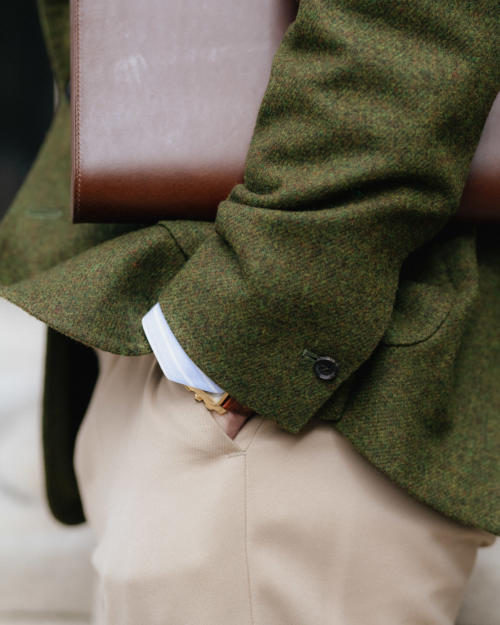 The cloth, by the way, is a lovely tweed from Abraham Moon called 'Lichen'. I have plenty of darker tweeds, so was looking for something more vibrant, that would be a nice match for stronger colours like my bespoke shoes from Nicholas Templeman worn in these photos.
It's a mid-weight lambswool twill, 375g, and has code PL375 2010-27.
The other clothes are a shadow-stripe oxford shirt made by D'Avino, and my Richard James cavalry-twill trousers. The latter really are an excellent fit and make - Ben and his team did a great job. I only wish they were in a colour I wore more often.
I elected not to wear a pocket square with this outfit, as I felt the lines and colours of the other clothes were so nice together, and the square might have been a distraction.
But in retrospect it would have looked better with some silk in the breast pocket, particularly as these country colours look so great with strong colours like orange, yellow, purple and sky blue.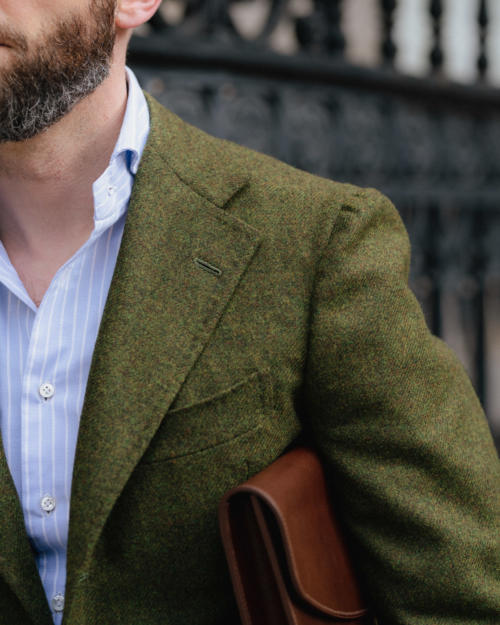 Moritz has suggested altering this jacket further down the line, and trying the bespoke service.
I'll certainly do the former, and report back on it on PS. While this jacket hasn't worked out that well in some respects, it wouldn't be complete without reporting later improvements that reflect the normal approach at Massura.
And I'd be happy to try the bespoke as well, if Moritz feels it would work better for my physique. At €2000, it is competitively priced.
As ever, this piece is only a reflection of my one experience, so I'd love to hear from other Massura customers, in the comments below or by email.
Photography: Alex Natt @adnatt