Local UK tailors: Controlled crowdsourcing
Readers have commented fairly regularly that it would be good to include more local UK tailors on Permanent Style.
I've generally been resistant, largely because those tailors would be relevant to only a small number of people. As they tend not to travel, only around 1% of readers would have easy access to each (depending on the part of the country).
UK tailors also don't vary much in style, unlike the different parts of Italy. If they are at a decent quality level, they have usually trained on or around Savile Row, and then moved out. Their main attraction is price: and we've covered some very cheap bespoke in London, such as Prologue or Graham Browne.
Lying behind all of this, though, is the fact that if I'm going to cover a tailor, I want to cover them properly. And that means visiting, interviewing, usually having something made. It's a lot of time and effort - and a full post of coverage - for something relevant to such a small number of people.
However, I was recently convinced to try something different. To try and use the size of the Permanent Style readership to build up a different kind of recommendation. Consistent, controlled crowdsourcing.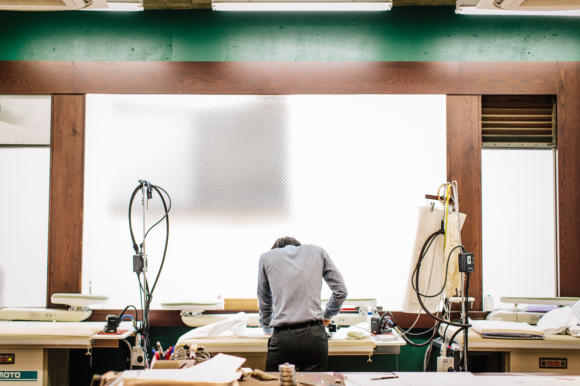 So this is the plan. I am asking all readers with experience of a UK tailor outside London, to describe that experience in the comments below.
I will then extract the information from those comments, to create a list that will gradually build up, in the lower half of this article.
But - and it is a big but (insert joke here) - those recommendations from readers must follow certain rules and include certain information. Otherwise this is no better than a random forum thread.
The rules are:
Only bespoke tailors. Defined as creating a unique paper pattern, developed over several fittings; and padding the chest and lapel by hand.
Only personal experience. We don't want any hearsay, or second-hand information. Only recommend the tailor, and state they are bespoke, if you know personally that they meet the criteria.
Comprehensive information. Please describe what you've had made, if anything; what your experience was like; any observations on style, fit and quality; and include or link to information on prices, background and training.
Only recommendations meeting all these rules will be added to the list of tailors. That way we can build up a reliable resource for bespoke consumers around the UK.
Please mention all the information below, as far as you can.
I will keep this article updated over time - so anyone that brings this subject up again will be directed here, and I will add any new tailors to the list when new comments are posted.
Let's see how this works out. If it proves successful, we can try it in other parts of the world as well.
Tailors:
TERRITO TAILORING
Location: Bristol
Contact: territotailoring.co.uk
Bespoke/MTM/RTW: Bespoke, alterations
Testimonial: "Territo Tailoring in Bristol...have a long history and offer a fully bespoke bench made garment. I have never had a fully bespoke garment made by them but have used them for alterations and witnessed first hand their bespoke work."
STEWART CHRISTIE
Location: Edinburgh
Contact: www.stewartchristie.com
Testimonial: "A fairly traditional establishment, who also do alterations work. I had a velvet doublet made (quite unique piece for Scottish formalwear). They did a good job, needs to be bespoke as v close fitting"
SOUSTER & HICKS
Location: Woburn
Contact: www.sousterandhicks.com
Price: From £2800 for a two-piece suit
Testimonial: "Geoff has been in the business for, now, 50 years, running his company, Souster & Hicks. His wife is a ladies tailor and they were training their two sons into the business as well. The suits Geoff made for me were excellent, fully bespoke with plenty of the handwork you would expect, and made by his team on the premises. When I knew him he was based in Dunstable, but he now operates from Woburn. I understand he recently made the blazer worn by Capt. Tom Moore for his 100th birthday celebration, all by eye with no measurements."
DES MERRION
Location: Leeds
Contact: www.desmerrion.com
Price: From £2800 for a two-piece suit
Testimonial: "I would like to highlight a tailor called Des Merrion, based in Leeds. He has made many garments for me over the years, all bespoke in its purest form, and the quality of the suits he produces is as good as anything I have seen in London or Paris. There is a twist, however, which is that Des carries out the whole process from measuring to delivering the finished garment himself. I have never met any other tailor who is the only person to touch a garment from beginning to end."
REDMAYNE 1860
Location: Cumbria
Contact: redmayne1860.com
Cutter: Tom Mahon
Price at time of commission: £3,000 for bespoke odd jacket and trousers
Testimonial: "Mr. Mahon, being ex-Anderson & Sheppard, cuts in the Scholte/English drape style. He later founded English Cut before moving on to be head cutter at Redmayne based in Cumbria. The style is classic Anderson with soft volume through the chest and natural shoulders. It is a very comfortable jacket and can be worn without thought despite the weight of the 13 oz high twist cloth. The finish is standard, with, for example, in-breast pockets cut into the lining. The trousers are classically cut, being more voluminous than other tailors I use, but no less comfortable than the jacket. Again, the finish here is standard. The fit is good, and at least at the time of the commission, the value was also good. He is an affable and unpretentious man."
MARK PURCELL
Location: Birmingham
Contact: www.markpurcell.co.uk
Cutter: Mark Purcell
Testimonial: "I've had 12 pair of trouser made by Mark over the past 10 years , 2 suits and 3 jackets. Being of the 'mod' leanings I like my suits to be 'my' suits same with a trouser, every time I use Mark he's bang on the button (no pun). I've shown him a pic in an old tailor magazine and he nailed it."