This post was originally written in 2012: a breakdown of all the tailors I have tried personally (rather than just written about), split into different countries.
It was updated in 2016, and I have updated it again now in 2020, adding a further 18 tailors to the list.
I have also taken out a couple of names (Hemingway and Kiton) that really belong in a made-to-measure list – which I will put together later this year.
There are links in all the descriptions to posts elsewhere on the site, making this a useful jumping off point for anyone looking to research bespoke tailors. And the names of the tailors themselves are hyperlinked to their 'brand' page, where you can find all posts about them.
There are now 55 tailors here, which is too many by anyone's standards. I certainly wouldn't recommend that someone pursue this course towards bespoke, or maintain this number of tailors. One to three is more like it (see post 'How many tailors do you need?').
However, hopefully it is a useful resource for anyone looking for personal experiences and reviews of the world's best in bespoke.
Anyone that would like to see many of these tailors' cuts analysed, with consistent measurements, should see the Guide to Tailors Styles.
UNITED KINGDOM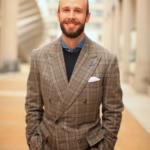 The biggest exponent of the 'drape cut', with soft shoulders and fullness of cloth in the chest and back. Together with a closely cut waist, it gives the illusion of a bigger chest and is very comfortable. Some think that the soft shoulders are unflattering. It is among the cheaper houses on the Row, and I particularly like the double-breasted style as it has a relatively broad lapel with plenty of belly. My suits from A&S were all cut by John Hitchcock, who has now retired.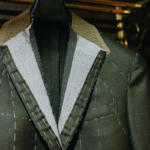 Benson & Clegg have not been known for their bespoke department for a while, with a stronger reputation for their buttons, cufflinks and braces (they hold the royal warrant to Prince Charles for such things). That has changed recently, however, with Meyer & Mortimer cutter Oliver Cross joining the team. Oliver is in the process of making me a green-flannel suit, and his style is English structured with some drape – though also with an openness to adapt the make and cut.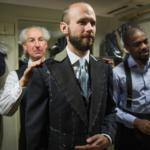 The finest finish of any English tailors, learning from the French in their buttonholes among other things, Chittleborough was founded by two cutters from the legendary Tommy Nutter shop, where Edward Sexton was the head cutter. Roy Chittleborough is now retired, but Joe Morgan carries on cutting Sixties-inspired suits with large lapels, nipped waists and strong shoulders. My navy suit can be found here.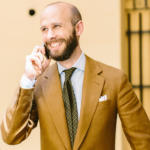 A highly traditional Savile Row tailor with a rich military history, Dege cuts a strong-shouldered, long jacket and usually braced trousers. Still family owned, they have benefited in recent years from turbulence at similar houses such as Huntsman. Cutter Nick De'Ath made me a superb tobacco-linen suit. And although the higher rise of the trousers didn't quite work out the first time, he was accommodating on several other points.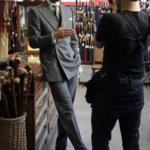 Edward's style is similar to that of Joe Morgan, but his finishing and stylistic details are less about things like lap seams and Milanese buttonholes, and more about colour and cloth. Edward made me a fantastic double-breasted flannel suit and a long grey overcoat. The former has proved very useful and the latter also, after it was shortened rather (by four inches) a year after making.
Davide Taub, of whose style I am a big fan, is the head cutter at Gieves. He trained at Maurice Sedwell among other places and tends towards a strong shoulder and silhouette. He is also very innovative, and has made several very original and stylish pieces for me, including my pea coat, leather jacket and gilet. For the purpose of this list, however, the most interesting piece is this green linen suit, which is striking for being light in construction, yet sharp in appearance.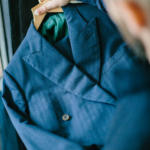 A traditional City tailor in London. This means not making to the same standard as Savile Row, but doing the important things of cutting by hand and working up a personal paper pattern. Graham Browne is great value as as result, and I have had many things made over the years, including my first bespoke suit in London. (Another tailor, Choppin & Lodge, was an offshoot of Graham Browne but no longer exists. That team, together with Dan McAngus from Graham Browne, now runs McAngus & Wainwright.)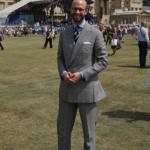 The other one of the big three names on the Row, it is more flexible in house style than either A&S or Huntsman. The basic cut is strong and English, however, with slightly less padding and structure in the shoulder and chest than Huntsman. I had a double-breasted Prince of Wales suit made, which has been quietly superb. It gets more compliments than almost anything else, yet it is conservative in everything by the cloth. (Subsequent to that post, I have had two additional buttons added at the top, and swapped all the buttons for brown horn rather than grey.)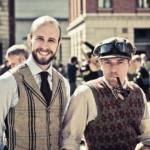 The opposite of Anderson & Sheppard in style, with strong, padded shoulders and a closely cut chest. Relatively slim through the waist and with little skirt, it is known for a one-button fastening. Most other English tailors cut this traditional style, with slight variations. I liked the hunting suit I had made by David Ward, though had some problems with the bi-swing back, as the vents stayed open and elastic was added inside to fix that.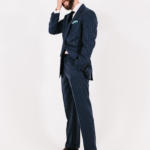 Kathryn used to be the head tailor at Gieves & Hawkes. Her style is, like Poole and others, a traditional English military cut. My travel blazer and trousers were cut by Kathryn Sargent while she was at Gieves. She has since set up her own premises, and made a beautiful tweed jacket for my wife there, which reflected her particular skill in women's styles. Most recently, she made a summer suit in Fox Air cloth.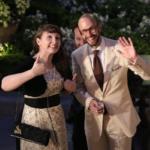 John and Terry work with Stephen Lachter (shirt cutter) on Sackville Street. Terry was head cutter at Huntsman and his style is very similar; John tends to cut a slightly smaller back and slimmer leg – sharper, in that way. John made my pattern and I have two suits from it, the second cut and fitted by Terry – hence the difference in styles noted above. The make was good and I would say they are among the best value on the Row.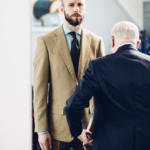 Bryan Manning is an old tailor who used to work at Kilgour and has operated on his own for several years, meeting clients at Holland & Sherry on Savile Row or in workrooms on Tottenham Court Road. He is very good value for money, but the high-twist summer suit he made me had some issues, particularly around the finishing. The fit, however, was very good, and the suit was hand-padded and hand-finished throughout.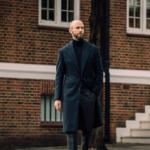 Michael is a young, stylish cutter who deserves credit for many of the good things that happened at Chittleborough & Morgan, before he set up on his own. Michael's style is similar, but his mode of working – absolutely without compromise, including remaking every fitting himself – is not. His aim has been to produce the best possible garment, no matter what the cost. This means that the beautiful coat he made for me cost over £7000, but it does make Michael unique.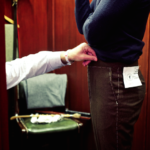 A city tailor, PA Crowe has a small shop near to St Paul's cathedral. I worked close-by for several years and eventually had a pair of brown flannel trousers made. The results were not great, with the persistent issue I have of hollow fronts and bulging rear causing the trousers to lose their sharpness all too easily. Not bad if they were Graham Browne prices, but unfortunately they are rather more expensive.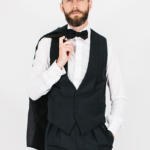 Richard used to be the head cutter at Huntsman and his cut is similar, though with less padding in the shoulder. One difference is perhaps a more adventurous style; he makes jackets in denim, for example, and wool jersey, and has his own collection of jeans. Richard made me a tuxedo, single breasted with a shawl-collared waistcoat. It was slim and perfectly fitting, though my favourite part was the superb trousers.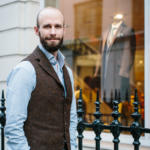 Ben Clarke at Richard James has been growing the bespoke side of the business, which has its own dedicated premises on Clifford Street. Ben made a brown cashmere jacket for me, waistcoat and trousers, deviating from the normal Richard James style somewhat to make something softer and more casual. The waistcoat is self-backed and designed to wear with denim.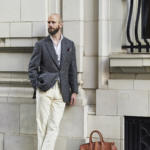 Son of A&S head cutter John Hitchcock, Steven was trained there and his style is very similar. As he works partly at home and on Chiltern Street in Marylebone, he is also a little cheaper. Steven has made me a tweed jacket and moleskin trousers, a beautiful pale-grey jacket from the Lamlana bunch, and more recently a fantastic charcoal donegal jacket. I would highly recommend him for this style of tailoring.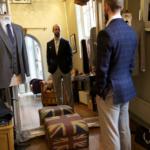 A much more contemporary cut than anyone else on this list – a short jacket, narrow sleeve and fitted waist. Famous for their horseshoe waistcoats. Thom Whiddett and Luke Sweeney are great stylists, with Thom the cutter. Their strength is style, youth and innovation. They made me a navy checked jacket and cord trousers several years ago, which fit very well (though I somewhat regretted the boldness of the windowpane check).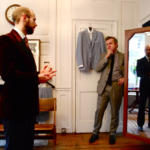 Tim is a stylist and designer, with a dedicated bespoke operation on Elder Street in east London. The style is traditionally English though with less structure; Tim adds a dash of innovation to the mix during the commissioning and fittings. The suit and velvet jacket I had made were both solid, but some minor issues and poor style choices on my part meant they were eventually given away.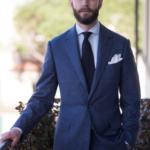 Run by Indian brothers, Whitcomb & Shaftesbury has an extremely good value service called Classic Bespoke that is cut in London but has some of the making work done in a workshop they own and have trained themselves in India. The result is perhaps the best place to start for any full bespoke suit. The full review of the navy worsted suit they made me can be seen here. They have also become my go-to location for bespoke trousers, given that value.
FRANCE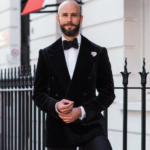 The biggest of the Parisian tailors, the Cifonelli cut is characterised by a light construction but a strength of shape achieved by a roped shoulder and slim waist. Stunning finishing on the buttonholes, trousers and linings. The Cifonelli designs aren't always my taste, but the workmanship is among the best in the world. I've made several things with them over the years, starting with a tweed jacket. The best have been two overcoats, however, one navy and one brown.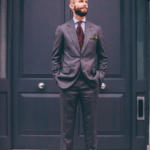 Camps de Luca is a small but no less fine Parisian tailor, and made me a beautiful grey two-piece suit with their characteristic closed notch on the lapel and small Milanese buttonhole. Slightly square of shoulder, with a fantastically made trouser and exquisite detailing, they rival Cifonelli in most departments. Although they can seem more classic than Cifonelli, they do also make suede and leather pieces, and some unusual jackets for hot weather.
Kenjiro is Japanese, but used to be the head cutter at Smalto, the other big name in Paris after Cifonelli and Camps. His style is similar to the other French makers, with little personal touches like the amount of ironing to shape the leg of the trouser. Popular in his home country of Japan, Kenjiro is currently making me a navy cotton suit.
ITALY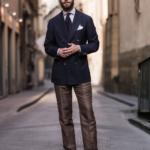 A small, second-generation tailor in Naples. Elia Caliendo is the cutter and his father still does some of the tailoring work. Neapolitan style is fairly consistent, with self-lined jackets in the foreparts, very light construction, shirt shoulders and those curving pockets. The biggest difference between them is quality of finishing and fit, and Elia is superb on both. He visits London every month or so. I have had a summer jacket a Permanent Style tweed jacket and several other things made by Elia. He is in London often, which is a big advantage.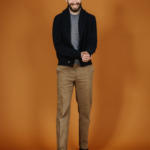 A Neapolitan trouser maker with a good reputation – and making trousers for some of the other Neapolitan tailoring houses – Marco Cerrato has started to expand more abroad with his brother in London handling a lot of commissions. Marco has made me a few pairs of trousers, including green cottons and pale-grey cavalry twills. Of the three Neapolitan trouser makers listed here, I've had the most consistent positive experience with them.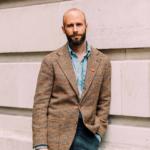 Renato Ciardi was one of the best-known cutters in Naples, and his sons have admirably carried on his work. Enzo now travels to London, and has become one of my favourite tailors ever, for his character, cut, and consistency. The cut is more traditional Neapolitan, which means slightly longer and more generous in the body and shoulder, while still being soft. My tweed jacket in particular was superb.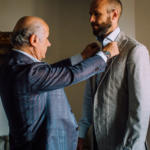 Most areas of Italy have a bespoke tailor or two left, unlike most other parts of the world, including England. In the Puglia area in the south-east, I visited a few and tried out Nicola Cornacchia, who was recommended to me by Vitale Barberis Canonico. The light-grey high-twist suit they made me was not world class, but it was very good, and I'd recommend them to anyone that find themselves in the area.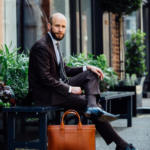 Sartoria Dalcuore are a slightly larger tailor in Naples, with a workshop supplying ready to wear garments to places like China and Japan, alongside traditional bespoke. They made me a brown Crispaire suit for the summer which was beautifully fitted and in a classic Neapolitan style – only lacking a couple of details like fit around the trousers that perhaps could have been corrected at a second fitting.
Ettore is a lesser-known Neapolitan tailor, but actually with a large workshop and international client base. He tends to cut a shorter, closer-fitting jacket, like many modern tailors, and I have had to fight back against that tendency. But he is a very talented cutter, and achieved great fit on the hopsack jacket and coat he made for me. Also works regularly in suede and leather.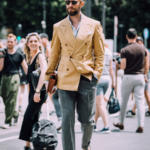 Ferdinando Caraceni, one of four outfits doing bespoke in Milan and Rome under the Caraceni name, made me a cashmere herringbone jacket. A beautifully made piece, it was noticeably more formal than other Italians I had tried – more an unstructured alternative to a Row suit than a rival to Neapolitan casualness. Nicoletta Caraceni is the charismatic head of the house, Ferdinando's daughter. The next piece, a double-breasted cotton jacket, was even better.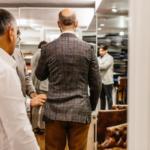 My experience with Formosa in Naples was not a very good one – but as with other negative experiences, it is hard to tell how much this should be a conclusion about the tailoring house as a whole. Gennaro wanted to try using two younger cutters for my jacket, whom he was training to take over from the senior cutter. What they made was not a good fit, and the subsequent attempt to correct it by the senior team was not sufficient. I eventually gave up on the jacket.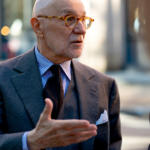 One of the biggest names in Romain tailoring, Gaetano has a strong international following. I haven't had any suits made by him, but US writer Bruce Boyer penned a lovely piece for Permanent Style on his experiences, which can be seen here. His style is more similar to the northern tailors in Italy, but with a slightly softer shoulder expression than either.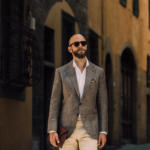 Biagio Granata is a young cutter who set up his own operation a few years ago. Unfortunately, while clearly a good cutter, he suffered from a lack of consistency in visits to London, in execution of styles, and a lack of English. The suit he made for me had a decent jacket, but I never saw the trousers. The tweed jacket he made to improve the situation in the meantime, was a good fit in the top half, but had gaping vents. Hard to recommend on that basis.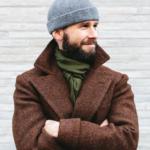 The best-known tailor in Florence, Antonio Liverano cuts a short jacket and slim trousers. The house is quite contemporary in that respect, and has been popularised by the support of The Armoury in New York and Hong Kong. Antonio made me a purple jacket, which was beautifully executed – and a good example of a tailor guiding effectively on cloth. He is expensive, but I like his sense of style (he commissioned his own doughnut-patterned scarves) and the cut works well in smart jackets.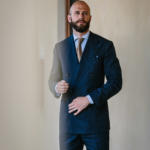 Gianfrancesco Musella was one of the young tailors I brought to our Symposium event in Florence, and no one better deserved the invitation. He is both highly skilled and genuinely innovative, bringing different flavours to the Milanese style. Gianfrancesco made me a navy cotton suit, in the same lightweight cotton as my brown Caliendo. It has striking lapels that I love, and great finishing. I like the style of the single-breasted jackets less.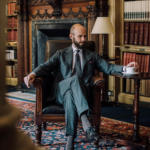 Antonio Panico is one of the greats of Neapolitan tailoring, and particularly known for his big double-breasted lapels and comfortable cut. I went for a grey-flannel suit, and really liked the style, though single-breasted. That comfort was also striking, with some shape through the waist at the front, but pretty much no suppression in the back.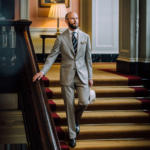 Massimo Pasinato is a small tailor in the Italian town of Vicenza. He is a good cutter, and embraces technology when it can help him in the fitting process, for example. He made me a nice cavalry-twill suit, and also offers some made-to-measure on his travels. He has been travelling regularly to London, and if you are after a soft Italian suit that is very good value, similar to Vergallo, he is worth considering.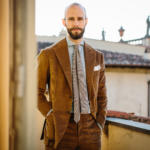 Nunzio Pirozzi runs a highly regarded tailoring house in Naples, and travels to London as well as to Asia. He made me a tan corduroy suit – very similar to an Anderson & Sheppard DB that I love, but single breasted and in the casual Neapolitan style. The result was very good in terms of fit and execution, but the style was a bit too short and close, and I ended up selling it, unfortunately.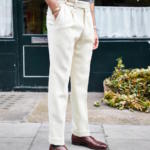 Lino Pommella used to be the head trouser cutter at Rubinacci until, as often seems to happen with Rubinacci cutters, he left to set up on his own. In this case, it was with the help of filmmaker Gianluca Migliarotti, and the two have established something of a brand for high-end trousers – doing trunk shows in London and with The Armoury in New York, among other places.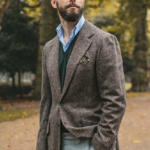 The biggest name in Naples. An interesting take on Neapolitan style, with slightly more closed fronts and sometimes padding through the ends of the shoulders. Rubinacci's strength is its styling. The cashmere Donegal jacket I had made from an old 70s cloth was good, with a great make and ok fit. But it was Luca's recommendation of the bronze-green lining that made it for me.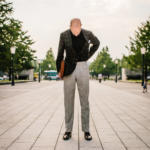 Salvatore Ambrosi is easily the best known trouser maker in the world, travelling to dozens of cities around the world and working with shops like Brycelands. Salva makes to a very high level, better than most Neapolitans, with lovely hand detailing. He also has style, which helps rather with commissions. My experience was quite inconsistent though, with a few mistakes along the way.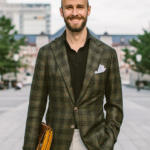 One of the biggest names in Neapolitan tailoring. Gennaro Solito is a great cutter; he speaks no English but his son, Luigi, does. Their style is typical Neapolitan though they do a large number of regular (not shirt) shoulders too. Luigi has made me a few jackets since he started visiting London with Neapolitan shirtmaker Luca Avitabile, including the first – a lightweight green sports jacket. The make hasn't always been great, with a few things needing repairs, but he is also a little cheaper than others.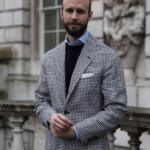 A local tailor from the town of Varese, north of Milan, Vergallo has become a bigger name in tailoring since cutter Gianni Cleopazzo began travelling to London. A north Italian style, so softer than English but sharper than the Neapolitans, Vergallo made me a navy cashmere suit and houndstooth jacket. There is an openness on style and cut; not the highest level of make among Italians, but good value.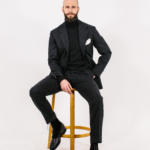 Loris Vestrucci was a retired tailor, brought out of hiding by Tomasso Melani and Tomasso Capozzoli of Stefano Bemer shoes, in order to create a new bespoke tailoring house. Vestrucci has a claim to make the original Florentine suit, and his tailoring is soft but elegant, with rounded hips and relatively closed quarters. He made me a charcoal-flannel suit here.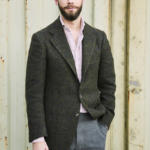 Ciro Zizolfi was introduced to me by Gianluca Migliarotti, the filmmaker and long-time client. Ciro cuts a fairly traditional Neapolitan jacket, which means a comfortable fit, a little padding in shoulders, and overall a little longer and squarer than others. The great fit of my dark-green tweed jacket can be see in the images here.
SPAIN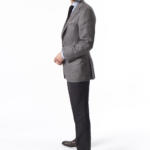 The best of the three Spanish tailors I tried, Calvo de Mora made a closely fitted grey jacket, a self-backed grey donegal waistcoat, and green cotton trousers. The jacket was quite close through the skirt and soft in the shoulder, although not as casual as a Neapolitan make. Unfortunately Calvo don't travel to London or anywhere else regularly. They are the most expensive of the Spanish tailors here, perhaps inevitably given the quality.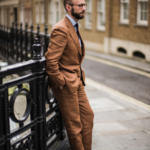 Sastreria Langa are best known for their shirtmaker, Mariano, who has a long and storied list of customers. The shirt he made was well-fitted, if quite formal and stiff in the collar, with a good deal of handwork. The linen suit cut by Joaquin was a lovely piece, largely because of the colour of the Scabal linen. The jacket itself could have been made better and there was an issue with the shoulders – partly due to trying to create a Neapolitan look.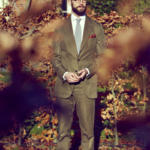 Reillo is a small tailor – one cutter, Jose Maria, with some help with making at the back of the shop. Like Langa he is good value for money, although the green cotton suit that we made together suffered rather in the shoulders. Partly, as with Langa, this was due to trying to create a very soft, Neapolitan-style jacket, which is not the natural style the Spanish tailors were trained on.
HONG KONG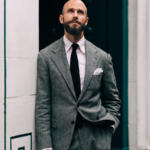 A team based in Hong Kong, Taipei and London, but using a tailoring workshop in China. There have been many tailors over the years that have relaunched and rebranded in Hong Kong, making use of young tailoring enthusiasts, but The Anthology is one of the best. Modern, with a generous cut and great style (thanks to founder Buzz Tang). Some small hangovers from cheaper production, but superb value and a cut that I particularly like and find flattering. The Anthology team made me a grey-herringbone tweed suit.
Back in the days when I travelled to Hong Kong a lot, and had less money, I tried three or four different cheap HK tailors. Edward Tam at E.Italian was the best, at around £300 for a suit. The cut is rather little boxy but if you're insistent, it can be a good choice for that price. Cut by hand and made by hand, with a fitting or two required. Not to anywhere near the same standard as bespoke elsewhere (try WW Chan or similar for that) but not a rip-off 24-hour tailor either.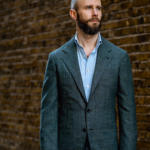 Prologue is a Hong Kong shop making in China – now in its own workshop – with a very good, modern sense of style. Similar to The Anthology in that respect, but deliberately making at a slightly lower level in order to be as accessible as possible. Jerry and the Prologue team have made me a green summer jacket and a heavy glen-check winter one.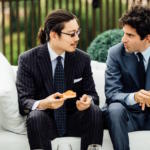 One of the best-known tailors in Hong Kong, and the only old name that has really adapted to the modern growth of interest in bespoke – thanks in no small part to The Armoury. They also make for Bryceland's, however, and it was trying the Bryceland's cut that made me commission a jacket from WW Chan. We have had one fitting so far on this.
AMERICAS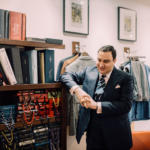 Paolo is a young tailor in New York – a place with a historic lack of resident tailors – but with lots of experience in tailoring factories and shops, having helped run the custom programme at Paul Stuart for several years. His natural style is for an English-derived, drapey cut, but he is also very flexible and enjoys making things that fit customer ideas. He is not a cutter, but unlike many in New York, he does employ a cutter and tailor, who work off-site. We are currently making a navy blazer together.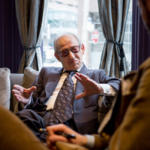 Sr Francesco is an Italian tailor resident in Toronto, Canada. After working on his own there for many years, he was brought into the new Leatherfoot store when it opened, and given his own workshop. The store promoted his tailoring, and took him on trunk shows to New York. Unfortunately the store has subsequently closed. Sr Francesco made me a double-breasted donegal-tweed jacket, which I haven't covered on the site as he is no longer available to customers outside Toronto.
SOUTH KOREA
Korean tailor B&Tailor works through various visiting tailors in different parts of the world, in order to conduct fittings. In Europe, that was Swede Robin Petterson, who went to Korea for training in fitting their jackets. Unfortunately, while I liked the open, sloping B&Tailor style, the fit of the resulting jacket was not great – at least partly due to some lack of communication between Robin and B&Tailor. I therefore wouldn't necessarily say that poor result was a direct reflection of the Korean tailor's work.