Ferdinando Caraceni double-breasted cotton jacket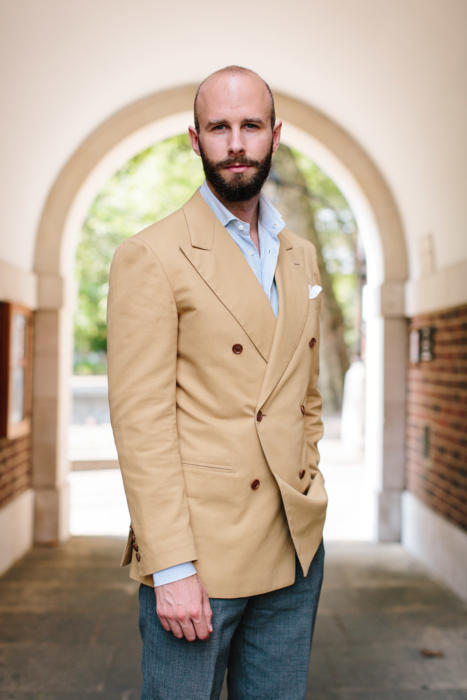 This is my final cotton jacket from Ferdinando Caraceni - which fortunately I received a few weeks ago and was therefore able to wear a fair bit before the weather turned.
It is obvious even now that this is a piece that will wear in beautifully.
As mentioned in my first post on this jacket, the heavier, less finished cotton wears more like denim or old-fashioned chinos, feathering and losing colour around the seams.
In fact, that's one reason I think I'll wear it even into the autumn, likely with a thin crewneck sweater underneath. It's just so incredibly comfortable, despite its fairly formal cut.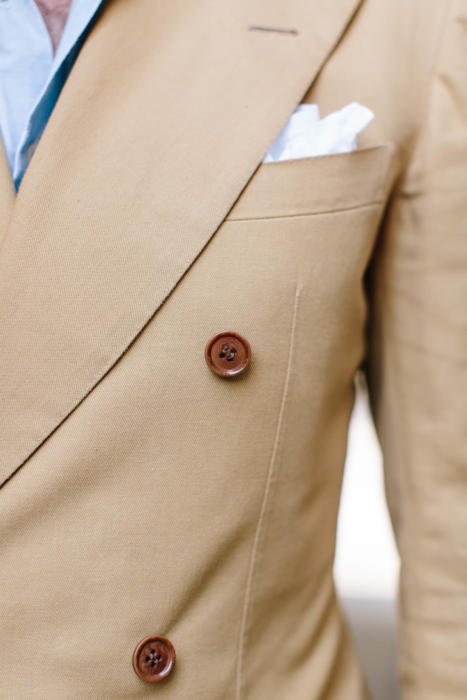 That cut and the colour does make it fairly limited in terms of what it can be worn with. Only formal trousers below the waist, and in my experience so far those largely in shades of grey.
Interestingly, the square shoulder line of a classic Milanese jacket (see my first, herringbone cashmere jacket from Caraceni) is softened a little here by the sleevehead.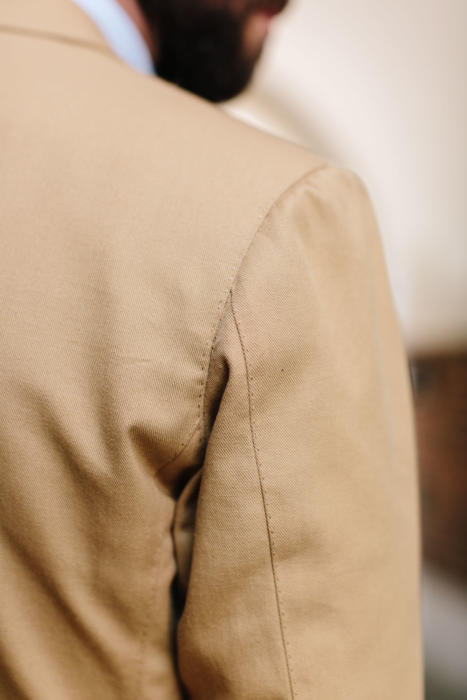 The sleeve is inserted underneath the shoulder like the Neapolitan spalla camicia, giving it slightly more casual look. (That shoulder line also emphasised by the pick stitching that runs along pretty much every seam on this jacket - as seen above).
However, the shoulder pad is extended out into the top of the sleevehead, like a normal Milanese jacket and unlike the Neapolitan, which lengthens the shoulder and pushes it towards the formal.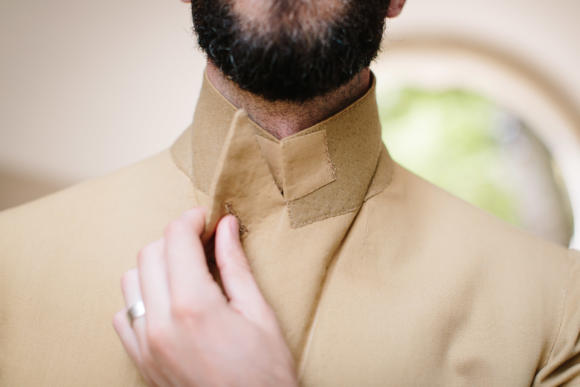 As a reader pointed out on my DB-comparison post, the lapels are quite old-fashioned - wide, with a decent belly, and a fairly flat gorge.
One advantage of this flat gorge (where the collar and the lapel meet) is that the peak lapels fold neatly either side of the chin when the collar is popped up (as above).
Wearing the collar up will be disliked by many, but it does work well with the soft lapels, and again would be nice with a crewneck sweater or scarf underneath.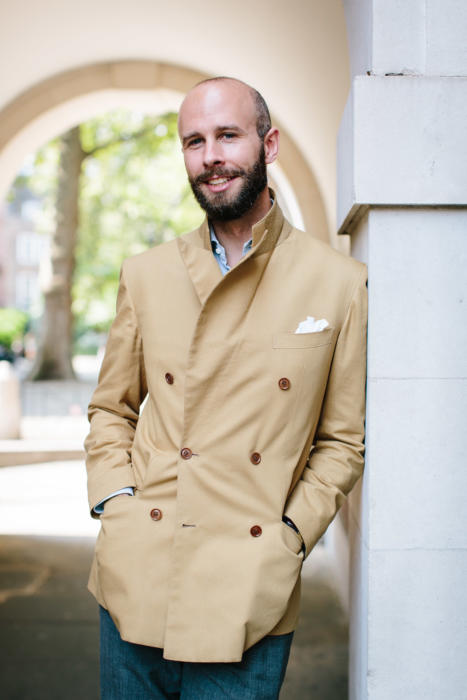 The fit is superb, as I would expect with Caraceni, though of course the cotton doesn't drape anything like wool would.
And the make is just beautiful, with that pick stitching running everywhere, outside and in.
Below the sleeve has been turned inside out to see the unlined finishing.
I'm not one to push up or fold back the sleeves of a cotton jacket, but it is the kind of make that would make that style very easy.
Finally, I was surprised how much I liked the mid-brown corozo buttons.
I would nearly always go with horn, but this paler shade of corozo reveals more of the whorled pattern and sits nicely with the cotton.
I can't wait to wear it more. Oh, and the sleeves are not too short; the shirt is a touch too long.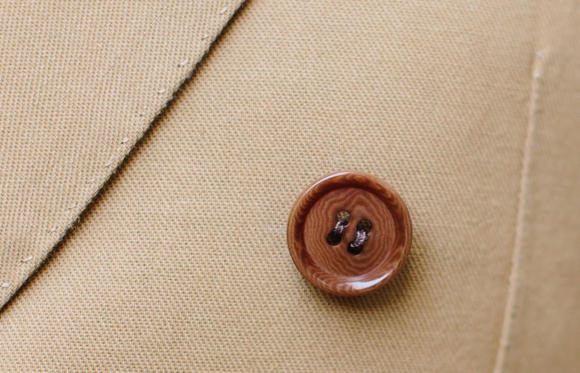 Photography: Jamie Ferguson @jkf_man