Coarse vs fine cottons in tailoring
We covered the appeal of cotton as a tailoring material generally last week, but didn't talk about the different types of cottons.
There are corduroys and moleskins of course, gabardines and seersucker. But a difference I find particularly interesting - and one which is rarely discussed - is between fine and coarse cottons.
The jacket pictured being fitted here, at Ferdinando Caraceni in Milan, is in a much coarser (as well as heavier) cotton than the Caliendo.
It is a vintage Winterbotham cloth that Nicoletta Caraceni had in the atelier. (Ferdinando Caraceni liked and used to make a lot of cotton jackets and suits).
But what makes it coarse? Several things:
First the fibre itself, which just like a wool can be finer or thicker.
Second, the yarn it is spun into. A fine fibre can be spun into a finer yarn, but it doesn't have to be. A thicker fibre can only be spun into a thicker yarn.
Third, how it is woven. You can weave in difference patterns, settings etc, all of which affect the feel of the cloth. A gabardine, for example, is a tight twill weave, which creates a harder, smoother feel than a normal twill.
Fourth, the finishing. Finishing is a massive area, including things like how a cloth is washed, with how much soap, whether it is milled, whether it's brushed, cut down, etc. Less finishing normally goes into a cotton than a wool though.
Of these four areas, the most important to our comparison of cottons are the fibre and the finishing. A coarser yarn determines a lot of things further up the process; and finish drives a lot of the feel of the material.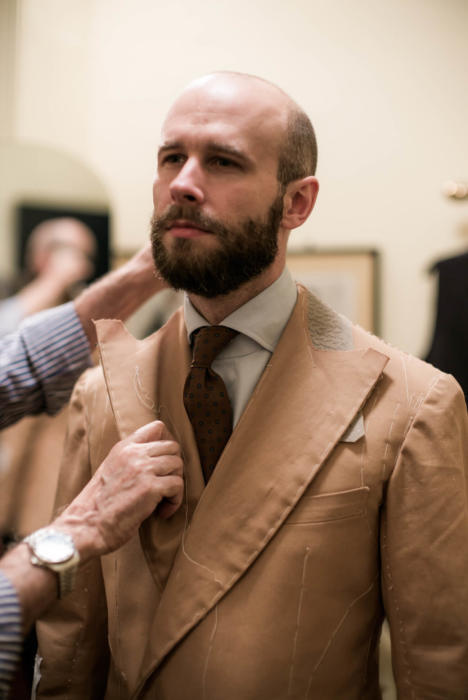 Thirty years ago, far more cottons were made like this. Then the trend became for finer and finer cloths, in cotton as in wool.
"Those old English cottons were popular because people wanted a heavier, better wearing cloth," says Michael Day, head of production at Scabal in Brussels. "Back then if you had a 230g cotton, people would have thought it was a shirting rather than a suiting. You'd certainly never make a pair of trousers out of it."
"That market does exist today, and it has been growing a little, but it's still a very small part of the whole," continues Michael. "We don't offer it - it would be a little too niche and take a lot to communicate the value to the customer."
Some mills do still offer such cottons, including Eurotex, Fox Flannel and a handful of Huddersfield mills including Hunt & Winterbotham.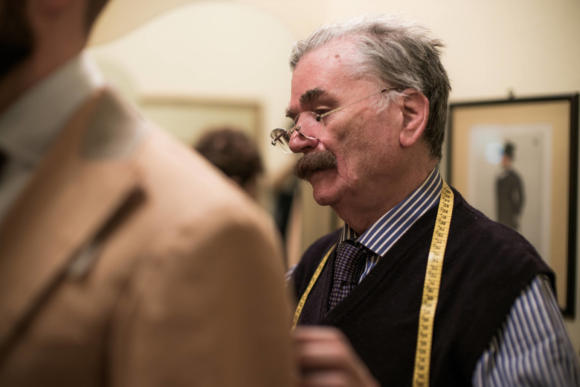 Having defined the cloth, then, how does this one differ in feel and performance from the finer cottons more normally used for tailoring?
Unsurprisingly, it's more similar to a denim or heavier, unwashed chino. Not as stiff as a raw denim by any means, but still untreated and unwashed, and therefore likely to age in a different way, softening more noticeably over time.
As mentioned, Ferdinando Caraceni used to make a lot of cotton jackets, and Nicoletta still wears a lot of her father's old ones. They have worn in like jeans - softening around the wear points, losing dye and feathering in the elbows and lower back.
I find it very appealing, and in a different way to the Caliendo cotton discussed previously. It feels more practical, almost like workwear, and I plan to wear it enough to beat it into a similar shape as Nicoletta's.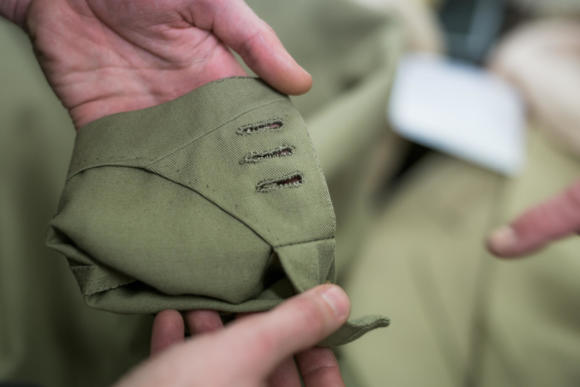 Like the Caliendo, this jacket will also have unlined sleeves, and finishing that is particularly nice around the edges and inside of the cuffs.
You can see the inside of an old model in the photo above. "My father always said that a jacket should be just as beautiful on the outside as the inside," Nicoletta has told me more than once.
And this is particularly true of cotton: "Cotton is a cheap material, so he always said it must be particularly fine in finish, to elevate this everyday material into something higher."
Photography: Luke Carby