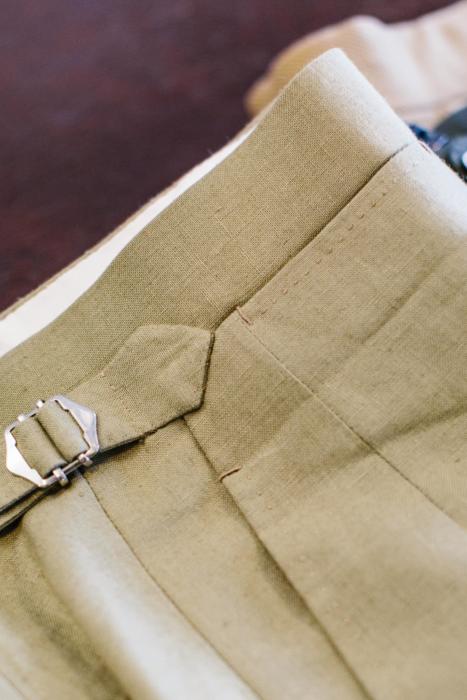 If shirts are the items in a man's wardrobe where he wants most predictability and consistency, then trousers are undoubtedly second.
In that spirit, over the past year I have regularly commissioned odd trousers ('odd' as in separate, so not part of a suit) from Whitcomb & Shaftesbury, in their Classic Bespoke programme.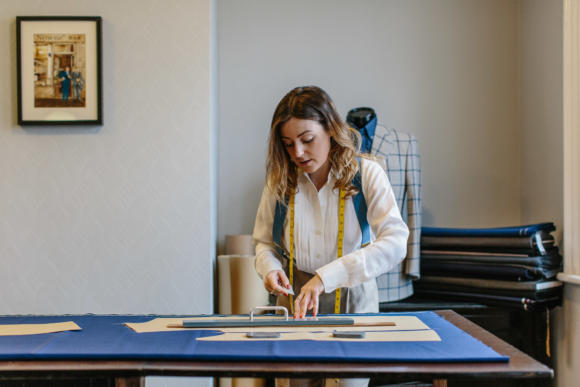 I have used them for several reasons:
One, I liked the subtle style of the trouser than John cut for me, and so there is no fiddling around to do there (precise measurements in an upcoming post)
Two, they are good value at £444 (ex-VAT) for Row-quality make, though partly made in India
And three - more subtly but I would argue rather importantly - the service has been very consistent. We did one fitting with each pair, but barely had to bother, the results were so good each time
Here are the six pairs I had made, plus why I chose them, where they fitted into the wardrobe, and what I've thought of them since commissioning.
Design-wise, they were all: flat-fronted, with a mid-rise, slanted hip pockets, one rear (buttoned) pocket, and 5cm turn-ups.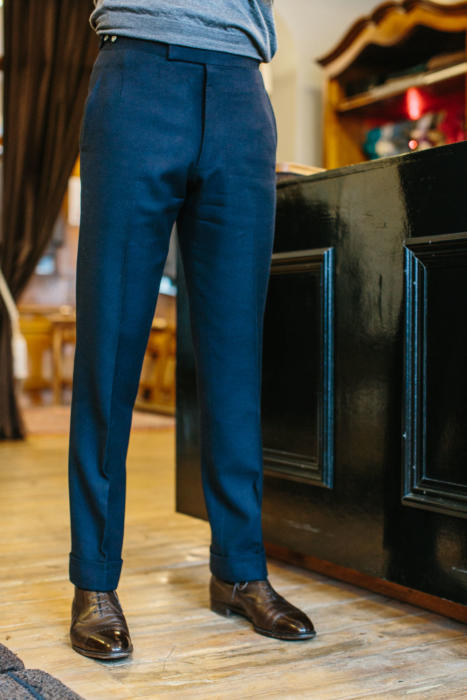 1 Heavy grey wool
Holland & Sherry
27oz wool
986034, Overcoating bunch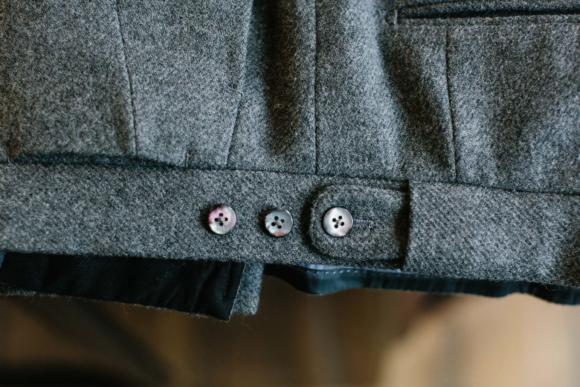 This is the same cloth I had cream trousers made out of in 2016, and that used to be part of the H&S Pardessus bunch, until it was discontinued. Fortunately, a few colours are still available in the 'Overcoatings' bunch.
I would never have commissioned these had I not already tried the cream, given how heavy the cloth is. But the cream didn't feel heavy, merely warm, which is lovely through the colder months. And it held a lovely shape.
The grey has been exactly the same, although the mid-grey colour makes them much more versatile. I've also found that, although they aren't milled like flannel, they have enough texture to make them just as able to bridge formal and informal combinations.
They were featured in this duffle coat shoot.
2 Khaki-green linen
Huddersfield Fine Worsteds
11oz linen
9255, Cotton and Linen bunch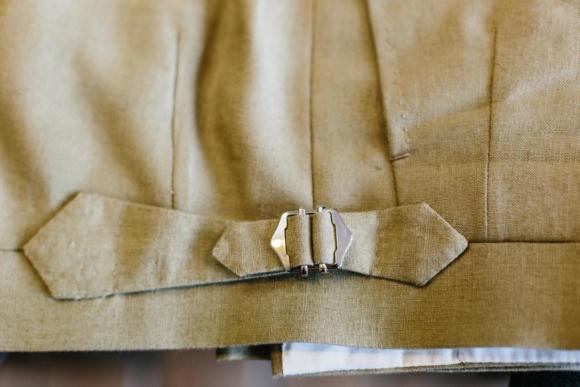 Those grey-wool trousers were made at the tail end of the winter last year, and as a result didn't get a lot of wear until the next winter.
I did rather better with the timing of this second pair, made in linen just before the start of summer 2017.
Although I can see the appeal of a lightweight linen for a jacket or suit (such as my tobacco-coloured Langa), I would always pick a heavier, Irish linen for trousers.
This is usually around 11oz, as here, and I find this weight (as with my Dege suit) holds its shape for longer and rumples more than creases.
I already had dark-green, cream and stone-coloured linen trousers, but had only found the last to be versatile across a range of odd jackets.
So I hoped this khaki-green would fill a gap there - and it did. It's great with navy and brown, and even dark green given how pale the colour is.
It has also proved to be particularly nice with a range of brown shoes, from dark chocolate all the way through to tan.
3 Green winter cotton
Ariston
350g (12/13oz) cotton twill
C056-4, Linen e Cotoni bunch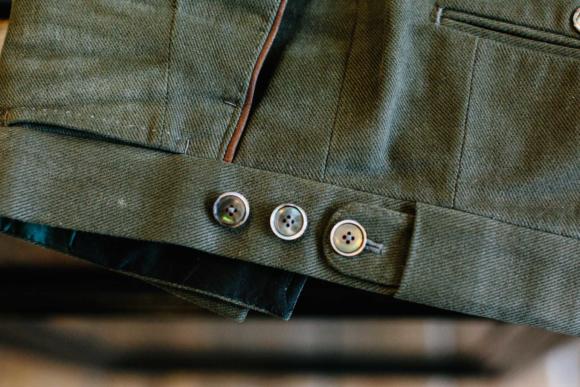 I've long been a fan of green trousers in the sartorial wardrobe - because they can be very versatile, and because they don't come up much in discussions of greys and tans.
I had found my khaki-coloured trousers from Cerrato very useful, and so decided to try something greener, here from Ariston.
They have been good, although not quite as nice as the previous pair. I think if I had the choice over again, I would go for that heavier cotton (15oz rather than 12/13).
A key risk of such cotton trousers is that they can look a little 'old-manish' and I think the heavier cotton is better in that regard.
I also used this pair of Whitcomb trousers to try some of the extra detailing they can offer through the India workshop - here some brown cotton piping on the pockets.
I'm not sure it worked. I don't mind the colour - it doesn't look flash, unlike say a yellow buttonhole - but it's not as sophisticated as the brown-suede details you often find on Italian knitwear, which is what I had in mind.
4 Heavy Fox cotton
Fox Brothers
22oz cotton twill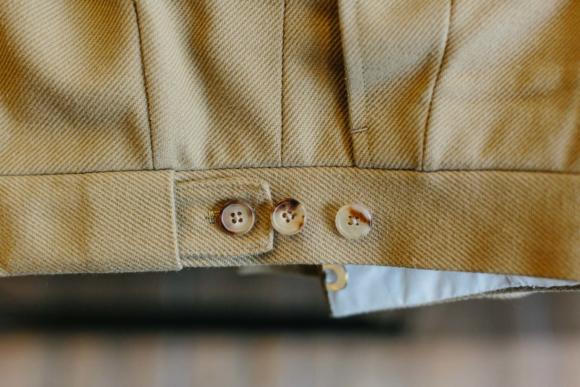 These trousers came out of a conversation with Douglas at Fox Brothers about the heavy cotton they used to produce for the British Army, for puttees among other things.
This khaki cotton was a close cousin of that, and in some ways is similar to the vintage ecru cloth that they re-wove recently - a tough, steep twill with an indulgent amount of raw material in every yard. Unfortunately it is currently sold out.
I wore this pair regularly through the winter. The thickness of the cotton and the strong colour gives them a casual, military flavour which meant they were particularly good with leather jackets, such as my Chapal flight jacket.
I would suggest a paler tan or beige for a dressier cotton trouser, however.
I've found the colour to be slightly limiting as to jackets it can go with, often requiring something equally dark and strong on top.
As with the grey Holland & Sherry trousers, these had buttoned or Daks-style side adjustors rather than buckles, as buckles can struggle to function with heavier cloths.
In picking buttons for those side adjustors, I found I liked horn on paler colours (as with this pair), and mother-of-pearl on darker ones.
5 Blue-tinged green flannel
Loro Piana
11oz wool/cashmere
640055, Winter Flannel bunch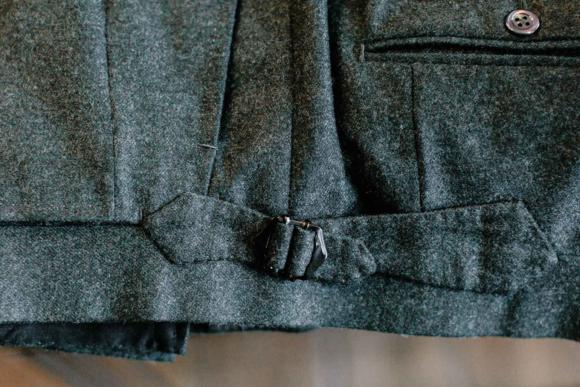 In the same vein as the green cottons above, these were an attempt to expand my range of green trousers for winter.
My other pair, in a Holland & Sherry flannel and made by Elia Caliendo, had been worn very frequently. I wanted something similar but perhaps a little darker - closer to charcoal, and smarter as a result.
These, in a Loro Piana cloth, have done well in that regard, although the colour is slightly odd. It has a slightly blue cast and I find it's not great with jackets that have much colour in them (eg my Richard James herringbone) but fine with pale greys (such as my Steven Hitchcock).
I would also not normally pick trousers with cashmere in the mix - I missed that on the description. Ideally I'd also have something heavier than 11oz, but there are rarely many green flannels to choose from.
6 Vintage Fox navy serge
Fox Brothers
25oz wool twill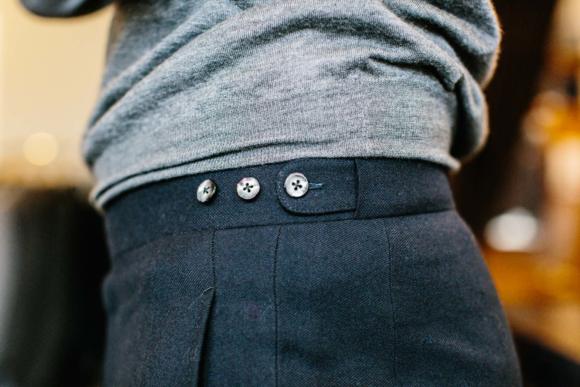 This is a vintage piece of cloth I bought from Fox Brothers (anyone interested in vintage Fox will need to come to our next pop-up shop, presuming Fox are there).
It's a pity that it - like the heavy cotton - is no longer available, because it's a wonderful wool twill that makes up with a great drape and sharp crease.
I don't normally wear or recommend navy odd-trousers, as I don't think they work well with odd jackets. They too easily look like one half of a suit, where grey usually doesn't.
But these will be largely worn with knitwear, under a casual jacket such as my M-65 field jacket.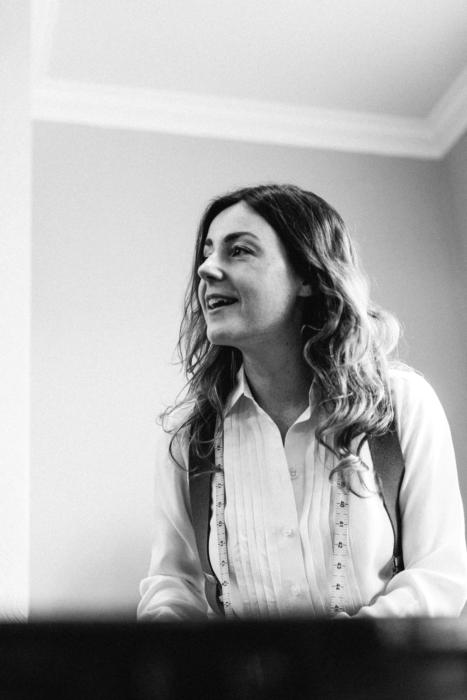 Pictured at top and above, by the way, is Sian at Whitcomb & Shaftesbury, who was hired last year to help out John McCabe on the cutting. She cut the latter half of these trouser orders, and has done so extremely well.
Pictured below is Bob Bigg, the coatmaker who helped set up the India workshop where Whitcomb & Shaftesbury has these pieces made.
Photography: Jamie Ferguson @jkf_man
In the top image with navy trousers, I am also wearing: Edward Green Top-Drawer boots, and Anderson & Sheppard charcoal cashmere polo-collar knitwear.