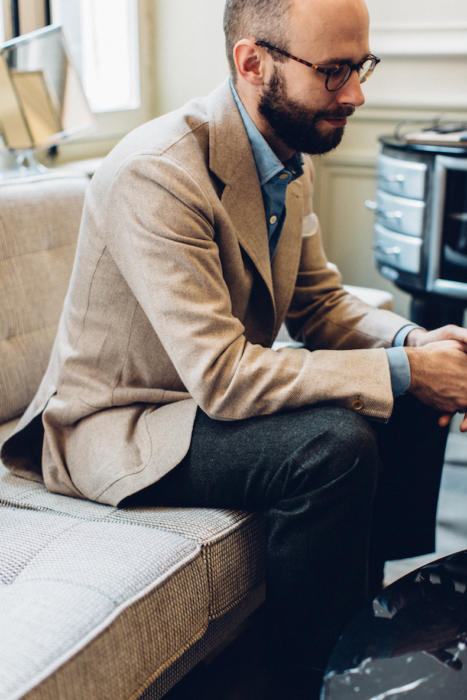 This pale, oatmeal-coloured cashmere is my new favourite sports-jacket material.
When men are picking colours for sports jackets, their second choice (after the obviousness of navy) is usually grey. Which can be great, in:
But if this is a smart office, where we're replacing grey and navy suits, then the next colour options – primarily brown and green – can be a little too rustic.
Even muted browns and greens – like my Rubinacci donegal or Solito escorial – might not be smart enough. It's just hard for these essentially country colours to be formal.


Oatmeal, or beige, is easier. If this colour has any associations, it is with the linens of summer. But the texture of the cashmere, and some cream in the weave, elevate it above those casual, wrinkled jackets and make it look much more luxurious.
Indeed, this biscuity tone might even be more useful than grey – because it can go with grey itself.
The big issue with grey jackets is they can't be worn with grey flannel in the winter, or grey fresco in the summer. Oatmeal doesn't have that problem.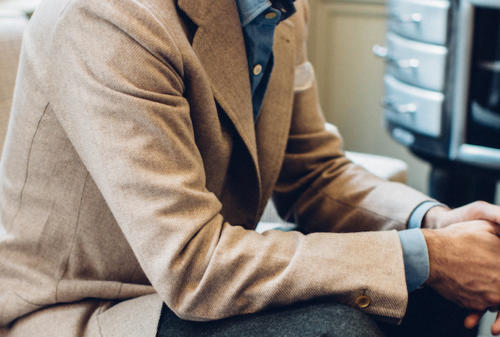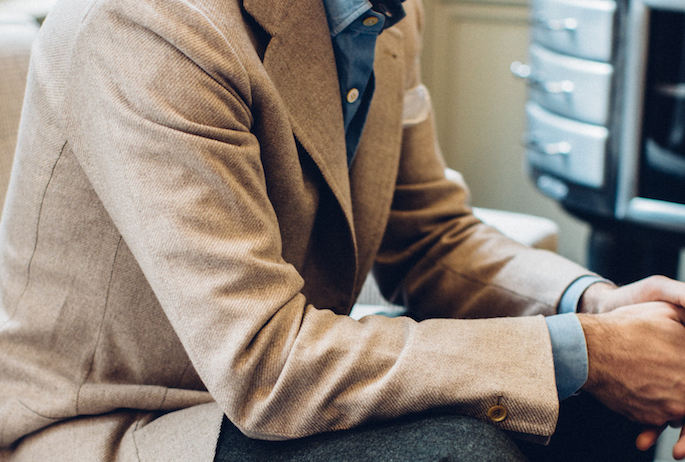 The cloth is Loro Piana 499019 from the cashmere jacketings bunch. It is 320 grams (11 ounces) and 85% cashmere, 15% Super-170s wool. The latter gives it noticeably more body without making it feel any less soft.
The jacket was made by Neapolitan tailor Elia Caliendo, and it is worn with:
Pictures taken in the atelier of Maison Bourgeat glasses, Paris.

Images: Jamie Ferguson @jkf_man