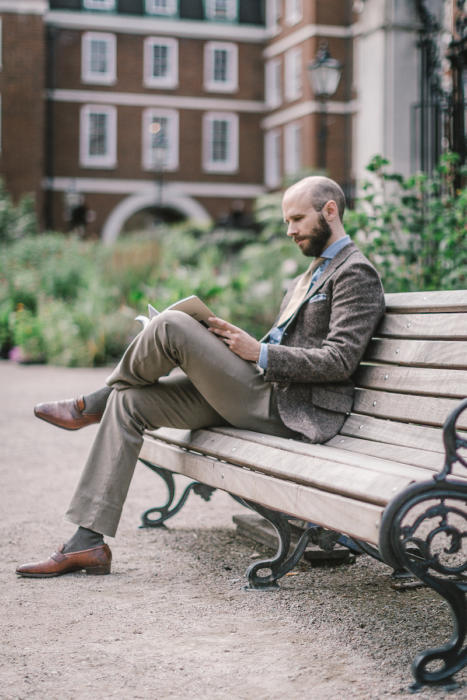 In the spirit of our recent posts on assembling outfits, here's the process that put this one together.
Originating idea: I've always liked the way this pale, silk tie from Ralph Lauren goes with my Rubinacci cashmere jacket. The corn colour of the tie picks up some of the lighter aspects of the donegal pattern. Very few plain, silk ties work with odd jackets, but this one does. So, what to wear with it?
The default assumption with the shirt is it will be plain blue. It's easily the most versatile of the shirt colours. And that works here, successfully bringing the jacket and tie together without the starkness of a white background, or the complication of another pattern.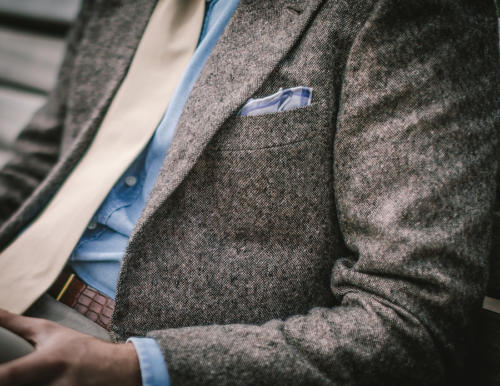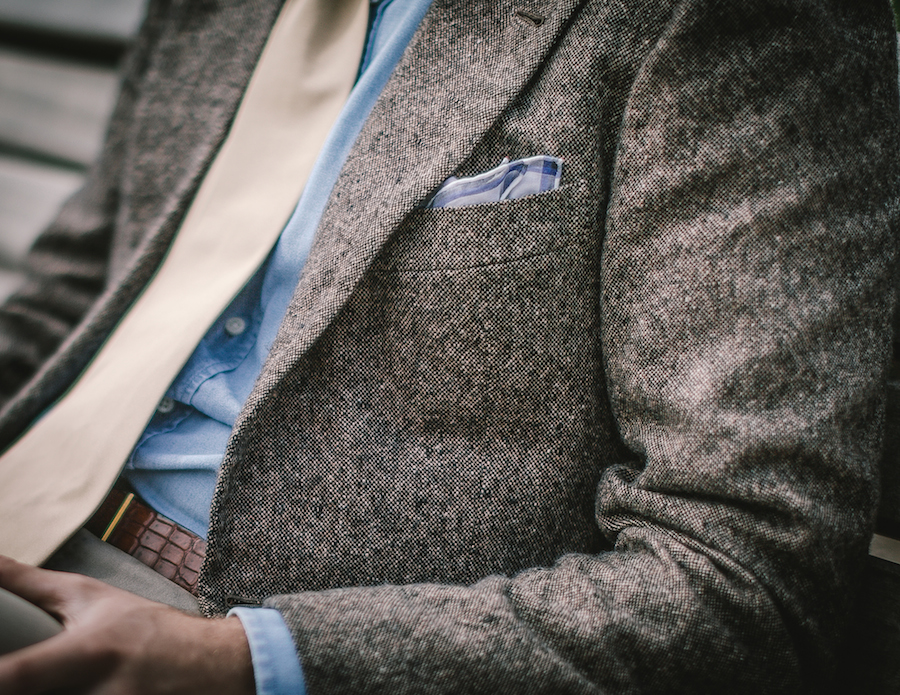 What trousers? Several could work, each with a respective level of formality, from fresco to chino. But I'm most interested in more casual combinations of jacket/tie/handkerchief; it's just more of a challenge, and something you rarely see done well. So I went with chinos.
Cream was too close in colour to the tie, and navy contrasted a bit too much with the jacket (we are playing with a very subtle colour combination above the waist, after all). So these grey/green ones from Incotex were chosen.
An odd jacket/odd trouser combination always needs enough contrast to tell the two pieces apart, but the degree of contrast should also be a reflection of the rest of the outfit.
At this point, it seemed like there was a theme emerging. Subtle, muted colours – and perhaps a touch of the military. The pale-yellow tie is very similar to that worn by American soldiers in WWII, and I believe still worn by the Marine Corps. And the green/grey of the trousers is not far off the rest of the uniform.
With that casual theme in mind, the blue shirt became a blue denim, and my Gaziano & Girling hatch-grain loafers went on the feet. Nice that the loafers, again, are not too dark and therefore don't create too much contrast with the trouser.


Watch is my Rolex GMT-Master with tropical dial. Reading a copy of Permanent Style 2015. In the gardens of Inner Temple, London. (Oh, and a blue/white hank to pick up a little from the shirt.)
–
The book, Permanent Style 2015, is still available by the way. I think we had about 400 copies left at last count, out of the original 2000. You can buy it here.
All are hand-numbered, and can be distributed from the US or UK. If you are in the UK, make sure to click 'Estimate Shipping and Tax' and enter the UK as the country. You will then have a 'Promotion shipping offer' of $7.
Photography: Ade Udoma