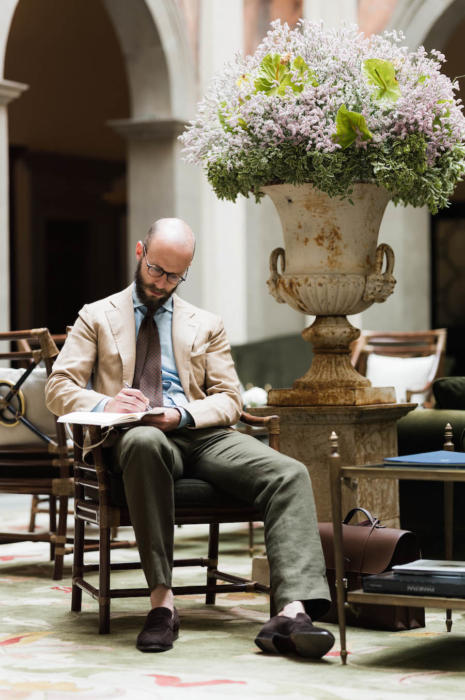 OK, let's break this down. There are four major choices of colour here:
Trousers: green
Jacket: tan
Tie: brown
Shirt: blue
I put them deliberately in that order because that is the order in which they were chosen. Readers are familiar with my love of green as a way to break the tyranny of navy and grey, and I wanted to wear these new Paul Stuart green-linen trousers.
Next choice: colour of jacket. This could be grey but the contrast would be tricky. Navy would be fine, as it always is, but more formal and less obviously summery. So we try my tan linen/wool jacket from Elia Caliendo, which works nicely with the green.
Both are strong colours, however, and from now on the other aspects of the outfit are made in their support.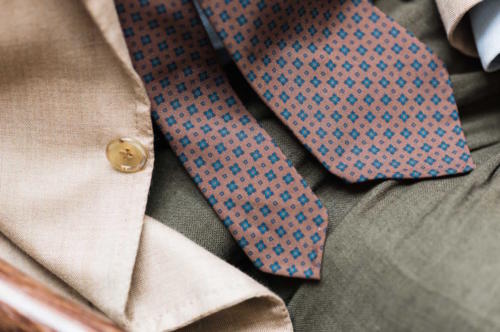 So what colour of tie? Again, navy would always work; perhaps my favourite garza-grossa grenadine. Grey might also do; I have a lightweight grey cashmere that might be good. But we could probably do with some pattern, and nice to stick with the theme of casual colours.
With green and tan used elsewhere, we are left with browns. So a Mattabisch seven-fold, unlined tie from The Armoury in a rather russet brown. And while a white shirt could have worked, blue is a softer background (in this case, it is also made from a denim-look linen, which gives the whole a more casual, modern feel.)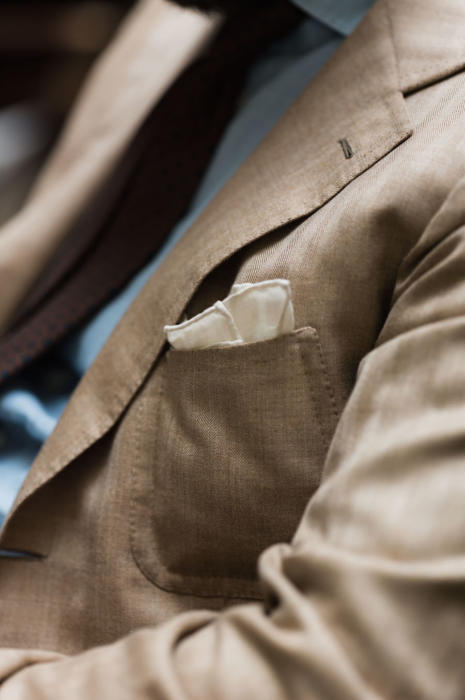 The chalky texture of the tie means there is virtually no contrast between shine and matte in the outfit, and just one elsewhere would be jarring. So we pick a linen handkerchief, whose cream colour further reduces the contrast, and brown suede shoes (Stefano Bemer; Goodyear-welted on my bespoke last).
Six choices in the end, with each more dependent on its predecessors than the last.
If I have one way of dressing, it is normally this: picking one thing I want to wear and working backwards. I'm not going to argue that it's the most effective method, but it does mean I'm excited about one thing every day. And that I wear a lot of brown shoes.
Photo taken at the Four Seasons Hotel, Florence; writing notes for the Tailoring Symposium later that evening.