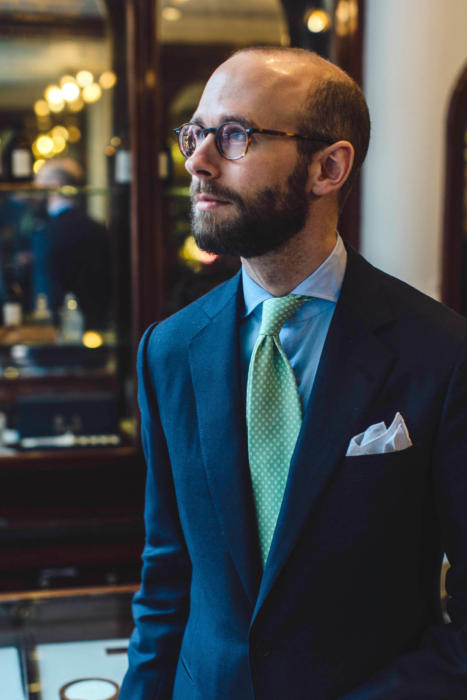 Back in October there was a lot of interest around my post on the bespoke service at Whitcomb & Shaftesbury. Their 'classic bespoke' service, which involves cutting the suit in London (by a very experienced Row cutter), and then having it largely made in India (in a workshop run by a Row tailor) promised fantastic value at £1350 + VAT for a suit.
I'm glad to say that this promise is fulfilled. I have received and worn the suit, and can highly recommend it. It is as good in cut as most other Savile Row suits, and almost as good in make.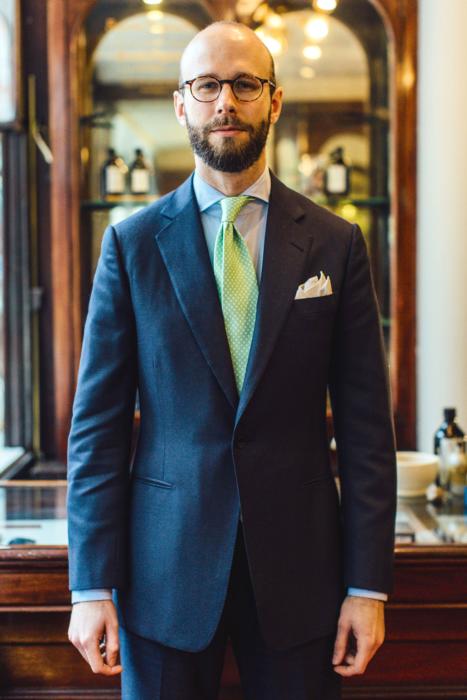 Whitcomb actually offers two services – one partially made by this Indian workshop (wholly owned by them) and one by a normal Row tailor. I had suits made in both, in order to compare them.
I'll post pictures of the second one later, but there are so few differences that it's barely worth pointing them out. The chest, lapel and collar are still hand-padded; the buttonholes are finely hand-stitched; every other area of finishing you'd expect from Savile Row bespoke (eg hand-stitching the lining of the waistband) is there.

This shouldn't really be surprising. The same cutter and coatmaker (John McCabe and Bob Bigg) managed the making of both. The only thing you'd be looking for is a difference in execution – and there are some tiny points there.
The finishing on the lining isn't quite as neat – but as you can see on the images above, it's still good. And the buttonholes have had a machine stitch on the back as a guide, before being finished by hand. This is something most tailors don't do, but you do occasionally see it used on particularly soft or lightweight cloths.
There are also things the Indian workshop can do that you wouldn't give to most Row tailors. Like the lap seam down the back of the jacket (an idea I shamelessly copied across from my Chittleborough & Morgan suit). And although some of these details weren't perfect on the examples I saw in the Whitcomb & Shaftesbury workrooms, this lap seam was very nicely done.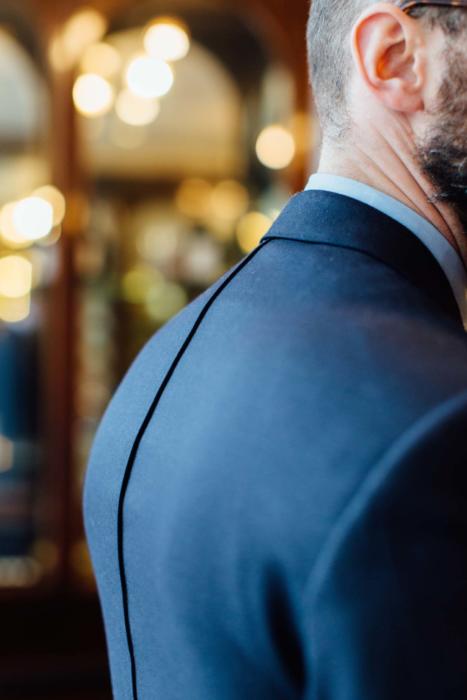 The cut is lovely and lean, with the suppression of the waist accentuating the sharp style we were going for – single button, more open foreparts, unflapped pockets, plus that lap seam of course.
The shoulders are quite soft and natural, although the team can certainly do more roping if requested. Interestingly, there is also quite a lot of drape to the chest – something I like on my Anderson & Sheppard suits both for their comfort and impression of a bigger upper body.
Back in the day, Kilgour French and Stanbury cut with a good bit of drape. That's where John worked until 2010, and it is still his style.
This is a proper Savile Row suit. It is made to the same standards, by people with the same training, with most of it (pattern, cutting, fitting, alteration) still done in London and the heavy-lifting done in India.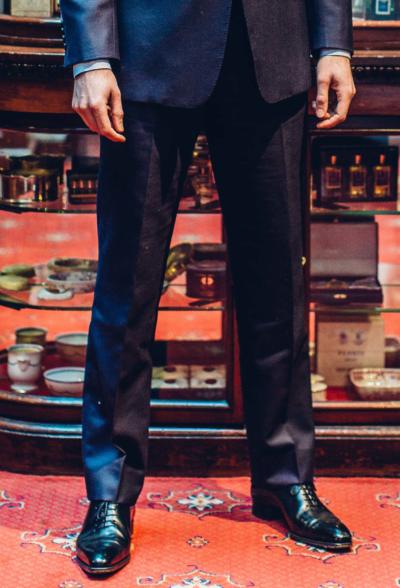 I can understand why some people don't want a suit where any of it is made abroad. People even complain when they find out some of the work is being done just off Carnaby Street, rather than in a basement off Savile Row.
If those people want that product, they now know exactly what they need to pay for it – £3,050 (the price of the Savile Row Bespoke product) rather than £1,350 (the Classic Bespoke). Location makes no difference to me, but if you want it you can pay £1,700 for the privilege.
I'll reflect more on the overall style of Whitcomb & Shaftesbury, and where it sits relative to other tailors I have tried, when I publish the pictures of the Savile Row Bespoke suit.
Cloth: Holland & Sherry, Classic Worsteds, 12/13oz
Worn with:

Images: Jamie Ferguson @jkf_man