The duffle coat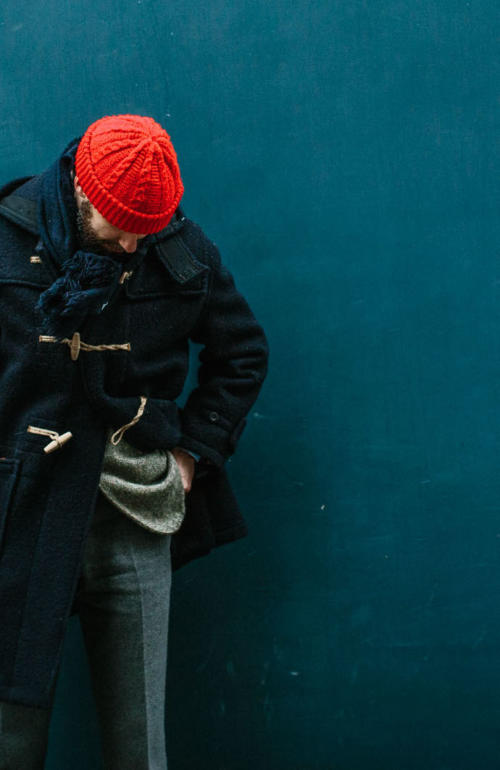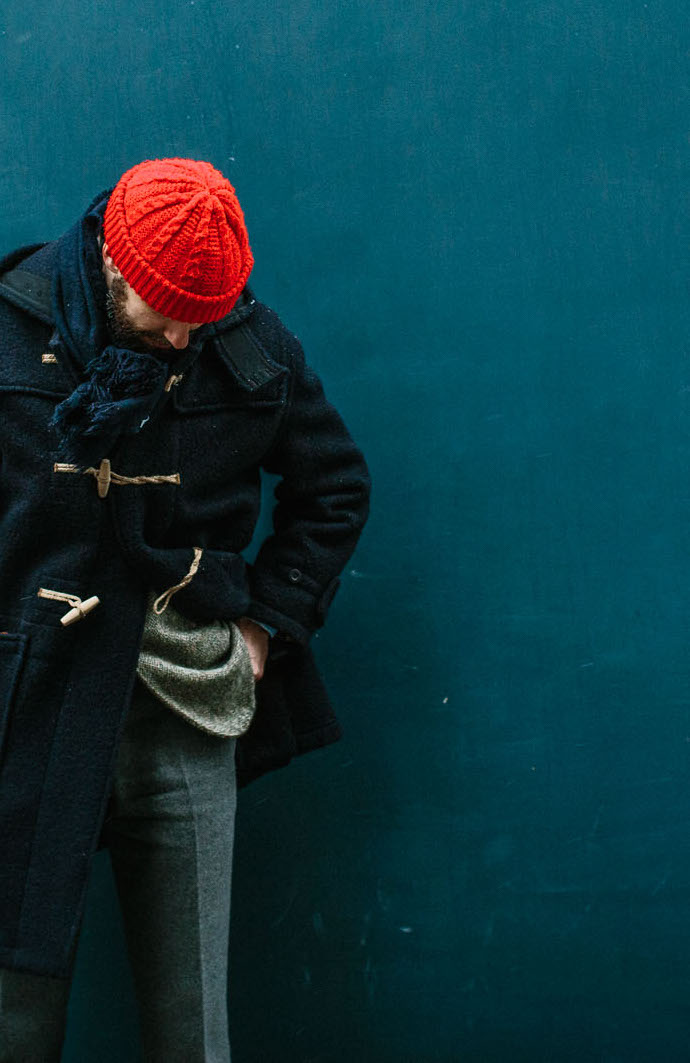 It was freezing in London last week. Temperatures below zero consistently; more snow than we've had in a decade.
Of course, it's nothing compared to the US east coast - or Scandinavia - but it was rather a shock.
I had an odd feeling on the second day of the snow, when I set out for the photoshoot pictured here, with Jamie.
Although the weather was still very cold, the wind chill factor seemed to have gone. It felt like 0 degrees rather than -5.
It was the duffle coat, which I had had for a few weeks but never worn in high winds. The thick, combed wool/polyamide mix was extremely wind-resistant, and although a loose coat like this doesn't trap heat inside, the lack of wind chill was extremely welcome.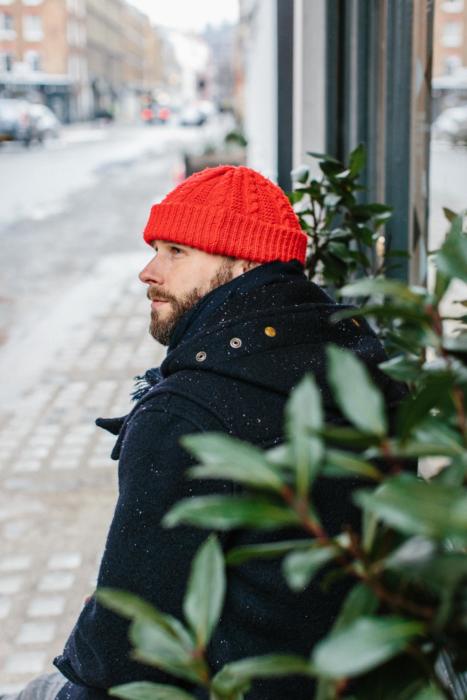 I only started wearing a duffle for the first time this winter.
Historically I had associated them with Paddington Bear and my daughters (whose school coats are both duffles); and while I could see the heritage appeal, I didn't think they would work sartorially.
Of course, you regularly see the Japanese wear duffles over tailoring, but that is more fashion. Not for a regular guy in a regular office.
(Image below taken from The Style Guide.)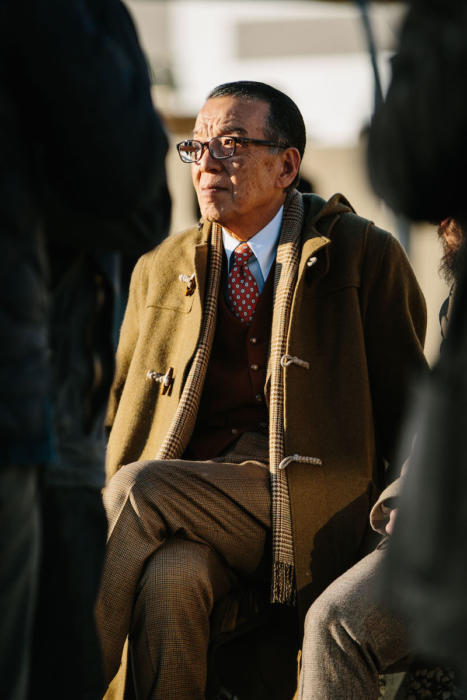 I changed my view when I bought this navy Gloverall duffle - the original Monty style - from John Simons on Chiltern Street.
It was fantastic value, at £225 reduced from £450 (sale still on I believe), and was something of an impulse buy.
I was interested to try such an iconic piece of menswear, and see what it could work with.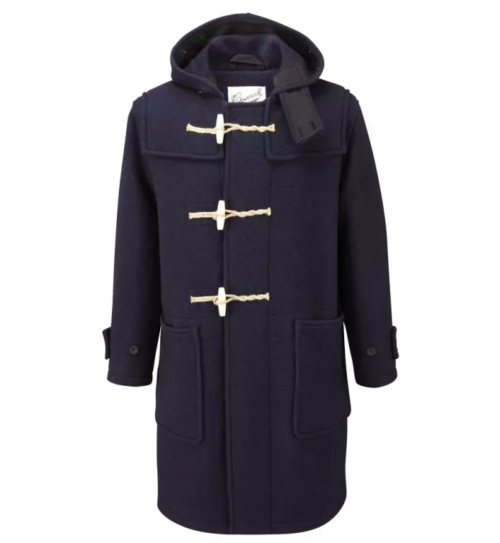 I find it works over most casual tailoring - so sports jackets and trousers, or casual suits like corduroy or tweed - as well of course more casual things like jeans and knitwear.
Here I am wearing it with my Cifonelli green-tweed jacket, an Everyday Denim shirt and grey-flannel trousers.
The navy is so deep and dark that it looks relatively smart (certainly far more than camel - the other colour the Monty comes in). And this despite the fact it has jute-and-wood toggles rather than the leather-and-horn of most other models.
I do find, however, that it looks best with a scarf at the neck. The duffle sits so open around the shoulders that it can be a little unflattering on someone with a long neck like myself.
Mine is a washed-kishorn scarf from Begg & Co via Trunk.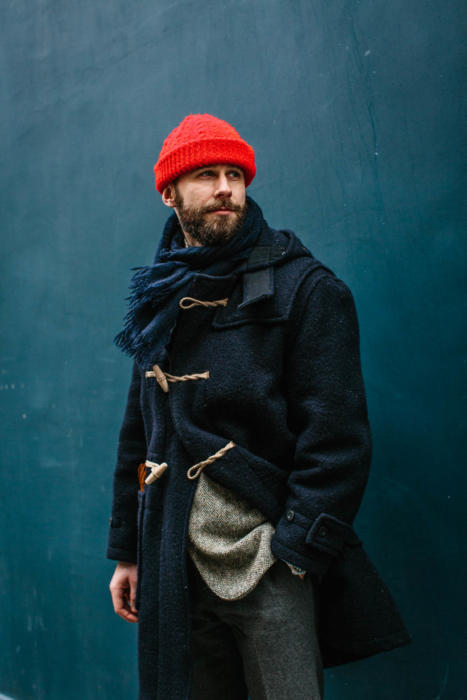 A duffle coat is also of course extremely practical.
Not only is it windproof, but it holds up well in rain, with the brushed finish stopping too much water soaking into the cloth.
Like most (largely) natural-fibre coats, you just have to hang it up if it gets soaked, and let it dry fully before wearing it again.
The Monty is also long enough to go over any jacket, but short enough to be able to cycle in comfortably.
And it has a hood - something you almost never have with sartorial clothing - which means you don't need to carry a hat or umbrella.
I had dinner with Michael Hill and the guys from Drake's on Tuesday, and Mike was wearing exactly the same navy Monty over an olive-cotton suit.
He'd just come back from Italy, and praised it for exactly these points of practicality.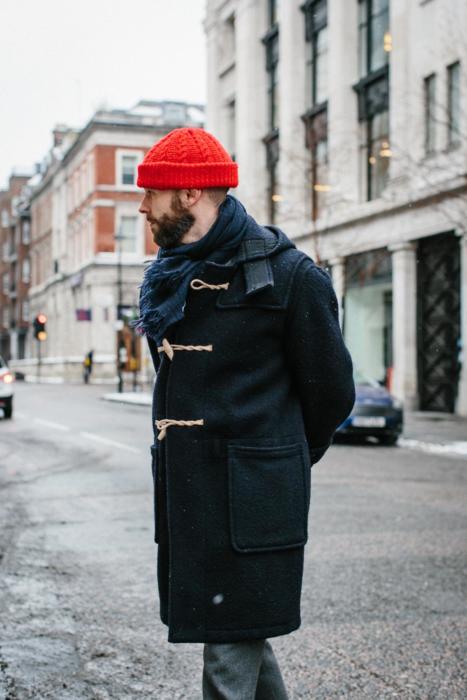 Many other brands do a duffle coat. But looking at them all this past season, I find I prefer the Monty, even if some of its design points are a little quirky.
For example, the Monty's throat latch leaves a gap between it and the body when fastened, which lets in unwelcome cold air. It also sits very square when undone, and can get in the way of the toggles.
Designer versions tend to iron out these issues. Polo Ralph Lauren had a model this past season, for example, with a throat latch that left no gap, and which buttoned back under the hood when not in use.
Its method of tightening the hood was also nicer, where the Monty's poppers are a little crude.
But the Polo version also lost a lot of the traditional style along the way.
Its buttoning was centred, rather than asymmetric; it was neater in the shoulders, rather than oversized; and perhaps most important of all, the material was a smooth twill with none of the brushed, 900g character of the original.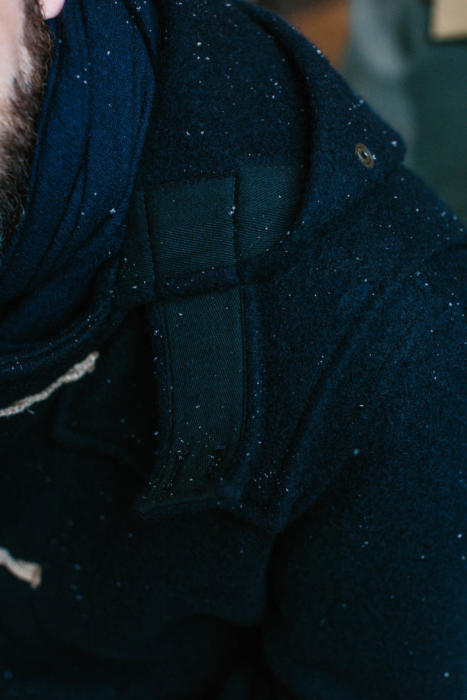 That oversized style, by the way, is something I also didn't get at first.
I originally bought a Small, finding that it fit better (or rather closer, neater) on the shoulders and chest.
But it seemed to lack something, and not have the appeal of the styles I had seen on Japanese gentleman. I swapped it for the Medium (pictured here) and that was much better.
It can be hard sometimes to give up the bespoke-driven assumptions we have about the 'right' fit.
I think the important thing is to first try and understand why a particular design has such appeal - such as the duffle coat - and only then compare it to those principles of tailoring. That way you recognise the similarities (such as a strong, extended shoulder) and understand the differences (a straight, tubular fit through the waist).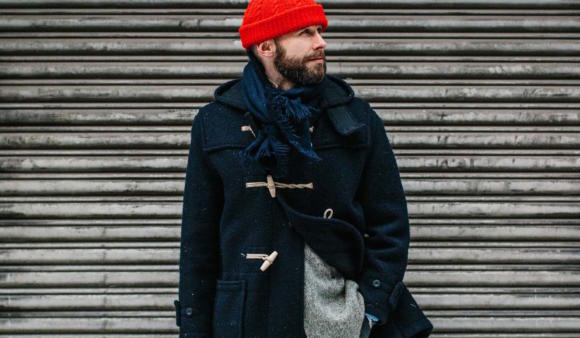 I had a chat to the Gloverall team after this shoot, to learn a little bit about the production and the direction of the company.
It was nice to know these coats are still made in the UK (even though I always say location doesn't matter) and to learn that they do a repair service to replace toggles when they break.
In fact, there is a collection of deadstock toggles at the factory that visitors can pick from when they need replacements, which was enough on its own to make me want to visit.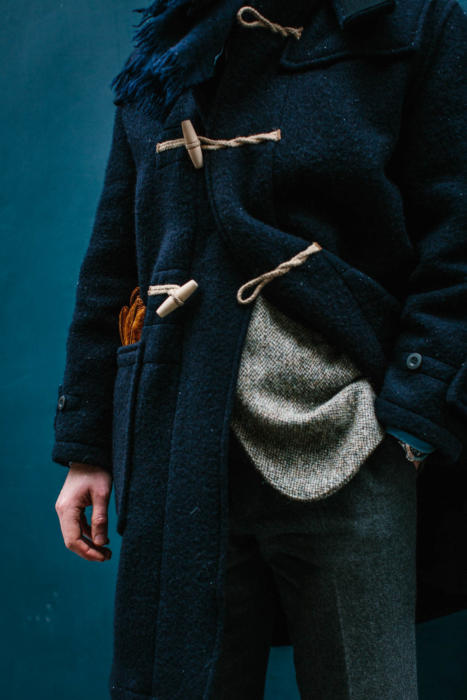 Gloverall, of course, did not invent the duffle coat. It was used by militaries across Europe during the 19th century, and got its name from the thick, coarse material, which originated in Duffel, Belgium.
The British Navy was best known for wearing it, but it was Army officer Lord Montgomery who became the best-known individual wearer, and the Monty is named for him.
Gloverall (a combination of gloves/overalls) was given a load of Army surplus duffles in 1950, and they sold so well that it started developing its own version - the first with those leather-and-horn toggles.
Since the company has been the best-known maker, and has generally kept the original, Monty version of the coat in production in the UK.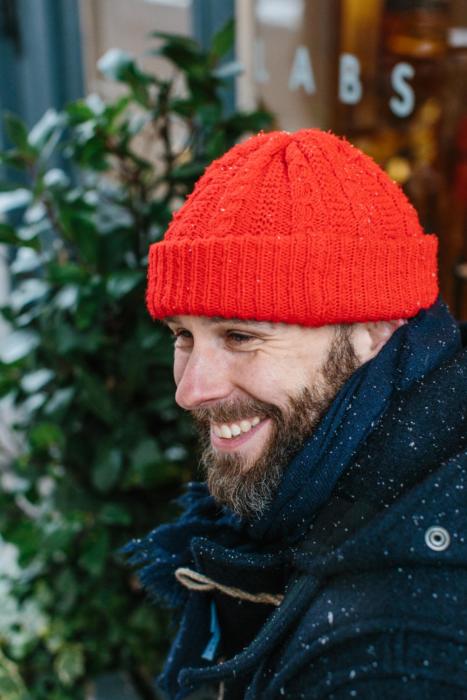 The red watch cap, by the way, is an old one of mine from school, which still seems to fit pretty well (and is also worn by my daughter on occasion).
Red makes for a great pop of colour in a hat, and is probably a better use of the colour than in a handkerchief or tie. It also means you can channel a bit of The Life Aquatic with Steve Zissou.
The gloves are tan carpincho from Merola - a wonderfully soft material, although like suede not very practical in a glove, as it gets dirty quickly (and doesn't look as good as peccary when it does - more dirt than patina).
Although I love the gloves, in retrospect they were perhaps a little too bright for this outfit, given the brightness of the hat. Dark brown might have been better.
Photography: Jamie Ferguson @jkf_man