Seraphin made-to-order project with Connolly
*UPDATE: The offer has now launched, and the jackets are available to order in the Connolly shop, or by phone, until December 10th.
Sizes and measurements of the jacket are included at the bottom of this post. Sleeve lengths can be altered.
If you would like to place an order, or ask any questions, please contact Connolly on +44 20 7952 6708*
-
I have been trying to get Seraphin, the superlative French maker of leather and suede jackets, to London for some time.
I first met them in 2013 and have been a customer ever since, visiting the workshop to cover it in 2016.
Unfortunately Seraphin have precious little retail - and none in the UK. So it was frustrating telling readers about a maker they couldn't find anywhere.
At one point Seraphin were even going to do the pop-up shop. But they're a manufacturer, not a retailer, and didn't have the staff to make it workable.
Fortunately a few months ago, we came up with a solution.
Rather than come themselves, Seraphin is doing a collaboration with myself and Connolly, the London shop for whom Seraphin makes several pieces every year.
Connolly will be offering a made-to-order programme for Seraphin jackets, running for two months from today.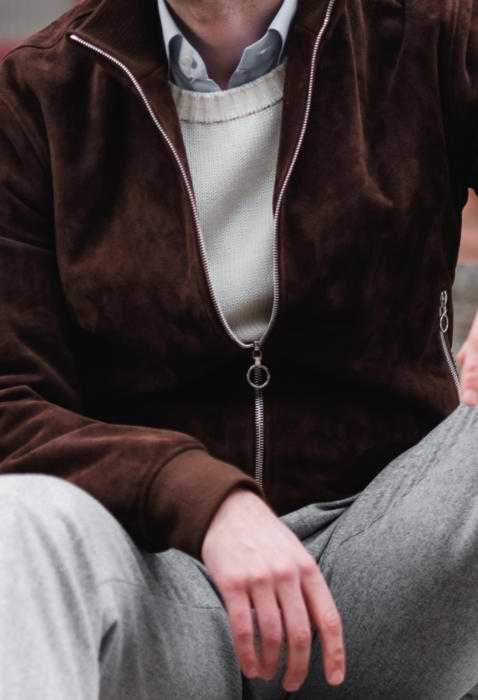 The project will be based around my favourite Seraphin jacket: a zip-up blouson in heavy, water-resistant suede (above - also featured in the Bennett Winch post here).
I commissioned this piece from Henri at Seraphin a couple of years ago, when I visited him in Paris. It was intended to be - and thankfully has become - a particularly versatile casual jacket. Brown suede (the most versatile colour), zip-up to the neck (more casual than a button style), with fine ribbing and simple slanted pockets.
And nice Seraphin touches, like the seams on the ribbing being covered by strips of the same suede as the body. All meticulously executed handwork.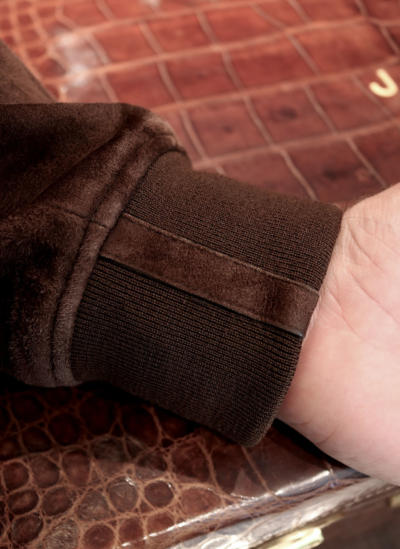 I particularly like the thick suede because it gives the jacket a luxurious feel and makes it robust. But it's only lined with silk (not fur or wool), which makes it versatile enough to be worn three seasons of the year.
The water-resistant treatment is also, deliberately, one that doesn't affect the handle or feel of the leather.
The Connolly offering is based off that design, with different options for the materials.
The options are:
Goatskin suede in four colours (mine, £2,450)
Cashmere jersey, reversible to waterproof nylon, in three colours (2,350)
Deerskin leather in three colours (£3,220)
Beaver fur lining for the suede or the deerskin, making them £4,950 and £5,120 respectively.
The reversible cashmere style is obviously very useful, but having it in jersey makes it especially so - stretchy, almost like sportswear.
Deerskin is an under appreciated leather generally, I think because its richness comes out over time, more like horsehide and less like the more obviously attractive suede or lambskin. But it is a level more expensive.
And the beaver lining turns the jacket into a definite winter piece, and the most luxurious option.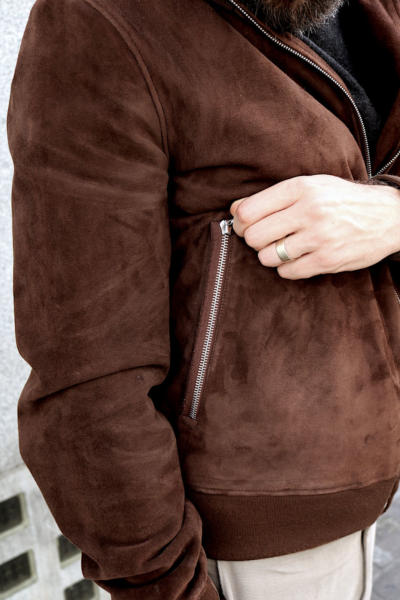 There will be samples of all these jackets in the Connolly shop, so you can see and feel them first hand. And a size run of the suede jacket, to check sizing.
This is not a made-to-measure offering, but small changes will be possible, most obviously shortening or lengthening the sleeves.
Orders will be delivered by Seraphin in 5-6 weeks. The offer ends on December 10th.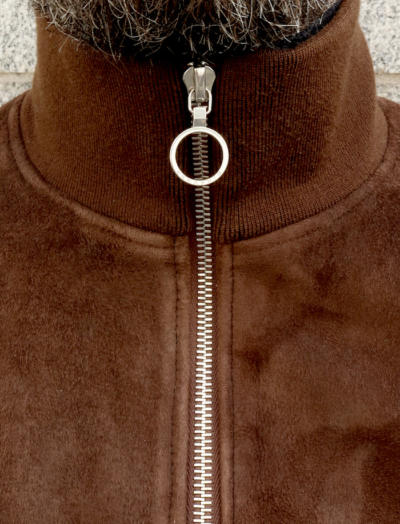 Finally, we will be holding a small launch event for the collaboration next Thursday, November 7th, in the Connolly store on Clifford Street in London.
Please RSVP if you would like to come along, see the jackets and hear why I think they're so special. The event will start at 6pm and run until 8pm.
I will also be available the next day by appointment, if anyone would like to get my advice on the options.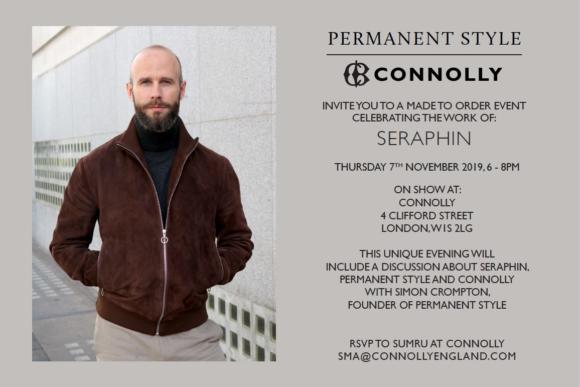 Other clothes pictured:
A charcoal cashmere roll neck from Drake's

Pale olive basketweave chinos from Stoffa

White Common Projects Achilles sneakers
Photography: Connolly
Measurements:
Size 44
Sleeve length (from sleeve head at seam) : 63,5 cm
Chest : 54,5
Back length : 65 cm
Size 46
Sleeve length (from sleeve head at seam): 64 cm
Chest : 56,5 cm
Back length : 65,5 cm
Size 48
Sleeve length (from sleeve head at seam): 64,5 cm
Chest : 58,5 cm
Back length : 66 cm
Size 50
Sleeve length (from sleeve head at seam): 65 cm
Chest : 60,5 cm
Back length : 66,5 cm
Size 52
Sleeve length (from sleeve head at seam): 65,5 cm
Chest : 62,5 cm
Back length : 67 cm
Size 54
Sleeve length (from sleeve head at seam): 66 cm
Chest : 64,5 cm
Back length : 67,5 cm
Size 56
Sleeve length (from sleeve head at seam) : 66,5 cm
Chest : 66,5 cm
Back length : 68 cm
Size 58
Sleeve length (from sleeve head at seam): 67 cm
Chest : 68,5 cm
Back length : 68,5 cm
Size 60
Sleeve length (from sleeve head at seam): 67,5 cm
Chest : 70,5 cm
Back length : 69 cm