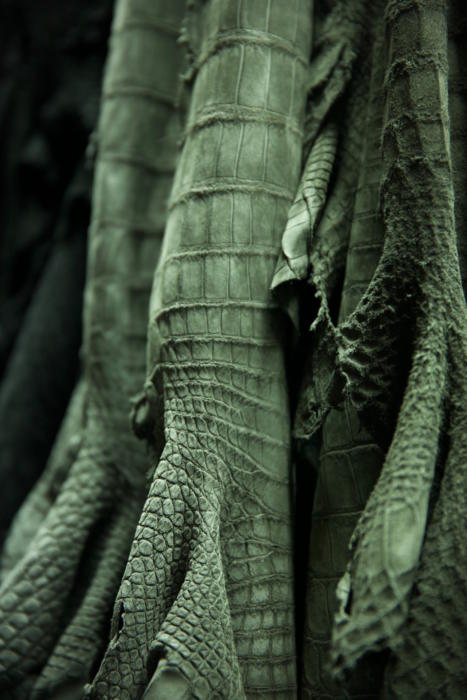 I love visiting factories. Always have done.
The Best of British book made use of a lot of factory visits I did in the first five years of the blog – to Corgi, Dent's, Sunspel etc. And The Finest Menswear in the World was a great excuse to do a bunch more.
You can't hide in a factory. There is no sales, no PR – or if there is, they can't hide behind empty terminology. You can see the product and how it's being made, rather than having it described to you.
My favourite factories are small – not bespoke workshops, but little ateliers of a couple of dozen people. It's often the size you get with ready-to-wear clothing that requires a high level of craft.


Seraphin is a lovely example of this.
The French maker has four workshops on either side of the Quai de Valmy, close to the centre of Paris. The area has been the home of leather tanneries and manufacturers since Napoleon's time, and the narrow, three-floored buildings are perfectly suited to the different steps of the manufacture.
Seraphin is one of the best makers of leather coats and jackets in the world, certainly in France, and you can see the fine attention to detail at every stage.


The craft knife used to cut the thin gloving leathers Seraphin specialises in, for example, is different from the thick knives used in most leather work (see two images above).
"You need that kind of precision to match these thin leathers," says founder Henri-George Zaks as he shows me round. "Particularly if the jackets are unlined."
Each jacket is cut individually, which is necessary when you're using natural, untreated leathers as Seraphin does.
"We love the natural variation in the colour, the character this gives to each one," says Henri. "But that means you have to very carefully select and cut each panel, so the whole jacket works together."
He shows me a treated leather that they are also using for a client (most of Seraphin's production is still for third parties) and its flat, lifeless colour. It's not what he likes, but some fashion brands prefer its consistency and control.


This building has three such cutters, two pattern makers, two linings makers and about 12 seamstresses putting it all together.
Down below us we can see the silk linings being cut (pictured above). Seraphin uses silk lining 90% of the time (the same silk as Cifonelli has in its tailoring).
"I just love the feeling of silk inside a jacket – it's the best partner for the thin leathers or suedes on the outside," says Henri. Personally I've always liked silk linings. They're not quite as hard-wearing as synthetics, but I'd rather have silk and replace it every 10 years.


Next door to us are the pattern makers, creating blue and orange cardboard patterns – an individual one for every design and size. And downstairs are the seamstresses.
Particularly impressive here is the work with fur and down. Two ladies were busy stuffing jackets with goose down by hand when we were there (pictured below).


My favourite place, however, was inevitably the leather room. It was the same with Zilli in Lyon, who we visited for The Finest Menswear in the World.
Racks and racks of beautiful skins, subtly varied in their colours and textures, from crocodile to calf, yak to lamb. Henri shows me one package that just came in from Africa – when they opened it up, they found a machete still inside (below).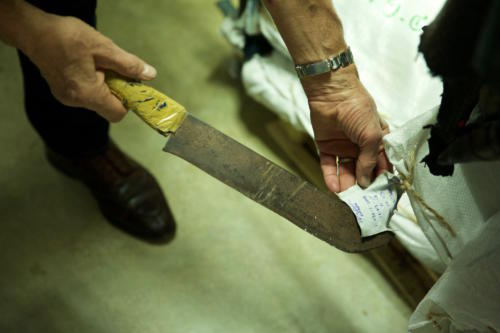 Of course, as soon as you see all these leathers, as well as the racks of archive jackets, you start to fantasise about making up something for yourself. (Factories are great, but even better is a factory and shop in one. It's the perfect retail experience…)
This is something – bespoke jackets – that Henri wants to offer more in the future.
"The product should always feel special, not just because of the quality, but because of the rarity or the personal nature of it. Keep production small, don't market too heavily. Keep it as something that those in the know can discover."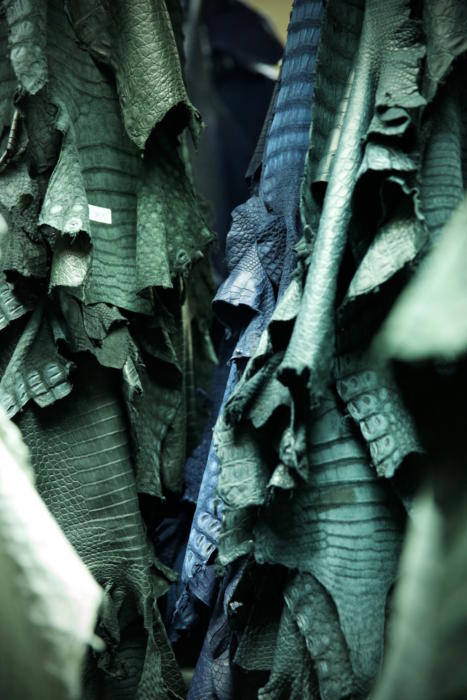 I'm nodding, happily, as he continues. "We might have a little shop or two of our own at some point. But it will be very chic and discreet.
"I hate it when things are pushed too hard. Or when brands start telling where they think I should eat or go on holiday. Why do they think I want that information from them?"
Bespoke is not something that is widely available yet, unfortunately. For the moment, there are the following stockists:
Paris (

Colette, Sirocco, Theo Fil)

London (Boudi Fashion and

Connolly, from September)

New York (Barney's, Bergdorf Goodman).

Dallas (Forty Five Ten)
LA (Just One Eye)
Japan (Isetan, United Arrows, Restir, Lidea, Estnation)
Russia (Tsum, Raschini, Babochka, VIP)
The Hanger Project also has a few pieces online and some more coming in Autumn/Winter.