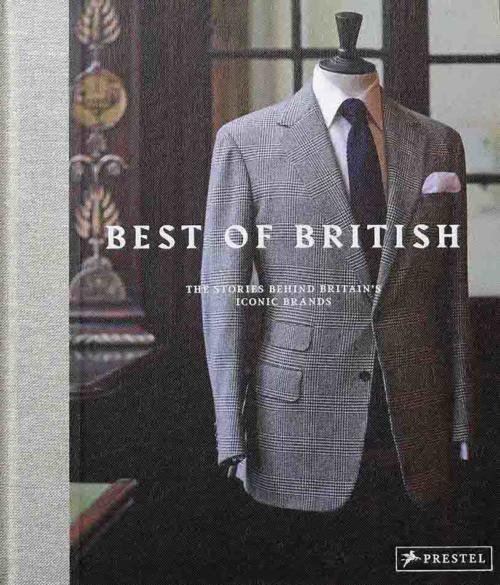 My third book this year, published by Prestel and in bookstores worldwide, is now available. It is called Best of British: The Stories Behind Britain's Iconic Brands.
The book covers 14 British manufacturers that are over 100 years' old. From Johnston's in Scotland to Dent's gloves in Wiltshire, Lock & Co in London to Corgi in Wales, Best of British documents their stories, new and old.
Readers of Permanent Style can get their own signed copy, dedicated to them, by buying through the website here.(Shipping in time for Christmas!)
Please specify any particular dedication you would like in the notes. (As a default I use something simple, such as 'For John, best wishes, Simon'.)


I didn't plan it like this. No one would plan it like this. But it's just happened that three books have come along at once.
I began writing The Finest Menswear in the World four years ago, but it was only published in September, thanks to the work involved and Thames & Hudson's timelines.
I began Best of British at the end of 2014, barely a year ago. However much of the groundwork had already been done by the excellent designers Egelnick & Webb and photographer Horst Friedrichs. (Horst is best known for books on various sub-cultures, such as Pride & Glory: The Art of the Rockers Jacket.)
Horst also had to visit all these brands and factories for the first time, whereas I already knew and had covered most of them already on Permanent Style.
And then in May 2015 we decided to publish our own book, Permanent Style 2015. Because we could and because we wanted to. The blog deserved a print edition.


Best of British has been wonderfully fun to produce. Not only were Toby Egelnick and Horst great to work with (a long car journey up to Barbour in Horst's old VW springs to mind) but the focus on stories meant I could both bury myself in the archive, and interview current employees about their work and experiences.
So at Barbour, we had the origins of the wax jacket on the one hand (sailors had previously used liver oil from fish or tar from the ship itself to waterproof their jackets). And the modern stories of how Barbour jackets are repaired on the other (the day we visited, one customer had sent in a jacket that had been ripped apart by a dachshund. With an apologetic note from the dachshund).
At Lock & Co, we had the repeated commissions of a bicorne hat by Horatio Nelson (one pretty much before each major battle) and Nelson's descendant today, who rides around London on a bicycle wearing a homburg.
John Smedley are bound up with the industrial revolution. Lewis Leathers has its long wait for a phone number. Corgi has a lovely tale about connecting its new, young workers with the fashion shows of Paris. They are great stories, and often tie in closely with events through British history.
If my previous book, The Finest Menswear in the World, was about product and quality, then Best of British is about brands and provenance.


The book costs £34.99 and is a bigger format than The Finest Menswear. It was a joint project with Horst and design team Egelnick & Webb, and therefore has more photography, less text.
The full list of brands included is:
Sunspel

Mackintosh

John Smedley

Corgi

Lewis Leathers

Lock & Co

John Lobb Ltd

James Smith & Sons

Anderson & Sheppard

Dunhill

Johnston's of Elgin

Dent's

Brooks

Barbour
You can buy a signed and personalised copy of the book here:
Personalised copies of The Finest Menswear in the World are also available on that page.
Permanent Style 2015 is still available to buy from the Hanger Project – and they have a dedicated UK site now, so getting copies sent from the UK is easier and simpler.