Fans of vintage clothing should love Chapal. They're using the same leathers, the same linings, the same hardware they supplied to the French and US airforces 100 years ago.
When I wrote about fellow French leather-specialist Seraphin earlier this year, a few readers asked how I would compare the two. I think the best way to think about them is vintage vs modern.
Chapal was founded in the 19th century. It uses pretty much the same materials today (having its own tannery helps) and many of the same designs.
This is, of course, good and bad: great if you love vintage, not so great if you want something updated.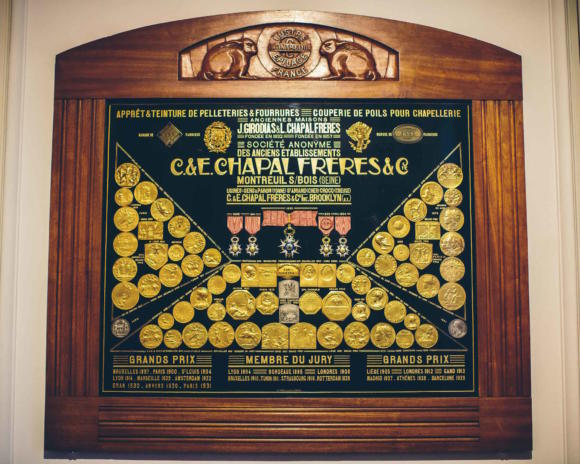 Seraphin was founded in 1975. It was part of the new trend that saw leather goods as luxury for the first time - rather than workwear (something fellow Frenchies Zilli arguably started).
That luxury angle means Seraphin tends towards the more showy, the exotic. It's nowhere near as bad as Zilli or luxury brands like Stefano Ricci, but you can see that luxe bias in even the most simple pieces - the silk linings, the leather piping, the bespoke zippers etc.
Both aesthetics have their downsides. When I went about commissioning a USAAF leather jacket from Chapal earlier this year (pictured here) I aimed to mitigate its vintage aspects with a few tweaks to the cut.
The Chapal showroom is in a beautiful Haussmann townhouse on Rue de Rivoli, overlooking the Tuileries Gardens.
Massive oak doors; marble stucco walls: the kind of grand building that rarely gets used for retail in London.
Upstairs the decor is rather more modern (I'm not a big fan of the latest Chapal offshoots - denim and bags) but the leather jackets are easy to spot, and begin trying on.
A reader made another interesting point recently in regards to leather blousons (it is so useful having intelligent readers). That was that part of the luxury of such a piece in a beautiful leather is the excess of material around the body, cut short by the high waistband. That it's almost a shame to have such leather cut slim.
You can certainly feel that luxury in the oiled, veg-tanned leather on display here at Chapal. And unlike the suede blouson about which that comment was made, I'm happy to have more volume up top.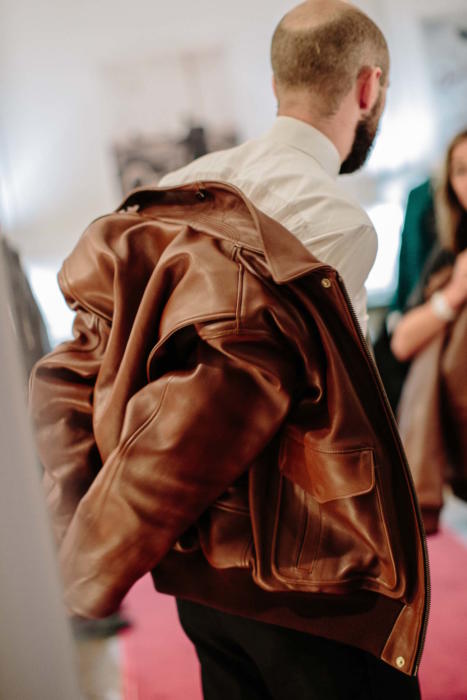 Partly that can't be avoided, as the USAAF style has deep pleats behind the sleeve (what is often called an 'action back') and so expands into voluminous leather as soon as you reach with the arms.
But it's important to have volume too when standing still, to retain faith with the very functional design. The question is, how much of that leather should be cut back in a made-to-measure model (as mine was) in order to bring the vintage aesthetic a little bit up to date?
Of course, this is one of the key problems of bespoke - making abstract choices on fit, line and cut, rather than selecting one of a range of sizes off a rack.
With a made-to-measure piece like this leather jacket, you do at least have the benefit of trying on a basic size, and then deciding how much to take off or add on.
With me, that usually means finding the right size for the chest and shoulders, then slimming down the waist, lengthening the sleeves and perhaps lengthening the body.
Here I kept it quite short, in order to maintain some faith to the traditional design, and kept a little more of that volume in the body than I would have done normally.
Made to measure USAAF Chapal jackets start at 2900 euros.

Photography: Jamie Ferguson @jkf_man