A guide to piqué cotton polo shirts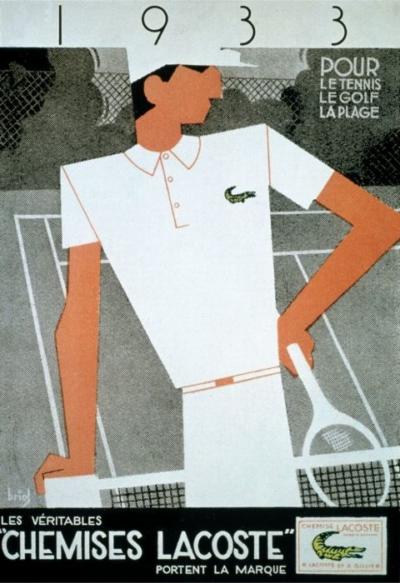 By Manish Puri
Whilst the recent sun in London has brought a sugar rush of excitement for the warmer days that lie ahead, it also brings a more troubling, recurring question: how do I usually dress for summer?
It shouldn't be difficult to answer. After all, this will be my forty-third summer of wearing clothes. Nevertheless, it evokes the same anti-Pavlovian, temporary amnesia I would suffer upon returning to school after summer holidays, where I would spend the first fortnight trying to recall how to hold a pencil.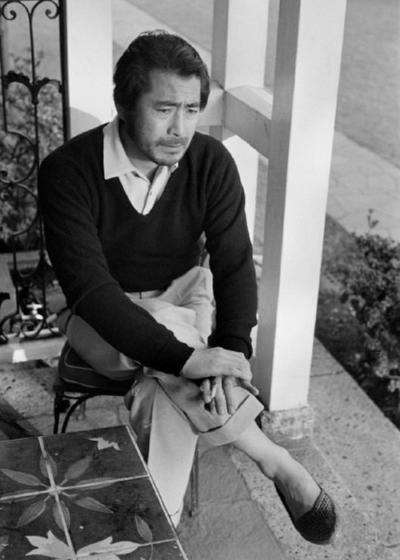 Fortunately, I know that while I regain my summer- bearings, I can always turn to a piqué polo shirt.
Whether layered under a jumper while the weather makes its mind up (Toshiro Mifune, above), tucked into a pair of tailored trousers (Sidney Poitier, below) or spilling over a pair of shorts while making tennis racquets levitate (Paul Newman, further below), a piqué polo can be relied on to see you through the summer.
My hope is that this article serves to highlight some of the best options on the market.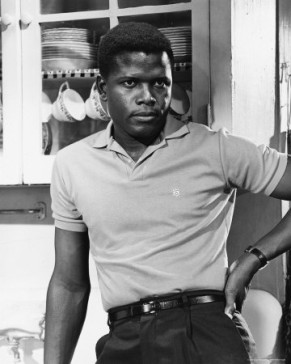 But before we get into the brands, permit me a brief aside on what a piqué knit is and what 'best' looks like.
Piqué fabric is a double weave knit (two warp and two weft threads). It is this twin layer that gives piqué its signature waffle or quilt texture on one side, and a smooth finish on the other. And it is the space between those layers that encourages air flow, making it breathable.
Most other cotton polos are usually made of jersey (a smoother, single knit fabric), which is stretchier. But a piqué polo tends to be more durable, more absorbent of dye and better at concealing sweat.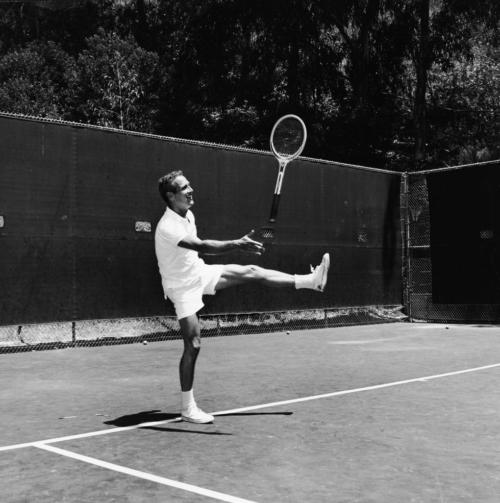 So, what are we looking for in a piqué cotton polo? After all, there's no shortage of options out there.
To answer that question (and with my apologies to the diamond trade) allow me to introduce you to my three Cs of piqué polo shopping.
Composition
- The cheapest polos may use a cotton-synthetic blend and plastic buttons. Nearly all the polos in this guide are 100% cotton (the one exception is noted).

- At higher price points they are likely to be made of extra-long staple cotton (such as Sea Island) with mother of pearl buttons.

Construction
- High-quality construction points might include a set-on placket, reinforced vents, hand-sewn buttons, flat felled seams and ribbed hems.

- Most polos will be made using a cut-and-sew technique, but at a higher price point some polo are fully fashioned. This also makes them feel more like knitwear.

- Where the polos are made will have a significant impact on cost (and possibly on quality).

Collar
- The cheapest polos tend to come with simple ribbed collars that often curl up over time.

- At higher price points the collars may be constructed in the same manner as a shirt collar (with a collar band and even interlining) which makes them more suitable with tailoring.
You'll find reference (and more detail) to each of the three Cs throughout this guide, but it's important to note that an expensive polo won't automatically have all the higher-end features. For example, Ralph Lauren's Purple Label polo (£300) comes with a simple ribbed collar.
What does usually happen at a higher price is that the polos tend to be finer, sleeker and dressier – which some might consider antithetical to the essence of a piqué polo.
As is so often the case, the choice will come down to personal style and usage; do you want your polo relaxed and sporty, or do you want something finer and smarter?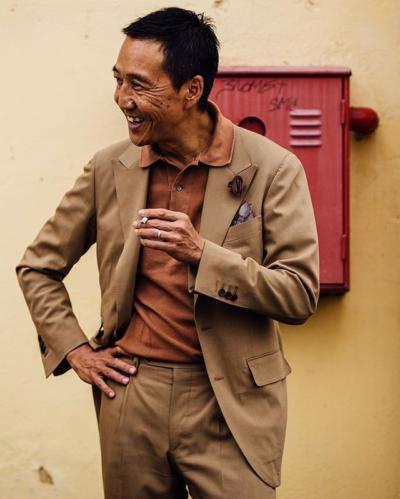 On the subject of collars and usage, whilst it is undeniably easier to wear a shirt-collar polo with tailoring (and let's set aside any arguments over whether one should wear a jacket with short sleeves in the first place) it's certainly not impossible to wear a softer smaller collar if you're blessed with the mischievous charisma of Yasuto Kamoshita (above). No? Me neither.
With that we're ready to take a look at the brands, which are presented in ascending price order. For context on sizing, I'm a pretty standard 38" chest and tried on a medium in most places.
I've focused on ten but have provided links to an alternative ten that have similarities to the featured ones. In addition, you can shop over 40 designers (including Altea, Brunello Cucinelli, Canali, Loro Piana, Rubinacci and Tom Ford) at Mr Porter with this customised search link.
As always with these guides, my research will only take us so far and therefore I'm grateful to anyone that can add their experience with these or any other piqué polo shirts below the line.
I hope you find something to piqué your interest (sorry, Simon, I held off on that joke as long as I could).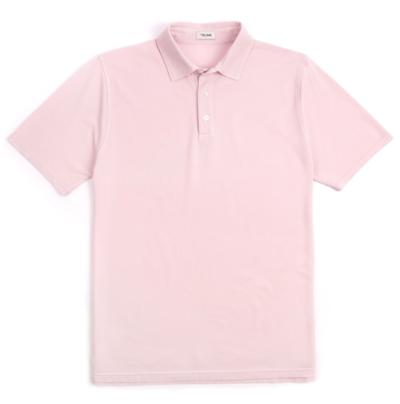 I really want you to read the whole guide. Right to the end. I've featured some great polos that I believe are definitely worth your time. With that said, it is with some reluctance that I inform you that the first shirt in this guide (the Moxon polo from Trunk) is also one of the best all-round options.
The details are on par with most of the other polos here: a crisp cotton, mother of pearl buttons, reinforced vents and a soft shirt collar with interlining that gives it a bit of pep. Sure, it doesn't have the collar expanse of the Rubato, the airiness of the Sunspel or the dreamy texture of the Brioni but, for the price, it's hard to find fault.
What appealed to me most (and this is entirely personal) was the fit. Trunk's medium is 2-3 cm slimmer in the chest than most of the brands featured but still 2-3 cm bigger than Orlebar Brown (which is too slim for my tastes).
Of course, one might be able to achieve a similar fit by sizing down on other brands - and I successfully did this with Anderson & Sheppard - but often issues of comfort around the shoulders and armhole start to surface. For my body at least, the Moxon hit a sweet spot of shape without any compromise in comfort.
Other Options: At a similar price and style, William Crabtree stock a pair of classic piqué polo shirts in navy and white (£75) that are made from Californian Supima cotton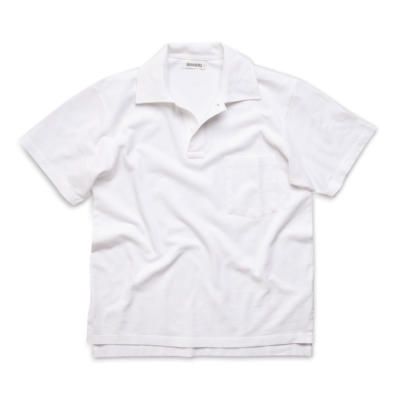 What I enjoy most about Rubato's designs (and this isn't limited to their tennis shirt) is that whilst they're rooted in simple and easy elegance, when they choose to emphasise a detail, they're happy to be bold.
The chest pocket on their tennis shirt is there to actually, you know, put stuff in and the two-piece collar is wider than a Florentine steak – measuring around 8cm in point length compared to 6cm on the Trunk model.
The fit is Rubato's Ivy Fit, which is generous (compared to both their own Standard Fit and the other polos in this guide) and straight cut through the body. The shirt is finished with tennis tails, which is where the rear hem is longer than the front. This is a detail lifted from René Lacoste's original polos and helps the shirt stay tucked in whilst sprinting, jumping and lunging for the ball (or, in my case, jogging in a vain attempt to catch the last night bus).
The buttons are plastic, but I think this underlines the functionality. Whilst it would undoubtedly look good with a pair of jeans, I suspect nothing would make the Rubato team happier than to hear you'd also played a few sets in it.
Other options: I can't vouch for the quality but if you wanted to bring classic tennis style to your wardrobe there is a website called Golden Age of Tennis that makes reproductions of classic shirts, like the Fila pinstripe worn by Björn Bjorg when he won Wimbledon.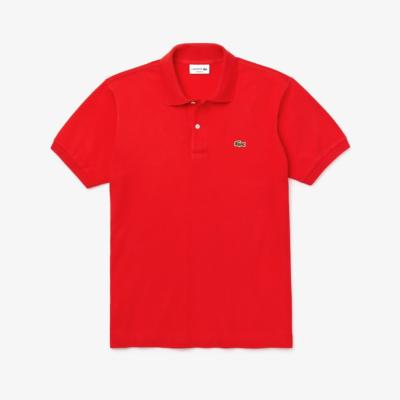 Acknowledging the instrumental role that the French tennis player René Lacoste had in developing the modern polo shirt, I wanted to take a look at what his eponymous brand had to offer today.
The Classic fit is made from a honeycombed petit-piqué cotton with mother of pearl buttons, and I found it to be comfortable and well fitting. The collar is the standard ribbed collar that was originally designed to flip up, stay up and bestow a tennis player's neck with protection from the sun. Whilst it might not be the most sartorially refined choice, it does compliment the sporty nature of the piqué and there are far more expensive polos than this in the guide that still insist on a ribbed collar.
However, to my mind, the best reason for picking a Lacoste polo over any other featured here is the colour options – I counted 45 different colours online with 14 shades of blue alone! If you can't find what you want here, you're unlikely to find it in any other brand.
Lacoste also carry a Paris fit (£110) that intrigued me, billed, as it is, using words that I fancy would describe many a PS reader: "discrete" and "elegant". You could argue that the tone-on-tone crocodile logo and hidden-button placket help to achieve the discrete part.
However, the 6% elastane that is woven with the cotton seldom confers elegance, given that its primary duty seems to be clinging onto contours of the body that should only be clung onto when a mate needs to gain some purchase. Oh, and the collar is pathetic.
Other options: If it's another tennis-inspired heritage polo you desire then you should look no further than the M12 from Fred Perry (£85).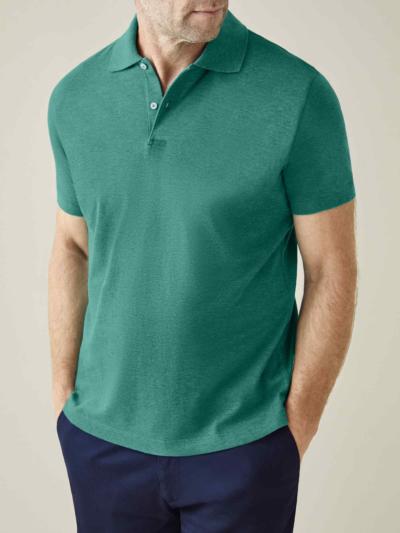 There wasn't much I didn't like about Luca Faloni's Italian-made short sleeve piqué polo shirts. They fit well (although they are one of the straighter and roomier options in the body so you might prefer a size smaller), the colours were unexciting but versatile and the finishing was good with mother of pearl buttons, attached using the crow's foot stitch that is used to indicate hand sewing.
The only thing I would say is the shirts didn't feel very piqué-y, which you could argue is quite a significant drawback for an article on piqué shirts. The knit just wasn't open or gauzy and so the finish of the shirts was relatively smooth and verging on jersey.
Given the styling and the price point I'd say the Luca Faloni option is ideal for someone that likes the Lacoste or Ralph Lauren options but wants something without a logo and a less sporty finish.
Other options: The Riviera from Kenneth Field is similarly priced (£130) and styled with a flat knitted collar. Available in navy and white on The Merchant Fox.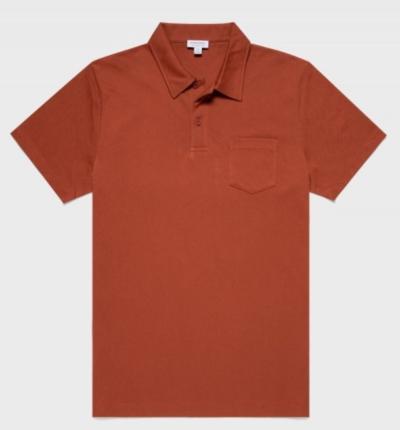 Forever known as the 'James Bond polo' after being featured in Casino Royale, the Riviera shirt is Sunspel's best-selling polo. It's not technically made from a piqué cotton (although they do sell those for £115 as well) but rather a soft cotton mesh called Quality 75 (Q75).
Developed by Sunspel in the 1950s, the loops of the Q75 mesh are knitted at an angle which gives them a unique diagonal shape and allows more room for air to circulate. That gauziness was immediately apparent when I held the Riviera to the light, and it helped the polo feel supremely comfortable – this was definitely one of my favourites on the body and shoulders.
As a hirsute fellow, I would caution that any chest hair is likely to navigate its way through the mesh as the day progresses so (if that bothers you) you might want to stick to darker colours or polos with a tighter knit.
The Riviera does have a soft tailored collar, but it is a little meagre – certainly when compared to The Armoury or Rubato models featured – which, in my view, makes it less elegant.
The Riviera was one of the few polos I found with a small chest pocket which should (just about) hold a pair of sunglasses depending on your activity levels; if you're planning on chasing a MacGuffin through a crowded Moroccan souk then it would be wise to put them in a case; but if your only exertion is moving from hotel room to hotel pool then they should be secure.
Other options: An option that has lots of texture but isn't technically a piqué is a collaboration between Warehouse & Co and the Japanese artist Yusuke Hanai. Their polo is knit using a traditional Japanese pattern called Kanoko and features a traditional Herashi collar (that almost looks like a long point). There aren't many of these kicking around but Clutch Café and Son of a Stag currently have very limited stock (£149).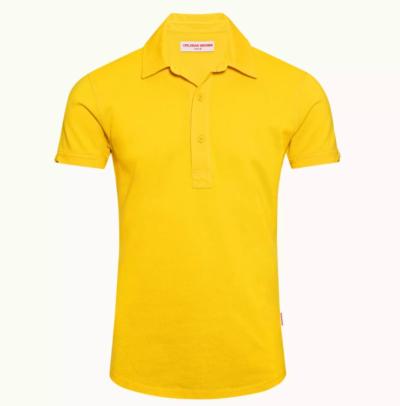 Orlebar Brown has a large range of polo shirts with names plucked from what I can only assume must be a register of superyacht owners: Horton, Fitzgerald and Gaston. However, it's their Sebastian model that comes in a reassuringly robust piqué cotton which, whilst unlikely to win any awards for refinement and softness, feels like it could sit forgotten at the bottom of a suitcase for a fortnight and still come out ready to wear.
The shirts have had every millimetre of excess liposuctioned out of them and so they fit trimmer than any other polo in this guide. If you want a more relaxed style, I advise either sizing up or looking elsewhere. In keeping with the tapered fit, the sleeves are very short with little triangle cutaways in the cuff to reveal even more bicep – we get it Sebastian, you like to work out.
The buttons (including two that are placed oddly onto the sleeve cuffs above the cutaways) are made of nylon and the side of the shirt has a brand tag stitched into the seam. The latter isn't an issue if you like to tuck your polos in as I do, although I think the Sebastian would work well untucked as its tapered waist and curved hems prevents it from looking too much like a nightdress.
Most notably the polos feature a two-piece collar of decent height and proportion that should hold its own under a light jacket. I also loved the deeper placket, which gives the wearer more scope for breeze and to tease.
Other options: Fellow swimwear brand Vilebrequin stock a range of piqué polos (£95 to £125) that come in bright, beach-ready colours and a similarly trim fit.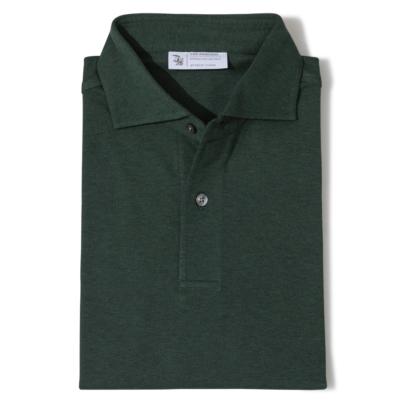 Let's cut to the chase on this one: the Armoury's polo shirts (made for them in a mid-weight piqué by Hong Kong tailors Ascot Chang) are the best in this guide for wearing with a tailored jacket because they have been expressly designed to do that.
The construction includes a full collar band and light interlining (as you would find in a good shirt) which offers support and height to the collar, ensuring it doesn't get bullied into submission by a jacket over the course of a summer evening.
The shape of the collar is a wide spread, which is unique amongst the polos in this guide. If you're not a fan of that shape, The Armoury does offer a short-sleeve button down version, but the compromise is that you only get to pick from two colours (navy and white) whereas the spread comes in sixteen colours (the forest green above looks particularly lush). Alternatively, you could buy a one piece collar model from Ascot Chang directly.
Given the formal nature of the collar you won't be surprised to hear that The Armoury polo is not designed to be worn untucked, with a length that is several centimetres longer than most of the other polos in this guide. Although, as with most Armoury products, they can be made to order if you desire a shorter version.
Most of the polos in this guide have a three-button placket but The Armoury has opted for just two. Whilst this might be a shade more conservative, it does have a simplicity and neatness that might make Mies van der Rohe smile - having designed the venetian blinds of his Seagram building to only have three functioning positions: open, half drawn and fully drawn.
Other options: Kent Wang sells some excellent value polos ($75) with mother of pearl buttons and a spread collar with integrated collar band. The fit is very slim so size up.
Of the polo shirts at the top end of the price range (above £200) the Anderson & Sheppard model was the one I liked most, for the simple reason that it looked and felt like a good piqué polo and not an overtly 'luxe' facsimile.
The cotton was a little softer and finer in the hand than some of the dryer cotton polos from Trunk and Orlebar Brown, but still had a pleasing honeycomb texture. The knit is not as compact as other brands, so the polos had a little natural stretch when on the body which improved comfort.
I tried both the medium and small sizes and found the small had a sharper appearance all round. Smooth over the shoulders with a comfortable taper into the waist. The grip around the bicep with the smaller size was a little snug but not to the point of restriction. The collar is knitted with a soft collar band holding it up.
While this all sounds very nice, the question remains: what's pushing the price that much higher than some of the other brands? The key factor is the A&S polo is fully-fashioned like a piece of knitwear – a process which takes substantially more time than standard cutting and sewing. The benefits of this more laborious (and expensive) process are neater, lighter and more comfortable seams (which don't have to be over-locked to prevent fraying), a better fit and less wastage in the manufacturing process.
Other options: Fedeli stock two pique models: North (€175) and Wind (€200). The former is their classic piece-dyed model and the latter is a lighter-weight update with a ribbed collar and shallower vents in the hem.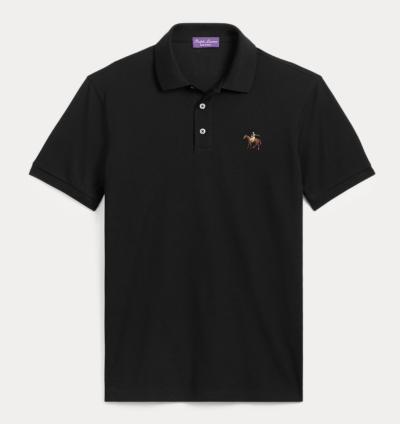 I'd wager that most PS readers have at one time or another had a Ralph Lauren mesh polo shirt (or at least a 'Rolph Lauren' picked up on holiday at one of their 100% authorised back-alley market stalls). And whilst they remain incredibly popular – priced between £95 and £155, available in four fits (Original, Classic, Custom Slim and Slim) and 30-plus colours – I wanted to take a look at the luxury Purple Label version for the PS reader.
The first thing you'll notice is the logo; it's bigger and, shorn of the ball-thwacking dynamism of the classic, looks a little sad – like the polo player is trudging off the pitch with a French baguette lodged under his armpit.
As you'd expect it's the detailing that separates the Purple Label version from the Polo. While the Polo versions are made in China, the Purple Label polos are made in Italy and finished with mother of pearl buttons. The vents are taped inside for extra strength. The fit (Custom Slim) is slimmer than the Classic mesh polo but not as tight as the Slim version.
The shirts are made from Pima cotton (which is an extra-long staple cotton) that has been double-mercerised. This gives it a smoother and shinier appearance, that is a bit of a double-edged sword – on the one hand the polos have a silkier, more dressy appeal than others on this list but, on the other, I found it lends a faint whiff of "football shirt" to them.
I also found that the fabric, whilst smooth to the hand, did itch very slightly on my shoulders, but perhaps this would be resolved with a wash (of the shirt not me).
Other options: You might want to take a look at Hugo Boss who have a decent selection (£89 to £189). Note that some of the designs are questionable – the polos with the word 'BOSS' taped onto the shoulders look like something David Brent would wear to the company picnic.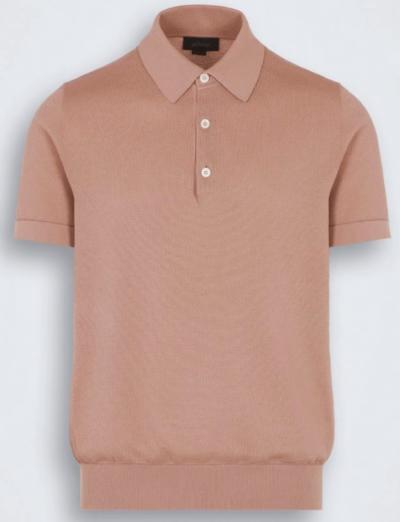 Whilst personally I wouldn't be able to (or necessarily want to) spend £680 on a polo shirt, I was fascinated to see what one looked and felt like. For the sake of the readers of course. And, I have to say, being able to spend thirty minutes in the stunning Brioni store housed in a listed four-storey Georgian building in Mayfair was almost worth the price of the garment alone!
Beyond retail costs, there are two things that push the price of the Brioni up: composition and construction. The polo shirts are composed of 100% Sea Island cotton which is an extra-long, extra-fine and extra-rare cotton (estimated to make up only 0.0004% of the world's cotton supplies) grown in the Caribbean. The polo is hand-made in Italy with mother of pearl buttons.
If the art of summer dressing is about preventing the simple from becoming the bland then pairing a richly textured polo like this (in a colour like the dusty pink above) with a pair of high-twist trousers and soft loafers would be an elegant way to step out on a hot summer's night.
The polo fits large to size and has a generous shirt collar which, whilst not as reinforced as the Orlebar Brown or Armoury collars, would work ok with a tailored jacket with occasional readjustment. The only detail that didn't appeal to me was the unnecessary inclusion of a fine, grey contrast stitch on the hem, sleeves and placket.
Other options: Another Sea Island polo with ribbed sleeve cuffs and hem is the Roth from John Smedley (£155) which is fully fashioned - essentially a piqué version of their Adrian model featured on PS previously.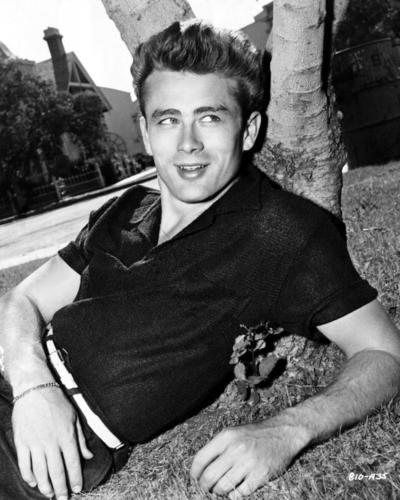 The Index
The index is designed to collect the key information of each of the polo shirts. To aid comparison we've shown the chest and body length measurements for a size medium (or equivalent) - measurements taken from the brands. Prices are correct as of time of writing.
| | | | | | | | |
| --- | --- | --- | --- | --- | --- | --- | --- |
| Brand | Model (size) | Price | Collar | Buttons | Chest (cm) | Length (cm) | Notable details |
| Trunk Clothiers | Moxon (M) | £75 | Soft collar | Three | 50 | 71 | Trimmer fit than all models except Orlebar Brown |
| Rubato | Tennis Shirt (M) | 1000 SEK | Two-piece collar | Two | 55 | 71 | Large chest pocket and tennis tails |
| Lacoste | Classic fit (M) | £89 | Ribbed | Two | 52 | 72 | Array of colour options |
| Luca Faloni | Short sleeve piqué polo (M) | £105 | Ribbed | Two | 53.5 | 70.5 | Subtle piqué texture |
| Sunspel | Riviera (M) | £115 | Soft collar | Two | 51.5 | 72 | Chest pocket and gauzy style |
| Orlebar Brown | Sebastian (M) | £125 | Two-piece collar | Three | 47 | 73 | Slim fit and deep placket |
| The Armoury | Short sleeve polo (M) | $250 | Full collar band and interlining | Two | 53 | 75 | Structured collar and longer length |
| Anderson & Sheppard | Soft cotton polo (M) | £245 | Soft collar | Three | 53 | 70 | Fully fashioned |
| Ralph Lauren | Purple Label – Custom Slim fit (M) | £300 | Ribbed | Three | 53 | 73 | Double mercerised cotton |
| Brioni | Sea Island cotton polo (40) | £680 | Shirt collar | Three | 54 | 72.5 | Sea Island cotton, plush texture and hand-tailored |
Manish is @the_daily_mirror on Instagram