The guide to Shetland sweaters: Part two, brands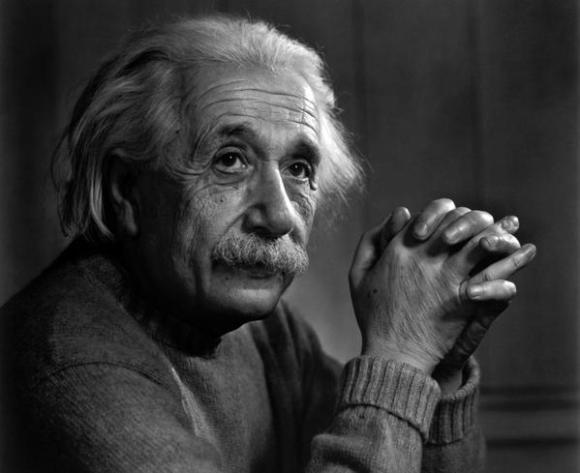 By Manish Puri
"In part one of this guide, we discussed the general styles and constructions of Shetland jumpers, which I hope helped provide context for which jumper is right for you and why.
Now that you've eaten your metaphorical vegetables, you're allowed to have dessert. In part two, we look in some detail at 11 retailers that sell high-quality Shetland knits of various styles, shades and shagginess.
Despite all my research and numerous, generous conversations with kindly retailers I'm reminded of what the famed Shetland wearer, and competent physicist, Albert Einstein once said: "The more I learn, the more I realize how much I don't know". Which is to say dear reader that I know this guide is not, and could never hope to be, complete. Why not The Andover Shop? Will people be howling that I've not included Howlin'? Don't these look good value for a heavy brushed knit?
I'm sure you'll understand that I had to draw the line somewhere, otherwise I could become the first medical case of someone who was kept awake by counting sheep.
So, once the last full stop of this guide is typed, I pass the knitting needle baton to you. The Permanent Style readers are a font of taste and erudition, and I know they can be relied upon to highlight any hidden gems or unforgiveable omissions in the comments section. Ultimately my hope is that this guide, much like a Shetland knit, will mould, soften, and improve over time with the odd annual repair job to patch a hole here and there.
With that I present our 11 brands prioritised by nothing more than the alphabet.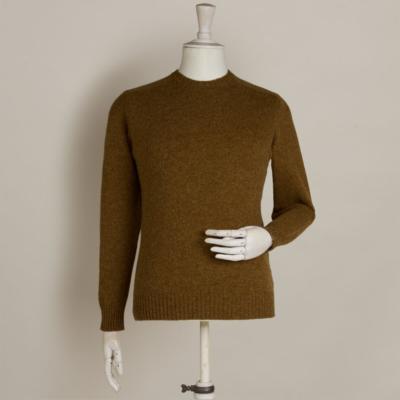 £225 to £265
A staple of Anderson & Sheppard's knitwear offering, and a long-standing fixture of Permanent Style's winter wardrobe, their classic Shetland comes in an impressive range of rich autumnal hues that I always find agonising to choose between.
The A&S shape is a little unusual, being both longer in the body than most and slimmer in the arms. The idea is that this helps when wearing tailoring. One can slip into a jacket in the same manner as sliding into a hot bath after a hard day shopping for Shetland sweaters. It also stretches a little – which is usually remedied by a gentle soak – and for this reason some customers size down.
New this winter, Anderson & Sheppard are also offering a super soft 'Shetland' that is akin to my memory these days – shorter and fuzzier. The jumper is styled to mimic a classic Shetland knit but is made from a brushed geelong wool, which makes it a good option for those who don't find Shetland comfortable next to the skin.
Unlike the classic A&S it only comes in three, neutral colours – brown, grey, and natural – that would work equally well with ensembles that you either want to keep tonal or want to tone down. Compared to the classic, I found the fit to be more cropped in the body, looser in the arms and higher on the neck. The knit is also a little tighter than the classic (meaning it should stretch less) so it's advised to take your usual size.
£150
The clue is in the name. Since their formation in 2017, Anglo-Italian have taken inspiration from the best of both British and Italian tailoring and style. Their Shetland jumper is no exception in that it is made from Shetland yarn (naturally) but, unlike many of the other brands who also make their jumpers in Scotland, is knit in Tuscany. This doesn't make much difference to the feel of the knit, but does mean Anglo can create their own design, and here the neck is noticeably tighter and higher.
The colour palette is in keeping with the restraint and simple elegance of the rest of Anglo-Italian's collection – blue, green, grey, cream and charcoal. The sleeve length is just a shade longer than the other brands, which works well for me as I personally like folding back the cuff on knitwear to show a finger of shirt.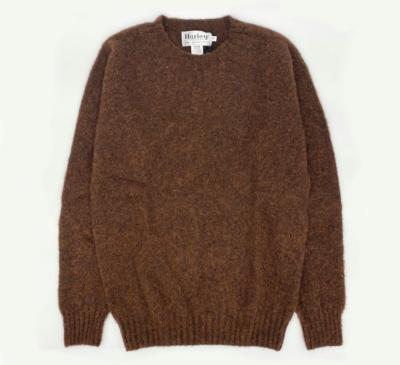 £92 to £125
Of all the retailers and makers of Shetland knits in this guide, none can match the variety and value that Bosie offer.
Their standard crew neck (which is made under the Harley of Scotland label) comes in at around £92 and is knitted in the round, with a saddle shoulder, longer length and a slightly lower fitting and wider neckline. The characteristics of the yarns are similar to Anderson & Sheppard in that they are peppered with mustard and ochre and liquorice flecks. The same yarn is used to make up the Harley roll/polo neck (£100).
Bosie also offer the Harley jumpers in a luxury yarn (adding 12% cashmere for £125) and a Voe True yarn (from £96 to £110). Voe True is made from undyed virgin wool taken from Voe sheep - the original Shetland breed that braves the cliffs of Voe to feast on the seaweed beds of the shoreline. There is a lovely variety of stone and brown colourings across the undyed fleece of Voe and each will have natural markings and highlights that are unique to it. I think this is the best choice for someone that wants a Shetland jumper that is as authentic and natural as possible.
Jumpers made from Voe True yarn are sold by Bosie in a two ply 'Sherpa' model (virtually all the jumpers we have featured are also two ply) and, more unusually, in a one ply 'Everest' model – the name coming from its association with Sir Edmund Hilary, who wore Voe knitwear as thermals on his ascent of Mount Everest in 1953.
Perhaps most unusual of all, Bosie offer a brushing service where they can brush your chosen Shetland wool jumper (except those made from Voe True) two, three or four times for £12 to £24.
£195
Masochists are present in every walk of life. Even in the serene and cosy world of woollen knitwear there are those who sneer at delicate flowers like me that prefer their knitwear to be fluffy and itch-free. For those that would sooner rub Brillo pads on their nipples than wear merino wool I courteously invite you to skip this listing.
For those that prefer un-chafed nipples, Connolly carry a jumper that is 75% Shetland wool and 25% cashmere. The jumper is plated which means it is knitted so the textured wool sits on the surface whilst the cashmere is smuggled inside – the masochists will never know. Connolly are known for using some of the most luxurious materials available so the price point of this jumper, given the amount of cashmere knitted in, is great value.
It's constructed with a saddle shoulder and a reassuringly chunky, high neckline. I've sometimes found that lower necklines, whilst adept at holding the front collar points in place, neglect to grip the rear of the collar inside the jumper. The Connolly one neatly bands the collar at an equal height all the way round, which shouldn't bring me as much pleasure as it does but what can you do?
The jumpers are available in a pink and a green that remind me of summers eating rose and pistachio kulfi at my grandmother's house.
Another Connolly piece to highlight is a navy Shetland wool/cashmere, five-button, sleeveless V-neck cardigan (£380). What I like most about it is the finishing around the edges. The placket is deeper than standard, which helps alleviate some of the stress on the waist button, which I find can pull if you're not arrow-straight in the belly.
The sleeve heads are also finished with tight, deep cuffs – with the jacket off it keeps the upper silhouette clean and sharp, and with a jacket on it helps keep the shirt out of the way of the inside of the sleeve. The cardigan isn't currently available online but worth checking out in-store if you're passing through Mayfair.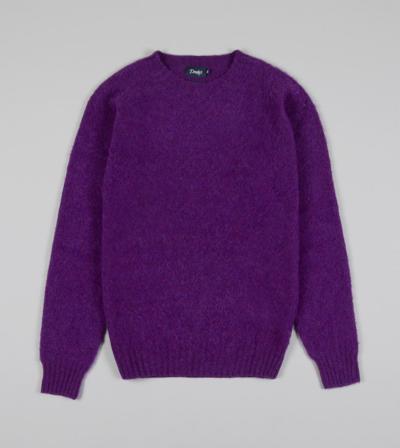 £195
Ever since Drake's made the transition to a complete-wardrobe retailer the Shetland jumper has been a playful and eye-catching piece in their collections. This year's offering is no different with a number of bright, jewel-like tones.
The styling pushes Drake's jumpers towards the casual end of the spectrum - medium brushed, raglan sleeves and a seamless construction for greater comfort. My experience was that the jumpers run just a tad big as well, so I would recommend you consider sizing down.
In fact, I tried one jumper on that was two sizes smaller than my usual and it still looked good – a little slimmer than my tastes these days but not scandalous at all. I found the body length to be the shortest of all the knits we have looked at – ideal if, like me, you prefer a higher waist trouser.
For UK readers that like the J. Press Shaggy Dog (see below) but might baulk at the delivery and various import fees, the Drake's jumper is the best alternative.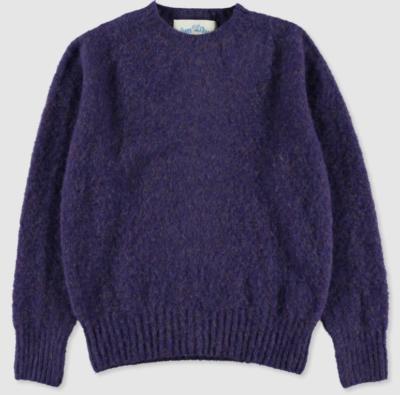 $245 - $265
Seriously, what is there left to say about the J. Press Shaggy Dog sweater? It's had more origin stories written about it than Batman. Suffice to say it remains a bona fide Ivy classic, with heavy brushing that creates micro pockets of air that keep the jumper cosy while simultaneously softening both the handle and colour.
And just like Batman, J. Press have franchised the original Shaggy Dog jumper to sate all your Shetland tastes by offering:
The crew neck in classic fit with a set-in sleeve ($265)
The crew neck in trim fit with a raglan sleeve ($245)
The crew neck in classic fit with regimental stripes ($265)
The crew neck in trim fit with university stripes or rings ($265)
A cardigan in classic fit ($265)
A vest in classic fit ($225)
Cuffed hats in one and two tone ($60)
The V-neck cardigans, in particular, look terrific and would be great to pair with flannels and an Oxford shirt in place of a shawl collar. And of course, each of these variations is available in a symphony of colours.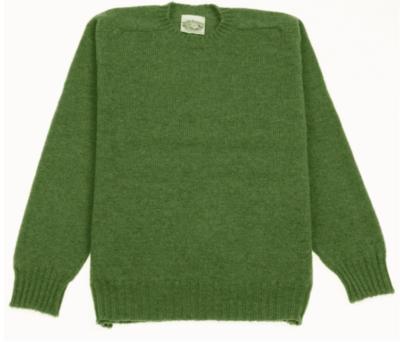 £112
Were I to describe the Jamieson family as woolly-headed I can assure you it wouldn't be intended as an insult. For five generations, their family business has revolved around Shetland wool and today they are highly unusual in both spinning their own yarn and making their own knitwear.
The Jamieson's Knitwear website has a good selection of saddle shoulder crew necks and Fair Isle knits that are available direct to consumer. Unlike Harley's (which is a similar price point – see above) the Jamieson's jumpers are not seamless, which makes them a little more structured and straighter through the body. As a part-time and pitifully slow knitter, I also love that you can purchase balls of yarn from them should you be skilled in the way of the needle.
Dick's Edinburgh (who won the Permanent Style award for Best Menswear Shop in 2020) also stock a great range of Jamieson's Shetland and Fair Isle jumpers alongside knitwear from Harley's and Laurence J. Smith (see below). This makes Dick's the only place to experience the differences between the three fine Scottish knitters we have included in this guide.
You can also find a wide variety of Jamieson's knitwear in traditional and more fashionable styles and colours on End Clothing.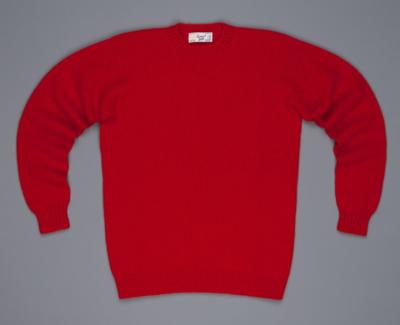 €220
Laurence J Smith, a small Hoswick-based knitter employing around 14 people, is little known in their domestic market because most of its product ends up in Japan. Fortunately, there is one European retailer, Frans Boone, which has their seamless knits in a vibrant array of colours. However, stock is limited, and so indecision is seldom rewarded (as I've found to my chagrin).
Dick's Edinburgh and John Simons in London have both stocked Laurence J. Smith in recent years and hope to carry them again this winter, but at the time of writing were awaiting delivery. The pandemic has brought further challenges to an area of the world where it was never straightforward to manufacture in the first place.
The Laurence J. Smith jumpers are made using hand-framed knitting machines - a slower knitting process that results in a finish that feels closer to a hand-knitted garment. The knits themselves are a little heavier and hardier than most of the jumpers in this guide, which means they take a lot longer to make.
Owning one myself now, I can say that unlike the neat uniformity of a machine knit, the stiches on a hand-frame piece gently fizz with expression – some slightly raised, some flatter, some running like train tracks and some just slipping off the straight and narrow. Of course, this is barely perceptible at a casual (and even a formal) glance but it's a characteristic that marries well with the textured nature of the wool. A piece for the purist.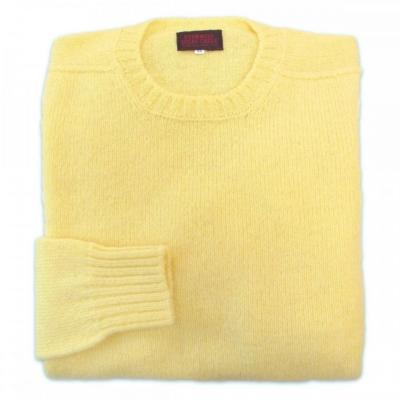 $175 - $235
Based in upstate New York, O'Connell's are one of the few independent trad retailers left in the US and they carry a dizzying range of Shetland sweaters. Across their range, O'Connell's advice is to take a size up from your standard jacket size.
Their classic saddle shoulder crewneck comes in every imaginable colour in both plain ($195) and cable knit ($225). Like Bosie, O'Connell's also have a range of undyed Voe True jumpers in plain ($225) and ribbed knit ($235) which highlight the natural beauty and colouring of Shetland fleece. For weightwatchers, O'Connell's carry a heavier chunky knit ($225) and a lighter, airier seed-stitch knit ($175) – 'Row 1: Knit 1, purl 1, repeat and Row 2: Purl 1, knit 1, repeat' for all my fellow knitters out there.
For US readers, O'Connell's offers the widest range of crew neck jumpers of the brands we've looked at. They are also the only retailer that has three different weights of knit – standard, chunky and seed-stitch. If you already have a couple of Shetland jumpers then considering a different weight might be a nice way to introduce some variety.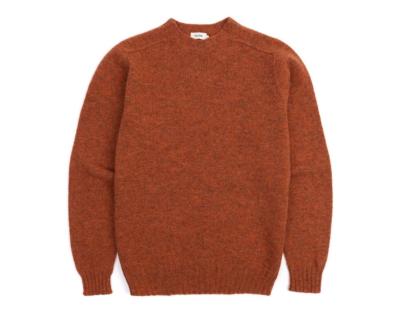 £160
Trunk's in-house Shetland model (the Berwick) has proved to be one of their most successful lines in recent years. Their popularity is, I think, largely due to the consistently on-point colour selections – I often like to look really closely at the dark orange (shown above) and pretend I'm in a helicopter above New England in September.
The Berwick features a comfortable seamless construction, is trim (but not tight) through the body and has a higher neckline than standard, which helps to keep your shirt collar closer to the body. The saddle shoulder seams are a little more pronounced than similar knits which is a nice point of detail that helps draw the eyes toward the face.
£125
A five-minute northerly walk from the mania of London's Oxford Street will bring you to the charming oasis of New Quebec Street, where James Priestley has chosen to resurrect his great, great, great grandfather's business William Crabtree & Sons.
James has lived and worked in the textile industry his entire life, with more incarnations than Lord Vishnu – working with Yorkshire Mills, Savile Row and as an agent for knitwear maker William Lockie.
William Crabtree's Shetland jumper comes in seven colours – I particularly love the blue, brown and grey marls – with set-in sleeves and a high neck. I found the body length ideal for readers who like their trousers to be low to medium rise or like their jumpers to have a little plume over the waistband. They also stock a beautiful selection of Jamieson's Fair Isle knits in crewneck, waistcoat, and slipover V-neck.
One thing to watch out for when buying from William Crabtree is they use traditional jumper measurements which are on-the-flat. In other words, the measurements don't correspond to chest size but to twice the pit-to-pit measurement. For example, a size 42 William Crabtree jumper will have a pit-to-pit of around 21", which is closest in fit to most of the mediums that we've looked at. However, the best advice is to measure a jumper you own and start from there.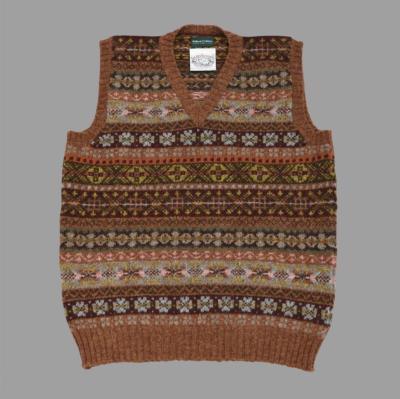 The Shetland Index
The Shetland index is designed to collect the key information of each of the standard, plain crewnecks featured.
To aid comparison we've shown the chest and body length measurements for the Medium (or equivalent) with measurements taken from the brands – we began to compile sleeve length but there are so many different ways to measure this that the comparison quickly became meaningless.
One thing to note with a fibre like this, and with small production, is that dozens of factors (including annual rainfall!) can have a small effect on size from one year to the next. So if you're unsure about sizing, it's particularly worth speaking to brands about it.
Prices are correct as of time of writing."
Brand
Model/size
Price
Shoulder
Brushing
Chest
Length
Neckline
Other models
Anderson & Sheppard
Standard (M)
£225
Saddle
Unbrushed
53.5cm
70cm
Standard
N/A
Super soft Geelong (M)
£265
Saddle
Light brush
55
67
High
Anglo Italian
Standard (M)
£150
Set-in
Unbrushed
54
65
High
N/A
Bosie
Harley (M)
£92
Saddle
Unbrushed or brushed
52
69
Low
Roll/polo neck, luxury yarn, one and two ply Voe True
Connolly
Standard (M)
£195
Saddle
Light brush
56
69
High
N/A
Drake's
Standard (M)
£195
Raglan
Medium brush
55
62
Standard
N/A
J. Press

Classic Fit (M)
$265
Set-in
Heavy brush
53
67
Standard
Regimental stripes, cardigan, or vest
Trim Fit (M)
$245
Raglan
Heavy brush
51
66
Standard
University stripes
Jamieson's
Standard (40)
£112
Saddle
Unbrushed
51.5
64
Standard
Fair Isle, shawl collar cardigan, V-neck cardigan, cable, roll neck and stripe. (See Dick's and End)
Laurence J. Smith
Standard (40)
€220
Raglan
Unbrushed
52
64
Standard
N/A
O'Connell's
Standard (40)
$195
Saddle
Unbrushed
51
66
Standard
Plain, cable and ribbed knit.

Voe True yarn.

Chunky and seed-stitch knit.

Trunk
Berwick (M)
£160
Saddle
Unbrushed
53
67
High
N/A
William Crabtree & Sons
Standard (42)
£125
Set-in
Unbrushed
54
67.5
High
Fair Isle waistcoat, crew neck and V-neck slipover.

Roll neck.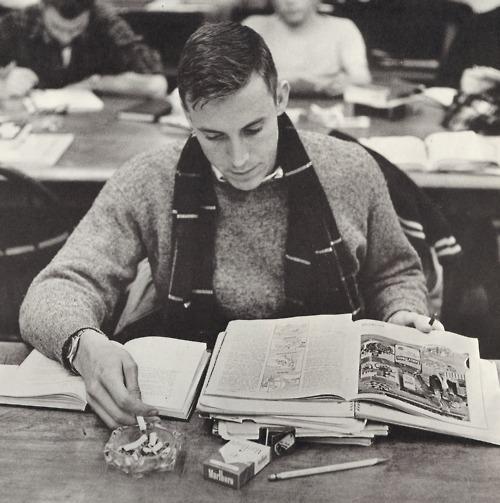 I would like to extend special thanks to James Priestley of William Crabtree & Sons and Andrew Dick and Uli Schade of Dick's Edinburgh for their time and help in writing this guide.