The survey we did of Spring/Summer pieces in the shops was very popular back in June.
This Autumn/Winter, therefore, we thought we'd do two separate ones - the first (today) on winter knitwear, and the second on casual winter coats.
As with that first piece, the aim is to survey all the top-quality pieces in the shops. They have to fit the general aesthetic and quality aims of Permanent Style, but we also want to be fairly broad in the types of brand we include, from high street to designer.
Again as with that last list, we visited around 30 stores in London, and considered online offerings from anyone that shipped to the UK.
We were interested in any knitwear, but particularly those big, chunky pieces that only come out at this time of year.
£210
Although based in Antwerp, Howlin' make all their knitwear in Scotland, and excel in doing fairly basic pieces at great prices.
I have a shetland sweater I got last year at Trunk, which I love, and this year bought a navy turtleneck too.
The neck on the latter somehow manages to not be too tight, and avoids the often uncomfortable rubbing of wool against the neck (particularly against stubble!)
It's wool, not cashmere, but has a soft handle. The sizing is often generous - I am a 39-inch chest and wear a small. But in that smaller size, the fit through the waist is nice and neat - unlike most traditional Scottish knitwear.
Trunk has what you'd expect - classic styles in classic colours - while Mr Porter has a bright, bolder selection.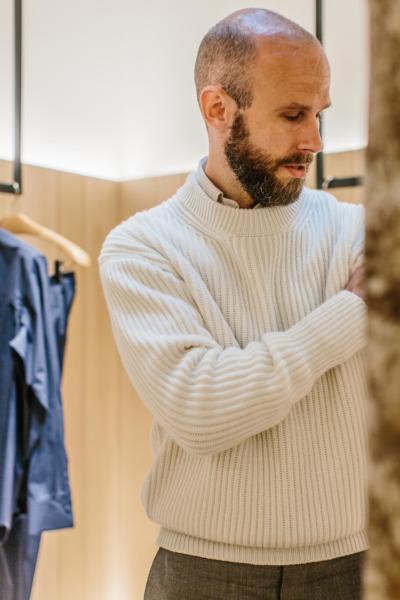 2 Connolly vintage-style crewneck
£550
I wrote about this piece in my feature on Connolly back in July, and for me it captures the USP of Connolly: interesting, modern styles from top-quality, traditional manufacturers.
This sweater is a little short in the body, a little big in the chest, and has a rather long cuff: all small details but ones that create an unusual, vintage-style silhouette.
Cream is obviously an indulgent colour, and the piece is 50% silk, 50% cashmere, which gives it a slight lustre. But if you want something unusual, luxurious and traditional, this is great.
£245
Including Luca Faloni in this list won't surprise many readers.
The Italian's online range of top-quality, well-priced knitwear has been popular ever since it first featured on Permanent Style, and was especially popular at our pop-up store in the Spring.
Luca's models are relatively slim fitting, two-ply cashmeres in nice Italian colours (my favourite being 'nocciola brown'). They're great value and great basics.
This season he has introduced a cable-knit range, which just launched this week, and expanded the hoodies into new colours. I know hoodies won't be for everyone, but they do look relatively dressy with their button front, and work best with a shirt underneath.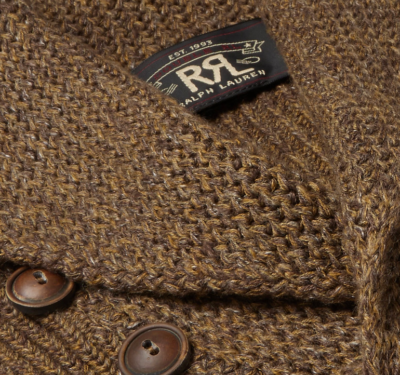 4 RRL brown-melange shawl collar
£385
I've always liked shawl-collar sweaters, primarily because they have the flexibility of being worn with a shirt or a T-shirt (and having a relatively long neck, I don't think a sweater without any kind of collar suits me).
They are often pretty dull, however, and can be large in the body. If you get anything from designer brands, it is often a more interesting take on design - whether it be in cut or material.
Here, I loved the melange yarn of the RRL shawl collar, which manages to both suggest the rugged, workwear look the sub-brand aspires to, yet also feel luxurious and redolent of the colour mixes in Harris tweed.
A nice fit too, though being cotton it is relatively heavy for the warmth. A nice piece for in-between seasons.
£690
Staying on the theme of appealing design in yarns and knits, this Roadster piece from Loro Piana has a really beautiful twill pattern in a melange of greys.
It won't matter to everyone that this knit pattern is something LP has developed themselves and you won't see anywhere else - but it's one reason that simple colours from other brands can be called basics.
A navy crewneck is not that hard to get right and offer at an attractive price; but some readers will also want something more unusual and designed, without straying into the block colours or silly messages of the real designer brands.
I was also struck when I tried on this piece how much LP's sizing has changed in recent years. I still have a Roadster that I bought at Bicester Village eight years ago - it's a size 46, yet is considerably bigger in the waist than this, which I tried in a 48.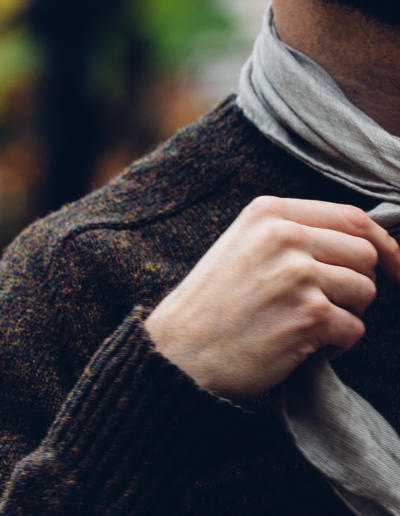 7 Anderson & Sheppard shetland sweaters
£195
I could easily include three or four sweaters from A&S, but I'll keep myself to two.
The first has to be their shetland crewnecks, which come in a huge range of colours - all beautiful mixes of heathery, autumnal colours. My favourite is the light brown (pictured, from my Begg scarf piece) but I also have the dark green and have my eye on indigo for this winter.
Shetland is a hardy, stiff wool whose appeal is similar to tweed - I wouldn't wear it over a T-shirt, where it would be next to the skin, but over a shirt it's wonderful. It's also great value as a result.
I also recommend the A&S seamless 'slipovers' - sleeveless sweaters with a high V-neck. I don't normally like such a high V, but I have a navy and a grey that have become my default piece to put on over a shirt, with jeans, when I come home from work.
8 Massimo Alba garment-dyed crewneck
£440
This Massimo Alba piece is relatively expensive, but stands out for its garment dying, which creates an interesting, faded look around the seams.
It's hard to tell from shots online, but in person the fading is rather subtle and irregular, giving the impression of a long-worn, much-loved sweater. It is also a nice neat fit, and beautifully soft cashmere.
I can understand why some people might not like this style - that it is trying to merge two things that should be kept apart, namely vintage sportswear and luxury cashmere.
But this kind of merging is also what Italians often do so well, and what always prevents tailoring from looking too conservative and staid. File it with Barbours worn over suits, and denim shirts under jackets.
9 Scott & Charters shawl-collar cardigan - via No Man Walks Alone
$395
This chunky, shawl-collared style is a menswear classic. It's big and roomy in the fit, but you can size down and is often worn open, more like a jacket than a sweater.
I generally prefer them with regular buttons rather than the leather-wrapped variety seen on some models, and the Scott & Charters version on No Man Walks Alone has these as well as a good colour range - six including grey, charcoal and navy.
Scott & Charters knitwear is all made in Hawick, Scotland and is generally very good value for money.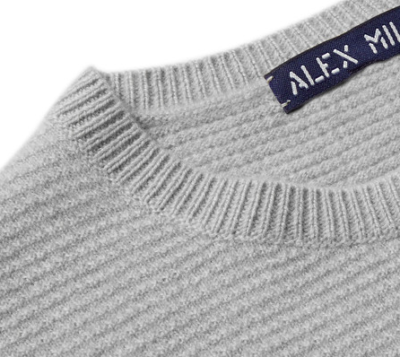 10 Alex Mill waffle-knit sweater
£250
New York brand Alex Mill is usually a good source of basics in knitwear - a decent design awareness, classic fit, mid-range materials.
Rather like Jigsaw in our Spring/Summer top 10, I'd recommend Alex Mill to readers looking for cheaper versions of popular designs.
This waffle-knit piece is a good example. Waffle knits have been everywhere in the past few years, and I have a version from Ralph Lauren Purple Label in exactly this shade of grey. Its cashmere is a lot nicer, and thicker; but then it was also three times the price.
Alex Mill also have some nice loopback sweatshirt models, aspiring to something similar to the Massimo Alba listed above.
Original photography: Jamie Ferguson @jkf_man