Blouson, chore, or leather jacket? An exercise in casual paradigms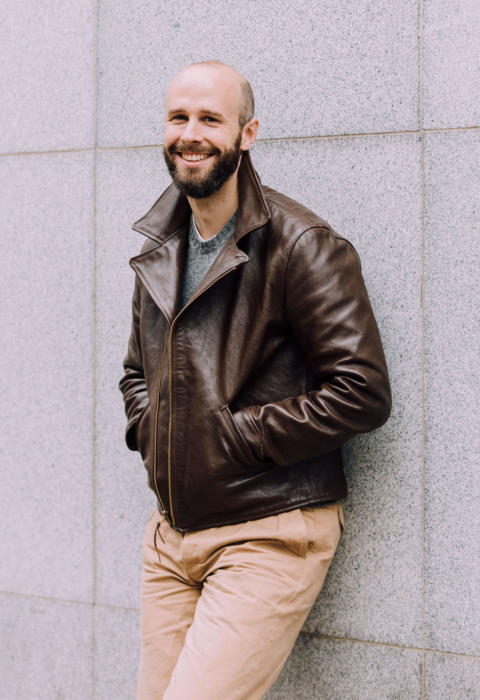 Three years ago, I wrote an article called 'Five paradigms of casual clothing', which attempted a rough division of informal men's clothing into different styles.
It was an interesting exercise. The categories were necessarily very broad, and encompassed many niches and trends; there was also obviously a lot of overlap between them, and some pieces that were more universal than others; but still, it was possible to describe general categories, and allocate types of clothing to them.
I thought of that division recently because a few readers were asking for advice on casual jackets. Should they buy a blouson or a chore jacket? Which was more formal, which more versatile?
Usually, formality is the most important aspect of clothing we discuss. It's crucial to tailoring, and I understood why readers were asking that question first.
But with casual clothing, probably just as important is the style tradition the piece of clothing comes from. Its roots, its culture, and its resulting associations.
So I thought it would be useful to revisit those categories of clothing, and consider how they affect a particular purchase, such as a casual blouson/bomber/chore jacket.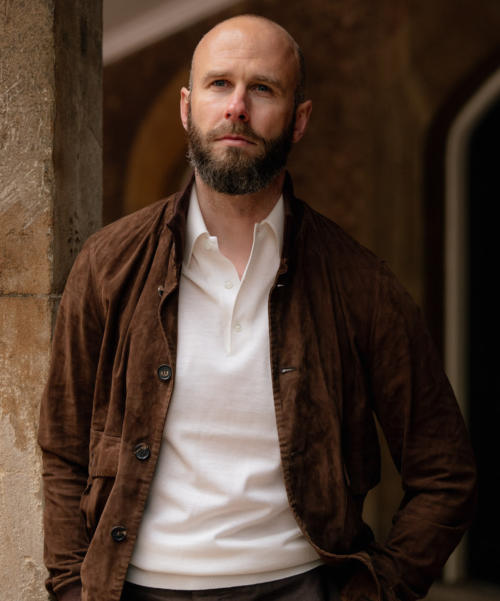 To recap, the five categories were:
British country

. Think rural clothing in most parts of the Western world, given it largely has English origins. Tweed, cords and waxed cotton; flat caps and fisherman's sweaters.

American prep/Ivy

. Has many roots in the above, but America's cultural influence means that it is now widespread and has many offshoots: French Ivy, Rugged Ivy in Japan, suedeheads in the UK.

Italian smooth

. This needs a better name. But it is the Italian style, the continental look, that went international in the 1970s and ever since has dominated most upmarket menswear brands. Slim cuts, luxurious materials, simple colour palettes.

Workwear

. Clothes at least originally built for work, or service. Encompassing military styles after WW2, and Western clothing too. United by rugged materials in particular.

Sportswear

. Modern sportswear. Sneakers and synthetics. Not something we touch on much, but obviously mixes with the others, and hugely influential.
Of the jackets the reader was considering - largely derivatives of the chore coat or blouson - a chore definitely falls under workwear in this categorisation. Originally for French workers, it's straight cut, and patch pockets make it simple and practical.
The blouson or bomber jacket is trickier. Most of the styles have military origins, but they've been consistently repurposed ever since - whether it's leather jackets being worn by bikers or field jackets by students. Indeed, some styles have more in common with Varsity jackets, which are definitely Ivy.
I think here the material and hardware are more significant. The reader was largely looking at dark-brown suede models, and this feels more luxurious, more Italian. In most iterations, that's the category it belongs in - particularly I think when zipped (like the Connolly below) rather than buttoned (like the Valstarino above).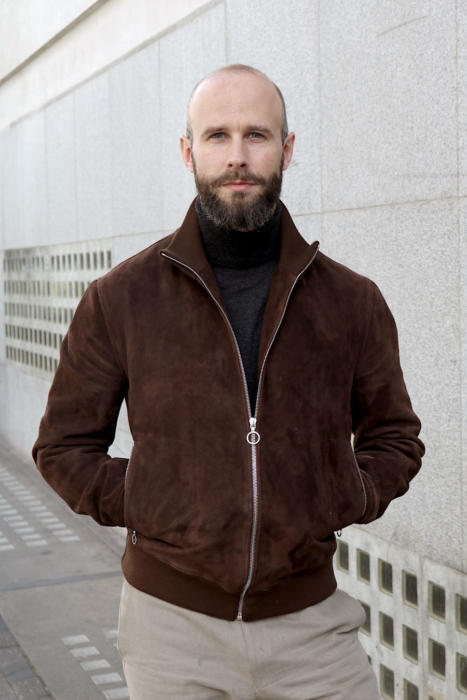 So why is this categorisation useful to the reader?
Because it tells him the chore coat will sit better with workwear chinos, with T-shirts and with sweatshirts. The suede blouson, on the other hand, will be more at home slim Incotex chinos, or indeed with tailored trousers, and cashmere sweaters.
The difference between the two is about style, about different traditions of clothing, as much as anything else. So the reader should consider which of these two they wear more - which, perhaps, is more their style - when making the decision.
You might suggest this distinction is still about formality. The blouson is simply smarter than the chore coat. That's true, but style is also important too (where it rarely is with tailoring).
And often, formality has little to do with it. For example, which is smarter, a denim chore coat or a denim trucker jacket? A brown-horsehide motorcycle jacket or a brown-waxed Barbour jacket?
The bigger difference there is stylistic traditions, and associations. That's the reason the Barbour would look silly with cowboy boots, and the horsehide wouldn't look great with wellies.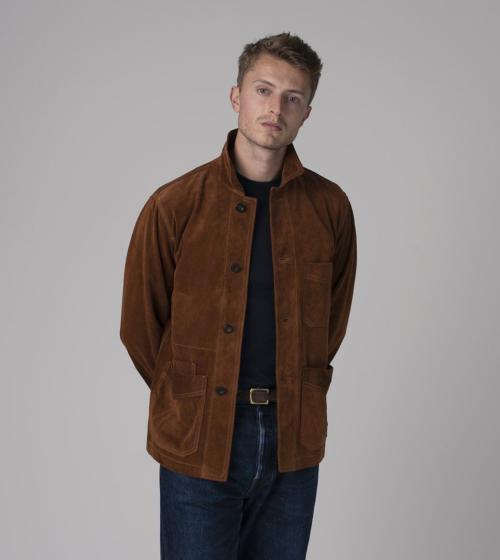 I think that when readers are considering how to build a small, quality wardrobe of clothes, they should keep these distinctions in mind.
But there are several caveats. First, some items of clothing are so universal that they work with anything. Jeans are the obvious example. They're not going to look out of place with a shooting jacket, a varsity jacket, a leather jacket or a Nike windbreaker.
Still, the style of jean might vary. Zegna or Loro Piana outerwear usually works with rather different jeans than something from Bryceland's or The Real McCoy's.
Second caveat: some of the most stylish people and stylish looks come from mixing traditions together. The unexpected pairing of a tweed jacket with a cowboy boot. A vintage black-leather jacket worn with pressed charcoal flannels.
But that doesn't show that the categories don't exist. Rather, it's only because they exist that there's contrast in the look, which makes it looks so unexpected and stylish.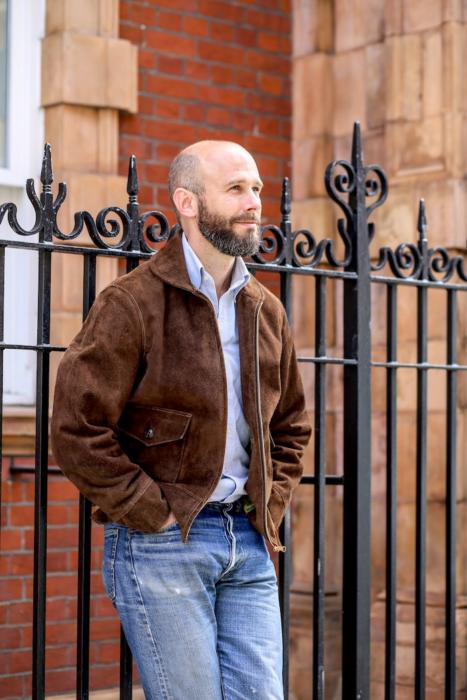 The other arguments against analysing clothing like this are usually that the points are obvious, that they are a care of overthinking, or that they're too prescriptive.
As to being prescriptive, I'm certainly not saying readers should dress purely within one of these traditions. Just like with the so-called 'rules' of menswear, it merely pays to understand traditions - certain ways people have dressed historically - before going off and breaking them.
You may find it helpful, for example, to root yourself in the casual chic of Stoffa, Rubato or Saman Amel, before experimenting with the addition of a western piece into the wardrobe, like a cowboy shirt or an alligator belt.
Or you might find you're more of an Ivy guy, with a wardrobe of preppy chinos, oxford shirts and Alden loafers. At which point you might try mixing in something more workwear, like a vintage chore coat over the top of those chinos and a sweatshirt.
As to whether these points are all obvious, they can't be because readers ask about them. They may well be for you; they may well be for most people; but they certainly aren't for everyone.
And as we discussed in our post on creating your own style, people that find style easy have often just absorbed more of it subconsciously. They can just try combinations and think they 'look wrong'. That doesn't mean that what lies behind it can't be spelled out - can't be learned.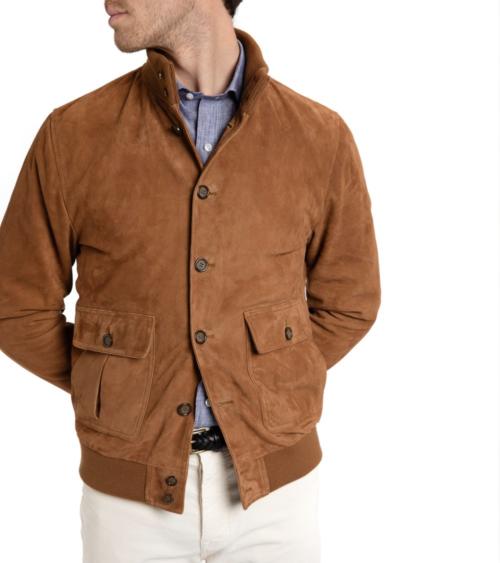 I guess a final objection might be that fashion is so mixed now, so global and so rehashed and rehashed, that these categories no longer exist. Drake's used to sell Valstar, then sold chore coats, and now sells trucker jackets.
I think that has more to do with how Drake's has evolved over time. Most menswear shops are actually still quite narrow and consistent. Trunk sells Valstar and Incotex. Clutch sells horsehide jackets and workwear chinos. Because customers want things that go together.
Actually chinos are another good example, similar to suede/leather jackets. We've talked a lot more about 'chinos' in recent months, but that word covers a huge range: from bespoke trousers in the finest cottons, through Italian chinos with a bit of elastane, to workwear models in coarse, heavy canvas.
Asking for a 'chino' is like asking for a cotton shirt: it runs everything from a superfine Alumo to a Buffalo-check flannel. You need to be more precise.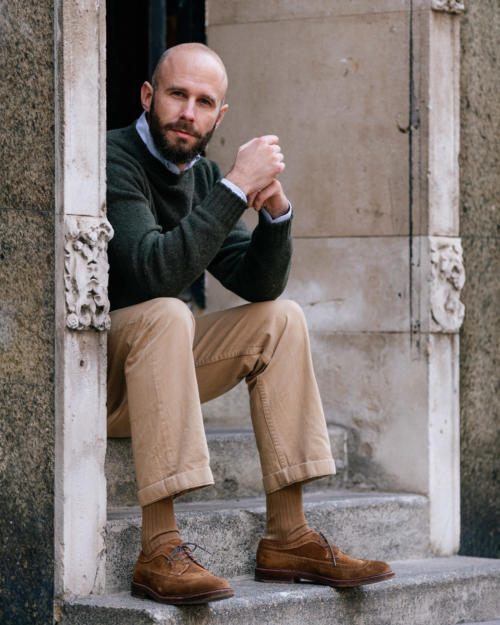 Casual clothing is a lot harder to navigate than tailoring: it's bigger, less culturally consistent, and more subject to fashion.
There's also a tendency today to think that you can buy and wear any piece of clothing. That if you can't find a way for it to work with everything else, you just lack style.
Actually, most people dress more in one category/tradition/paradigm than another, and experiment with occasional pieces from elsewhere. It's less complicated and more coherent.
That's a particularly good lesson for younger guys, trying to build up a wardrobe of quality clothing. When you don't have that many clothes, and you can't afford to buy that many clothes, everything has to work with everything.
So even though there are lots of shades of grey here, and many traditions overlap, I think these style paradigms are always worth keeping in mind.
The illustrations are nearly all of casual, short brown leather or suede jackets, to compare. Top to bottom:
Alfredo Rifugio hand-sewn nubuck