I've never had a horsehide jacket before.
I did have an old, vintage one rom RRL a few years ago, but it was so old and soft that it felt nothing like this, like new horsehide.
To be honest, I'd been rather put off by the styling of horsehide jackets and the way many other people wore them.
The old-fashioned A2 aviator, with its tiny collar, big pockets and round body seemed rather unflattering, even anachronistic: add some combat trousers and a tiny watch cap and it could quickly look like costume.
Which doesn't mean that all vintage-inspired clothing has this problem. It just has to be subtle in its styling, in my view, and use proportions still seen in at least some modern clothing.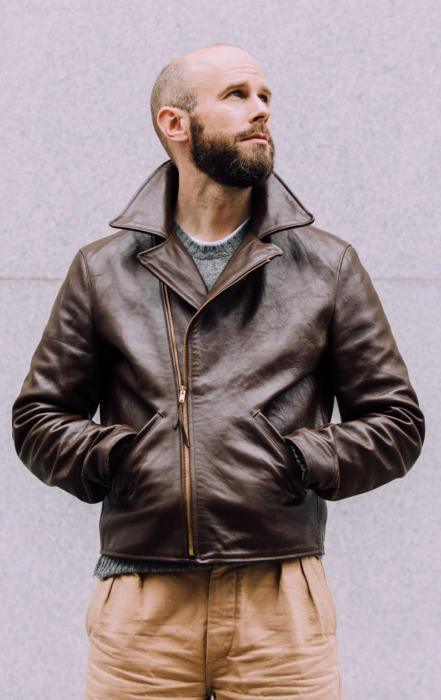 The asymmetric style of my Armoury x Real McCoy's jacket, shown here, is more in the tradition of motorcycle clothing.
Big bodies and ribbed hems are replaced with a close fit, cinched waist and double-layered front. The functional priority is wind resistance rather than freedom of movement.
Personally, I think these styles are less at risk of looking anachronistic because motorcycle jackets are still seen everywhere - in menswear but also in womenswear.
They've been adopted by one rock band after another, and the cuts re-interpreted by everyone from Rick Owens to Stoffa.
More on this topic
The risk of a motorcycle jacket is less anachronism and more trying to be something you're not.
Wear a black Perfecto with black jeans at age 20, and you risk looking like a try-hard; wear them at age 50 and it can scream mid-life crisis.
I know people who wear that look and wear it well. But just like style icons breaking style rules, they're very aware of what they're doing.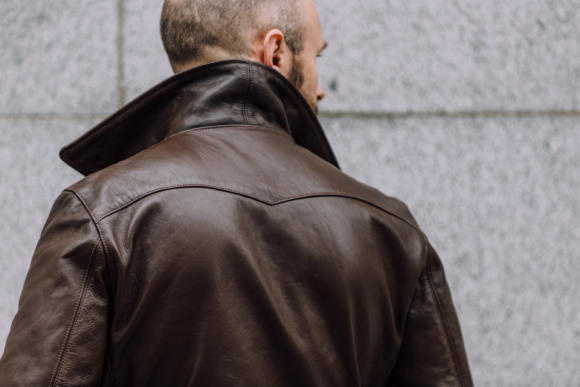 This Armoury piece is no Perfecto. It is in brown, not black, and has no dangling belt or other bells and whistles.
Still, it is a big leather jacket, with a big collar.
It is still going to stand out, and I think still risks anachronism with those military-vintage accessories - or indeed with Red Wings, a buffalo-check shirt and a bandana.
It's just fine, however, with plain knitwear, jeans and boots. Everyday casual menswear, in ideally more casual versions - so jeans, not tailored denim trousers; and round-toed Aldens rather than pointy Corthays.
In the images I'm wearing it with a grey-shetland sweater (Anderson & Sheppard), The Armoury's Army chinos, and Doek canvas trainers from Trunk.
I'd hesitate to have the chinos any fuller in the leg, however, or give them any other accoutrements like combat pockets or a wallet chain.
Subtlest and easiest is some great denim, like my 18oz NW1 jeans from Blackhorse Lane.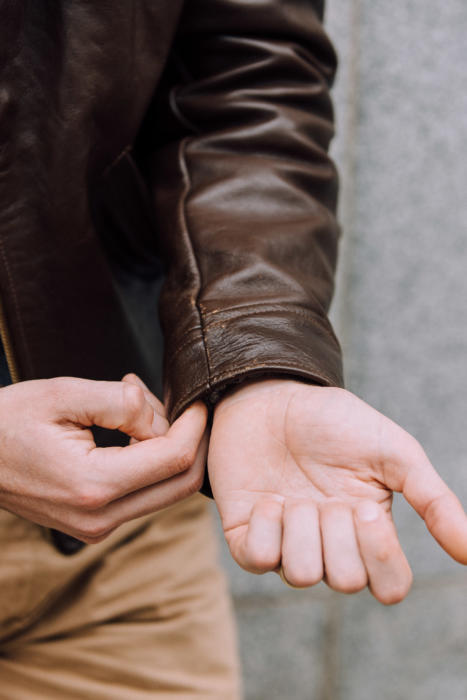 Moving on from style, I have to say I adore how this jacket has worn in.
The things I had been told about horsehide were that it was very stiff and would take a long time to soften up. That I'd have to wear it every day, get it wet repeatedly and so on.
Given how many clothes I own, this worried me. Because let's face it, nothing is getting worn every day, week after week. Jeans maybe, but not a jacket.
I needn't have worried though. After four or five wears it softened considerably and now doesn't feel uncomfortable or restrictive.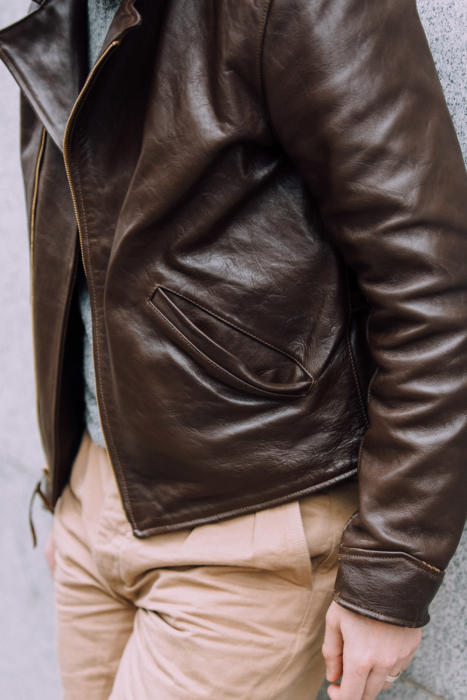 Part of the reason is that it has moulded to my body shape: another big attraction of horsehide, and one that I know will appeal to many readers.
It feels like a thick shell, something that has already been conformed to your body and movement.
That's perhaps most obvious here in the shapes of the pockets (above), which I use heavily and are now slightly bowed outwards, ready and waiting for my hands.
Zip the jacket up all the way, put up the collar, and bury your hands in there, and you really do feel like you're sheltered from the world.
That does lead me onto a point about leather jackets, though, which is that they are not warm.
Leather is great as a windstopper, but it does not insulate well. And horsehide is great in the rain - which helps it age and crack subtly - but not in the cold.
Unlike wool, leather is cold to the touch (one reason so many have fur collars, as cold leather against your neck is not pleasant on a cold, wet day).
A jacket like this needs wool underneath it, and ideally layers. So I would also size it to be able to fit a decent sweater underneath.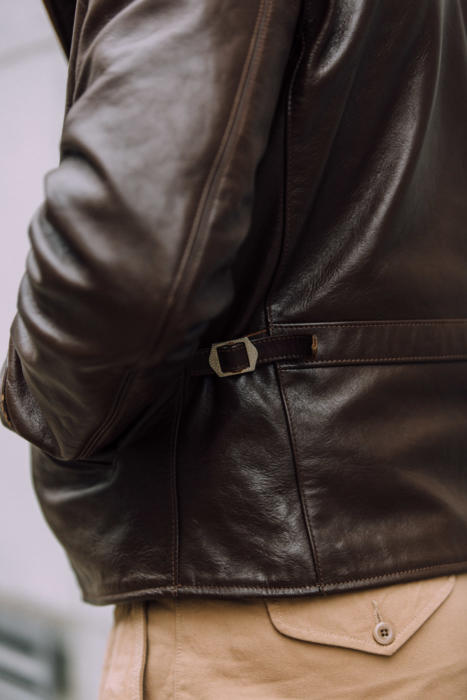 My jacket is a 40, which felt a tiny bit large, but was actually great once I had cinched in the waist.
If you have a body shape roughly like mine, with a waist measurement that is one size down from your shoulder measurement, a style detail like a waist cinch is extremely useful for fit.
Unfortunately The Armoury only have a size 44 left in my colour (mocha) and a 42 in the darker brown, espresso.
I would recommend the rest of the Real McCoy's range, though, in particular the Buco J-25 and Disfarmer in Deerskin, both of which I've tried. (Though unfortunately they both only come in black.)
Other great makers are Himel Brothers in Canada and Aero Leather in Scotland.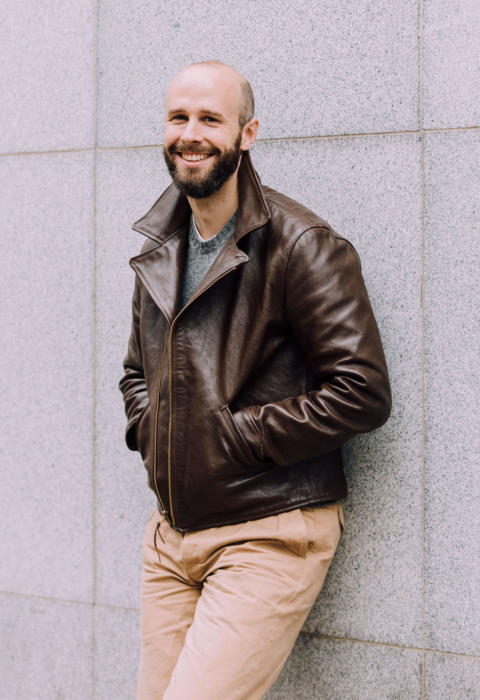 The Armoury also deserves a word for their collaborations in recent years on outerwear, which has not only brought brands like The Real McCoy's to a sartorial audience, but particularly brought attention to the designs of Kentaro Nakagomi at Coherence.
While some of the Coherence styles aren't for me, I love the functional attention to detail in every piece.
Where others would be happy to just copy a standard belt or pocket orientation, Nakagomi-san takes it as an opportunity to perfect and modernise - making a button-in liner work perfectly, or changing the angle of a through-pocket so you can actually use it without catching your hand on the different layers.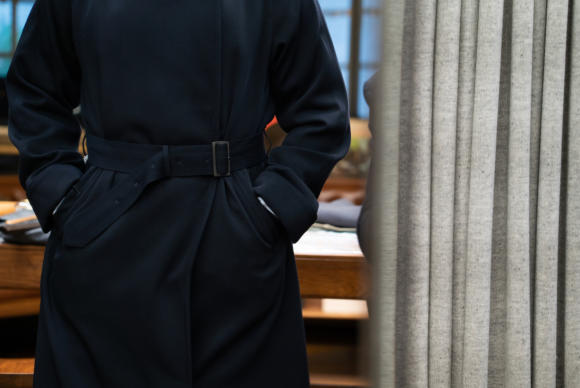 There are also some styles that I love. I've never particularly liked big coats that cinched at the waist, for example, but the Marc model completely changed my mind once I saw it at our pop-up (shown above).
It's now firmly on my wishlist - for the cut but also for the functional details, like the wrap belt and lapel fastening under the chin.
Recently The Armoury have also added a shearling coat working with Owen Barry (below) and a suede gilet from Japanese brand Rocky Mountain Featherbed (currently only in Hong Kong).
Photography: Jamie Ferguson @jkf_man, except two pictures above and below, Elliot Hammer.