How I wear a black leather jacket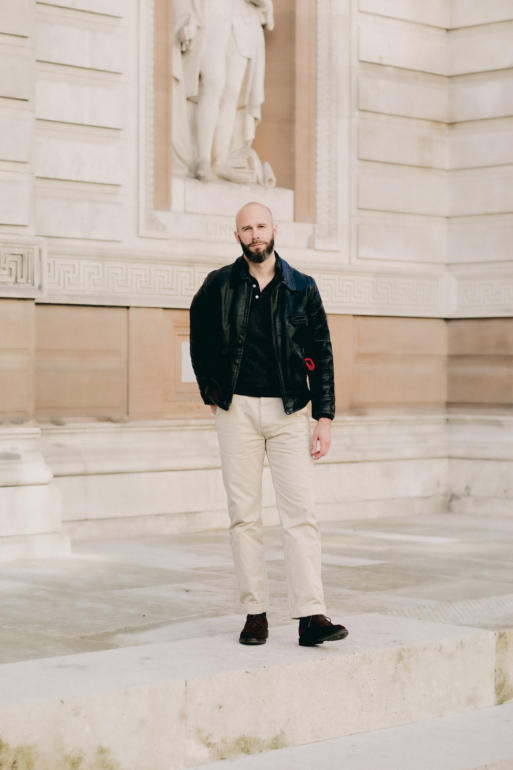 I've had this vintage leather jacket for about four years and it hasn't been worn often - perhaps a handful of times a year.
If I'm honest, it was because I felt a little self-conscious in it. I didn't want to look like I was pretending to be a biker, or going through some kind of mid-life crisis.
That might seem silly, but as we've discussed in the past, a lot of what people think of as style is about the associations we have with clothes - the people, the places, eras, ages, attitudes.
And if any piece of clothing feels risky in that way - feels like something a guy wants to wear, but might say he can't 'pull off', it's a black leather jacket.
Perhaps a better way to put it is to say that I wasn't sure the jacket was 'me'.
The reason an old, bald guy in an open-top sports car might traditionally come in for ridicule is it can look as if he's trying to be something he's not.
Trying too hard is a style-killer generally, but it's particularly bad when trying to be someone much younger. (Because, of course, it's something a lot of people identify with.)
So was the jacket 'me'? Well, bear in mind that my main aim with clothing remains to look well dressed without standing out. It's what feels most comfortable for me, and gives me most pleasure.
A black leather jacket is riskier in that regard, and that was what I was afraid of.
But, over the past year I've come to think that this horsehide jacket - aged and styled as it is, and worn in this manner - is something I'm comfortable in, and now enjoy wearing immensely.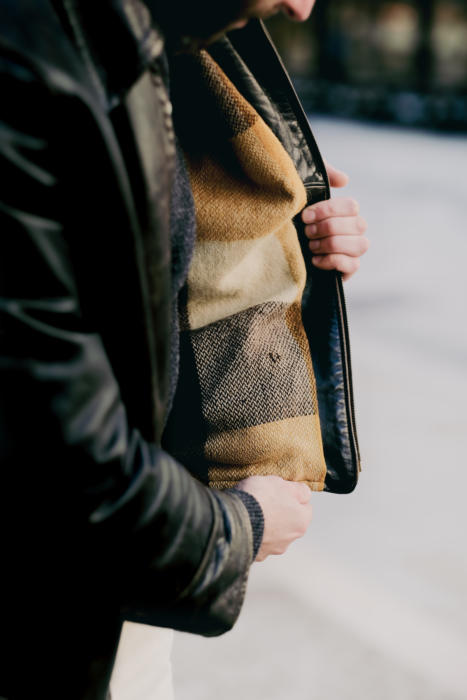 The most important thing, I think, is that it's vintage.
The jacket already looks like an old favourite, rather than something bright or flash. It looks like I could already have owned it a long time - become part of me - even if I haven't.
This is often the problem with cheaper leather jackets. Because they are often plastic, or plastic-coated, they never age well. It looks wrong - like jeans that don't age because they're full of elastane.
The fact it's old also means it is literally less flashy. The leather is dull, not shiny, and so is the hardware.
Second most important is the styling.
The simple turn-down collar and three pockets is the simplest style you'll find - there aren't even pleats in the back, or contrast stitching. Just a sewn-on half belt and two adjusters.
I love the fact that the label describes it as sportswear. This is not a flight jacket or a bike jacket or anything else functionally specific. It's just for being, generally, active.
That label also identifies it as being from M Bogen & Co in Lowell, Massachusetts. I can find references online to staff at such a shop in 1950s, but if anyone else knows anything about them, please do let me know.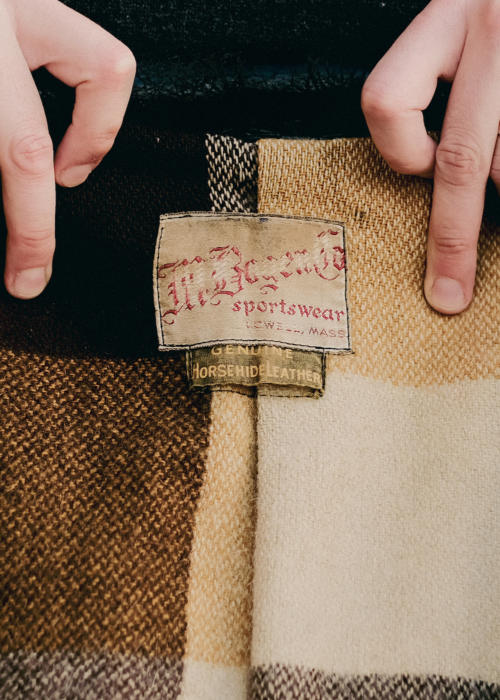 Then there's how it's worn. Not with a white T-shirt and blue jeans, let alone a bandana and biker boots.
I like a charcoal knit underneath, like the old Drake's lambswool one here; and pale beige chinos, from The Real McCoy's. Both are suitably understated, while still being, of course, wonderful pieces of clothing.
The boots are the Cranleigh from Edward Green I wear a lot, in mink-brown suede. The storm welt and split toe give them enough ruggedness, and I prefer this to either a Galway in the same material (smarter) or a work boot like my Viberg (more casual/chunky).
A grey sweatshirt underneath is also great, as are darker chinos or really dark denim. Both pretty easy and obvious combinations.
The only unusual style I've found I like is wearing the jacket with charcoal flannel trousers, the same boots, and a casual shirt like denim or chambray. It's a pleasing mix of tailoring and workwear.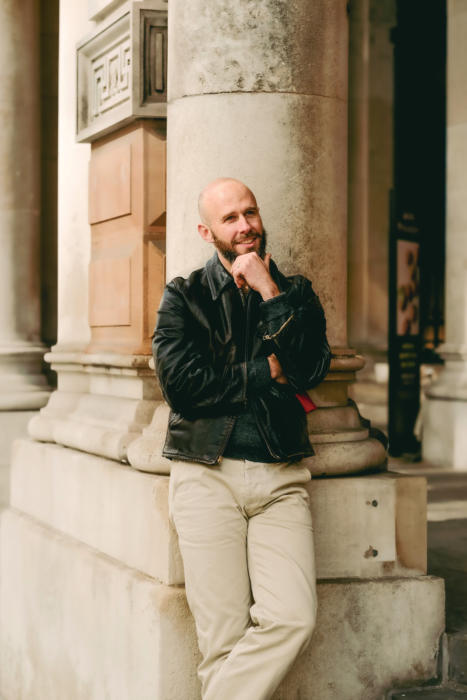 The jacket is from RRL in New York, again bought several years ago.
As with most vintage they carry, it was expensive but perfect. Great size (only the arms are a touch short on me), great condition, and great details. Beautifully worn in but nowhere worn out; original hardware but still functioning perfectly; fantastic original blanket lining.
The only change I made to it was to replace the moleskin-like sleeve lining with a synthetic. The former was nothing special, just warmer, and a real barrier to getting the jacket on and off easily.
When Sarah and Pauline at Cromford examined the jacket, they of course pored all over it - appreciating old leather as only leather specialists can. But they particularly picked up on the way the front panels have aged.
The panel on my right, below, is a lot smoother than the one on the left, which is more wrinkled. For Pauline, this showed its age. No modern jacket would be made with such different parts of horsehide, as customers would complain it was a mistake. I love the difference.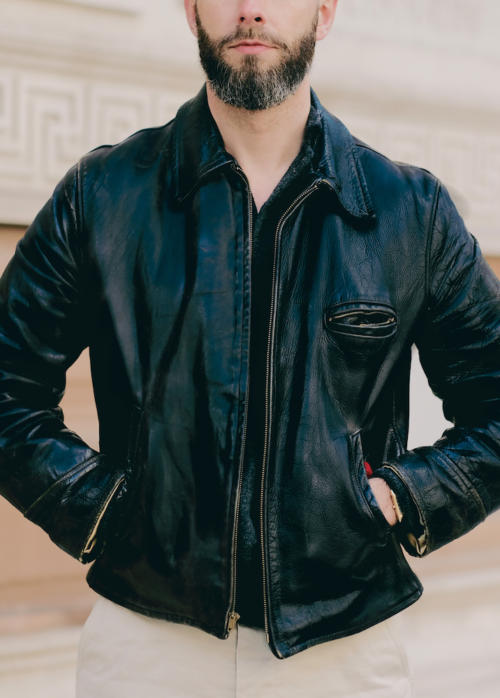 When we were running the pop-up shop in The Service recently, two young guys came in on different days, both wearing black Perfecto jackets (or imitations of).
They both looked great. But they were young, skinny, tall, good looking, and had some swagger to match.
The jackets suited them, worn like that, at that point in their life. I will not say that no one older or larger or more timid couldn't look great in a Perfecto. I'm sure they could. But at the same time, I suspect those guys won't dress like that when they're 40.
There's no need, really, to unpack the reasons why. The only thing that matters is that those jackets looked very 'them' and this old horsehide feels very me. And that's as important as anything when it comes to dressing well.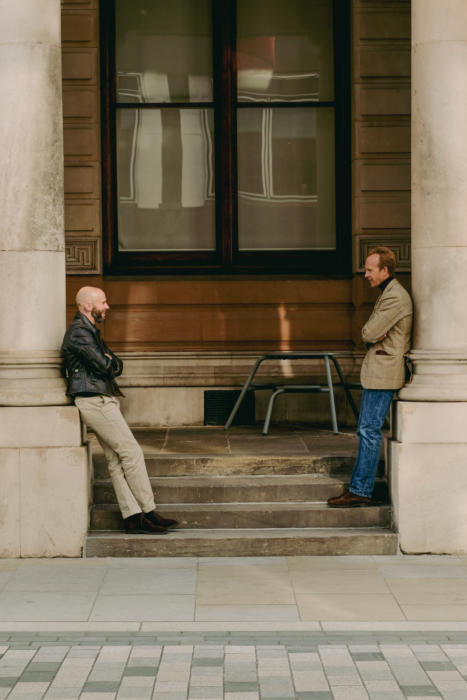 Photography: Mohan Singh @mohansinghphoto
Hat: Red PS Watch Cap
Above, pictured chatting to reader Andrew, during his shoot