Since I first wrote about Cromford Leather nine months ago, I've been using them consistently for leather alterations.
I thought it was worth a catch-up piece, therefore.
It's also a nice opportunity to show their workshop in the basement, including some of the vintage pieces they're repairing for customers.
If you care about how clothes fit, leather and suede outerwear can be a pain.
There aren't many variations in sizing, so if you don't fall into the standard S-XL grading, you'll end up with something that doesn't fit in one way or another.
Being tall and slim, I often find myself choosing between something that fits my shoulders but is too big in the waist (usually a Medium) or that fits the waist but is too tight in the shoulder (usually Small).
Now that I know and like Cromford Leather (Chiltern Street, Marylebone), I buy the right size for my shoulders and have the waist altered.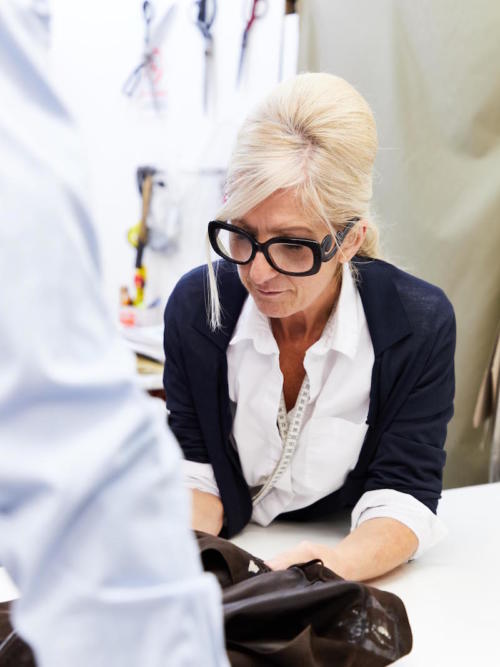 I've done this so far on two pieces: one an old Loro Piana nubuck sports jacket, and the other a Seraphin suede bomber. (Look out for the latter in tomorrow's post on our bag collaboration.)
In both cases, the alterations with Pauline at Cromford have worked well.
However, be aware that unlike a wool jacket, there are some limitations on what can be changed. It's worth speaking to Pauline (above) at length to understand what these are.
Also bear in mind that altering leather is laborious and therefore expensive (my alterations ranged between £120 and £300). The few issues I've seen with customers of Cromford have been because they don't take the time to appreciate both these points.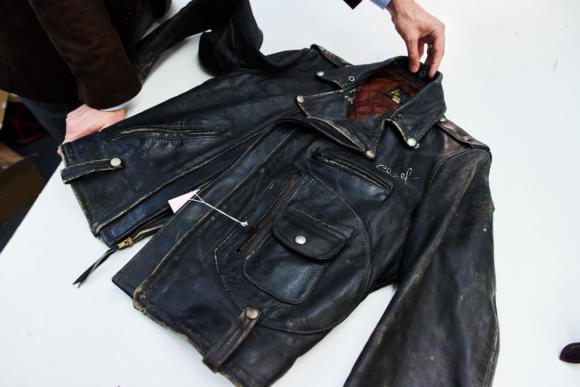 You can see the complexity involved in leather alterations and repairs in some of the vintage pieces going through the workshop at the moment.
Above, for example, is an old Buco horsehide jacket that is having its zips and pockets repaired.
Replacing zips and pocket bags, without changing the look of what is beautifully aged leather, is a delicate process.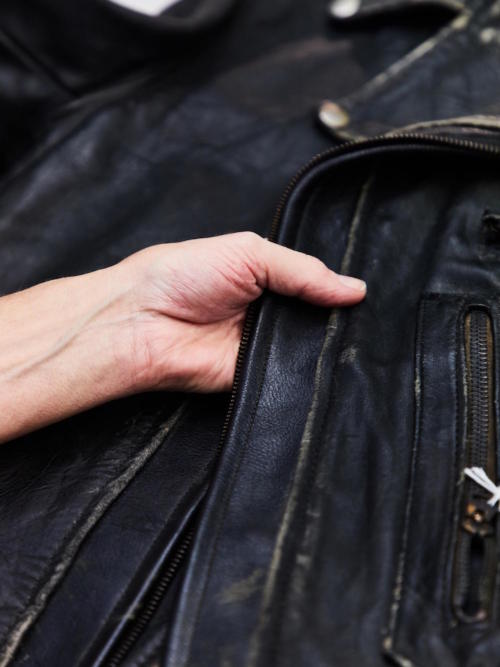 Harder, though, is working with sheepskin jackets, like the one below.
Shearling dries out as it ages and vintage pieces will rip easily.
Sewing into something that fragile is hard - you often rip the very thing you are trying to secure.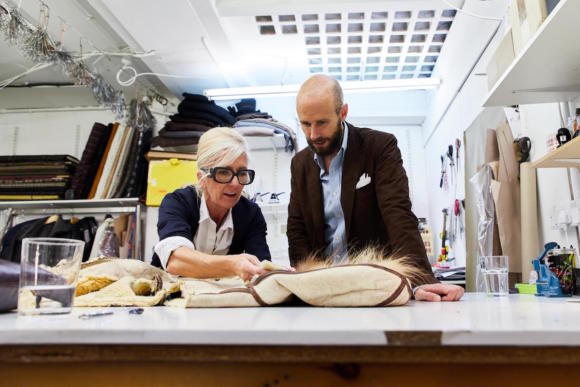 My latest alteration project was the suede zip-up blouson you can see below.
This is an old jacket from Carlo Brandelli's first stint at Kilgour.
As with all his things, it was simply and beautifully done: lovely thin suede, unlined, with a covered zip in front and nothing on the cuffs.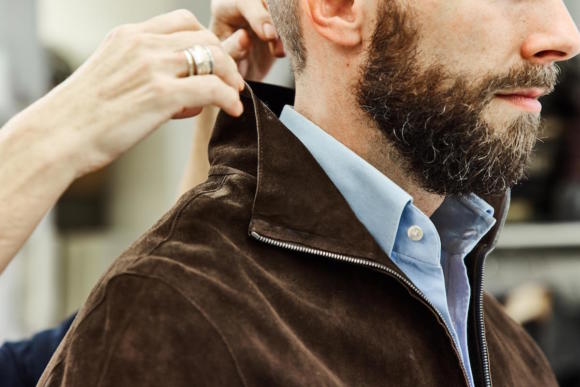 The only thing I never liked about it was the collar.
I've always been partial to a collar that pops: that stays up when it's put up. It's probably related to having a relatively long neck.
This collar stayed up at the back but collapsed at the sides. Which had its own appeal, but I disliked.
Pauline put some fusing on the inside of the collar, covered it with a matching piece of suede, and finished it all invisibly. The collar now stays up perfectly.
It's the quality of work like this, as well as the rarity of leather-alterations specialists in London, that has me continuously recommending Cromford.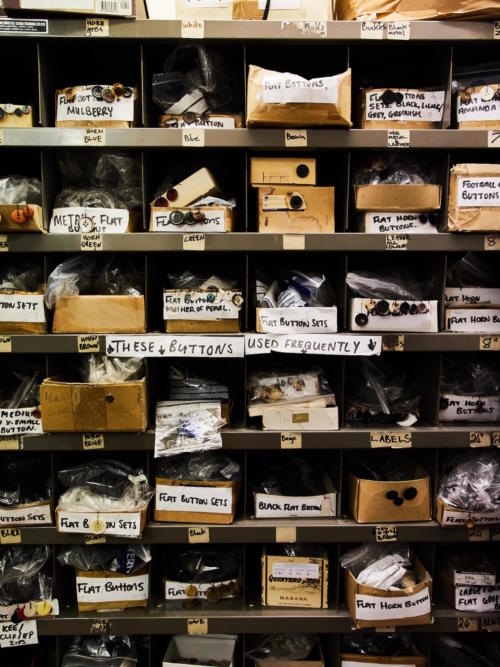 Alterations details here
Photography: James Munro