Introducing: The (brown) reversible Valstarino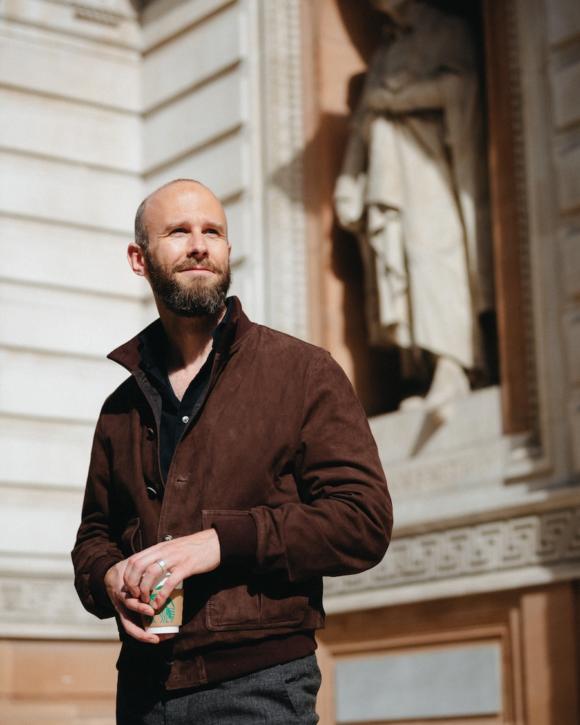 *Update: Although a couple of sizes have sold out, several customers have bought two jackets in order to compare sizes, and will be returning one. So if your size is sold out, do email [email protected] to receive an alert when it comes back in*
The reversible Valstarino is back.
This was the most popular product on Permanent Style last Spring/Summer, and I think it's because it solved the key practicality issue men have with suede jackets like the Valstarino.
By using Valstar suede on the outside, but Loro Piana Storm System on the inside, it made the jacket usable in any weather. And with buttons that push through from one side to the other.
The expectation is not that you will wear it with the waterproof layer on the outside all the time. After all, suede does not make the best material for a lining.
But, it means you can wear the jacket without having to worry about what the weather will be during the day. Because if it does rain, you can turn it inside out quickly, and carry on. Personally, at that point I only pull through one or two buttons, to keep it relatively secure.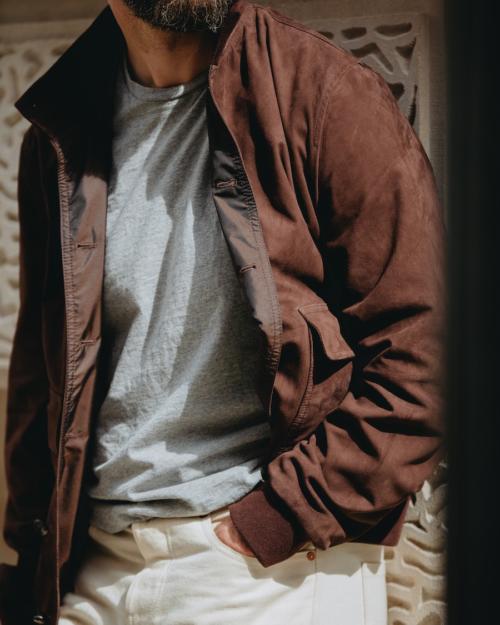 The advantage of using the high-performance (and expensive) Loro Piana Storm System is that it feels nice, and is breathable. So you're not sacrificing anything over a normal lining, and you don't sweat more than with a normal jacket lining.
Other touches include flapped pockets inside, in the Storm System material, which mean you have secure internal pockets, and decent external pockets when the jacket is reversed.
And I requested unpolished two-hole horn buttons, because I prefer them so much over the standard, polished ones Italian brands use.
At this point they're even a branding element, tying together things like the reversible Valstarino with the other PS outerwear, such as the Bridge Coat and the Raglan.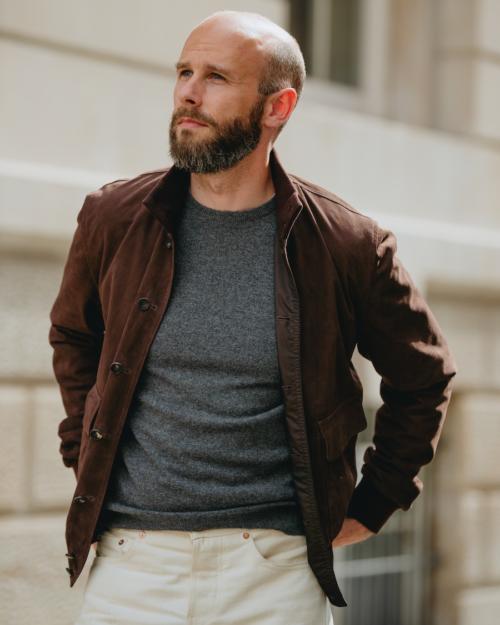 Last year we did the Valstarino in navy; this year we're offering it in the more standard dark brown.
The navy makes a good substitute for a navy blazer, and is particularly useful with capsule wardrobes or when travelling.
But the dark brown goes with a greater range of clothing, and is inherently more casual. It looks more at home with a T-shirt and jeans (above), and with other warm colours like tans, greens and beiges. This particular shade is Valstar's best seller for that reason.
And of course offering a different option means last year's customers can buy both colours, if they've found the jacket particularly useful.
I've already illustrated in other articles how versatile the dark-brown suede is. In this piece in 2017 I showed three different outfits - with jeans, flannels and chinos, and oxford, denim and polo shirts (one shown above).
So to illustrate the launch today, I thought I'd shoot three other combinations.
Two of them show how nicely brown can work alongside black, which isn't always obvious. And how white jeans can add character to an outfit, without appearing as showy as linen or other cream tailoring.
In one outfit (second from top) the Valstarino is worn with a grey sweater (Colhay's), cream jeans (Levi's bespoke) and black-suede loafers (Edward Green).
And in the second outfit, below, the shirt is black (needlecord, D'Avino) and the trousers grey (Spring Ram, Ambrosi). Both are more unusual, perhaps more modern-looking than the light-blue oxford and mid-blue jeans I'd usually wear the jacket with.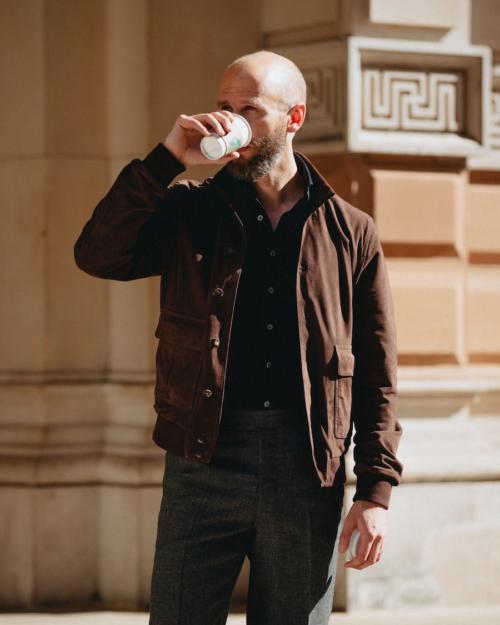 Another important point is that I've changed the size I'm wearing in the pictures.
In last year's post on the navy, I wore a size 50. Here I'm wearing a 52.
To be honest I could wear either. The smaller is a slightly better fit over a shirt or T-shirt; the larger a little better over knitwear. I'd probably pick based on which I was more likely to wear it with, and whether I'd be happier with it being a touch loose, or a touch close on occasion.
The Valstarino does fit slim, and last year around 40% of customers exchanged their jacket in order to size up. So I'd strongly encourage people to compare the measurements below to a casual jacket they already have. And if in doubt, take the larger size.
We've deliberately stocked some size 56 this time (equivalent of a XXL) for that reason.
And we are of course also always available to answer questions - either in the comments below, or on the dedicated Shop email, [email protected].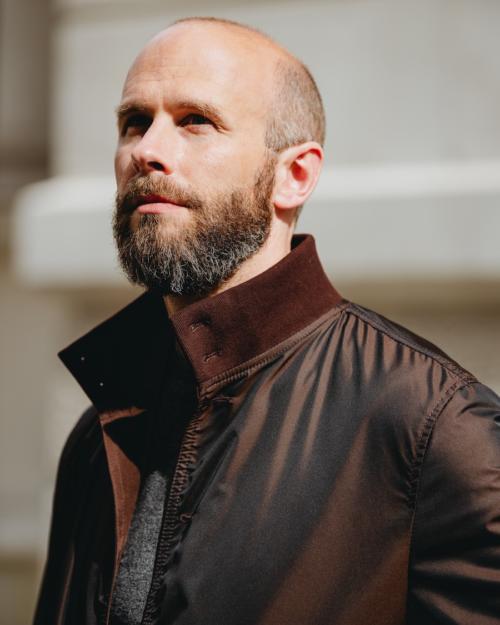 It probably goes without saying for many readers, but briefly I should outline why I think the Valstarino is such a useful (and popular) style of suede jacket.
The key reason for me, more than its quality and heritage, is that it fits so well into a tailored wardrobe. The suede, the slim pockets and (most importantly) the button-up front make it unusual among blousons in being smart enough to substitute for a sports jacket.
That means it works with the same shirt and flannels you might have worn to the office, but can be swapped for that jacket to meet friends in the pub.
And it also works well for travel. Wear it with that same shirt and trousers to get on the plane, and have a blazer folded up in carry-on.
Of course, the waterproof element here only adds to that versatility. (Waterproof side shown above, and below.)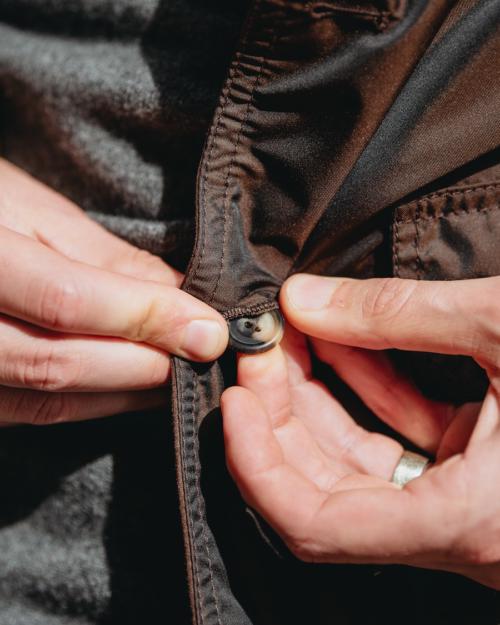 The measurements of the jacket are listed at the bottom of this post, and on the shop page here.
We do have two navy jackets left from last year - a 46 and a 48 - if anyone wants those, but again do keep the slim sizing in mind.
Other details:
Dark-brown goat suede

Lining in navy Loro Piana Storm System, water and windproof

Unpolished-horn two-hole buttons

Two flap pockets on the outside and two inside. Cut flush to add no extra bulk

Side-entry pockets on both sides as well

Made by Valstar in Italy, shipped from England

Price £792 plus VAT, so £950 in the EU; customers in other countries are charged local duties/taxes on import (Prices

on the shop site

are ex-VAT.)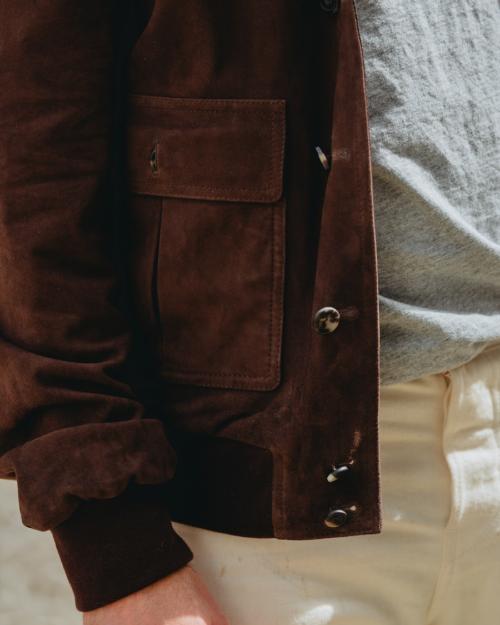 Measurements (all in centimetres):
| | | | | | | |
| --- | --- | --- | --- | --- | --- | --- |
| | 46 | 48 | 50 | 52 | 54 | 56 |
| Shoulder width (A) | 43cm | 44.5 | 46 | 47.5 | 49 | 50.5 |
| Body length (E) | 63 | 64 | 65 | 66 | 67 | 68 |
| Chest width (half) (B) | 51 | 53 | 55 | 57 | 59 | 61 |
| Sleeve length (H) | 65 | 66 | 67 | 68 | 69 | 70 |
Photography: Alex Natt @adnatt, except oxford/jeans shot, Jamie Ferguson