Introducing: The grey cashmere crewneck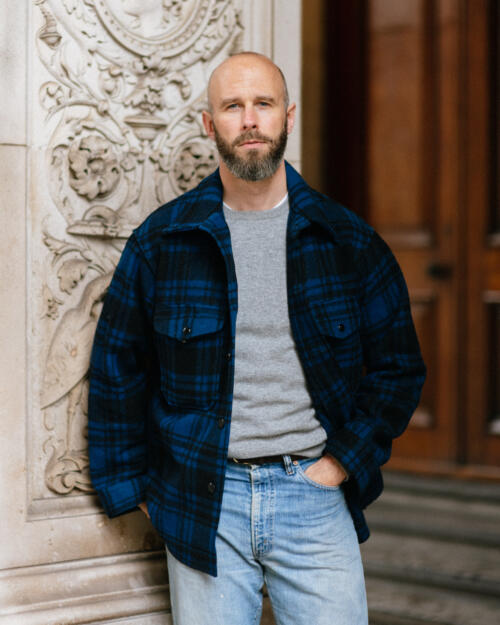 There is a knit that I've always worn under everything. It's what I wear under a tailored jacket, like the Anthology grey herringbone, but also what I wear under casual clothing like my Connolly tobacco suede.
It goes with the full range from formal to casual, on its own or for layering. It is the two-ply flannel-grey cashmere crewneck.
I had one from Luca Faloni for a long time, and that featured regularly on PS over the years. But I was always looking for a denser, Scottish-made version, if only because I didn't like the strip of beige the other one had around the collar.
Not many people seemed to sell one though. Outside of bigger brands, Colhay's was the best fit, and I did speak to Ronnie about doing a flannel-grey version of one of his crewnecks that I wear. But he already did a dark grey, and (probably sensibly) decided that he didn't want two greys.
So last year we started working with a Scottish mill to make our own, with a few small tweaks along the way. This is what is going on sale today, and is pictured above and below.
In most ways, it is that simple, classic grey crewneck I wanted.
The two-ply yarn and 21 gauge makes it the everyday mid-weight that you can wear most of the year, including indoors, and which layers under jackets and coats.
The colour is the mid-grey flannel we all know from tailoring, that goes with every colour and has that particular ability to soften strong hues.
The fact it's Scottish made means the knit is tighter, using more cashmere, and will last better, softening over time and with the occasional wash. (See video with Colhay's here on that.)
But we also made some small tweaks to tie in with the rest of the PS products. So we raised the collar slightly at the back, in the same way as the Tapered T-shirts. I think it's generally more flattering.
The other grey crewnecks tend to have a double cuff, which while nice, isn't the simple and versatile look I wanted with here - as with the Cashmere Rugby. So this is single cuff.
The sleeves tend to be a little short on those knits, so we lengthened them a couple of cm. Better to err a touch on the long side, as you won't notice a small amount of extra fullness in the sleeve, but you will notice if it's too short. We also brought the body fit in a tiny amount to bring them in line with the other PS pieces.
None of it revolutionary, as Luke Walker talked about in our recent video interview. Just tweaks to make it our perfect version, and to make it consistent with everything else.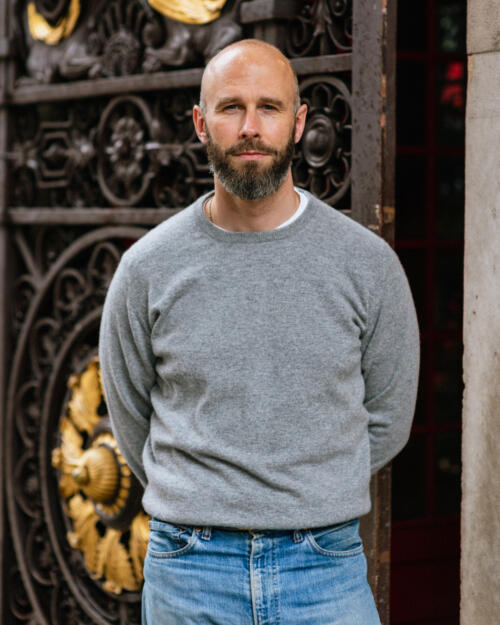 I had a look through old images on the Lookbook to see where I had worn a grey cashmere crewneck in the past, and there were quite a few. It provided some evidence for what I had otherwise assumed - that it's the type and colour of knit I wear the most, because of its versatility. I've included a few of them below.
As with the Tapered T-shirt, it's really satisfying developing something that you always wanted, because now you have it. And you can carry on wearing it with everything.
The Cashmere Crewneck is available on the shop, priced £270 plus taxes (£324 in the UK).
Product details:
100% cashmere, using two-ply Scottish yarn

Knitted in Scotland at 21 gauge

Single cuff, higher back collar

Moderate to slim fit (see size chart below)

Classic length
Size and fit:
Runs true to size

I wear a Medium, have a 39-inch chest and normally wear a size 40 jacket (size 50 European)

Note the knits are labelled with the manufacturer's measurement, which does not correspond to a standard chest size (like the Cashmere Rugby)
Size chart
| | | | | | |
| --- | --- | --- | --- | --- | --- |
| | XS | S | M | L | XL |
| Chest | 19.5 inches | 20.5 | 21.5 | 22.5 | 23.5 |
| Length | 25.75 | 26.25 | 26.75 | 27.25 | 27.75 |
| Under arm | 20.75 | 20.75 | 21 | 21.25 | 21.25 |
Other clothes shown:
Vintage blue/black hunting jacket
White PS Undershirt
Vintage seventies Levi's 501s
Bespoke Anthology jacket in PS Shetland Tweed
Rubato Officer's Chinos
Apologies for the lack of straight-on shot or flat lay. I'll add these later.
Images below show other outfits with a grey cashmere crewneck, not the new PS model