Introducing: The PS Arran scarf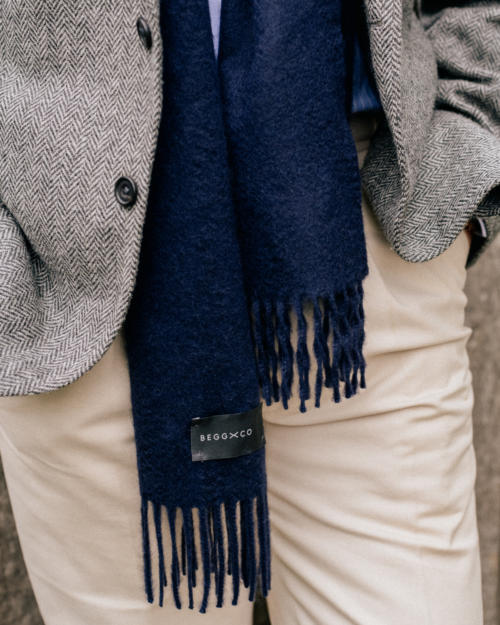 My favourite ever scarf is the Arran model from Begg.
Over the years you will have seen me wear it with everything, from a Western hat to a baseball cap, a polo coat to a tweed jacket (examples at those links).
Outside of some lightweight ones and my beloved Hermes squares, I have worn nothing else for a decade or more.
But there were still a couple of frustrations I had with them.
The key one was colour. Although Begg offer the scarf in 32 different shades, there isn't a real menswear navy - just a strong, almost royal blue. It doesn't look right with a navy blazer or coat. (I've tried.)
Then a few years ago, they discontinued one of my favourite colours: the mid-green they call 'army'. It's still available in other models, but not the Arran.
So earlier in the year I decided to try and order both of them myself, so they could be sold through the PS shop.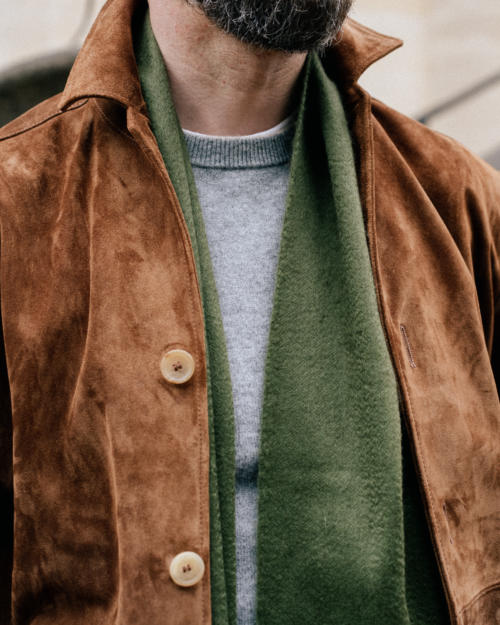 The other niggle I had with the Arran was more minor, and actually Begg went some way towards fixing it a few years ago.
I wear scarves with a jacket a lot. In a temperate climate like the UK, a scarf and varying weights of jacket can get you through many months of the year.
The problem is that, unless you use a rather complicated knot, most scarves stick out some way below the bottom of a jacket. Even when tied, they protrude below the waist button like some kind of weird sporran.
I tried various affected ways of dealing with this - like the aforementioned knots, and sweeping the fringes back with my hand when I put my hand in my pocket. But they all felt a bit silly.
The truth is most scarves are just too long for a jacket. And actually, I don't think they necessarily need to be that long with anything.
A shorter length is still enough to wrap twice around your neck when it's particularly cold, and easily tie. Is anyone doing more than that?
Begg, in their wisdom, are offering a smaller size, which is 160cm long rather than 183cm. But again, not in dark navy or Army.
The two scarves we're offering, therefore, are in this length. I think it looks much better with a jacket (as shown above) and you only lose some material that would be dangling around your hips otherwise.
Plus it's a bit cheaper, which is always welcome (£170, including VAT, rather than £260).
The reasons the Arran has always been my favourite are the quality of the cashmere, the density of the weave and the 'ripple' finish.
This finish is created by brushing a rack of dried plants called teasels (above) carefully across the surface. You can do this with a textured metal plate, but that loses some of the natural variation of the plant heads.
Other mills also use teasels (on jacket materials as well as scarves) but the effect never seems as nice. It would take more of a technician than me - and perhaps a covert visit to the Begg mill - to say why.
I guess the reason doesn't really matter. The important point is these are the best I've found and it's fantastic to be able to have them in both my favourite colours and length.
Apart from shades of grey, I think dark navy and green are probably the two most useful colours of scarf in a smart menswear context.
Navy is the smartest colour of all, and goes both with all shades of grey and with itself, alongside many browns, greens and cream.
In the outfit above, I think it really brings the jacket-and-trouser combination together. This may be because it helps replace the necktie that an outfit like this might often have had. It adds textural interest, plus another colour, and creates a similar vertical line.
As fewer people wear handkerchiefs or ties, adding a scarf like that can make a big difference.
The jacket is my herringbone tweed from The Anthology, the trousers are a pale-beige cotton from Dalcuore, and the shirt is a blue shadow stripe from Simone Abbarchi.
The green, on the other hand, is my perfect autumn colour.
It's great with greys and navy too of course, but this olive-y green is particularly beautiful with more casual colours like beige, brown and tan.
Best of all is a tobacco-coloured suede like the shirt jacket pictured above, from Connolly (covered in a separate article).
Put that with a grey crewneck and brown-suede boots, and you can almost see the multicoloured leaves drifting down around you. (Sorry, getting a bit carried away.)
In order to show how it looks with other outfits, I've also included some old images at the bottom of this post of me wearing the same colour.
(Those were in a different type of scarf from Begg. The lack of them in my favourite cashmere, colours and quality has led to a good few compromises over the years, such as those other types in 'Army'. No more!)
The two PS Arran scarves are available on the Permanent Style shop here.
I shouldn't have to mention that they make great birthday and (if you're reading this in November) Christmas gifts. But there you are, I have. Thank you as ever for your support.
Details:
100% high-quality cashmere

Woven by Begg & Co in Ayr, Scotland

Measures 30cm by 160cm

Only available through the PS shop, not through Begg

Ships from London

Price same as Begg's in the same size, £170 (including VAT, £142 without)
Photography: Alex Natt @adnatt