The Permanent Style scarves that we introduced last winter are in stock again in two new colours, and available to buy from the Begg & Co site now.
The two colours are grey and green - the grey is pictured above, available to buy here; and the green is pictured below, available to buy here.
We have also re-introduced the 'dark natural' colour we had last year, which proved to be particularly popular.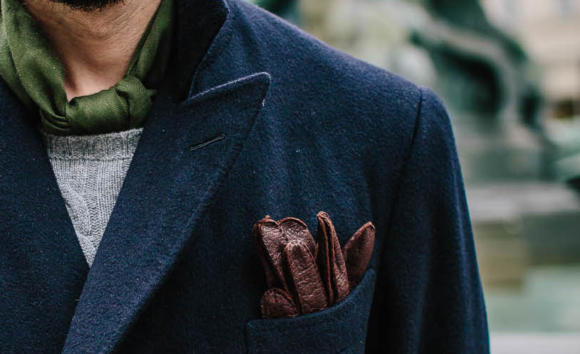 Background
For those that missed them last year, these small, square scarves are woven by Begg & Co in Scotland - for me, the best scarf manufacturer in the world and certainly one of the most innovative.
They are designed to be an update of the old men's ascot or neckerchief - a touch of luxury and protection against the neck in cold weather. They're particularly nice under a crewneck sweater, as pictured.
Several things make them special - including their hand-rolled edges - but the absolute key is the Wispy cashmere they're made of. This is a yarn so fine it would normally snap under the tension of a loom. Begg use a patented coating on the cashmere to allow it to be woven, and then wash the coating out afterwards.
You can read more about the project here. And there is a pictorial post on how to wear the square scarf here.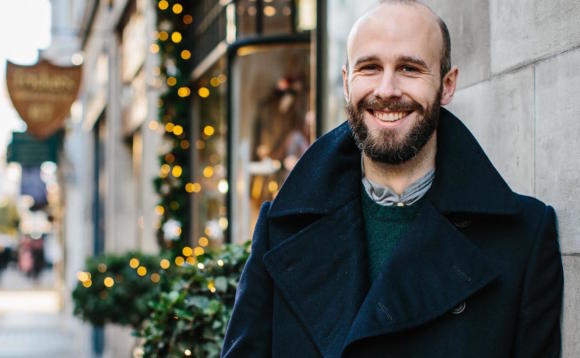 The perfect scarf ring
This year we also wanted to add a little bit of hardware.
One piece of feedback from last time was that securing the scarf wasn't necessarily easy to secure - so we wanted to create something convenient that could fix the scarf and even be a feature on its own.
The problem with most scarf rings, though, is that they are usually decorative, fancy and gold-plated.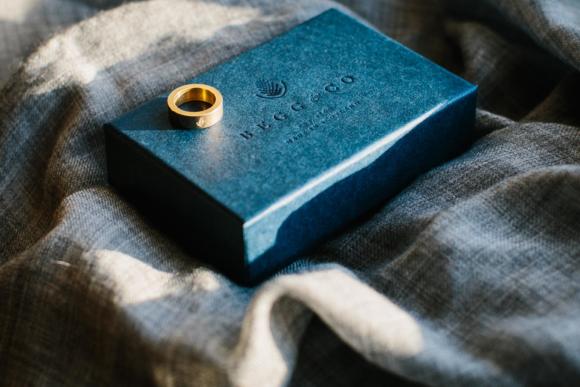 To counter that, we worked with designers Alice Made This to make a ring that was solid brass (and therefore substantial), tumbled (and therefore worn and matte) and highly practical.
The brass is uncoated, so it will tarnish over time (or can be polished to bring it back). The inside of the ring will also naturally polish with the action of pulling the scarf through repeatedly, creating a nice contrast.
As a final touch, there is a tiny, beautiful teasel (the symbol of Begg, and a key ingredient in finishing cashmere) etched into the brass.
The ring, like the scarves, are only available on the Begg site through a particular link - for the ring, click here.
More information on Begg themselves here.
And below, a couple of images of the 'dark natural' colour that we introduced first last year, and have made again. If anything it's the most versatile of the lot.
Clothing also pictured:
Grey scarf images: Bespoke pea coat from Gieves & Hawkes, shetland sweater from Anderson & Sheppard
Green scarf images: Bespoke overcoat from Cifonelli, cashmere sweater from Johnstons of Elgin, peccary gloves from Lavabre Cadet
Photography: Jamie Ferguson @jkf_man