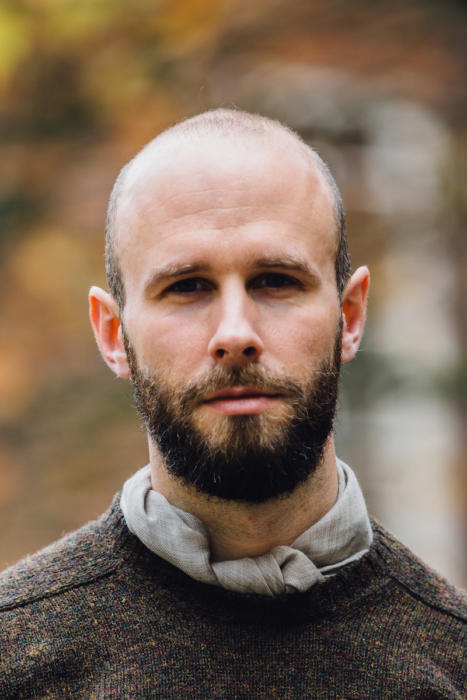 Men have historically always worn something at the neck – if it wasn't a tie, it was an ascot or a workman's neckerchief. Such things are practical, for work and for warmth.
Over the past six months we have been working with weavers Begg & Co on our own, modern equivalent. The result is a square scarf in ultra-lightweight cashmere, beautifully soft and luxurious, that is designed to be tied and tucked into a crewneck sweater.
I've been wearing mine regularly for the past 4 weeks, and I find it particularly nice during these transitional months – Autumn and Spring – when a big, long scarf often feels cumbersome, but having something against the neck is great to keep out the morning chill.
You can buy it now, here. (The scarves cost £175 each; Begg are offering free shipping worldwide.)
The colours
We made our square scarf in two colours, navy and natural. These go with a whole range of colours of knitwear, just some of which are shown here. Navy is subtle and chic with navy itself, but also works with darker colours like charcoal.


The 'natural' shade, on the other hand, is a great compliment to autumnal colours like rust, brown and green – as in the shetland sweater at the top, and tweed jacket below – as well as flannel grey.
If one thing sets our squares apart, however, it is the Wispy cashmere they are made of.
Begg developed this style of scarf with an ultra-fine white cashmere. It's so fine that it would normally snap under the tension of a loom, but Begg use a patented coating on the cashmere to allow it to be woven, and then wash the coating out afterwards.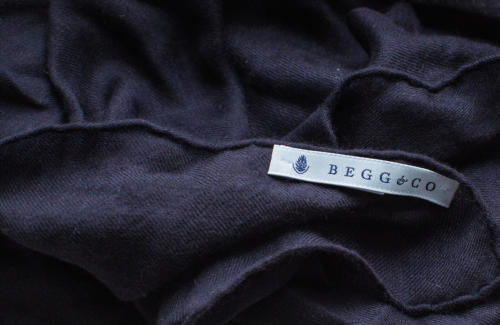 The make
The scarves are woven in Begg's Scottish factory, on the west coast in Ayr. Begg has been the premier scarf manufacturer in the country for decades, but until recently only made for other brands (including some of the biggest designer houses). This collaboration is another stage in its emergence as the best weaver of fine scarves in the world.
You can read more on our visit to the Begg factory here.
We also decided to give the scarves hand-rolled edges, like a good handkerchief. Of course, hand rolling the edges adds considerably to the time of production and cost of the product. But we wanted to produce the absolute finest piece we could – and the wispy cashmere deserves it.


The style
The square scarf is designed to be folded along its diagonal, creating a triangle, and then tied around the neck. The great thing about folding this way is that the point extends down the back, preventing the scarf from riding up and exposing skin between scarf and sweater.
At the front, the scarf can be tied simply over-and-under (like an ascot), in a square knot, or left to hang loose. It can even be tied in a four-in-hand, like a tie.
I'll post more on ways to wear it later in the week, but personally I prefer a simple over-and-under (shown in all images above).
It is also nice to wrap the scarf around twice (as shown below) and secure it with a small knot. This creates a thicker band of cashmere, and is considerably warmer.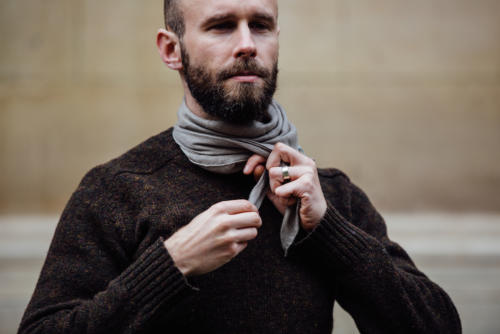 We have an initial 50 scarves available in each colour. After that they will be sold out, pending a second run next year. Scarves are £175 each.
They can be purchased through a special page of the Begg website here. There is free shipping worldwide.

Begg will be handling all payments and shipment. Their terms and conditions, as noted on the site, apply.
Other details:
The cashmere squares measure 70cm on each side

Dry clean only. Scarves can be pressed lightly, using a cool iron

If you'd like to read more about the development of the wispy cloth, Begg have a nice article on their site.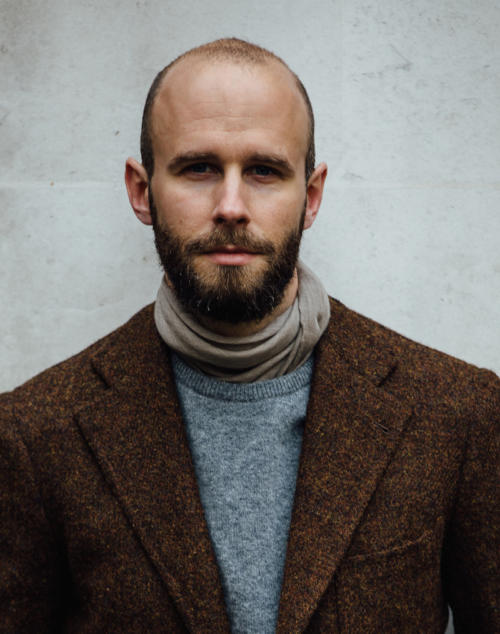 Photos: Jamie Ferguson @jkf_man