White jeans: how to buy, wash and wear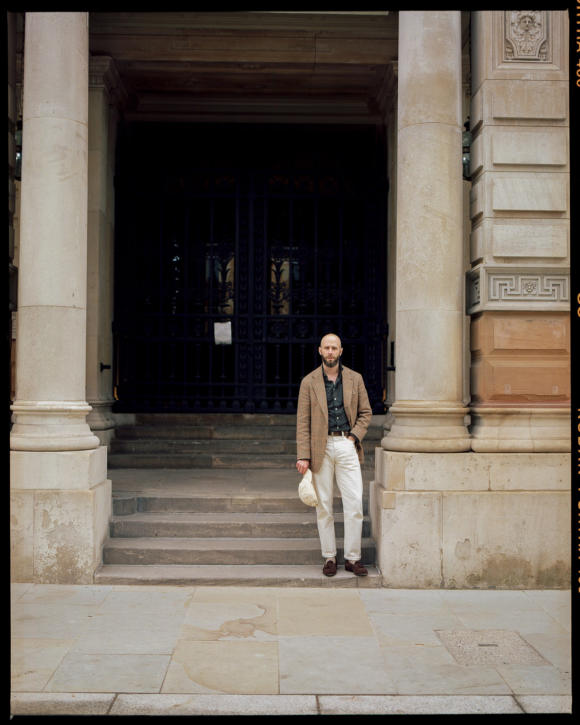 White jeans are a classic example of menswear that has been damaged unreasonably by association.
Unfortunately, they carry connotations of flash Mediterranean men, wearing their white jeans with a shirt unbuttoned to the navel. Or skintight ripped styles, on equally flash guys in the UK and elsewhere.
To the average man they seem showy, basically, and cheap. But they don't have to. I love white jeans - or rather, cream - and I'd like to explain why.
I'll do that in typically logical fashion, before we have a brief chat about how to buy, wear and wash them.
Let's start with white trousers in general. Their major advantage is they go with everything. There is no colour they don't compliment, unless you're wearing a cream sweater or a white T-shirt (and even then it can work, with a belt in between).
That's a godsend when you're trying to put together a combination within the rather narrow parameters of classic menswear, which is all navy, grey and brown. Suddenly the trousers are always easy.
The second advantage of white trousers is they manage to be both elegant and striking. Few other colours achieve this - something subtle and chic, yet unusual and characterful.
This is why you see so many sartorially inclined men wearing them - particularly in Italy, particularly in shops or at shows like Pitti Uomo.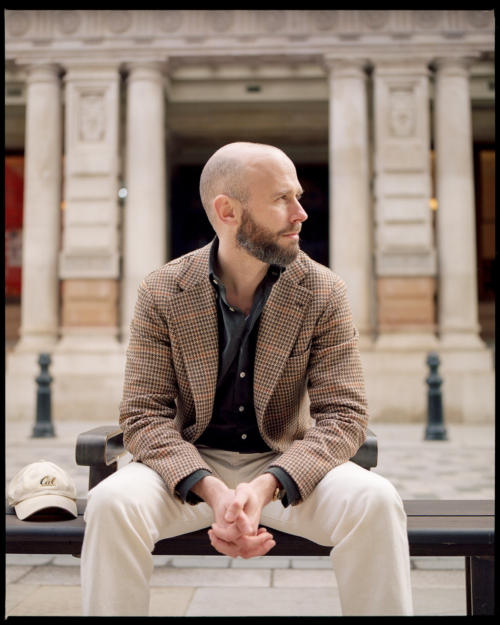 However, they have two major disadvantages. The first is they get dirty quickly. This can be minimised - if you're careful, if you wear them more on occasion than every day, and if you have a good dry cleaner. But it's always a risk.
This is where white jeans start to come into their own. Yes, they show dirt easily. But they can also be chucked in the washing machine any time, quite unceremoniously. They can even be tumble dried, once you're sure all the shrinkage is out. Chances are the denim will even get better the more you wash it.
The second disadvantage of white trousers is that they will always be a little showy. It's the flip side of that point about being characterful. Even just worn with plain brown shoes and nice shirt, they'll always stand out.
Jeans minimise this problem too. Denim is a practical, everyday material. It will always look less showy than tailored trousers - such as the cream cavalry twill we helped Fox relaunch a few years ago.
The only problem remaining for white jeans is those playboy associations.
If I actually picture the jeans the playboy is wearing, though, I realise how easy it is to avoid the association. Those jeans will be too tight; they will be bright white; and they may well have a silly, artificial rip in the knee. Maybe even in both.
So your jeans should be the opposite: a comfortable, straight fit; in an off-white or cream; and certainly not distressed.
In fact I love white jeans because I have found, in the past few years, that I can wear them without any of these associations (at least, among the handful of people I've actually surveyed about it).
If you wear white denim in this more subtle way, with simple things like a grey crewneck sweater and brown suede loafers, you get all of its advantages (versatility and character) and none of its disadvantages (dry cleaning, showiness, Ibiza guy).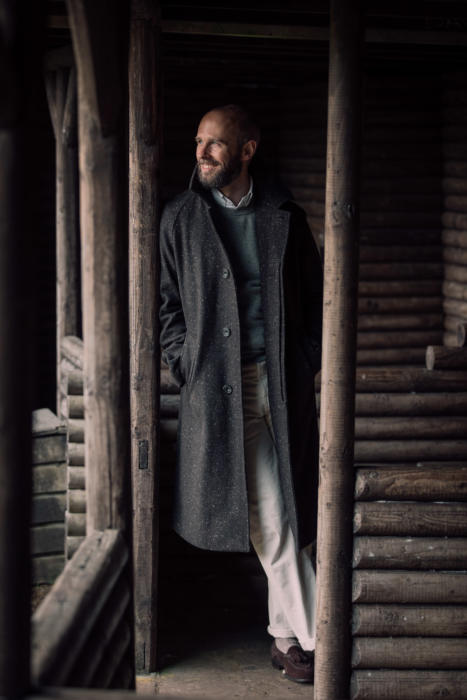 The reason I suggest grey wool and brown suede there, is they don't create much contrast with the denim. And this is another key to wearing it well.
Those two materials are soft and textured. Black shoes rather than brown will be harder; so is leather rather than suede. My default for what to wear with white jeans is always a grey T-shirt or sweater (whether cashmere, wool shetland, or cotton sweatshirt) and brown loafers/boots.
The image above, taken from our photoshoot last year for the Donegal Coat, shows these calming effects of grey and brown rather well.
This is also something I find older women do well: wearing white jeans with much subtler or textured pieces elsewhere.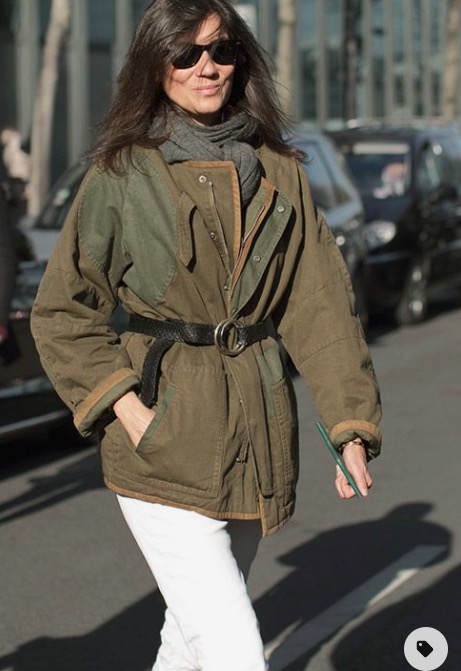 Interestingly, navy can look great against white but it's also high contrast, and therefore a touch showier.
The look shown below - white jeans, navy blazer, vintage field jacket - is a pretty common one in the Italian menswear industry. And it does look great.
But that contrast with the navy blazer is softened by the beaten-up field jacket. And the look is still quite a striking one.
(By the way, people often forget it was images such as these, of Italian tailors and retailers, that first got people hooked on Pitti. It was a glimpse into an easy, cool way of wearing tailoring. It was never anything to do with peacocks in yellow hats.)
It often helps that these Italians have a tan. But I don't think you need one to wear white jeans - they're not near the face, after all, and a blue oxford shirt under a grey sweatshirt calms everything down a lot.
This is also a reason why I think white jeans can be worn just as easily in winter as summer: the key is not heat, but sun.
White jeans won't look out of place if the weather is bright enough; it's just more likely to be bright in the summer than the winter. And even in overcast England, white jeans don't really look out of place as long as it's not tipping it down.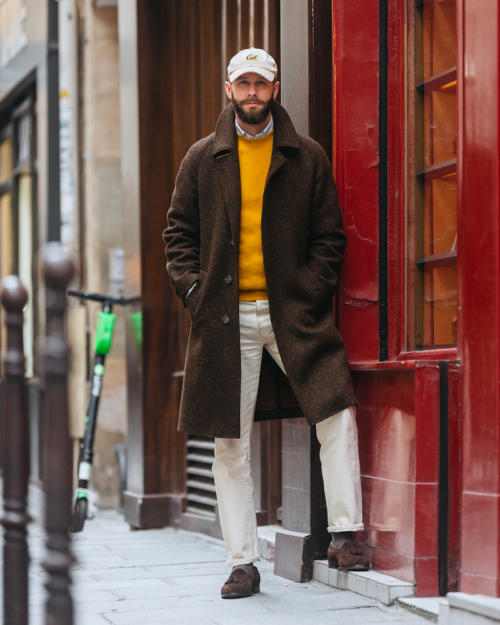 Interestingly, white jeans can work well with bright colours, as shown in the pic above of me in a yellow shetland. Although, the higher contrast is toned down by the brown pieces surrounding it.
Texture is also important here. That shetland is softer than a bright-yellow T-shirt, for example. And red can work nicely with white jeans if it's in a washed-out sweatshirt, as shown in our L'Etiquette article last year.
So, where to buy? That's always the question I get first in the comments.
Well, my favourite white jeans (pictured below) are bespoke from Levi's Lot No.1. I love the make and cut, though ideally they'd be a bit more off-white, or ecru (the latter is a good word to watch out for in descriptions).
My other favourite pair were sold by Drake's in a collaboration with Boncoura, and have been shown on PS before here. They're no longer available though.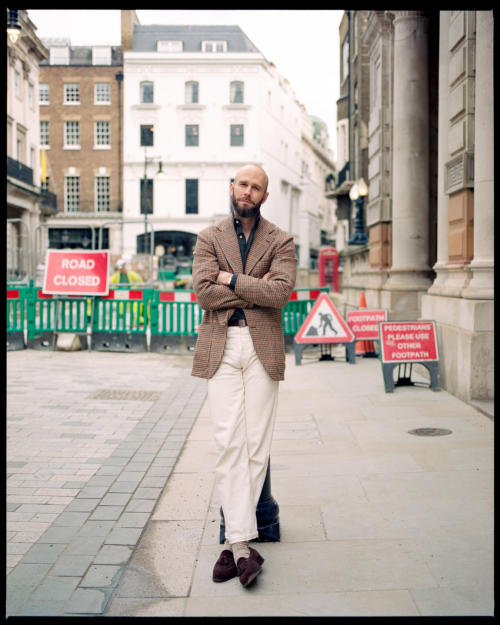 However, Drake's does also have the right shade in its current ecru pair. I also like the Resolute version, though they're more of a bright white. Blackhorse Lane has two pairs: a denim that is pretty good, and a chino/denim material that's the perfect shade, but has a slightly unusual texture.
Clutch Cafe sells a Warehouse pair that are the right colour, but also very slubby - which won't be to everyone's taste. And Son of a Stag sells those as well an Edwin pair which are also the right colour.
There are of course many other options, which I'm sure readers will fill in. These are just the ones I'm most familiar with.
White denim does not have the best reputation.
Even one of my favourite bands, White Denim, apparently used the name because they thought it the antithesis of style.
But I think that's changing, and with good reason. Men might be dressing more casually today, but they still want to retain both style and personality. White jeans can do that - as a smarter alternative to everyman blue.
And of course, they slot right into two of themes dominating PS at the moment: casual chic and the cold/neutral-colour wardrobe.
The new outfit shown in this article is neither of those though. It is my Ciardi gun-club tweed jacket, with those bespoke Levi's and an olive babycord shirt from D'Avino.
The shoes are Belgravias from Edward Green, and the belt is from RRL. (White jeans are the trousers I wear a belt with most often - it often helps separate top from bottom; a particular problem if the top is paler than this.)
The watch, most people will know by now, is my Cartier Chronoflex - yellow gold with a patinated strap.
Photography (on film) by Alex Natt @adnatt