Wearing red – with L'Etiquette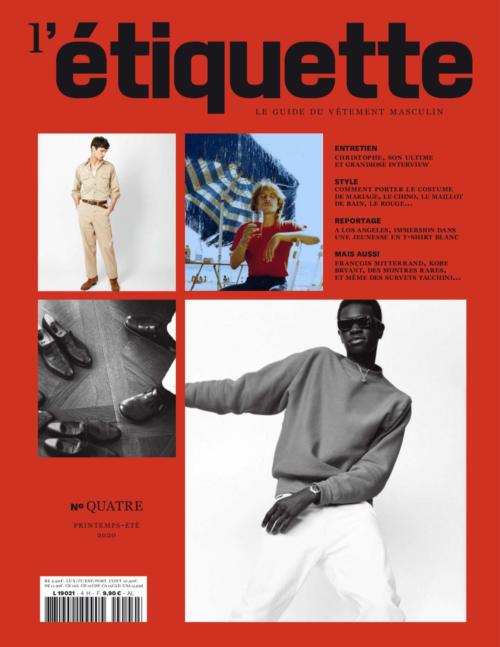 The fourth issue of L'Etiquette came out last week, and it remains the best menswear magazine in the world for me. (See previous article here for an explanation why.)
We're honoured to be the only website permitted to translate and republish parts of it, with the aim of bringing the style to a wider, English-speaking audience.
Last time, the extract was an interview with French menswear stalwart Michel Barnes. Today, it is one of the photo shoots - focusing on the colour red.
The thing I love about L'Etiquette shoots is how practical they are. This is still fashion, and the models are still dancing around. But each outfit is shown for a reason – to make a practical point. Not just as a hanger for new-season collections.
And the philosophy is classic. Not always tailoring, but menswear classics nonetheless, often with heritage and always with a sense of everyday chic. Elegance is still the aim.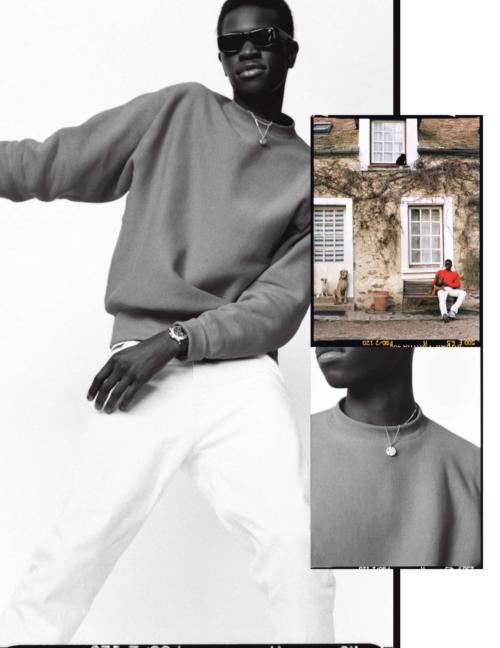 A shoot like this one demonstrates ways in which red classically works well, and prompts you to pick the ones that appeal. Whether it's the fading of red sweats, the way white helps balance red's strength, or how modern it can feel as an accent piece.
I don't own a red Harrington-style jacket, a red sweatshirt, red shirt or red tennis shoes. But I do have a red cord jacket (from Connolly) and the Harrington shots make me think about how I could wear it.
The red Doeks show how good that colour can look if everything else is restrained (in that outfit, navy, white and grey). And the red sweat makes me think it might be a better choice for another sweatshirt, after navy and grey.
I'll let the L'Etiquette team talk about the looks in their own words, though. Below they're shown one by one, together with the commentary and listing of the clothes featured.
If you want the real thing, the magazine is available in a few newsagents, as well as online from their website here.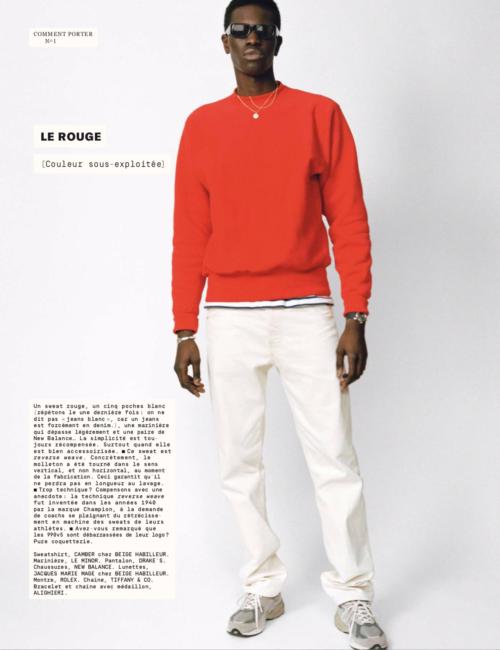 Red (the underused colour)
A red sweatshirt, a white five-pocket (let's say it one last time: we don't say 'white jeans', because jeans are necessarily in denim), a slightly protruding striped top and a pair of New Balance ... Simplicity is always rewarded. Especially when it's well accessorized.
This sweatshirt is reverse weave. Specifically, the fleece is turned vertically, rather than horizontally, during production. This ensures that it doesn't lose length during washing.
Too technical? How about an anecdote instead: the reverse-weave technique was invented in the 1940s by Champion, at the request of coaches complaining about the shrinking of their athletes' sweatshirts.
Did you notice that the 990v5 are stripped of their logo? Pure playfulness.
Sweatshirt, CAMBER at BEIGE HABILLEUR. Marinière, LE MINOR. Trousers, DRAKE'S. Shoes, NEW BALANCE. Glasses, JACQUES MARIE MAGE at BEIGE HABILLEUR. Watch, ROLEX. Chain, TIFFANY & CO. Bracelet and chain with medallion, ALIGHIERI.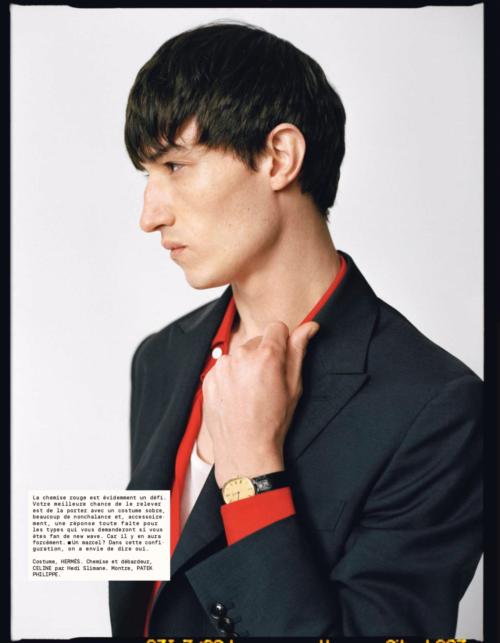 A red shirt is obviously a challenge. Your best chance to meet it is to wear it with a sober suit, a lot of nonchalance and, incidentally, a ready answer for the guys who will ask you if you are a fan of New Wave. Because they will.
And a vest? In this combination, we want to say yes.
Suit, HERMÈS. Shirt and vest, CELINE by Hedi Slimane. Watch, PATEK PHILIPPE.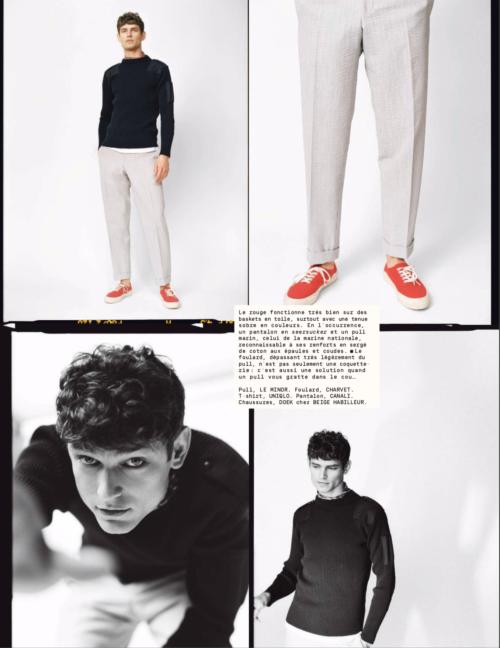 Red works very well on canvas trainers, especially with a sober outfit. In this case, seersucker pants and a navy sweater, that of the French Navy – recognisable by its cotton twill reinforcements on the shoulders and elbows.
The scarf, which protrudes slightly from the sweater, is not only playful: it is also a solution for the sweater scratching your neck...
Sweater, LE MINOR. Scarf, CHARVET. T-shirt, UNIQLO. Trousers, CANALI. Shoes, DOEK at BEIGE HABILLEUR.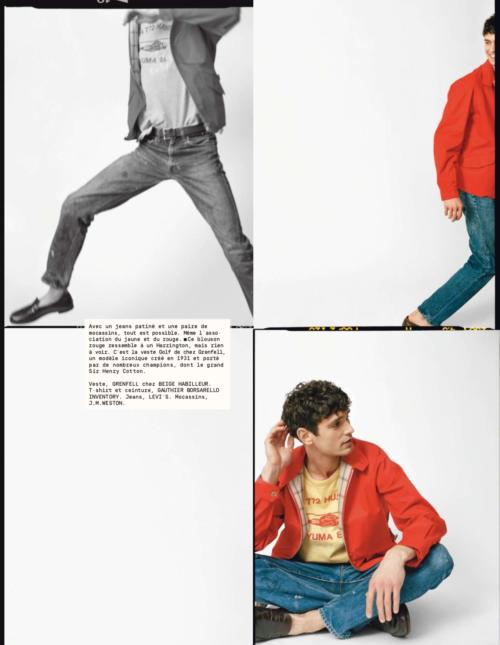 With patinated jeans and a pair of moccasins, anything is possible. Even the combination of yellow and red.
This red jacket looks like a Harrington, but has nothing to do with it. This is the Grenfell Golf jacket, an iconic model created in 1931 and worn by many champions, including the great Sir Henry Cotton.
Jacket, GRENFELL at BEIGE HABILLEUR. T-shirt and belt, GAUTHIER BORSARELLO INVENTORY. Jeans, LEVI'S. Moccasins, J.M.WESTON.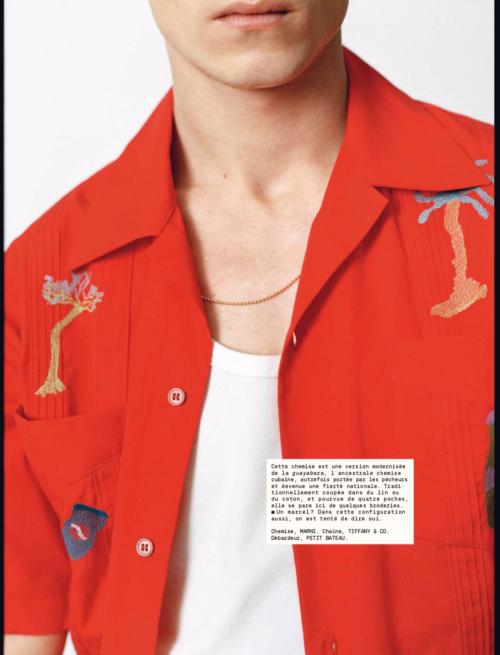 This shirt is a modernised version of the guayabera, the ancient Cuban shirt, once worn by fishermen and now a national icon. Traditionally made in flax or cotton, and with four pockets, it is adorned here with embroidery.
The vest? In this combination too, we are tempted to say yes. Shirt, MARNI. Chain, TIFFANY & CO. Tank top, PETIT BATEAU.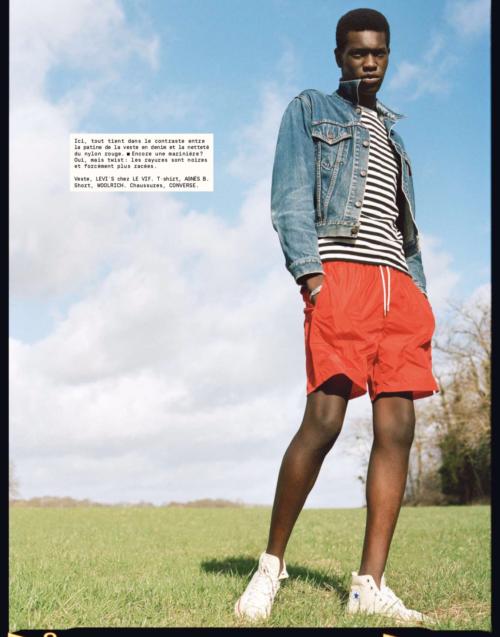 Here, it's all about the contrast between the patina of the denim jacket and the sharpness of the red nylon. But with a twist: the stripes are black and therefore more elegant.
Jacket, LEVI'S at LE VIF. T-shirt, AGNÈS B. Short, WOOLRICH. Shoes, CONVERSE.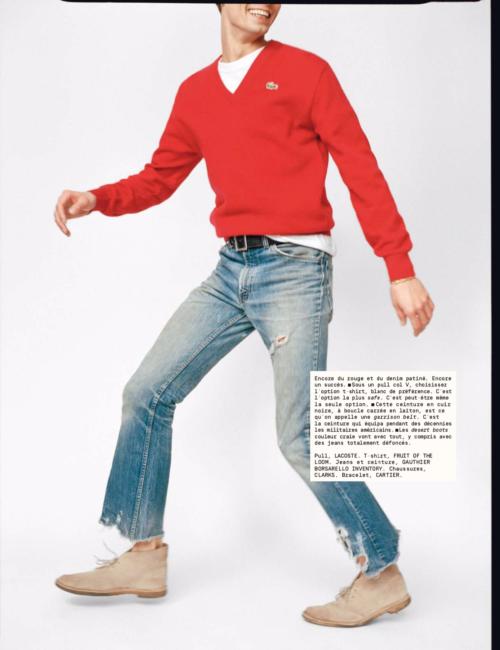 More red and vintage denim. Another success. Under a V-neck sweater, choose a T-shirt, preferably white. This is the safest option. It may be the only option.
The black leather belt, with its square brass buckle, is what's known as a garrison belt. It's the belt that has equipped the American military for decades. The chalk-coloured desert boots go with everything, including completely ripped jeans.
Sweater, LACOSTE. T-shirt, FRUIT OF THE LOOM. Jeans and belt, GAUTHIER BORSARELLO INVENTORY. Shoes, CLARKS. Bracelet, CARTIER.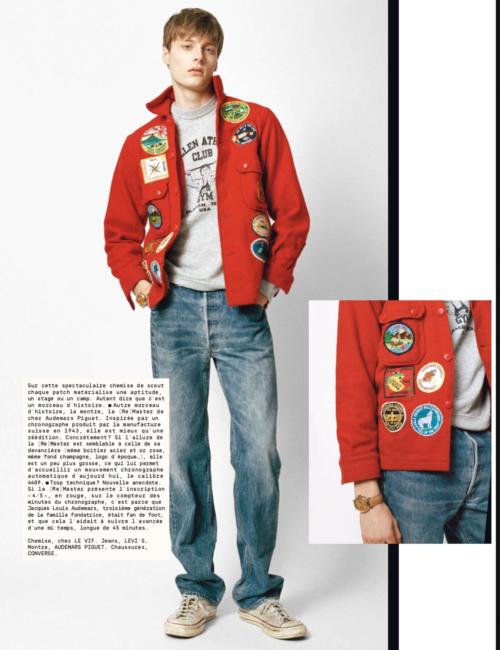 On this spectacular Scout shirt each patch represents a skill, an internship or a camp. Suffice it to say that this is a piece of history.
Another piece of history, the watch, is the [Re]Master from Audemars Piguet. Inspired by a chronograph produced by the Swiss manufacturer in 1943, it is better than a reissue.
To be specific, while the look of the [Re]Master is similar to that of its predecessor (same steel and pink gold case, same champagne background, vintage logo...), it is a little larger, which allows it to contain today's automatic chronograph movement, caliber 4409.
Too technical again? New anecdote. If the [Re]Master has the inscription "4/5", in red, on the chronograph minutes counter, it is because Jacques-Louis Audemars, third generation of the founding family, was a fan of football, and that helped him follow the advance of half-time, which is 45 minutes long.
Shirt, at LE VIF. Jeans, LEVI'S. Watch, AUDEMARS PIGUET. Shoes, CONVERSE.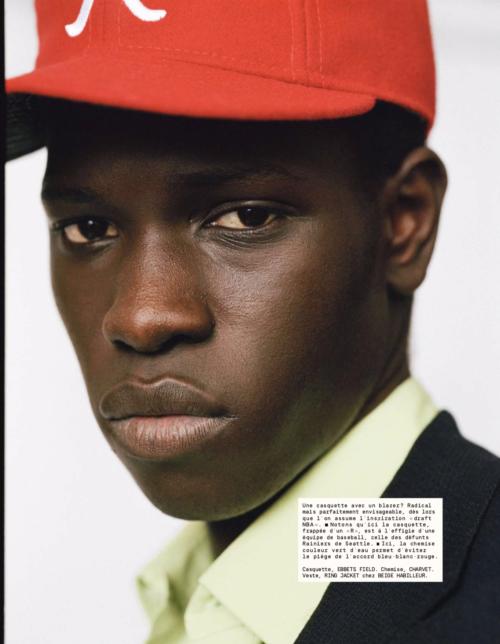 A cap with a blazer? Radical but perfectly possible, as soon as we have the inspiration of the NBA draft. Note that the cap, with its 'R', is in the image of a baseball team, the deceased Seattle Rainiers.
The water-green shirt avoids the trap of everything being blue, white and red.
Cap, EBBETS FIELD. Shirt, CHARVET. Jacket, RING JACKET at BEIGE HABILLEUR.