Interview with Michel Barnes – and L'Etiquette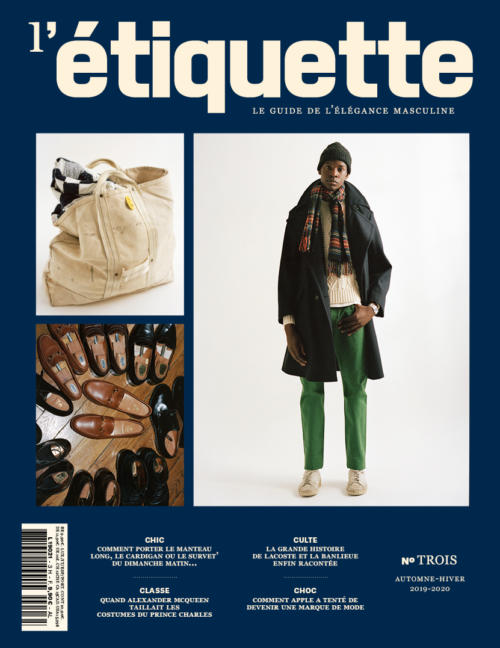 I think L'Étiquette is the best menswear magazine in the world at the moment.
The main reason is its ability to cover bespoke tailoring and high-street casual - Caraceni and Converse - in a way that feels both easy and relevant.
This applies to both the articles and the styling. The cultural history of Lacoste sits alongside an examination of bespoke tailoring.
The photoshoots combine classic menswear brands, high-street staples and vintage. While there are always things I wouldn't wear, there are also fresh ideas around colour, texture and proportion that have me running through my closet, to see if I can recreate them.
Perhaps just as important, there are no men smoking cigars, leaning out of sports cars. There are no tumblers of whisky and women in underwear.
That felt old 12 years ago, when I first started writing, and it seems absurdly blinkered today.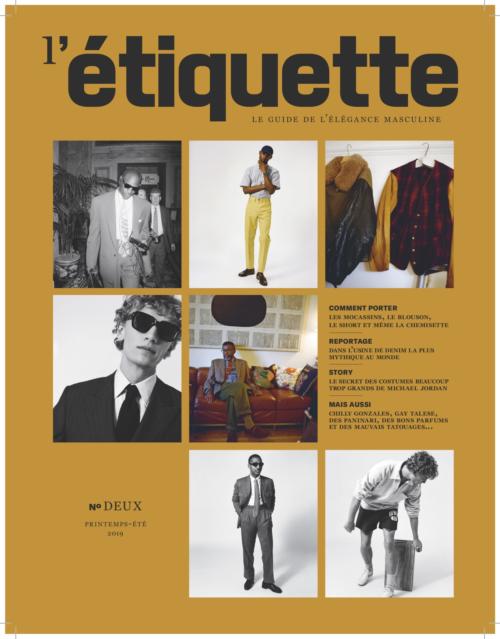 L'Étiquette feels open, and accessible.
Each issue starts with a series of real men talking about what they wear. It might be a sports jacket and flannels, it might be sneakers and a hoodie: but they all have interesting reasons and perspectives.
You feel Marc and the L'Étiquette team understand all aspects of clothing - high and low, sharp and loose - and mix them with real personality.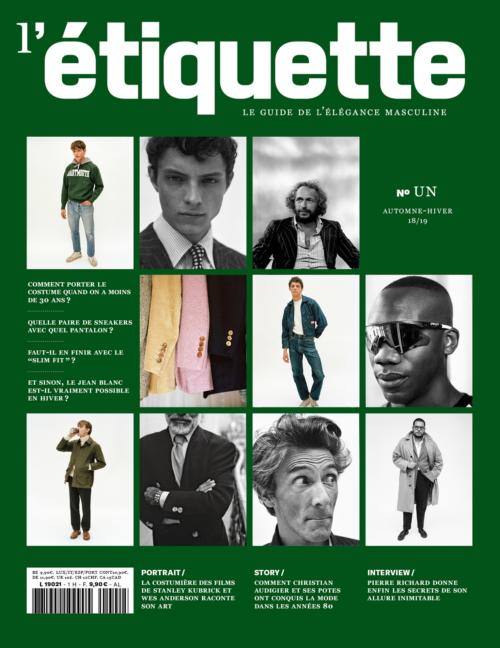 The only downside of the magazine is, of course, that it's in French. And while my GCSE level is good enough for the captions, it gets lost in the middle of a feature.
So here, I'm pleased to say that we have been allowed to translate a piece from the latest issue, Number 3: an interview with the iconoclast and menswear obsessive, Michel Barnes.
I hope you enjoy it. If you'd like a copy of the magazine, there is a list of retailers on the L'Étiquette website. You can also order copies there if there are no distributors near you.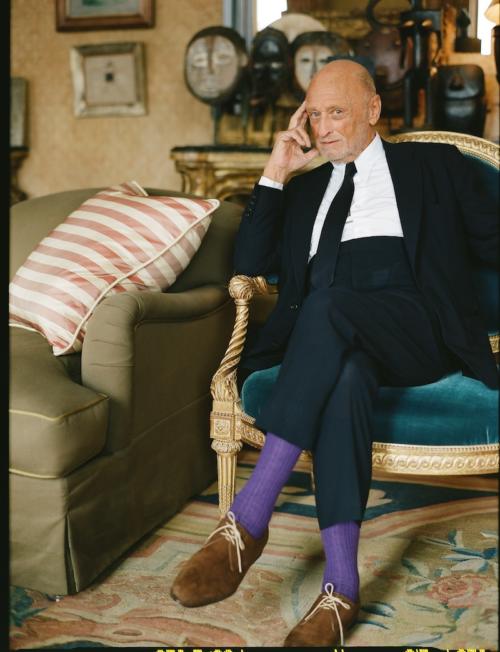 The wardrobe of…
Michel Barnes
By Gino Delmas
He is a menswear legend in France. Founder of the Arthur and Fox brand, symbol of a supple yet refined business elegance - Michel Barnes wears a suit better than anybody.
Above all, he talks about it like nobody else.
Here, he describes in detail his doubts and his obsession with tailoring.
L'ÉTIQUETTE. How do you dress in the morning?
MICHEL BARNES. Fred Astaire use to say that in the morning, he didn't even look at his wardrobe - he just grabbed something and wore whatever he caught.
He enjoyed every piece he had. And everything matched together. That's pretty much the same for me. I am not even choosing anymore.
É. You're saying that because you wear a uniform nowadays? Navy suit, navy tie, white shirt, purple socks, John Lobb derbies…
M.B. Yes I dress like that at the moment, but it is not a uniform. Because it is not fixed forever. I challenge it all the time.
For example, navy. Is it the right navy? Finding the perfect navy is difficult. Maybe I made a mistake with the one I'm wearing.
In fact, I am not even sure that the good navy-blue still exists. Nobody does it anymore. Look for the right navy-blue tie. You'll see, you won't find it, even at specialists. It's a quest. Nothing is endless.
For almost 50 years, from 9:30 am to 7:00 pm, I have been looking at cloths. I know the fabrics, the colours. I have the ability to tell by seeing a suit where it comes from and who made it.
But that doesn't mean I've found the magic formula of elegance. I still have a lot to learn.
É. That being said, what could we find in your wardrobe today?
M.B. Sixty sweaters and cardigans produced the old way, triple thread, large sleeves. I thought they were good, but the cut and the colours have changed now.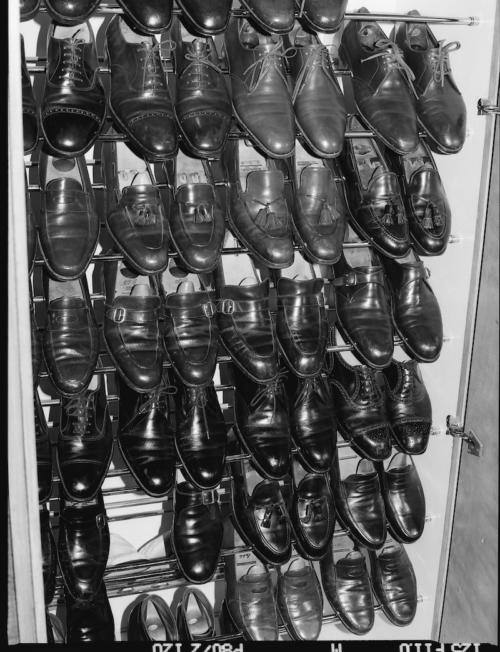 É. How about suits?
M.B. Let's say I have got a few of them (laughs). Every colour, every fabric, tweed, linen, single breasted, double breasted, patch pockets, pleats trousers, pockets…
They are all very different. But never with belt loops. No belts with suits.
É. Is it the case that you have tried everything, only to finally going back to the simplicity of a navy suit and white shirt?
M.B. Yes, that's pretty much it. I got a bit lost and finally removed almost everything. But that's the beauty of it.
To understand the making of a suit, I went to see the best tailors. Every one of them. In England. In Italy.
Caraceni? Yes of course. All the Caracenis by the way, from Milan, Rome… I learned a lot of things. What you should and should not do.
É. Did any tailor entirely satisfy you?
M.B. Some of them work very well. Anderson, Caraceni, Cifonelli. But none of them satisfied me completely. Because no one could really do what I really wanted. Even the greatest tailors of this world face the elementary challenge of the cut.
For instance, I ordered four suits at a great tailor, to see the result. It has been a year and they are still not finished (he pulls out his cellphone). It wrinkles there, it does not work here, so we continue to figure it out.
A lot of tailoring houses are making suits that are too clean. The hard thing is to have flexibility. This is what I am looking for.
I do not like when it breaks, I do not like perfect suits. When it is perfect, you are a puppet, a wax statue, like Madame Tussauds. You need looseness, imperfections.
One day, I was having lunch with a girl. She told me: "You are great but you are suspect, everything looks too perfect." There was a small fault missing. It had a big impact on me.
É. You like flexibility? Because you talk a lot about the Brits, and they are not known for making flexible garments…
M.B. You have not understood. When you go to a tailor, he is not making the suit, you are making the suit.
I have no motherland when it comes to suits. They could be Italian, English or Spanish, there are only people that can do things. But they can miss by one or two centimetres. And that is way too much.
É. It is said that they had enough of you at Anderson & Sheppard for that matter…
M.B. That was a long time ago. When I went for a fitting, I said: "A little bit more here, a little bit less there." And they did not like that a Frenchman was telling them that… That's it. I love them. They love me. But I want to try things on. I want to understand how it works, and why one centimetre more changes everything.
But I want to try. I want to understand how it works and why with a centimetre more or less can change everything.
É. Does what you are wearing today satisfy you?
M.B. Almost. We are not there yet, but it does not matter. I do not want it to be perfect anyway.
Everything is in the detail. Take these trousers for example. I like the legs to be a little too short, a bit special.
I like to be noticed, without showing off. People notice that I am wearing my trousers a bit short, but they are not disconcerted by it.
I started this a few years ago. Before that, I used to wear high rise and large trousers, jazz pants, à la Jean-Paul Goude (laughs).
Now it is the opposite. I used to like large suits. Now I prefer them tight. Time changes, and my tastes as well. That means that for 40 years I might have been wrong in a certain way…
For example, when I saw Cary Grant, in North by Northwest, in 1959, with his tight suit, I remembered telling myself that he used to be better dressed in his previous movies.
But no. In To Catch a Thief, in 1955, his suit is way too large. He was always elegant, but a tighter suit was much better on him.
Style changes, but it is a matter of length, of cut. I think Jean Gabin said the three rules of a good movie were the scenario, the scenario and the scenario. For a good suit, the three rules are the cut, the cut and the cut.
É. How about fabrics, are they less important?
M.B. It's important. I love Loro Piana, I am their biggest client in France. But a handmade vicuna coat with bad proportions is still bad.
É. Please tell us a bit about your particular shirt collar…
M.B. People do not like it. They do not want it in stores. But it is like a signature. There is no lining in it. It is very supple.
It does look like it was not made on purpose, whereas it took me 18 fittings to get to the final result. It was worth it. I never look stiff in it.
É. What puts you off in clothing?
M.B. Everything! I mean, no… nothing! Denim, maybe… or sneakers…
I like things that fit well and goes along with your morphology. That don't make you feel that you are outside of your clothes.
I am like a professor. When I look at somebody, I look at every detail. I observe a lot. In my head it is like a style cartography of people. I could start a school about all this. I am often consulted about it.
One day, I received a phone call from John Malkovich. He came to my house for lunch. He wanted to talk fashion and was asking lots of questions.
This man is a genius because he knows about everything: politics, cinema, theatre… The next time I saw him in a cloth store in Paris at 9 :30 am without a team. He came to see the fabrics by himself. He really loves it.
É. Do you remember the first suit you ever wore?
M.B. Yes of course. I was 6 years old.
By the way, I will show you my grandson, he is 8 years old (he shows a picture on his cellphone). I didn't tell him anything. Every evening, he wants to dress in a tie. And not just any tie: a tie of a certain quality that he saw and selected.
É. Was this first suit a gift from your father?
M.B. No, no. But it could have been. My father always wore a navy double-breasted suit with a hat. He used to love hats.
I only like very formal rabbit-fur hats, in winter. And Panamas (from a wardrobe he pulls out a dozen Lock & Co hats and throws them on the floor, and separates them with the tip of his John Lobb). Look how worn they are. After a few years, they get holes. At that point they are getting beautiful.
É. It must be difficult to be that precise and demanding, and have to sell suits yourself… How do you manage that?
M.B. We are not accursed painters. That time is over. We are talking about suits and business.
Success in this business is to reach people with a good product at the right price. That is what I do. For less than a thousand euros, I propose the best possible suit.
É. How did you start your business?
M.B. I had a 12-square-metre store on 3 floors at Rue Joseph-Sansboeuf near Saint-Lazare. I was selling 500 MTM suits per month.
I say 'made-to-measure' because 'semi-bespoke' does not exist. Either you are a tailor in a bespoke house and you do bespoke suits, or you are doing made-to-measure suits.
The suits were made in Chambéry. All the publicists came to me. Artists as well. It was a matter of price, time and choice.
I was 30 years old, it was 1969, everybody was wearing jackets and suits at the time. I had developed a denim suit, in a fabric from the United States. You wore it with a plain woollen tie, in red or yellow.
I also did wedding suits in tent fabric from Club Med. It was very beautiful.
É. In other words, elegant and modern young men came to you…
M.B. It was unbelievable. Even wealthy people came to my little store. They understood the quality I was offering at a modest price. Give me a name and I will tell you if he came to our store.
É. Jacques Dutronc?
M.B. Of course.
É. Serge Gainsbourg?
M.B. Obviously. I made him a suit. He even did a cover magazine in his suit. Corduroy, black, peak lapel, single breasted. With one particularity, the jacket was extremely short. 68 cm in length. Like a woman's jacket.
É. Was Gainsbourg elegant?
M.B. Yes, but not as much as Gary Cooper.