Pale summer colours (in vintage linen)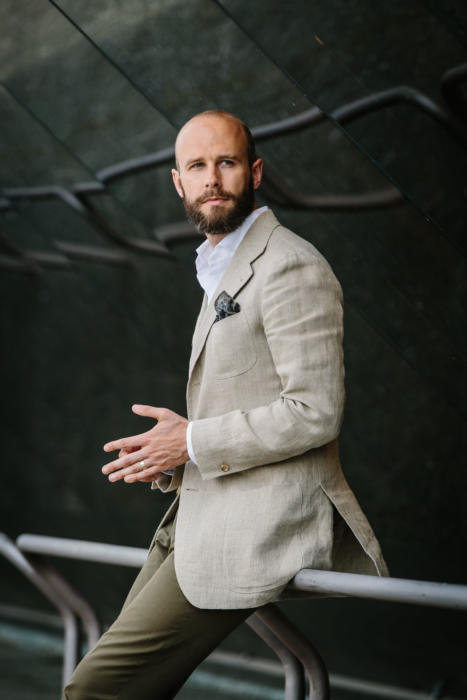 This is a nice exercise in combining summery, pale colours.
The challenge is being light and pale overall, while retaining enough contrast between shirt, jacket and trousers - both in colour and texture.
The starting point is the jacket, made for me by Elia Caliendo in a light-grey linen.
As with most outfits, this started with the desire to wear a particular piece that day - and the linen jacket was it.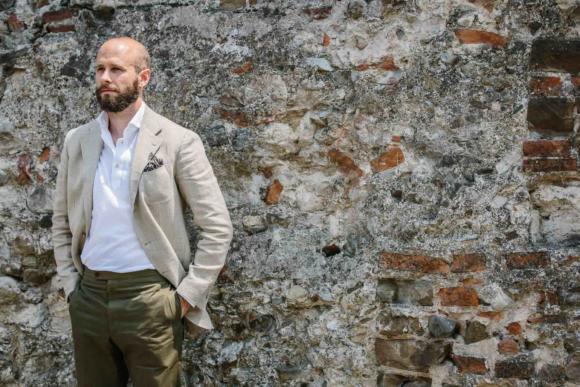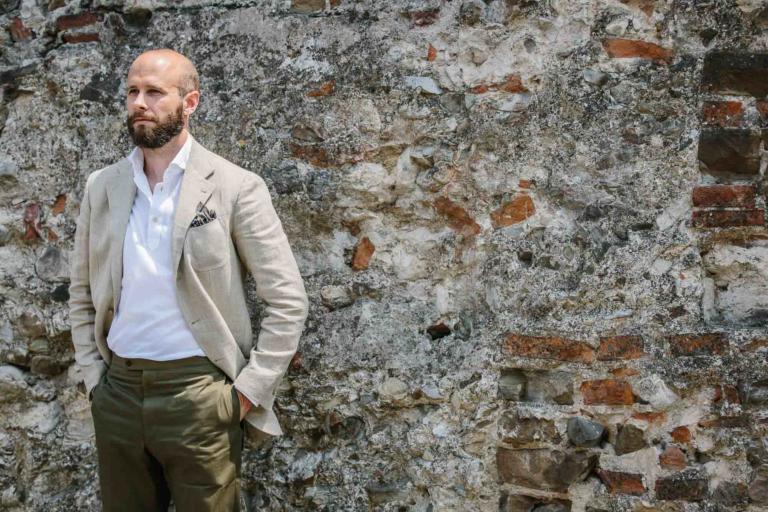 Picking trousers to go with a grey jacket is not easy, as we have discussed previously.
The standards of grey and navy are not available (grey because the jacket is grey, and navy because it rarely works as an odd trouser) so we turn to the secondary menswear colours of green, brown and tan.
Here, I've gone with the light-green cotton trousers from my suit made by Spanish tailor Reillo. The jacket didn't work out very well, as mentioned previously, but the trousers are still useful.
Dark brown also works - I have worn the brown Crispaire trousers from my Dalcuore suit with this same jacket, and it works well.
Cream would also be good, and it goes with pretty much every colour of jacket. But obviously not on most grey, English days.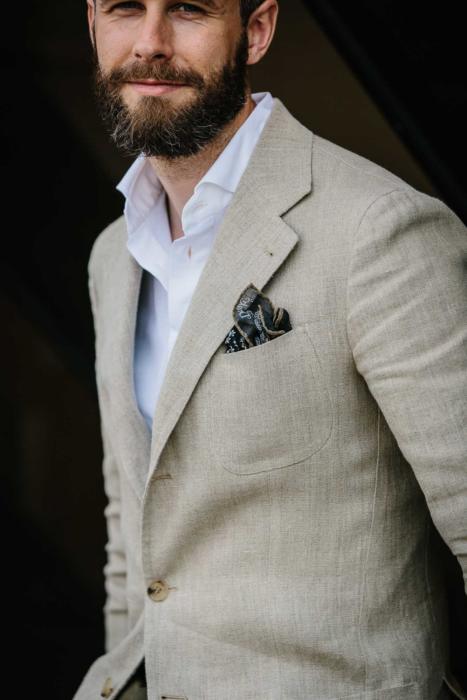 Of the two obvious shirts colours - white and light blue - the former is the most effective here. Blue doesn't have provide enough contrast with either the jacket or the trousers: the whole starts to merge into one dull block.
Of course, pattern would also have been effective in providing contrast: a nice strong and broad blue/white stripe, for example.
The shirt here is actually a summer prototype for the Friday Polos that I design with Neapolitan Luca Avitabile. It is therefore ready-to-wear, which is why the sleeves aren't quite long enough and the collar not quite high enough.
Wearing a polo generally with an outfit like this, however, does give it a nice relaxed, summery vibe.
Combining linen and cotton in an odd-jacket-outfit is also a good way to ensure contrast in texture. The linen will always have a little slub and crease to it, while the cotton is smoother.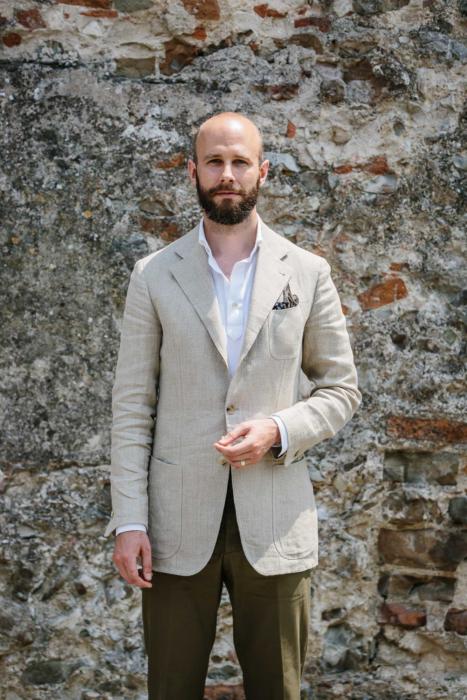 The pocket square, from Drake's via The Armoury New York, is similarly simple and muted - a navy with grey motifs and tan-coloured edge.
The outfit could have handled something brighter or stronger in the breast pocket, given the muted look elsewhere, but it would have become the focal point of the whole piece.
Combinations like this, increasingly, are how I like to dress day-to-day. Simply and effectively.
It's unlikely to be picked up among the peacocks of Pitti. But these days that's quite a compliment.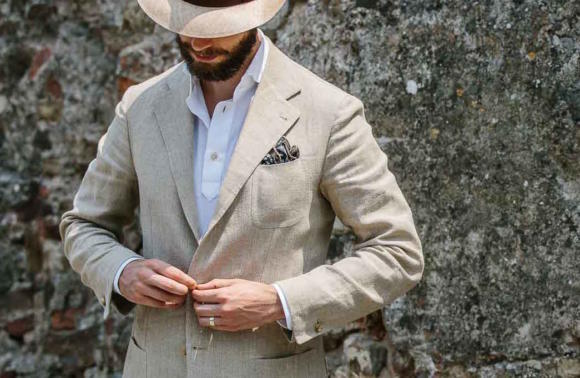 The hat, in stiff sisal straw, is from the Anderson & Sheppard haberdashery.
I'm not a huge fan of the material, but I do prefer the brown colour to other, bright-white panamas. It's more subtle and informal, and given how few people wear hats these days (even in the glaring sun) subtlety is good.
The grey linen, by the way, is from a vintage bolt I bought at Wilhelm Jungmann und Neffe in Vienna, which has some lovely old pieces. This is particularly unusual, being very heavy and coarse - almost more like canvas than modern linens.
And on the feet were the bark-grey Sagans I designed for Baudoin & Lange.
Photography: Jamie Ferguson @jkf_man