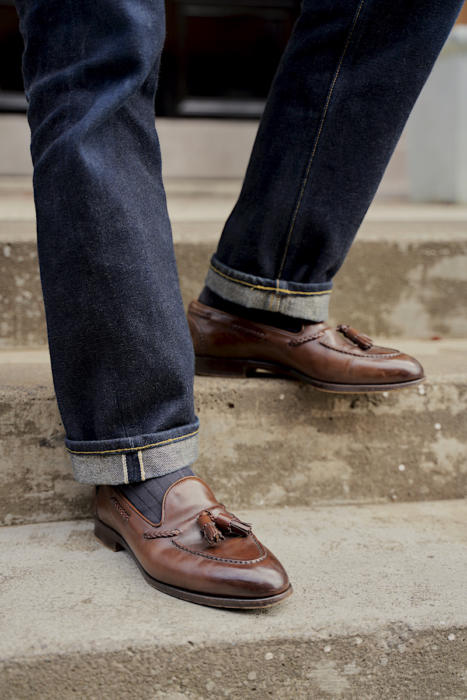 Last week, I realised I had worn my Belgravia loafers three out of the five working days.
Ever keen to look after them, I never wear them on consecutive days (the leather will not fully dry out – and wears quicker when damp).
So I was basically wearing the loafers every day I could. At every opportunity.
It made me realise that this is probably now my favourite pair of shoes: a title that for a long time was held by my Oundle monk straps. (See my three 'How great things age' posts on those shoes here.)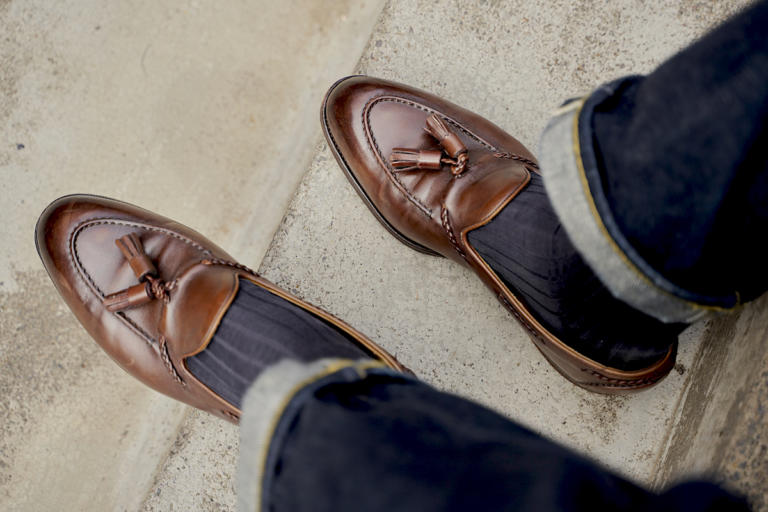 The monk straps had an emotional significance because they were my first really good pair of shoes. It was the first time I could afford them (thanks to a deep Ralph Lauren sale).
However, the two pairs also have several things that have made them my favourites over the years.
First, they are both versatile. Their mid-brown colouring means they go with many things, from flannels to cottons. And their style helps too, neither being a formal whole-cut oxford nor a chunky derby.
The Belgravia loafers are probably even more versatile, and reflect a gradual shift in how I dress. But I'll get to that later.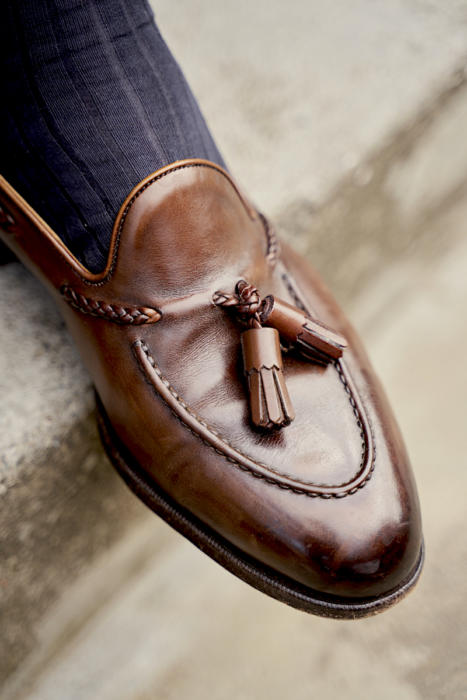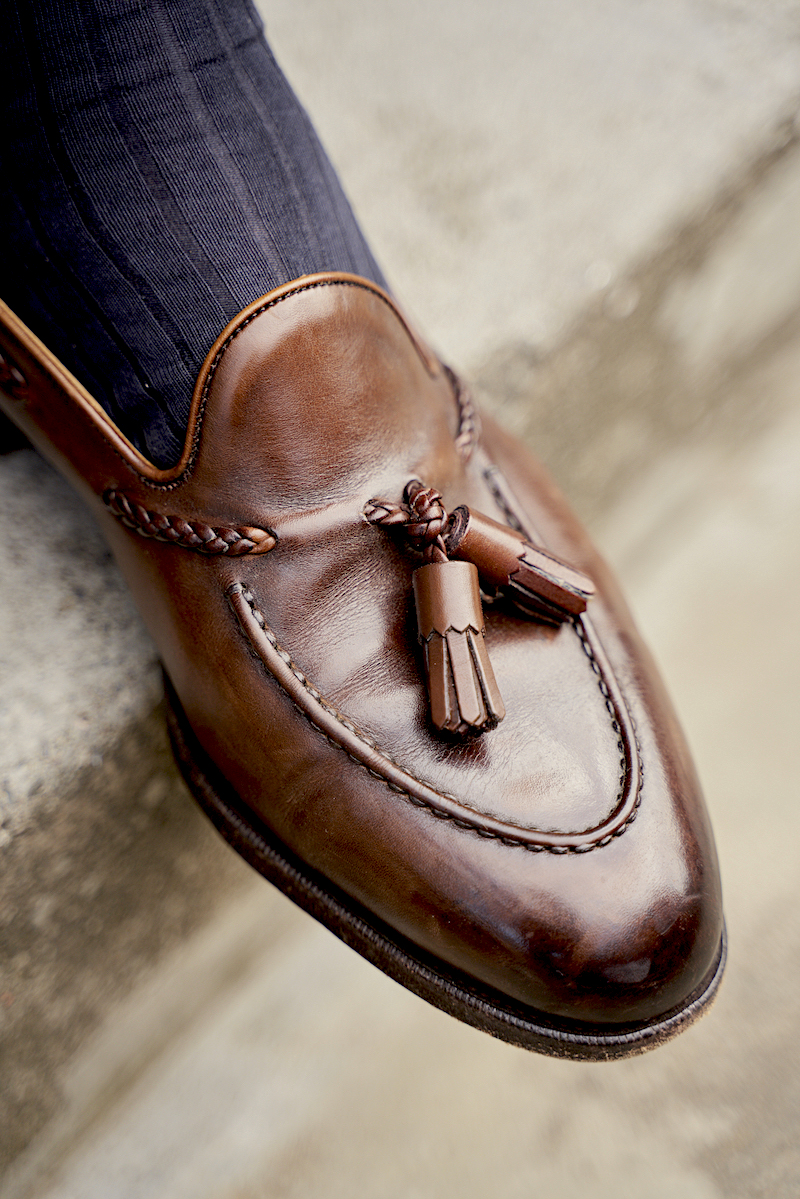 The second thing is that they've worn in beautifully.
From an aesthetic point of view, the calf leather of the Belgravias has taken a huge number of scratches and scrapes, yet through wear and occasional cream, they've simply been embraced, softening and becoming part of the leather's intricate texture.
The colour variation is also lovely, with the factory's original burnishing of the toe and heel – to slightly darken it – made more varied and personal by my own polishing.
And to be clear, I've never done patina work, or deliberately used darker polish on certain areas. I've simply done good, basic maintenance of a fine shoe. Regular cream and polish. The kind of thing anyone can do.
[See more advice on shoe polishing in our two videos here.]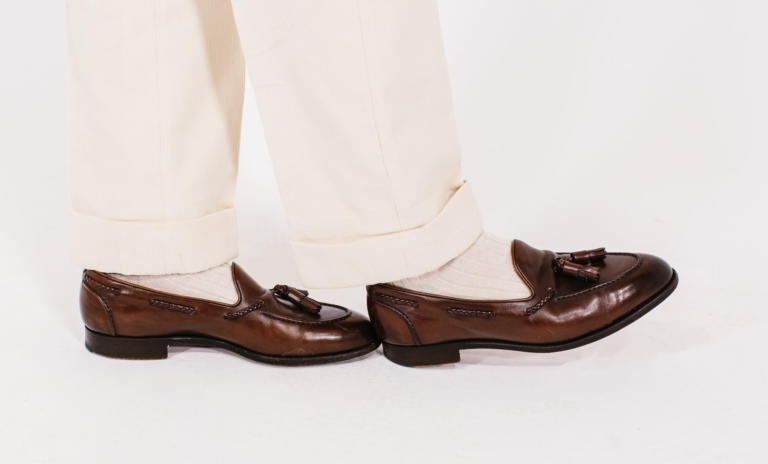 Third, both pairs of shoes are really fricking comfortable.
The older I get, the less patience I have with shoes that don't fit. Those that tweak my little toe, or are fine for a few hours but torture by the end of the day. Narrow shoes from Berluti or Corthay have fallen by the wayside for that reason.
But these two Edward Green lasts (for me) – the 184 on the Belgravia and the 888 on the Oundle – are comfortable yet still look sufficiently slim and elegant to match my tailoring (or as pictured, slim dark denim).
I don't think too much emphasis should be placed on comfort. A leather dress shoe is never going to feel the same as a sneaker or an espadrille. It cannot and still look like this.
And prioritising comfort above all else is a slippery slope: one that men and women today seem not only happy to slide down, but throw themselves on with reckless abandon.
Still, shoes must be comfortable. How that's defined is subjective, but I'd suggest you need to be able to put them on and forget about them, all day.
The reason my Belgravias do that is partly the fit, but also partly the leather. This has worn in, softened with time and cream, and of course adapted to my foot. The footbed bears an impression of my sole; the upper creases where I need it to crease.
This lesson is worth highlighting because – again – people often want not just comfort, but immediate comfort. They don't consider that if something is going to adapt to you, it cannot be the same on day 1 and day 50.
Earlier in the year I bought an identical pair of Belgravias in black cordovan. I know they will take time to wear in – even more so because they are hard horsehide.
But I also know what the final result is like, so I'm happy to wait. Just wearing a few hours a day to start with; not perfect comfort from the first; regular cream to help them along.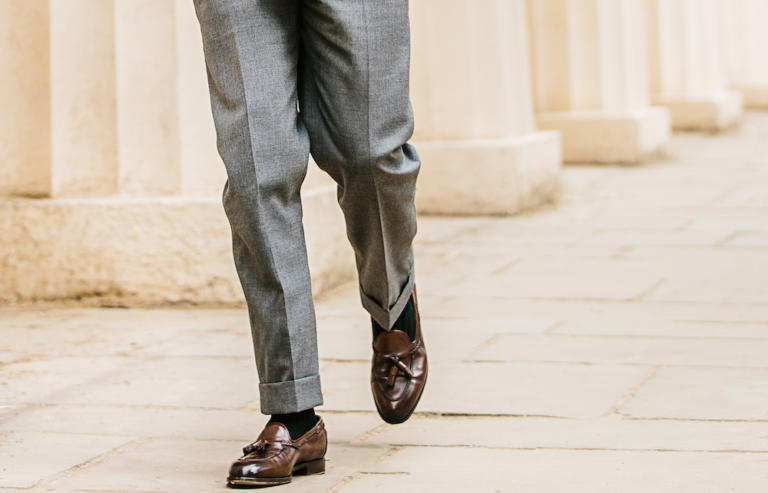 Finally, a word on style. These shoes, these great things that have aged, have become so because they suit how I dress today.
I rarely wear a navy worsted suit, shirt and tie. But I regularly wear a grey flannel suit, a green cotton suit, a tan corduroy suit. Or a jacket with grey fresco, green flannel or beige cotton. I also wear sharp chinos and dark denim. And these loafers go with all of it.
They're perhaps a little casual with grey flannel – and a little smart with denim. So not to be worn with flannel that's structured, dark and double breasted; or with denim that's old and worn and accompanied by a T-shirt.
But nonetheless, they do go with that full range of clothes. The only other shoe that could be as versatile is a brown suede loafer.
Which of course, is why suede Belgravias are next on my wishlist.
Other clothing shown:
Jeans from Blackhorse Lane – post here
Beige cotton chinos from Dalcuore – post here
Dark grey Crispaire trousers from The Disguisery – post here
Mid-grey Fresco trousers from Gieves & Hawkes – post here
Olive chinos from Drake's
Photography: Denim shots and chinos by James Holborow, all else by Jamie Ferguson