New Friday Polos – black and green (and menswear trends)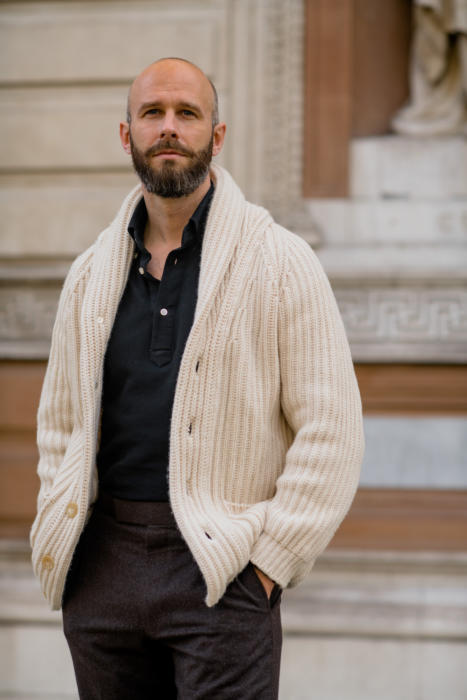 Shipping and production have not been entirely straightforward in recent weeks, as anyone following the chaotic clash of Covid and Brexit in the UK will be aware.
But I'm glad to say we've been able to restock the Friday Polos - still the most popular product on PS - along with two new colours in this current button-down style.
The first colour is a green we've done in the past (but in the old spread-collar) and the second is entirely new (though perhaps not unexpected), in black.
We've also restocked the perennials, navy and white, while there are a handful of light-blue left from the last batch.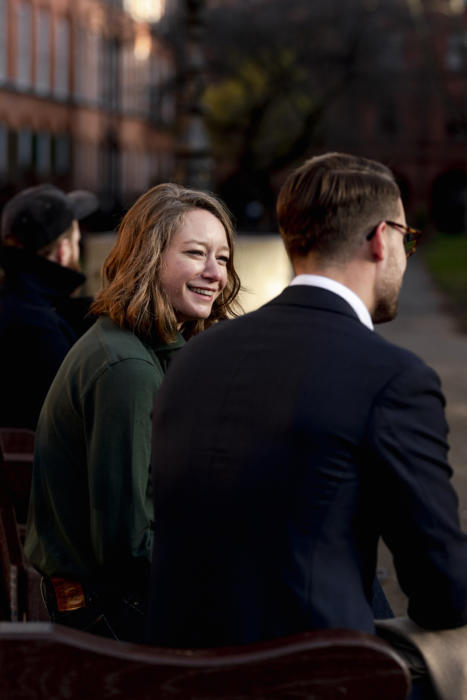 A commenter asked something about trends recently, which I think is illustrated quite well by this Friday Polo re-stock.
Their question was, basically, if everyone is suddenly wearing black, and even adopting my suggested cold-colour wardrobe, how is classic menswear different from any other fashion? Have these new trends just replaced all the consensus around navy jackets and oxford button-downs that everyone has been eulogising until now?
The answer, thankfully, is no. These current trends (black, tonal, western, caps etc) haven't replaced anything.
Your wardrobe of soft tailoring, flannels and loafers is still just as relevant and useful. These other trends are merely passing suggestions, which you can work into your wardrobe or not, depending how much they appeal to your character, and circumstances.
As I wrote in this piece on filtering fashions, it's stimulating to be aware of and consider all such trends, but you should be worried if you adopt even half of them.
And I think the new Friday Polo batch reflects that: classic navy, white and green, but also black for the minority that have really taken to this trend, and woven it into their existing style.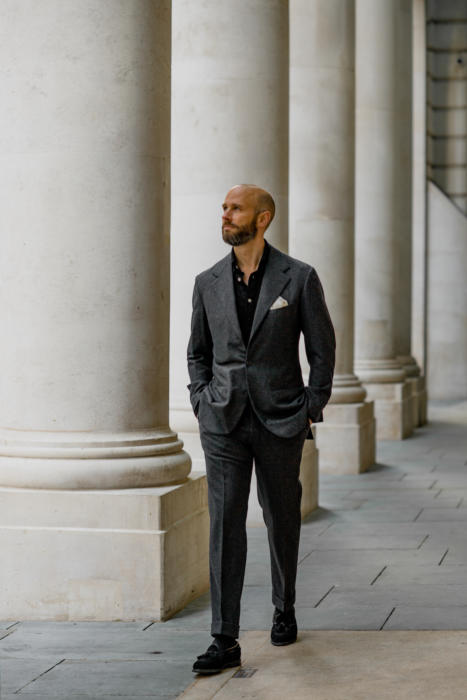 There are bigger, more significant trends of course. Classic menswear is not immune from these, and they often involve proportions more than colour: the length of trousers, the width of lapels, the fit of knitwear and so on.
The nice thing about menswear - and classic menswear in particular - is that these trends last anywhere from 10-20 years. It's a long time since short, tight suits were at their zenith, yet they're still hanging on.
This past year the trend towards casualisation - which has arguably been with us for a century - was accelerated by extraordinary events. Covid might have compressed 10 years of trend into just one. But we won't know until we come out the other side.
So don't worry about investing in good clothes, or about ignoring black if it's not your thing. We stocked more navy and white than the others anyway.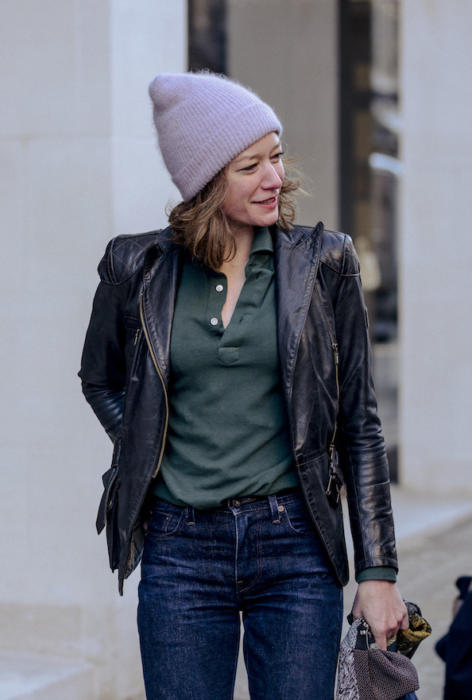 The green is the stronger, forest green offered a few times over the years - originally with Adam and Mikey (that feels like a very long time ago), then with the one-piece collar version, and most recently as a normal spread collar as shown on Lizzie from Levi's (above).
It's a stronger colour than some greens, and is therefore nicest with more rural colours - warmer browns for example - as well as with navy. Although Lizzie shows it goes very well with indigo and black too.
We've improved the placket design, by the way, so it's a little firmer. There's now an extra layer of lining, similar to what's in the collar, to make it lie and stand straighter.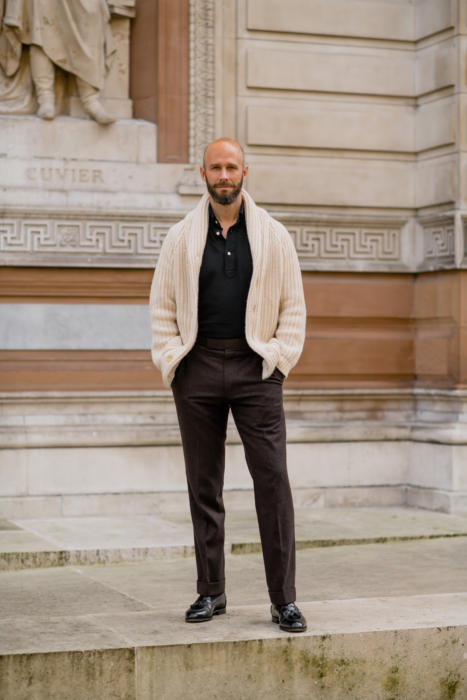 It should be no surprise how the black polo is worn by me here, with dark browns, cream and black.
That's not the only way to wear it of course, but it is my favourite. And as pointed out on that capsule piece, the colours can all be swapped round: brown, cream or grey trousers; brown, cream or grey knitwear.
I should clarify though - again in response to a reader question - that these clothes do not have to be worn just within those narrow parameters. The point of that article was that I found this a versatile capsule, producing a set of looks that appealed to me. That doesn't mean there aren't many other capsule collections involving those clothes, that look just as good.
I've also shown the polo with my Vestrucci suit (below). The suit isn't looking its best - it had probably been hanging in the wardrobe at an odd angle - but the combination of black shirt and charcoal tailoring is a pleasing one I think.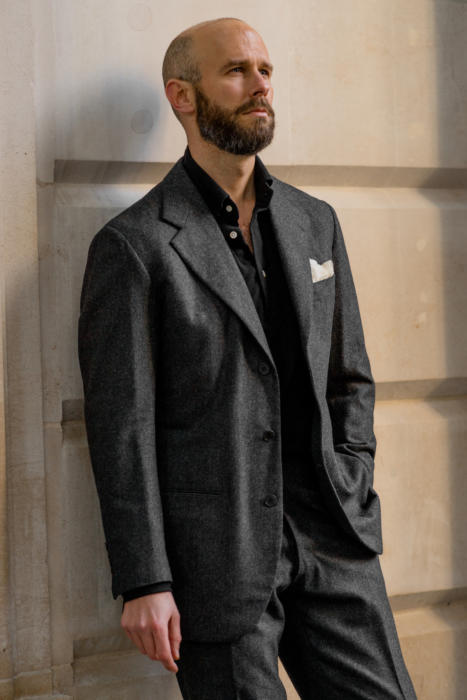 The jacket below is my suede shirt-jacket from Anderson & Sheppard, when they make in a short, trucker style.
This is a lovely piece for transitional seasons, and particular over a shirt like the polo, which is so comfortable to wear but also a little heavier than a regular polo, and so provides a little more warmth.
Still not a combination for this time of year, but it hopefully shows the kind of olive green the black shirt looks good with.
The other clothes shown are the cream Indulgent Shawl Cardigan (only one left - navy XS) and my black-suede Belgravia loafers from Edward Green.
Photography: Robert Spangle @thousandyardstyle