I'm very fond of the cut of this Vestrucci suit, and it is more unusual than I realised when I first received it.
Although many aspects are similar to Liverano and other related Florentine tailors, there are small and large differences.
So the shoulders are extended as one would expect, the lapels are also wide, and the line of those lapels is cut straight, so they appear to curve away from the chest.
But the bottom half of the jacket is rather different, much more closed before curving away quickly.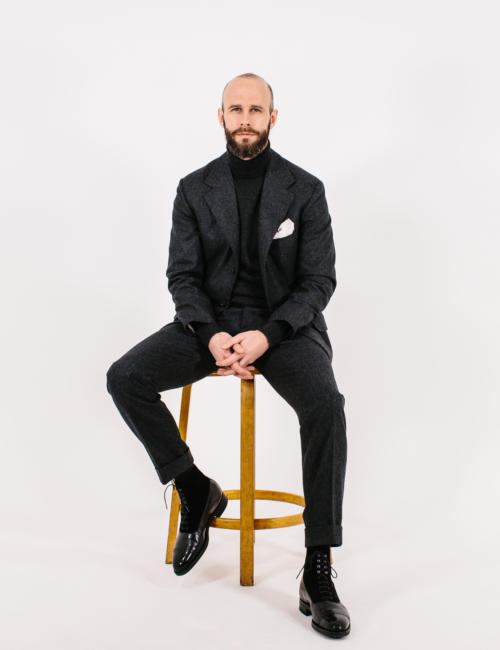 House: Sartoria Vestrucci
Address: Via Maggio 58, Florence
Site: vestrucci.com
Cutter: Loris Vestrucci
Price of a two-piece suit (at time of writing): €4000
This was my first suit from Vestrucci, and was made in 2017. It was begun quite soon after Tommaso Melani of Stefano Bemer brought Loris Vestrucci out of retirement, to try and start a new tailoring house.
Loris is a great cutter – I'd seen the results on my friend Tommaso Capozzoli for years, as he was a longstanding client. And Loris is a great character. Even though he speaks no English, his face is so expressive that you always feel you know what he's thinking.
The suit, in charcoal flannel, had been something I'd been thinking about for a while. I had a similar ready-made one from Ralph Lauren when I was younger, and loved how it looked with black shoes and pink shirts in particular.
Of course, that didn't fit very well (I remember the trousers were absurdly narrow) so it was great to get a bespoke update.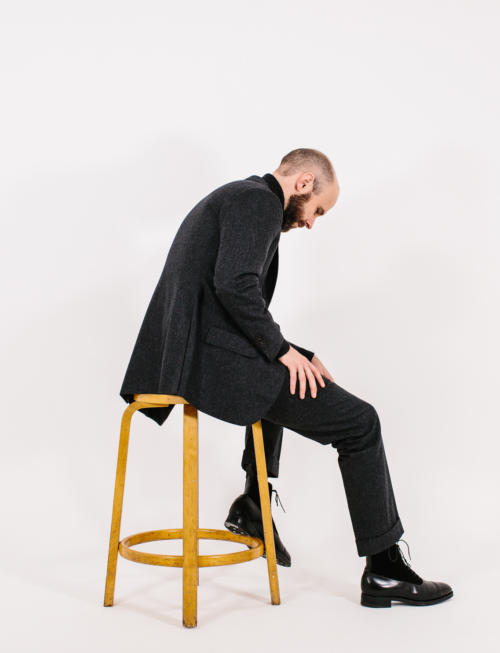 Let's start with those aspects we now think of as 'Florentine' style.
It's particularly significant because it has become something new tailors around the world mimic, in part because the combination of wide shoulders, soft structure and rounded edges is flattering yet not too formal.
The shoulder width on this suit (the length of the shoulder seam on one side) is 6¼ inches, which is a tiny bit less than my Liverano but wider than all the other Italians.
The padding in the shoulder is very light (perhaps a little less than Liverano) and the structure elsewhere similar.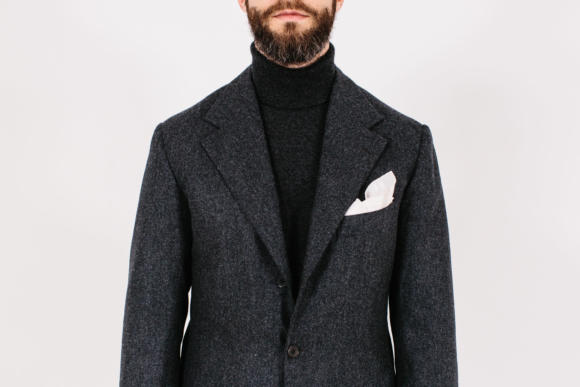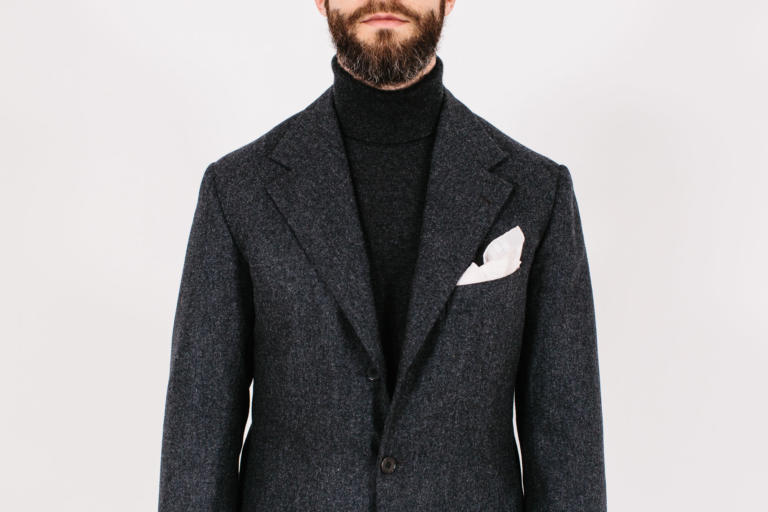 The lapels stand out for their width immediately: a full 4 inches.
However, they look even wider because the lapel is cut straight and therefore rolls up and outwards from the waist button. This means the lapel is initially quite thin.
Two things on the Vestrucci suit then exaggerate that width further. The gorge (where lapel and collar meet) is low and the gorge line (the seam where those two meet) is fairly flat.
Both small differences from the Liverano, but they combine to make that Florentine lapel style even more noticeable.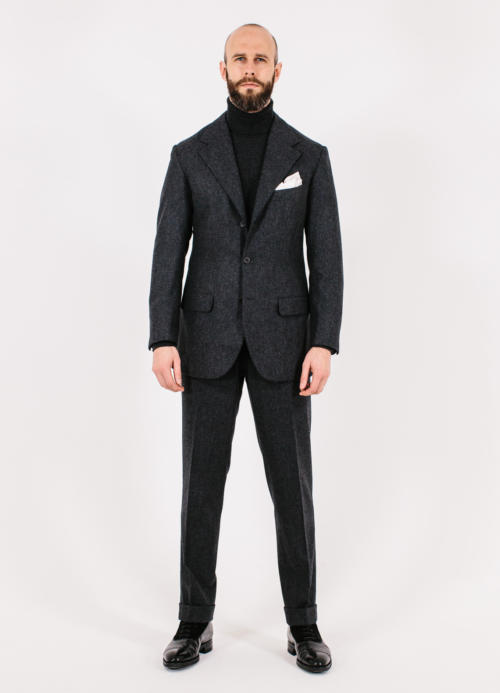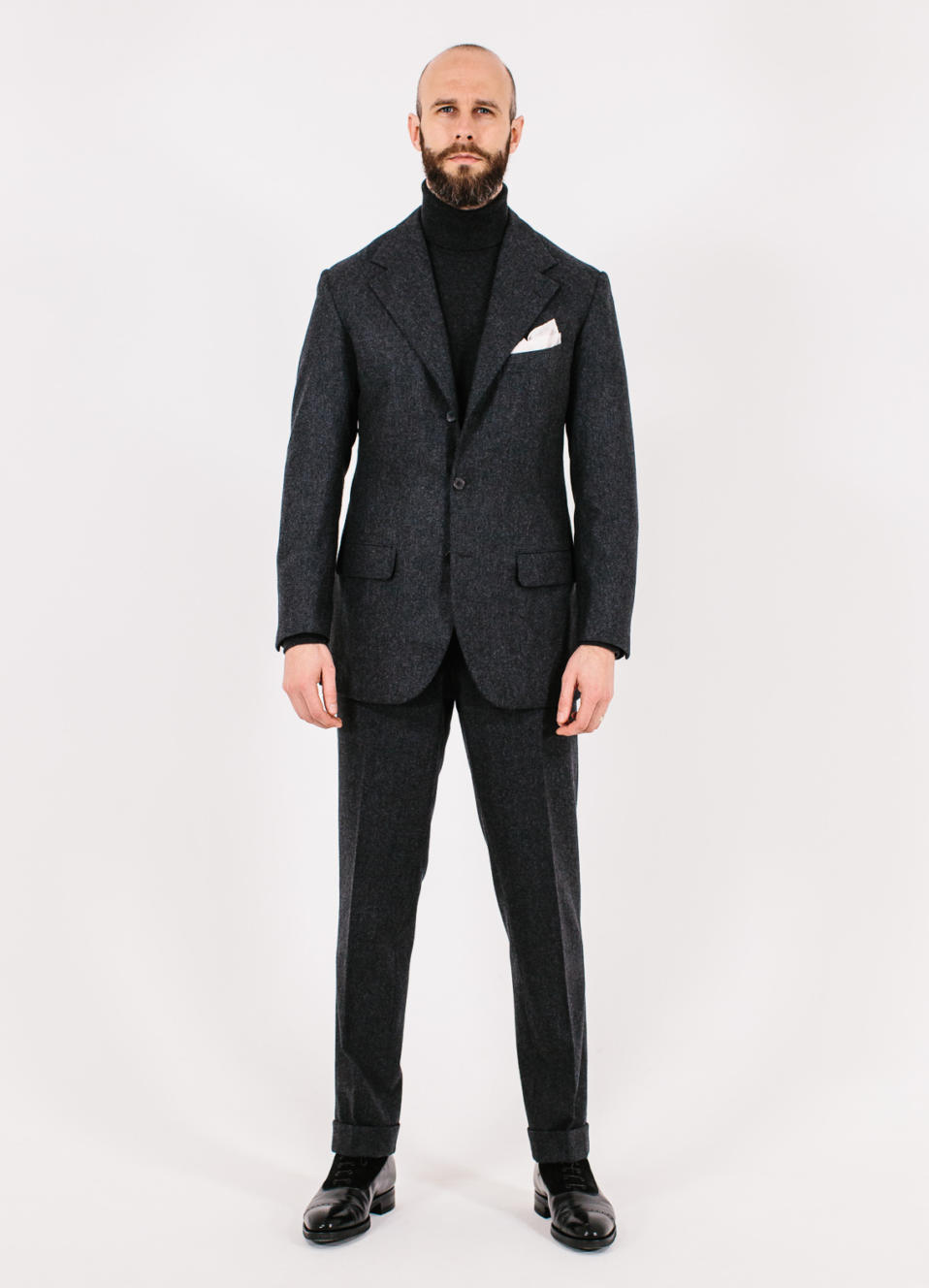 The foreparts are where the Vestrucci cut stands alone.
Look at the line of the edge of the jacket from the (fastened) waist button running downwards. It starts straight – rather like an English jacket – but as it gets towards the bottom curves away, in a very round shape.
It's a combination between the formality of English tailoring (and Vestrucci himself talks about English modesty in covering the groin) and Neapolitan curves.
Compared to the visual impression of the shoulders, lapel and chest, this is a small point. But it is quite distinctive once you start seeing it.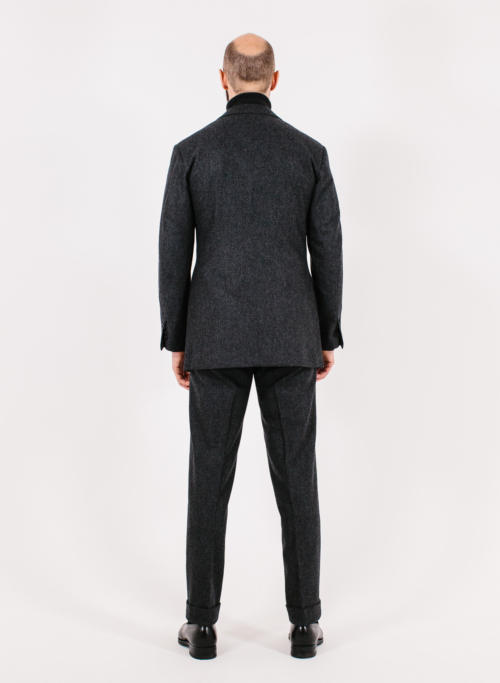 The jacket is quite short, perhaps just failing to cover the seat (again something Liverano echoes).
And there is a surprising amount of drape. It's hidden well, but there is considerable room in the chest and in the back, which combines with the light structure to make the jacket very comfortable.
I think that's one of the things I enjoy most about the suit. It looks quite smart, but there is real flare in the lapels and it feels easy to wear.
The clothes I've worn it with are of course deliberately striking.
I've always liked tonal dressing and the ability to wear charcoal cashmere under charcoal flannel is hard to resist. Topped off with black boots and a white handkerchief, it has high impact without loud volume – like the best of classic menswear.
But it would be equally at home with a white shirt and perhaps bronze-coloured knitted tie. And black oxfords.
In fact, I saw an older man in Dulwich dressed just like that recently, when walking back from a badminton game with my friend. My friend's comment? "It looks like he's on the board of directors." Not a bad impression to give.
The charcoal roll neck is from Anderson & Sheppard, as is the white-linen handkerchief, and the boots are the Shannon model from Edward Green. I've replaced the original leather soles with rubber Dainite to make them a go-to winter boot.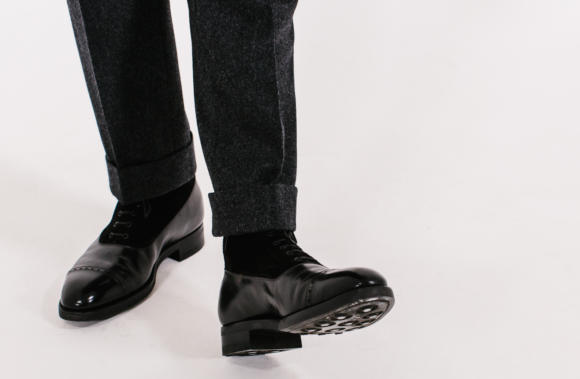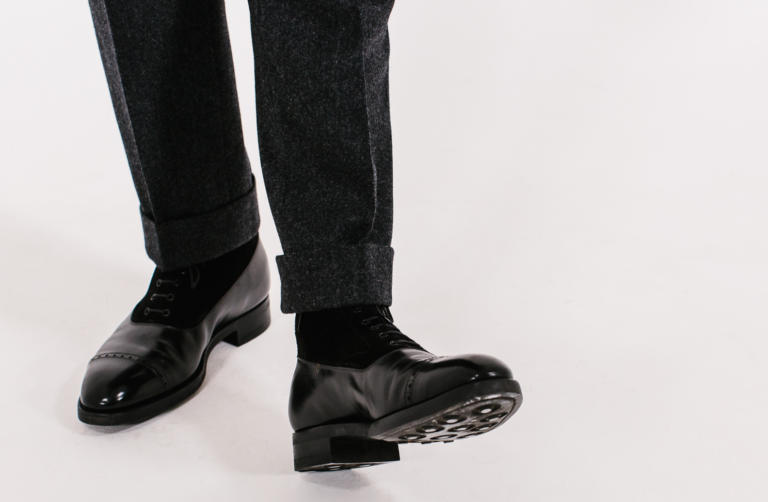 Style breakdown
Shoulder width: 6¼ inches

Shoulder padding: Thin

Sleevehead: Small roping

Sleeve: Generous, aggressive taper

Cuff: 11 inches

Lapel: 4 inches, straight

Gorge height: 4½ inches

Drape: Generous (but visually subtle)

Outbreast pocket height: 11 inches

Buttoning point: Low, 19½ inches

Waist suppression: Suppressed

Quarters: Very straight, then aggressive rounding

Length: 30¾ inches

Back seam: Straight

Vent height: 9½ inches

Trouser width at knee: 19 inches

Trouser width at cuff: 15¼ inches
Photography: Jamie Ferguson @jkf_man