Sartoria Vestrucci launches: Bespoke and ready-to-wear tailoring
This summer there were several launch events at Pitti Uomo.
Kenji opened up in Florence again, with his new Tie Your Tie store (small but lovely); Benedikt had his Shibumi showroom with new tailoring; it was effectively the launch of Neapolitan trouser maker Lino Pommella (for whom I, Mark Cho and Antonio Ciongoli designed some denim trousers).
But the biggest launch was undoubtedly Sartoria Vestrucci - the re-born tailoring house being led by Tommaso Melani of Stefano Bemer, and Salvatore Ambrosi.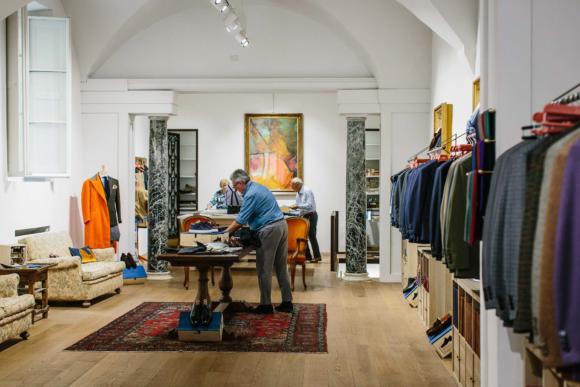 The new Vestrucci has a shop on the south side of the Arno in Florence, with a small entrance but deep space, running back through racks of ready-made tailoring to bespoke cutting tables at the back.
At the first table stands Loris Vestrucci, old and already once-retired, picking apart basting stitches.
Behind him work two apprentices, hired for him to train and provide some future for the bespoke.
Vestrucci himself is smiling and cheeky, muttering his views on any tailoring within his view. The length of my Caliendo jacket and the flyaway peak lapels of a customer both came in for commentary.
I'd been a fan of Vestrucci's style for years without knowing it.
Vestrucci cut for my friend Tommaso Capozzoli for years, working at home with his wife. And I had always admired Tom's green tweed jacket and solaro suit among other things.
He had also cut historically for several Japanese in the industry - including Kenji Kaga of Tie Your Tie and Kentaro Nakagomi of Coherence.
Tom (below, centre) is now the face of Vestrucci, and you will see him on the website as well as on trunk shows to New York and elsewhere.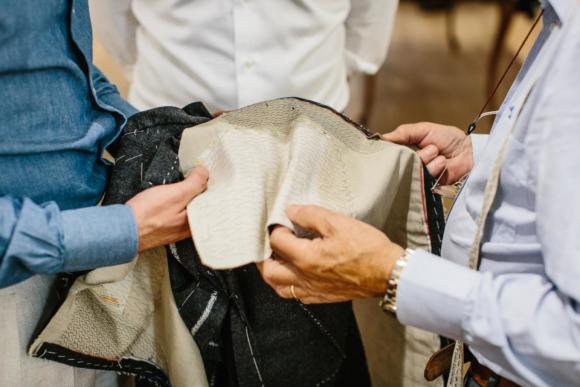 Vestrucci's style will be familiar to those that are aware of the peculiarities of Florentine tailoring.
So the shoulder is a little extended, but only lightly padded, with a fairly natural run down into the sleeve. Its width (as we discussed previously here) creates an impression of strength without using padding or roping.
The canvas is similar in weight to other Italian tailors, and the chest is cut clean without being too close. It is accentuated by broad lapels.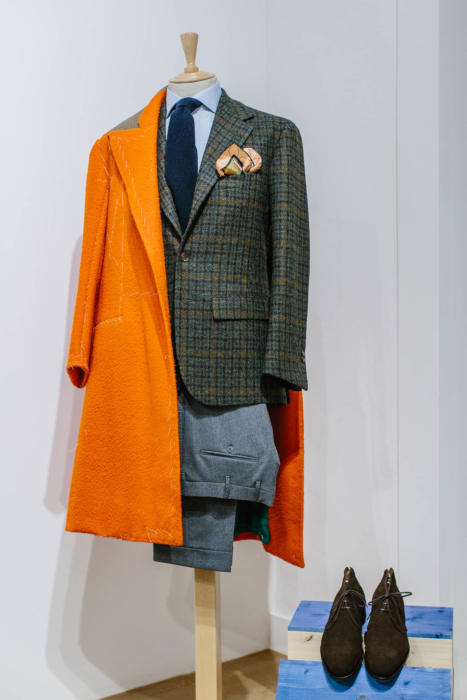 One difference from other Florentine tailors (most obviously Liverano) is that the lapel is not concave but straight, with even a touch of belly (curving outwards rather than inwards). The front quarters are also relatively closed.
The jacket is slightly shorter than most, and in common with other Tuscans has no front seam running down below the hip pocket.
The double-breasted jacket has a relatively low and flat gorge. Thankfully this is more in fashion now after years of high, pointy lapels that threatened to flop down the back of the jacket.
One of the reasons Tommaso Melani says he was excited about launching Vestrucci was that the Florentine style is rather underrepresented in the ready-made market, and that's certainly true - Italian tailoring around the world is dominated by Naples and the Abruzzo region.
The quality and level of work in a Vestrucci jacket is very high, and a challenge of the new brand has therefore been reflecting it in the ready-to-wear.
Here they've largely succeeded, with neat finishing and most of the Vestrucci style details reflected in the jackets.
They are made in Italy, although decline to say which factory (which is sensible in my view - too much is often read into manufactures which often offer different levels of quality).
The downside is that the prices are quite high - around €3000 including VAT for a ready-made suit, and a little more for made-to-order. (Bespoke starts at €5000 including VAT.)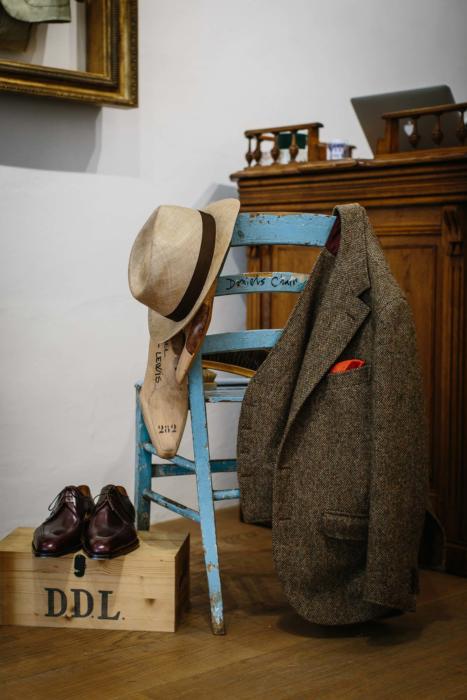 Vestrucci will be doing trunk shows in partnership with Stefano Bemer and Ambrosi - in London and in the Bemer showroom in New York, with more to come.
As a strategy it makes perfect sense, with customers now able to have bespoke or RTW shoes, trousers or suits from the same group. How far they can go into the very competitive RTW tailoring market remains to be seen.
In the meantime, I highly recommend visiting the Vestrucci shop if readers are ever in Florence.
It doesn't have the character of an older tailoring boutique yet, but there is a real range of RTW on display to try on, plus Bemer shoes, a nice range of knitted ties and leather goods.
The shop is at 58 Via Maggio. Trunk shows will be announced on their site, as well as on our Trunk Show Calendar.
I'll report separately, later, on the Holland & Sherry charcoal-flannel suit I am being fitted for.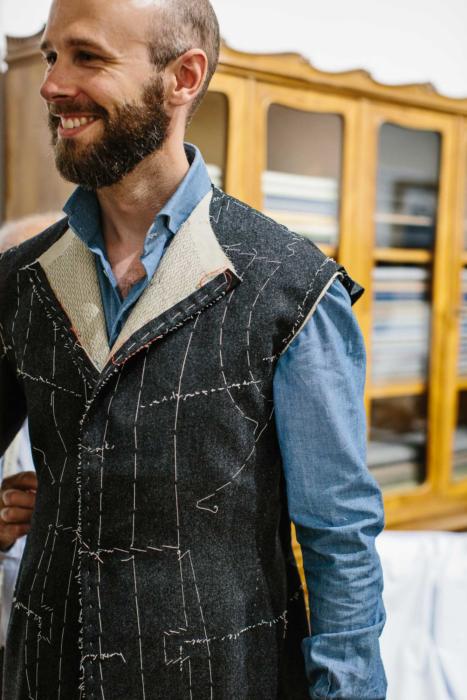 Photography: Jamie Ferguson @jkf_man