Sartoria Vestrucci charcoal-flannel suit: Review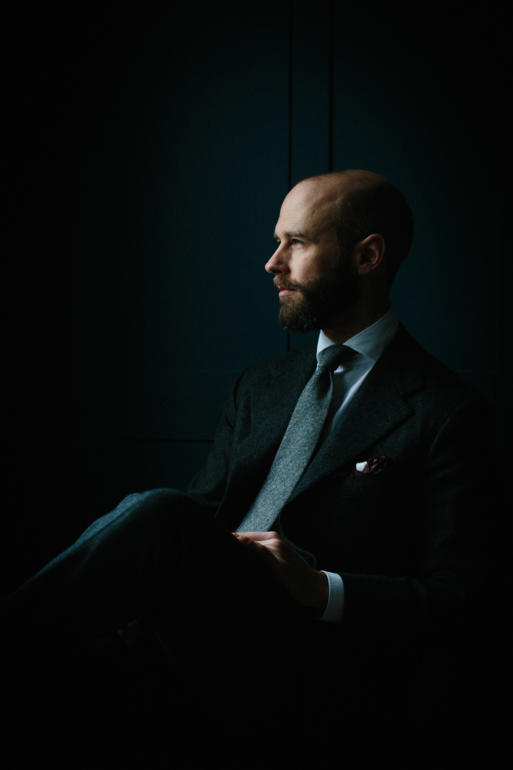 Right. Let's do this by first running through the Vestrucci style and cut, and then going into the more subjective areas of reaction and experience.
The suit being discussed is a Holland & Sherry charcoal flannel that I had made over the past 9 months, and was covered previously here.
Shot at home, in slightly moody lighting, by Jamie.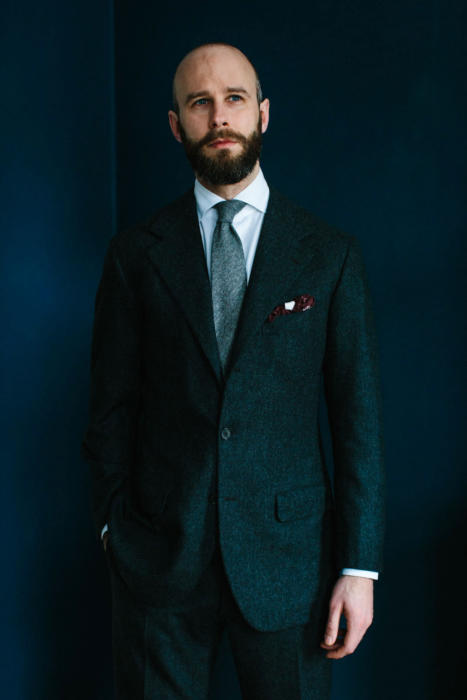 The style of the jacket is most obviously Florentine (Loris Vestrucci was trained by Giuntini, among others, who was one of the last great Florentine tailors).
That style is characterised by:
An extended shoulder (running just beyond the end of my natural shoulder)
A generous lapel, curving slightly inwards (concave)
A straight breast pocket
Light padding and chest canvas
and, A curved front dart that finishes at the hip pocket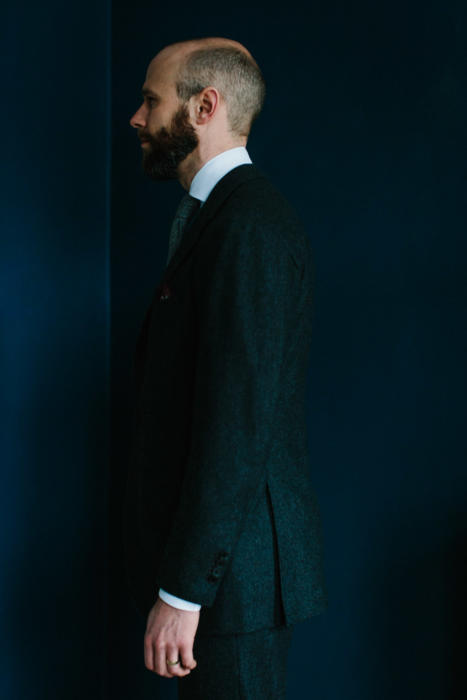 This style, which Tommaso and Tommaso at Vestrucci describe as 'Italian character with English modesty', is an effective way of combining comfort and masculinity.
The make is soft and that, combined with the drape, make it very comfortable. But the large lapel and extended shoulder give an impression of strength and size that is rather flattering.
The Italian side is perhaps most seen in that flair of lapel and general curviness, and the English in the closed quarters and general subtlety.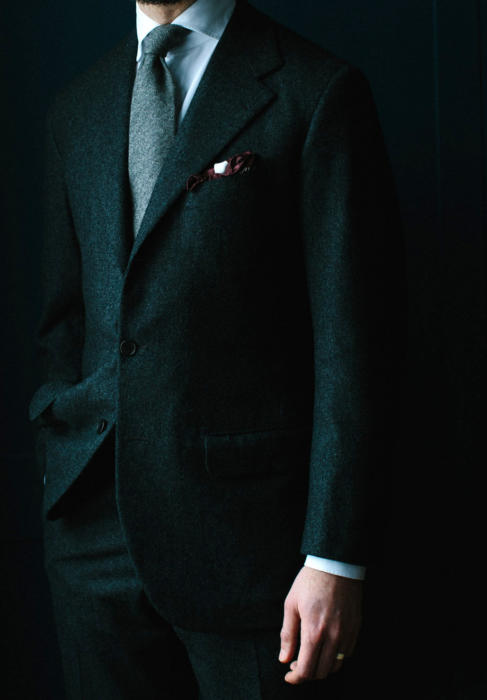 The obvious comparison is with Liverano, which readers will be more familiar with as an example of Florentine style.
In comparison to that, Vestrucci has:
More drape (more than most Italians or French)
More closed front quarters
Less padding, and is generally softer
Overall it feels like a less striking style - softer and rounder - but still with that masculinity in the shoulders and lapel.
I particularly like the image above as an illustration of this. You can clearly follow the line of the slightly convex lapel, into a relatively long and straight line through the waist button, and then the little curve at the bottom.
There is little to say about the style of the trousers, except that Loris likes a rather long fly. This has the advantage of opening up more, making the trousers easier to get on. But makes little noticeable difference to the look.
I've been wearing the suit for the past couple of months, and I have got very used to its softness, drape and general comfort.
It reminds me most of a lighter and softer Anderson & Sheppard. Both have that extended shoulder and drape, and I can happily sit and work in both all day. A&S just has more padding and canvas.
The only area of the Vestrucci I would like more structure is the trouser waistband, which has a very soft, folded over lining. This would be more attractive, and no less comfortable I think, with something thicker.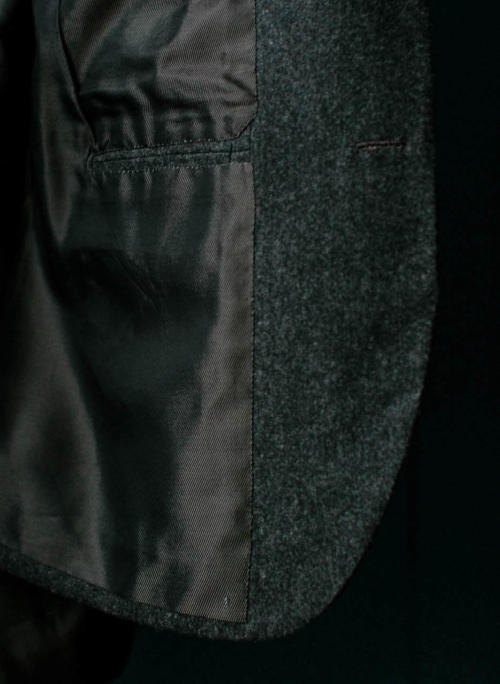 The make is good without approaching the fineness of anyone further north, in Milan, Paris or London.
Nice buttonholes but not super-fine, and good finishing inside without any of the flair of a Cifonelli or Camps de Luca.
My experience too, was good. Tommaso Capozzoli measured me in London, and apart from one or two small issues, it was a good base for Loris to work from in Florence. I had one fitting there late last year, and then another in January during Pitti.
I feel this consistency and accuracy should be emphasised given recent discussions - Vestrucci is still a small tailor, but has the professionalism of a large one.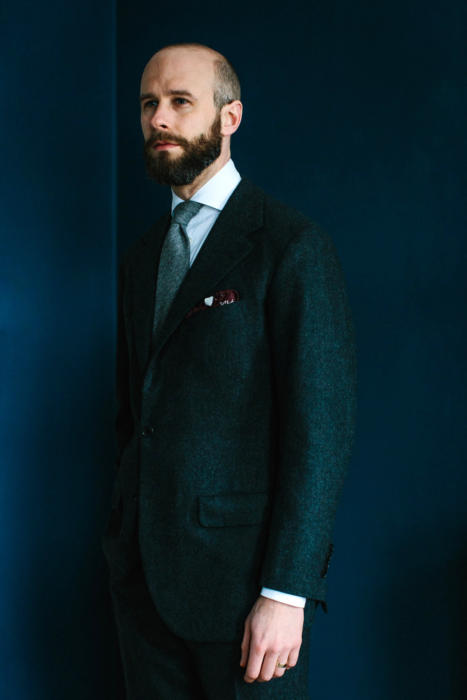 The only outstanding issue we have is a small one with the trousers. The rise was initially too high, and although it has been reduced, it still needs to be a little more.
I might also look at the drape in the back of the jacket (don't have a picture of that, sorry) as it is more than the front, and could perhaps be cleaned up and still be comfortable.
I'll look at both with Loris and Tommaso next time I'm in Florence.
Vestrucci don't do trunk shows to London at the moment but are considering it for later in the year. They are already in the US of course, with the base of the Stefano Bemer showroom on 67th street (Stefano Bemer shoemakers owns Sartoria Vestrucci).
I should also mention that Vestrucci offer a ready-to-wear and made-to-order service, which is made to the same cut and style as the bespoke, but of course not the same quality level.
This may prove helpful for anyone that likes the style, as the bespoke is fairly expensive, at €3,500 for a jacket and €4,000 for a suit.
The MTO is €1,800 and €2,400, the RTW €1,500 and €2,000.
I've wanted a charcoal-flannel suit for a while. (Even if it does mean I'm ordering a lot of grey suits at the moment - with the 4-ply Ciardi and mid-grey Panico.)
I had a Polo Ralph Lauren one when I was younger, and loved the style. The flannel is so dark that it feels smart and serious, yet the texture is unexpected in most smart or professional environments.
I'd generally wear it with black shoes (which is why I went for grey corozo buttons, not brown), and it's nice with a white shirt and a tie, as here.
A grey tie is a bit more of a fashion look (grey on grey), but a navy tie is also nice and charcoal flannel is great with deep, rich colours like purple.
I also find that it compliments a blue shirt with a burgundy tie, or a bright acidic colour like lime.
Here, I have that burgundy in the silk handkerchief (from Huntsman), while my Jaeger Le-Coultre watch with tan ostrich strap also adds a little colour.
-
Shirt: White cotton from Luca Avitabile
Handkerchief: White and burgundy silk from Huntsman
Tie: Grey untipped cashmere from Drake's
Shoes: Black Corthay chelsea boots (again, a little French and fashion-y. I'll cover those separately.)
Website www.sartoriavestrucci.com