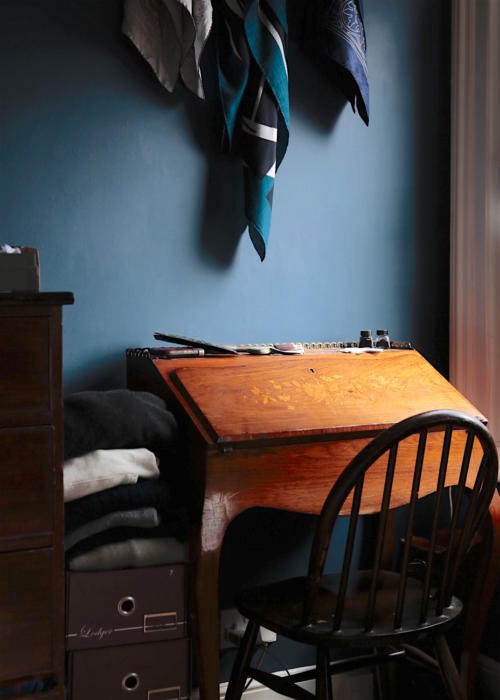 Many readers said they liked the personal, behind-the-scenes approach of Plaza Uomo's cover story on me last year.
Here, then, is another angle. My desk, where I write most of these posts, and therefore probably the most important Permanent Style-related thing in the house.
The antique slant-fronted desk is both beautiful and space-saving, though I've always meant to get an equally finely shaped chair to go with it.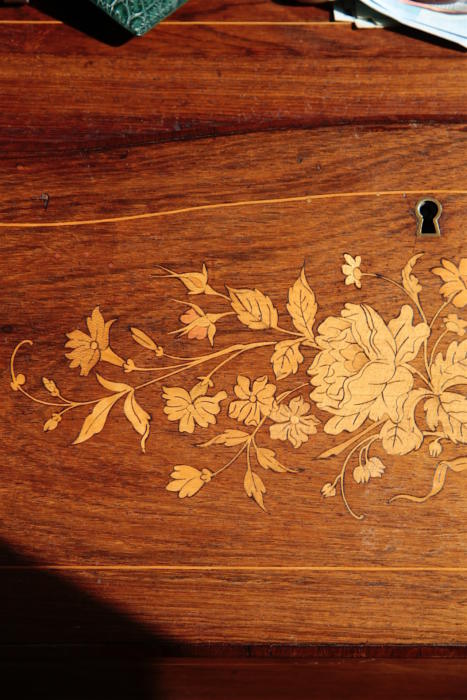 On the top of the desk is a variety of items - often a lot of clutter, but today (happily) a relatively small selection of pens and related items.
My antique cigar case in brown alligator, which I've written about previously here. Sitting underneath the personalised green alligator glasses-case that Dunhill made for me a few years ago (again, covered here).
A beautiful Sailor pen in walnut and gold (top right), and then an old wooden pen, spare nibs and a spare shoelace.
Beside the desk sit a stack of old Lodger shoe boxes (Lodger was a British shoe company that I worked with several years ago, since sadly closed) that operate like drawers.
And on top of the boxes, a pile of recently worn sweaters. From top to bottom:
Ralph Lauren Purple Label charcoal cashmere hoodie
Cream Loopwheeler cotton hoodie (featured in this Plaza shoot)
A navy Johnston's cable-knit cashmere crew neck
Sleeveless V-neck wool sweaters from Anderson & Sheppard in navy and grey (perhaps the most useful knitwear I own)
Ralph Lauren Purple Label cashmere crew neck, in a jersey knit and sweatshirt style
Above the desk hang three Hermes scarves.
I love Hermes scarves and have accumulated a small collection. As written about here, I like to wear the classic 90cm silk squares with crew-neck knitwear, but I also wear them with jackets and inside overcoats.
As with many menswear pieces I write about, the Hermes scarves are works of art in themselves, and it always seems a shame to have them fitting folded in boxes.
I therefore constructed this set up, with three hooks in the wall that scarves can be hung off. The central scarf is a larger silk/cashmere design and so hangs lower.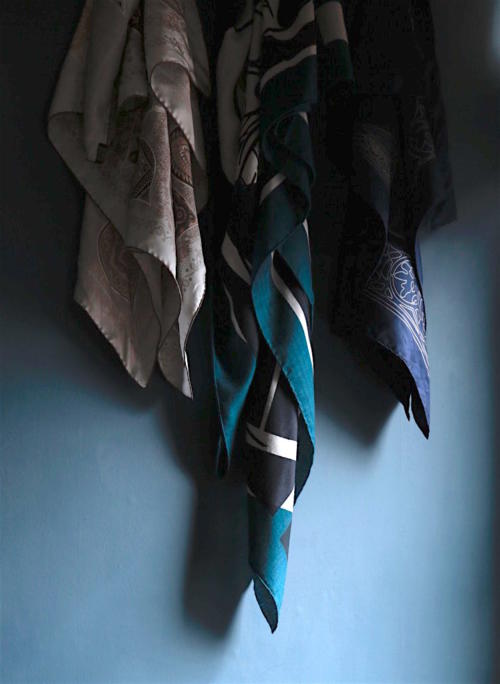 And finally, tucked in at the back of the desk you can see the boots I had made with Ludwig Reiter last year.
They haven't had much use yet, but I have high hopes for winter.