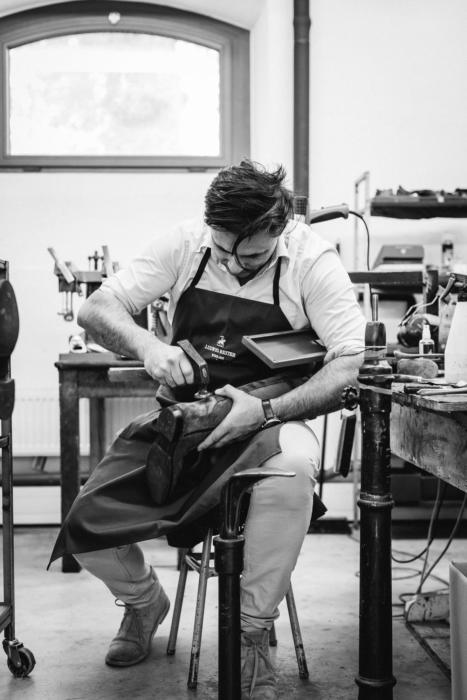 Ludwig Reiter is an old shoemaker used to catering to a wide variety of customers. It sells bags, sandals and trainers alongside oxfords and brogues, for both men and women.
Many of the styles also look a little old fashioned, but there are some hidden gems in amongst them - in particular the boots.
The company has dozens of stores and resellers in Austria and Germany, but recently opened its first store outside the German-speaking world, in London.
Hence the broader interest, and the contact that led to us visiting the factory outside Vienna last month.
It shouldn't make a difference where a factory is located, and it's certainly rare that it influences the product. But when you arrive after a long journey and the destination is picturesque, it is nice.
I visited the Kiton factory three times in total, a few years ago, and nice as it is, the experience was always coloured by being in the middle of an industrial estate. It's nothing on Zegna or Cucinelli.
Ludwig Reiter used to be in the centre of Vienna, but moved to an industrial estate 20 years ago, before buying this old manor house and converting it into a factory.
It's a Viennese summer residence, and works surprisingly well for manufacture. The stables and the corn store are used for different stages of production, and the owner's house is now the office.
Ludwig Reiter's history is in practical footwear. Shown above is an archive shoe that was supplied to the Austrian army. (Like Adidas, it has stripes on its sides that helped support the upper when the laces were pulled tight.)
They used to make boots for cable-car operators, for forest workers (with chainsaw protection) and so on.
But those markets are often regulated today, and so expensive to operate in. It's only feasible if you're making large volumes at lower prices.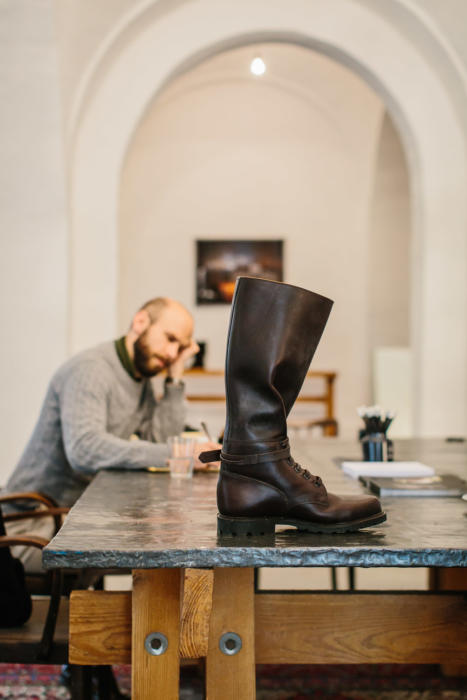 The range still has a huge number of practical pieces though, including felted winter boots and oiled-leather riding boots.
A model made in the latter - the Husaren, shown above - was made (moderately) famous by Brad Pitt's wearing it during the film Inglorious Basterds.
Its distinctive style comes from excess leather around the ankle being pulled together by leather laces - actually, a single lace that pulls through all the eyelets and then wraps around the ankle.
Although I liked the style of the Husaren, it was a little too chunky and rugged for me; the polo boots, pictured below in tan, were more appealing.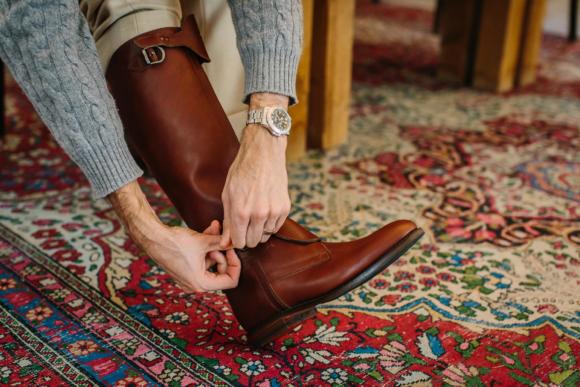 The lovely Till Reiter, who took us around the factory, had clearly been reading up on Permanent Style.
As we went round, he was interested to compare Ludwig Reiter's processes with those of Edward Green, which he had seen on their recently posted video.
For example, he compared the cutting of the uppers, which at Green is largely done by hand, with some punched out with a press knife.
At Ludwig Reiter, some smaller runs are done by hand and press knives are used, but a good portion are also cut by a computer-guided laser (below).
Reiter has other machinery that is more modern than most English makers - such as the new, electronic lasting machine. But others, too, are older, like the brogue-puncher that dates back to the 1940s (above).
"Old machines are often more reliable, because you know how to use them and how to repair them," says Till. "But you have to keep investigating modern options, because if they work they will save you money in the long term."
Machinery is also about capital, first and foremost.
People touring factories often assume that every machine has been picked out by the company for its particular job, above all others. But the reality is that it takes years to save up for a new machine, and a decade or more to transition a whole system.
For Till, the biggest advantage of having more of their own stores is bringing everyone closer to the customer.
"It will help a lot with figuring out which of models best suits different markets," he says. "We have a big range, and it needs to be targeted."
I couldn't agree more. While there is a lot of competition for their more standard oxfords and brogues, there is an opportunity for specialty pieces - particularly given the price point and advantages of running a factory (eg made to order and size/width range).
Photography: Jamie Ferguson @jkf_man