Sartoria Panico – a last great of Neapolitan tailoring
On the wall of Sartoria Panico in Naples, there is a framed picture of our Tailoring Symposium in 2016.
Antonio Panico stands there with other greats of modern bespoke such as Edward Sexton, Antonio Liverano and Lorenzo Cifonelli, basking in the summer sun.
It was lovely to see that photo, to know how much Antonio appreciated being part of the event.
And it reminded me that the last time I spoken to him, it was part of a conversation with Edward Sexton where we discussed the fitting behaviour of Mick Jagger.
Apparently he wouldn't stand still.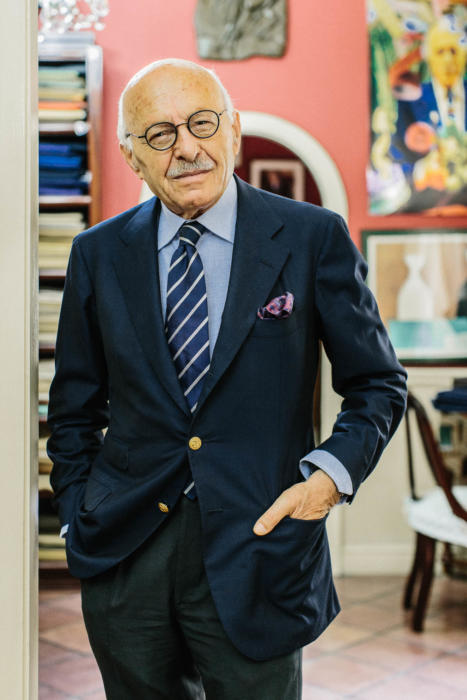 There aren't many greats of Antonio's generation left - particularly with the recent passing of Renato Ciardi.
The next generation has many good tailors of course - Elia Caliendo or Marco Cerrato for example - but still I wanted to have something made by Antonio if I could.
I took the opportunity during Pitti in the summer, going for a grey-flannel suit.
We then had a fitting in Naples, and it is this first, basted fitting that you can see here.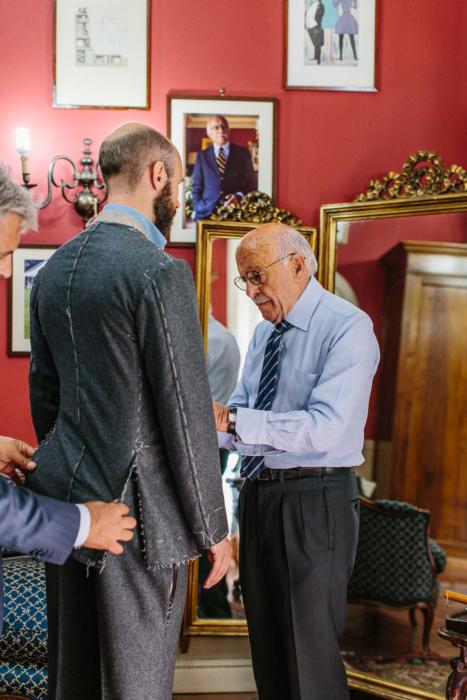 Antonio has always been tentative about describing his style.
At that Symposium discussion, he memorably dressed and then undressed his model to show the lightness and flowing lines of the suit, but refused to try and put it into words.
One reason is that he is quite adaptable. It is easy to think of Neapolitan tailoring as being consistent: soft shoulders, 'shirt' sleeve, three-roll-two front, curved pockets, extended front dart.
But it largely seems that way because overall it is so distinct to what we find in northern Italy, England and elsewhere.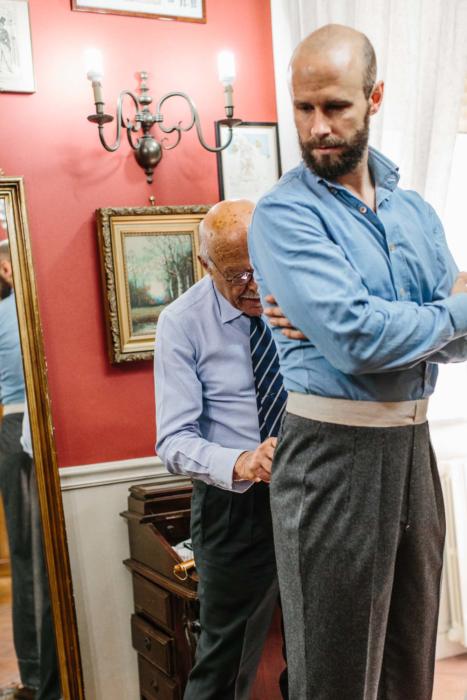 Naples tailors vary most notably in how much padding they like to put in the top of the sleeve - to create a roped or rollino effect - and on how 'contemporary' the cut is (translation: tighter and shorter).
Antonio is happy to adapt in many things, sometimes because the client wishes it, but more often because he thinks it would suit them.
In my case we talked about whether to add extra padding to deal with my sloping shoulders (we finally decided against it) and he was keen to not extend the front dart to the bottom of the jacket.
"This will be my English suit for an Englishman," he said, reflecting also on what he saw as a very English cloth (although it was actually woven by an Italian mill - its Vitale Barberis Canonico 504.801/6, 340g, from their Original Woollen Flannel bunch).
Interestingly, two readers both commented recently that I seem to go to Neapolitan tailors for jackets, but English for suits.
That's broadly true, but only because I tend to prefer the softer Naples cut for a sports jacket - not because I think it's inappropriate for a suit.
A suit made in a Neapolitan cut is one of the great things of modern style: an outfit that has very distinctive but also very subtle style. The kind of thing someone looks at and admires, but can't put his finger on why.
I'm sure there will be some offices in the world where this would be too casual, but they are very few. In the vast majority, it will merely be subtly unusual.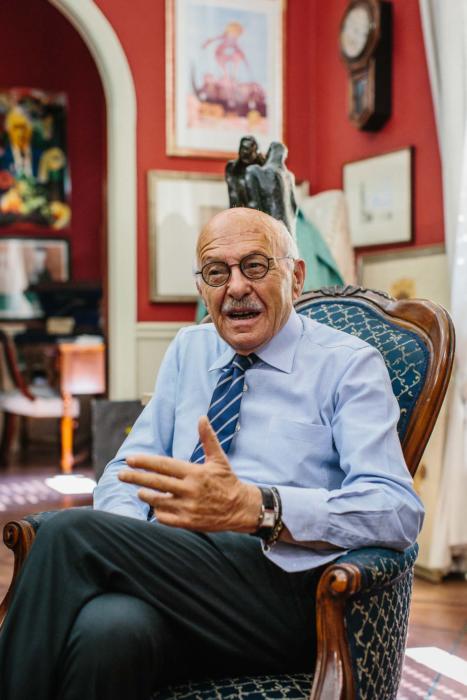 Antonio was happy to talk briefly through his origins, and over Neapolitan coffee (dark, small, sweet) we ran through his apprenticeship, and then his time at Rubinacci.
He started working at the age of 12, and by 17 had already completed the standard apprenticeship.
A few years later, at 23, he set up on his own. That was quite successful, but he couldn't pass up the opportunity, six years later, of working for Rubinacci - then and now the biggest bespoke house in town.
That Rubinacci career lasted 22 years, and he was the master by the time he left, in 1992. He has run his own atelier ever since.
Today, Antonio has a beautiful space on Via Carducci - decorated more like a home than an atelier, as many of the Neapolitan tailors are.
"I always felt that this was the best way to put customers at their ease," Antonio says. "They need to feel this is their home away from home."
Of course many tailors say this, but actually the best Savile Row shops tend to feel more like a club than a home. More social, less intimate.
Antonio's children Luigi and Paola work with him, and help out during trips to Milan and Florence. The workroom itself has 12 tailors.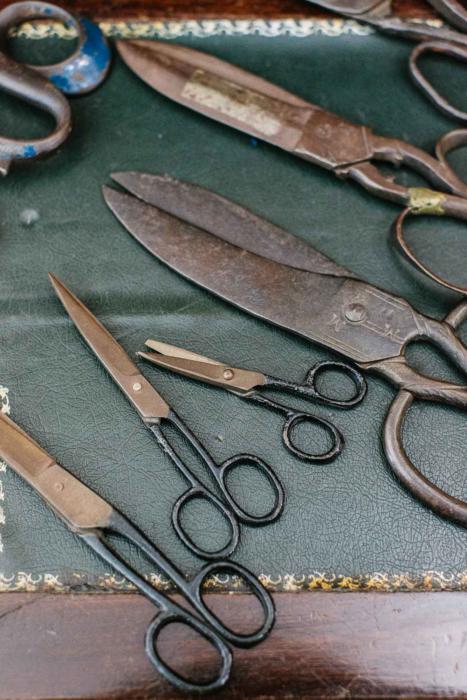 There is very little to comment on in the suit at this first fitting. As they always say, this stage is for the tailor, not the customer. But the bones felt good.
Just as exciting was trying on a few old Panico pieces - such as the 20-year-old Ulster overcoat pictured below.
Italians sometimes say they appreciate cloth more than the English, and you can understand their point with a piece like this.
The structure is so lightweight, and the cloth so heavy, that it feels like all you're wearing a piece of expertly cut and ironed wool.
I also tried a double-breasted chalkstripe jacket (lovely cloth again, but hard to get a sense of the style as it was rather broad and short).
And more interestingly, the raincoat below - made in a waterproofed cotton and raglan sleeved, with all the pick stitching you'd expect from a piece of Neapolitan tailoring (though without taped seams).
The tailcoat at bottom was the oldest piece, dating to 1966.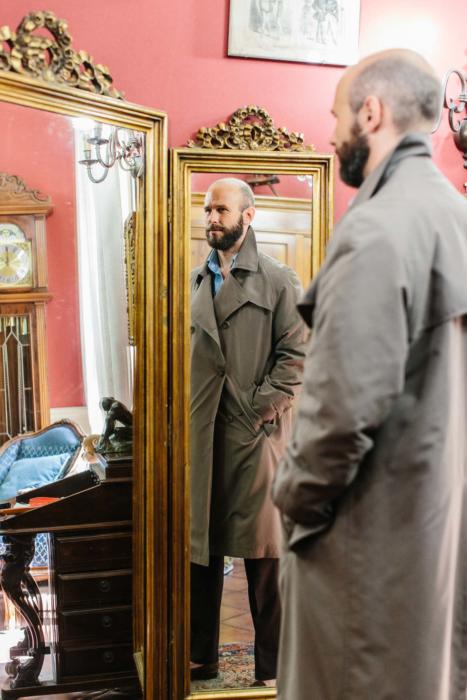 The second fitting should be before Christmas, with the last one at Pitti in January. Expect a full post on the final suit then.
Suit starting price: €3200.
Photography: Jamie Ferguson @jkf_man