Sartoria Ciardi Neapolitan bespoke suit: Review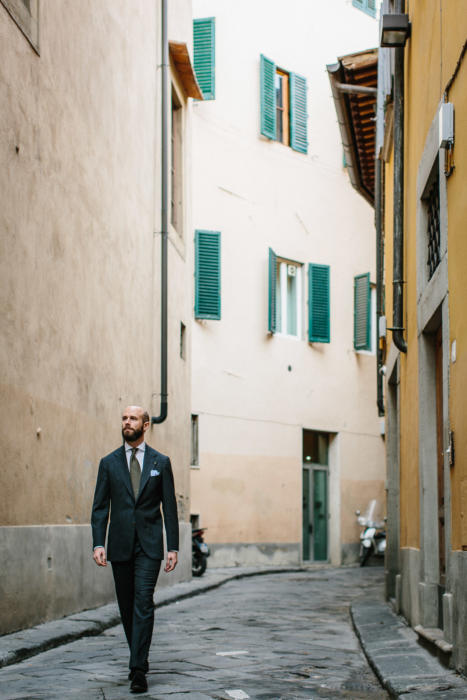 A friend used to say that he knew whether a suit was going to be good at the first, basted fitting.
I'm not sure I entirely agree. The first fitting is largely for the tailor, to make sure the fundamentals of balance etc are correct. It is at the second fitting that you start to see the style, and get an idea of whether the suit is going to be really good.
But at the first fitting you do get a sense of whether the tailor knows what they're doing. If the fundamentals are good, you know you're in safe hands.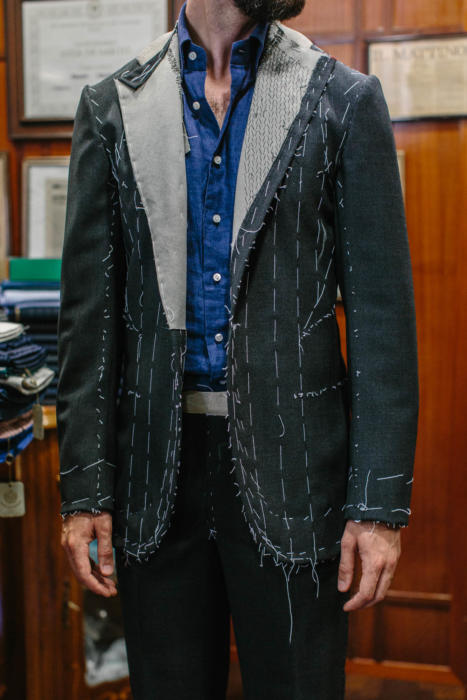 When I had my first fitting on this Sartoria Ciardi suit last summer (above), I had that exact, reassuring feeling. Everything in the right place; already most of the way towards a great piece.
It felt like Enzo and Roberto had been doing this for a very long time, which of course they have (albeit until recently, under the supervision of their father Renato).
I had a second fitting on the suit in Naples in the Autumn, and took delivery of it at Pitti in January.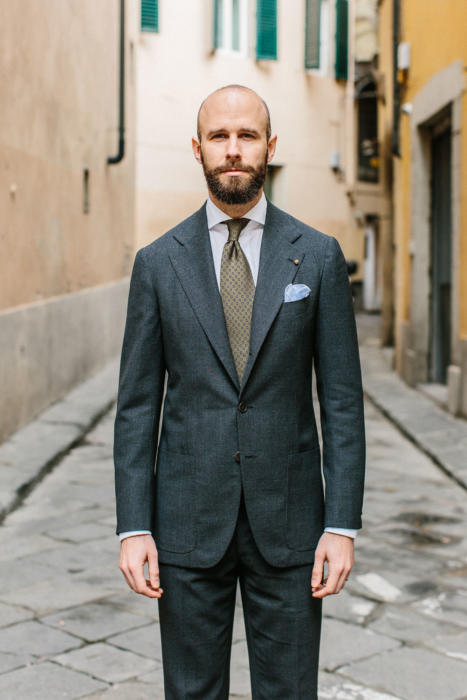 We did fit the suit in Florence, and had planned to adjust it if required, but it wasn't needed. The suit lived up to all its initial promise.
As usual, the pictures here are only partially reflective of the fit. It hugs the neck and top of the back beautifully and has perfect clean lines through the waist. There could be a touch less drape in the back, but not much without the jacket becoming too tight.
Like most high twists, the cloth is also fantastic at keeping a sharp line, but its crispness means even a slight movement will produce an instant fold across the body.
It's a VBC four-ply cloth (853.601/56, 390g), which I really like for its performance - like a heavier version of Crispaire with more body as a result of the weight.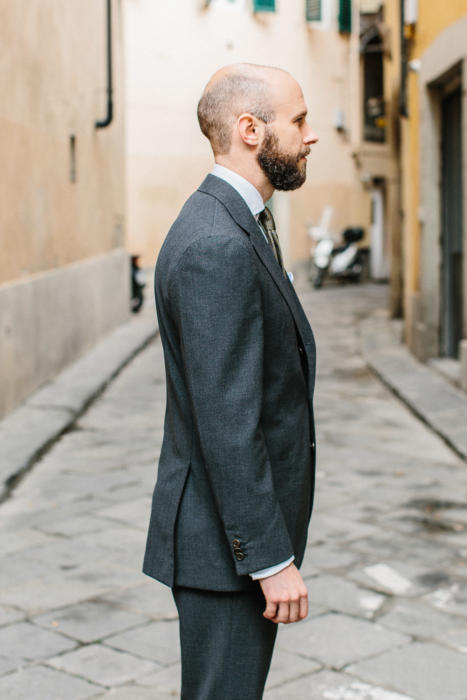 The suit is fairly typical of the Ciardi house style.
Very lightly padded shoulders and light chest canvas, with a shirt-style (spalla camicia) sleeve head and only a little fullness (and therefore ripples) at the top.
The lapels are broad, but not extremely so - still balanced across the width of the chest. And a relatively high gorge, cut a little square, but again not extreme.
It is a three-roll-two style, with the top button just hidden as the lapel rolls over. The top buttonhole is not fully reversed.
The length is about 1cm shorter than most English tailors would cut, but also at least 1cm longer than some other Neapolitans (Formosa, Solito, Ettore de Cesare) tend to do.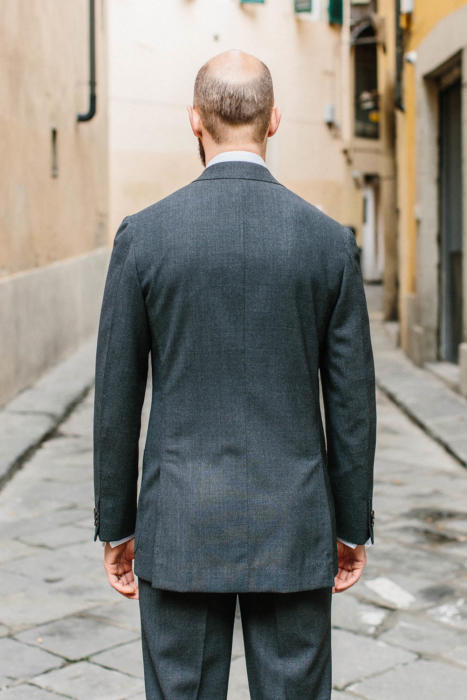 As I was interested in exploring the idea of a very casual, Neapolitan suit, I had the jacket with a welt breast pocket but patch hip pockets.
I had 5cm cuffs in the same vein, but also because it's the style Ciardi most commonly makes.
The same goes for the brown corozo buttons, which I like for corozo (they have some nice pattern in the surface) but may yet change to my usual matte-brown horn.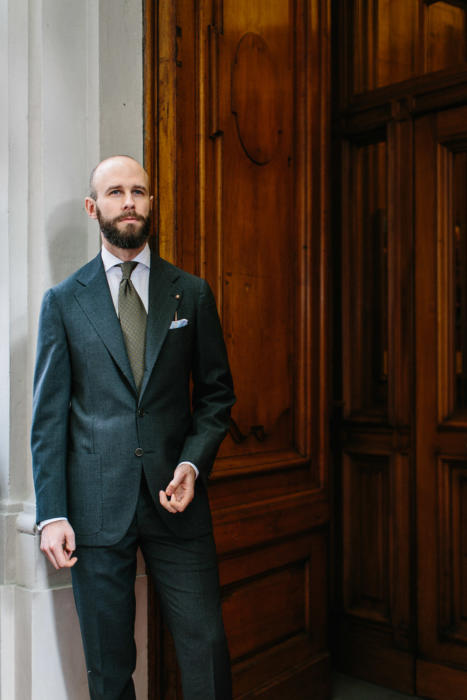 Interestingly, it's not often these days that people focus on how comfortable this soft style is.
Comfort is generally less about weight and structure, and more about freedom of movement.
But, if you combine a high armhole, good-sized sleeve head and not-too-tight chest with that lightness, the result is extremely comfortable.
There's a sense of that in the photograph below. The movement and pliability of the style is obvious when I cross my arms, with both sleeve heads crumpling into service.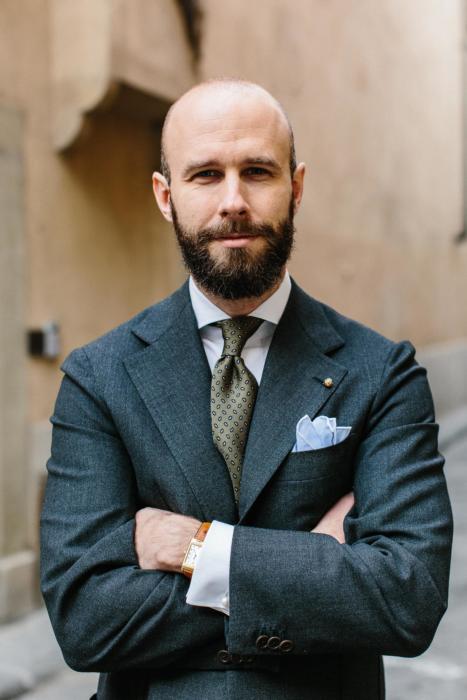 This outfit was a first attempt to wear such a casually styled suit with fairly formal accessories, and I think it works well.
Dark greys are generally good with a white shirt and dark tie, with the latter here an old olive silk.
The shirt from D'Avino has double cuffs, which I rarely wear but give me a chance to show off some Permanent Style pearl cufflinks (white pearl, gold bar in between).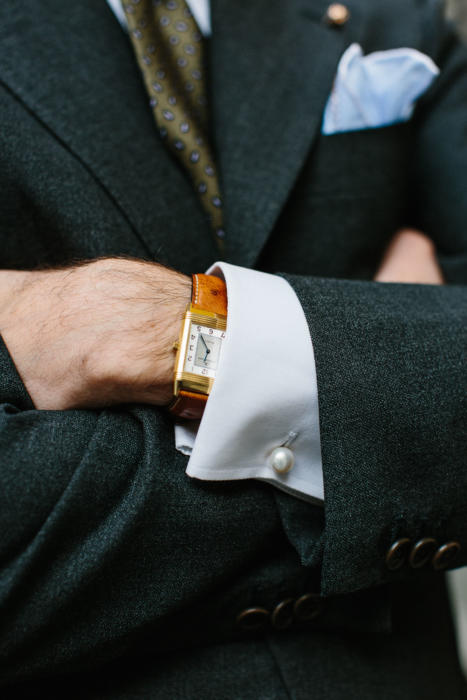 And that gold is reflected in the case of my Armoury lapel chain and Jaeger-LeCoultre Reverso watch.
Interestingly, as mentioned in my post on watch style, I find such a formal outfit either requires a pretty dark or pretty light-coloured strap. Dark brown would look odd, but this pale-orange ostrich is OK.
Light-blue linen handkerchief with white shoestring; black-suede shoes on the feet for something a tiny bit unusual. You can find my views on black-suede footwear here.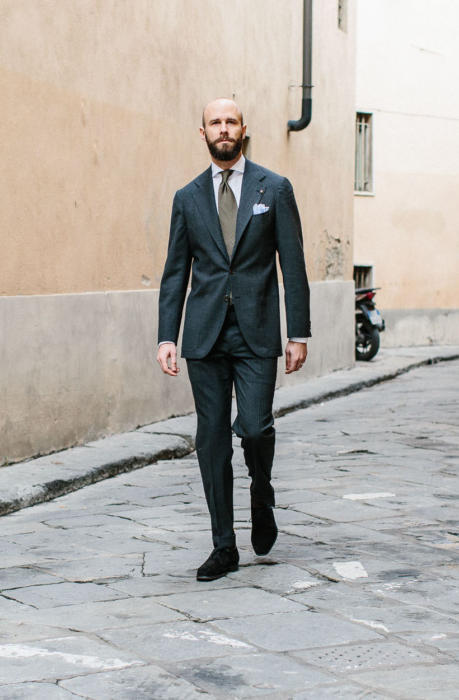 I mentioned in a recent comment that larger, older houses tend to be more reliable for bespoke, and I do think that on average that holds true.
The likes of Henry Poole, Liverano, Dege & Skinner, Cifonelli, Anderson & Sheppard and Panico all made me very well-fitted suits with pretty much no mistakes.
There will always be exceptions, but the larger houses usually have experienced cutters and tailors, as well as well-oiled workflow systems.
The problem with larger, traditional houses often comes when there is an attempt to change those personnel, systems or style, or when a customer asks for something that throws a spanner into that machinery.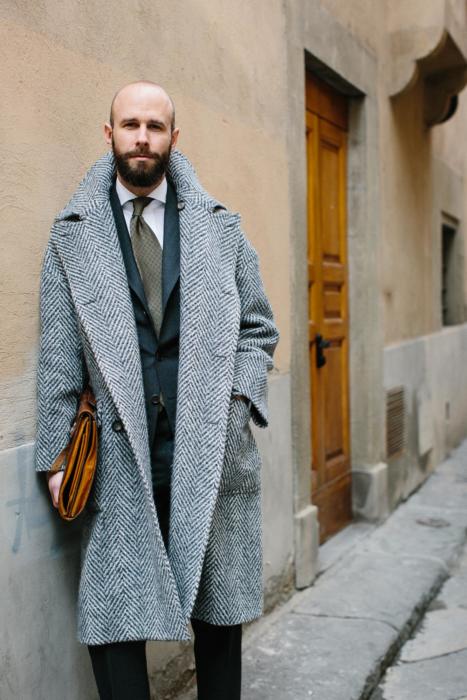 Ciardi definitely falls into the well-oiled camp, and if you like the style I can highly recommend them.
The value is also good, at €2800 for a suit fitted in Naples (like this one) and €3200 for one abroad.
Enzo and Roberto are friendly, and although Enzo's English is not perfect, he is taking intensive English lessons and really cares (unlike some artisans) about understanding the nuances of every word that comes up during the fitting process.
The brothers will be coming to London for a trunk show and event in 10 days' time, on March 7th. More details on that tomorrow.