Ciardi jacket in vintage gun-club tweed, from Lafayette Saltiel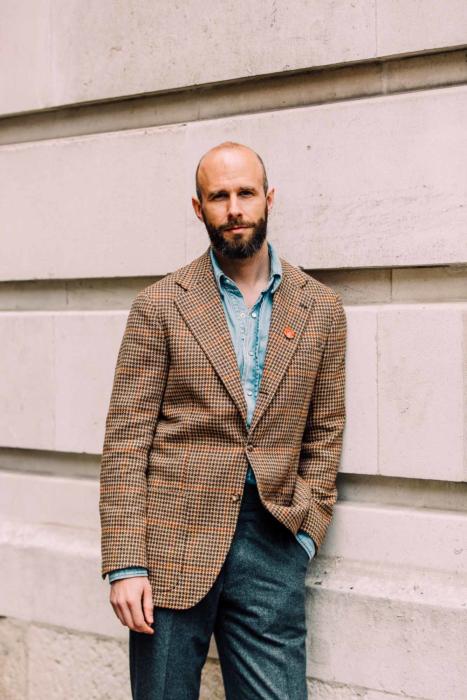 I was very excited when I received this jacket a month ago. Primarily because of the shoulder.
Enzo Ciardi is fast becoming one of my favourite tailors. I like him, I like his roomy Neapolitan style, and everything he's made for me has been good: on time, well made, and exactly what I wanted.
However, the two suits we had made so far (grey 4-ply and green cotton) both had a slight roping on the shoulder. This was nice, but a little formal.
So with this new jacket, I asked him to make the shoulder completely natural, with no roping. A smooth, continuous line from collar down into sleeve.
This would hopefully make it more casual. To wear with jeans, at a push, but mostly with flannels and cotton trousers, and a casual shirt like the cowboy style here.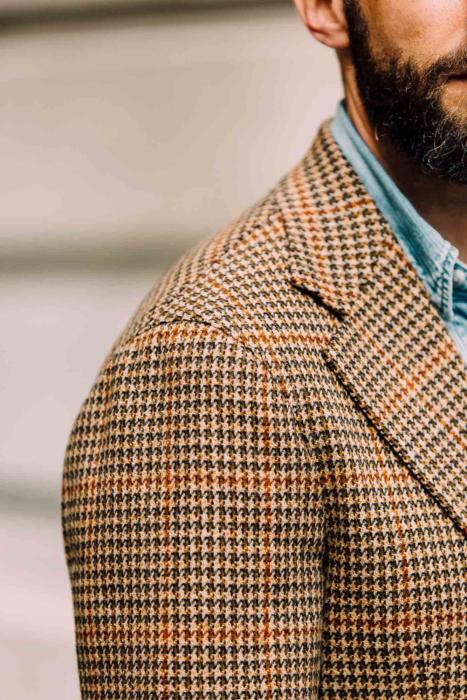 This shoulder isn't the easiest thing to do on my body, I've found. Sometimes a very natural shoulder (with no ripples/excess in the sleevehead) can cause wrinkling around the top of the sleeve: my Anderson & Sheppard jackets suffer slightly from that, for example.
Enzo had no such problems, however, and it is a joy to see that smooth line, tracking the contours of my shoulder.
Some fans of bespoke get obsessive about clean backs to a jacket. I understand the appeal, but in my experience such backs are often at the expense of comfort. The back has to move and stretch - and with no excess cloth, some practicality is sacrificed.
This is less the case with the neck and shoulders. They are largely immobile, and show off the tailors three-dimensional cutting skill, given the twists and turns the body makes around them.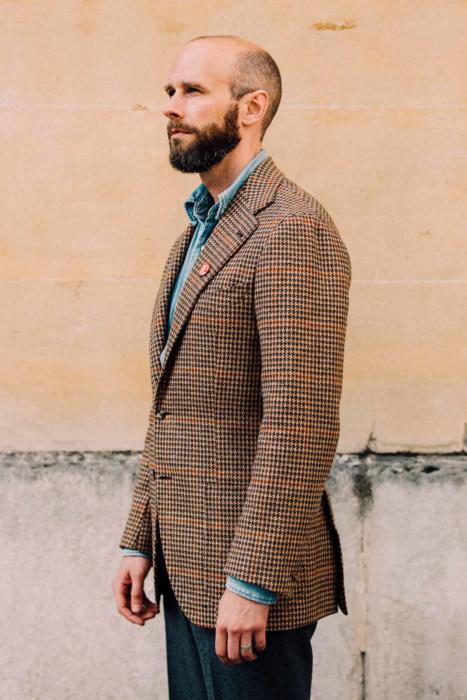 The cut elsewhere, as I've mentioned on pieces on those Ciardi suits, is Neapolitan but with more room and length than many younger tailors in Naples.
It doesn't look it, but I could comfortably fit a decent sweater under the jacket, and a thick shirt like this cowboy one (Niche, from No Man Walks Alone, first covered here) makes no difference to the fit at all.
As ever, I photographed the jacket after several wears - and, on the day, after a whole morning of wearing it in the office and around town. The cut and cloth come off well.
The only issue is that I should perhaps have had the jacket fully lined, rather than only half lined. I find it sits a little on the hips and the seat of the trousers, stopping it from hanging cleanly.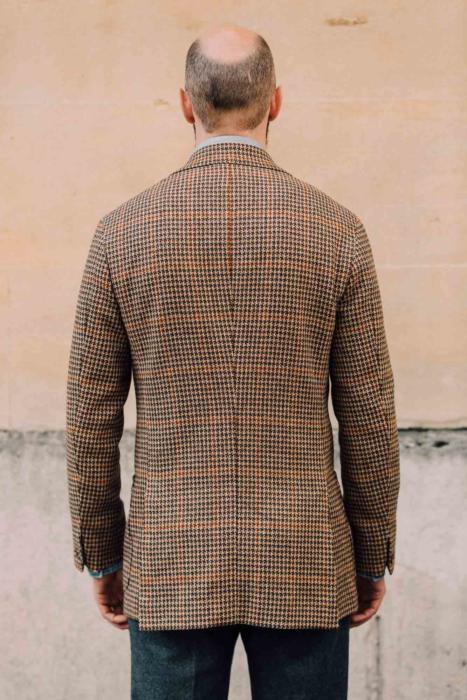 And that brings us onto the cloth. I'm sorry to disappoint readers, but it is a vintage cut of gun-club tweed from Lafayette Saltiel Drapiers in Paris, of which the only other length has been sold.
So it's no longer available. But it is a recommendation for sourcing vintage cloth, whether from Lafayette Saltiel or an old established tailor with some bolts lying around.
You'd simply struggle to find tweed like this today - not because of any different practices or virtues of old machinery (it is not 'better' in any objective sense), but because mills don't consider anything this weight, containing this much wool, to be commercial.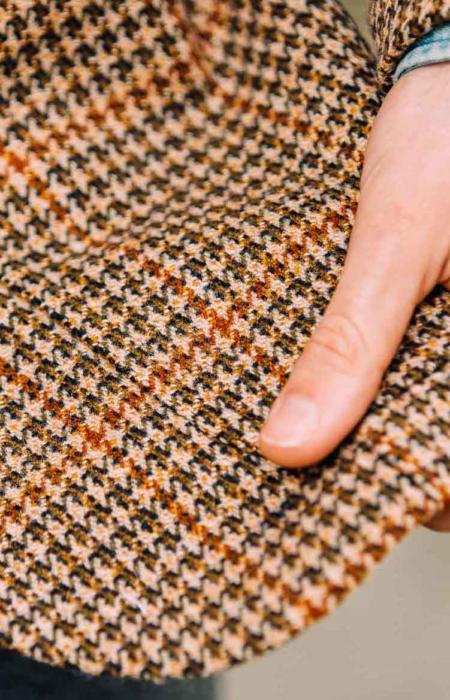 I'd guess it weighs around 18oz. It's also woven rather closely (more than most modern tweeds), adding to the wool required.
The colours have a vintage feel too. There's cream and orange in the base, green and navy (not black) over the top, and then a stronger orange - perhaps we can call it 'pumpkin' - as the windowpane check.
I generally dislike gun-club checks, as their colouration and check size make them feel rather rural and antiquated - I normally go for Harris or Donegal tweeds as a result. But the mix of colours here avoids that.
The only other type of gun-club I've seen that I like, incidentally, combines many strong, primary colours - in the same way a Harris tweed often has, but writ large. Drake's have done a good line in these in recent years.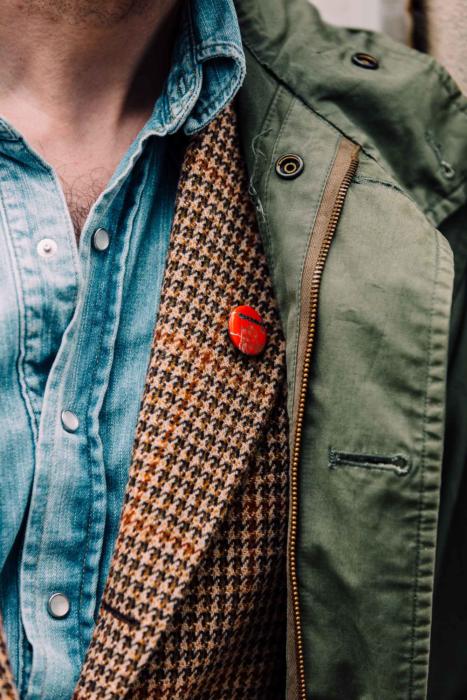 I should include a brief warning here about buying vintage fabrics.
There are quite a few places in London, near me in Fitzrovia and around Brick Lane, that sell lengths quite cheaply. But they're not always intended for tailoring, and can contain rogue synthetics.
If not intended for tailoring, they can be woven rather loosely, and so won't drape well: those intended for women's clothing often have that issue. And synthetics in the mix are not the end of the world, but are not usually what PS readers will be looking for.
Generally, the safest thing is to buy cloth that has the selvedge of a mill you know, and ideally with the fibre mix stated.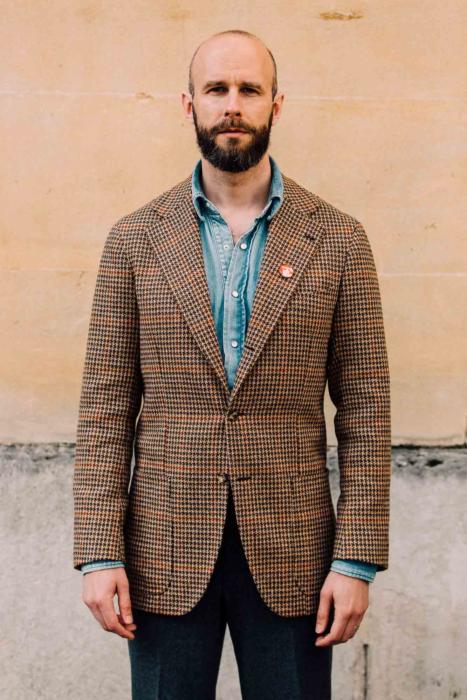 The tweed, of course, is entirely the wrong weight for the start of Summer. But I got some good wear out of it in London before things warmed up about a month ago.
It is also the kind of jacket that can work well as outerwear, as the replacement for a coat - which extends its use well into Spring. I'm considering a navy herringbone from Fox to wear in the same way.
I wouldn't recommend it as your first or second bespoke jacket though - unless you're the kind of person that never wears one indoors.
The flannel trousers are from Edward Sexton, and the pin is an old Iron Maiden one I found in a second-hand shop.
Wearing a handkerchief can feel a little showy these days, particularly in a casual outfit like this. But a pin adds a little colour, interest and personality.
The shoes are my unlined suede Dovers from Edward Green. And the coat is also vintage - more on that in another post.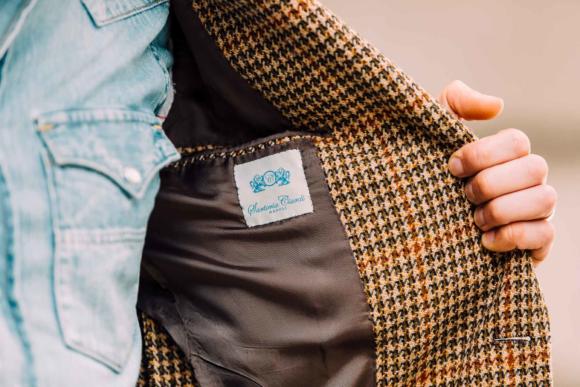 Enzo from Sartoria Ciardi is in London again on June 25 and 26th. He's currently visiting every two months or so, and uses a nice suite on Hertford Street
His communication isn't always fast, but the best contact is [email protected]. Jackets start at €2600.
Photography: Jamie Ferguson @jkf_man