The next area we move onto in our Style Breakdown series is Naples – which might have more high-end bespoke tailors than anywhere else in the world.
Neapolitan tailoring is known for its soft jackets, with light shoulder padding and chest canvas, both making them more suitable for the warmth of southern Italy.
But the style has also become popular globally in recent years, as dress codes have relaxed and men seek a bespoke jacket that is casual enough to wear with chinos, even jeans.
It's fair to say that this characterisation of the style applies to most Neapolitan tailors. However, there is also more local variation than many realise, and in the next five pieces in this series we will illustrate and analyse this.
We start with Sartoria Solito, which offers what many will think of as the standard, modern Neapolitan jacket.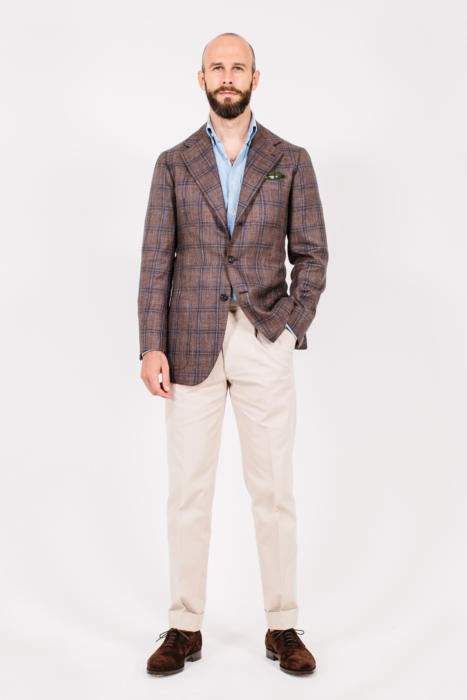 House: Sartoria Solito
Address: Via Toledo 256, Naples
Site: www.sartoriasolito.it
Cutter: Luigi Solito
Price (at time of writing): €2400 (incl VAT)
Suit starting price: €2800 (incl VAT)
This summer jacket was cut for me by Luigi Solito in 2017. It was my fourth jacket from Solito, with the first being cut by Luigi's father Gennaro, and occasional involvement from Gennaro in subsequent commissions.
It is a wool/silk/linen mix, which is my favourite material for casual summer jackets. The wool gives the jacket body and crease resistance, while the silk and linen keep it light and breathable.
The colour and pattern, too, have made this jacket a favourite because they combine to make something very versatile.
The brown can go with almost any colour of trouser, from cream to green to charcoal, while the muted check is helpful to differentiate top and bottom halves, without being too loud or showy.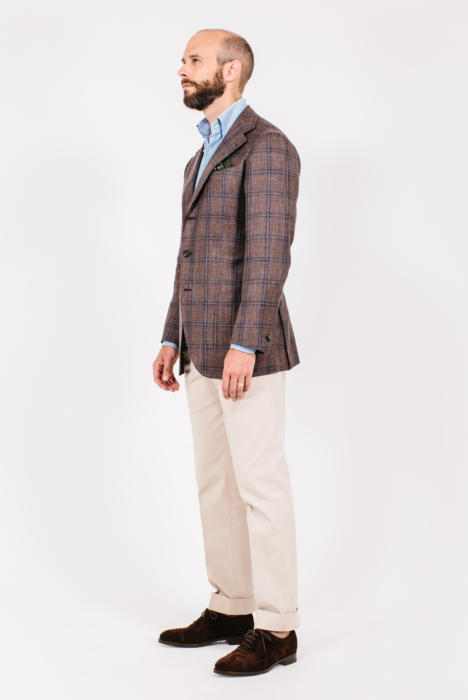 Going back to the style, the most important things that make this a casual jacket, and therefore most suited to jeans or chinos, are the small, natural shoulder and the short, open bottom half.
So the shoulder is relatively narrow, 5¾ inches along the shoulder seam; it is only lightly padded, which keeps it close to my actual shoulder; and it then runs naturally down into the upper arm, without the interruption of any roping in the sleevehead.
The result is that the jacket looks like it's following the lines of the body rather than imposing anything on it, and is almost more like a sweater than a jacket in this respect.
In the bottom half, the jacket is a little shorter than most (30½ inches) and the line below the fastened waist button is quite curved.
If you follow that line from the waist button downwards, it is relatively straight at the start (straighter than someone like Liverano for instance) but then curves away sharply at the bottom.
More on this topic
Jackets that are shorter, rounded and more open like this will feel more casual.
However, this can be taken too far. Many younger Neapolitan tailors produce jackets with stunted bottom halves and very high waists, which are not flattering at all.
Indeed, Luigi naturally cuts a slightly shorter jacket, but I wanted it at this length. So always be aware of the risk here. The seat of the trousers should always be covered – as it is, just about, here.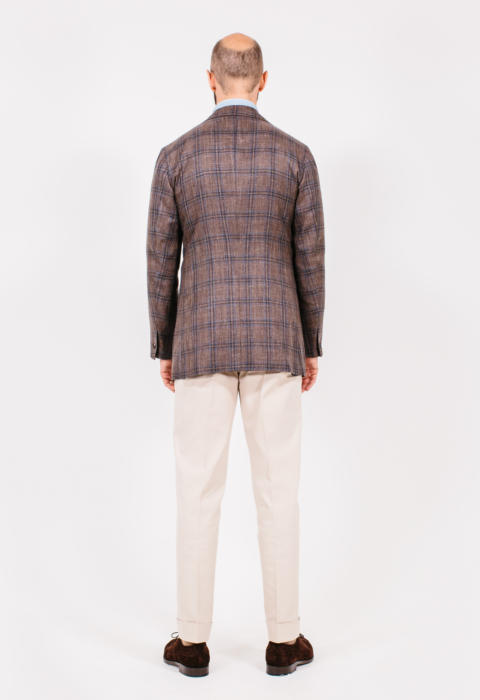 What else makes this a typical modern Neapolitan jacket?
Well, the lapel is quite wide (4 inches), which enhances the rounded shape of that front edge. And other things are rounded too, including the shape of the patch pockets and the 'barchetta' or 'little boat' shape of the breast pocket.
The gorge (the notch shape where the lapel and collar meet) is also quite high – 3¼ inches from the shoulder seam. This is a modern trend and something I might ideally have differently on this jacket. Closer to 4 inches might be better.
The sleeve is also tapered sharply towards the cuff. Despite starting at a fairly standard width at the top, it narrows to the point where a double-cuffed shirt would not be able to fit in the opening.
Overly narrow sleeves is also a trait of some younger Neapolitan tailors, and is worth avoiding.
Tight sleeves only make it look as if your jacket doesn't fit. They don't make you look more muscly.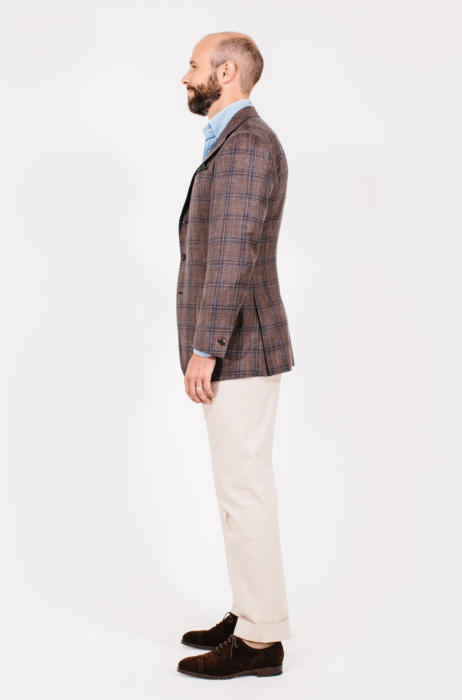 There is a slight angle to the balance of this jacket, with the front a little longer than the back.
But this is not a feature of Neapolitan jackets. Many English do it too, as you can see in other posts in this series, such as my linen Anderson & Sheppard. It's just often more noticeable with Neapolitans because the jackets are shorter.
Elsewhere, the chest of this jacket is cut quite close with no drape; the back is relatively suppressed through the waist; and the breast pocket is a touch higher than other tailors, reflecting the shorter length and higher gorge.
All are typical of this general Neapolitan style.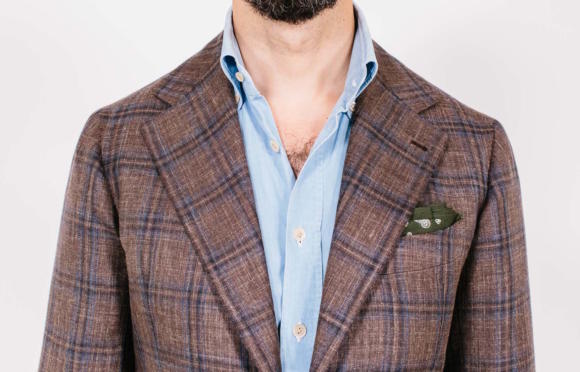 We will see in future editions of this series how an older generation of Neapolitan tailors cut things rather bigger, though still soft.
This is closer to the English tailors that inspired them in terms of cut, therefore, just not in structure.
Meanwhile, in the image above you can see that natural line to the shoulder of this Solito, as well as the Everyday Denim shirt and green-cotton handkerchief (from Anderson & Sheppard) it is worn with.
The trousers in a stiff cream cotton were not made by Solito, but by fellow Neapolitan Dalcuore. Their narrowness and deep 5cm cuffs are typical of most Neapolitans too, however.
The shoes are from Edward Green, a cap-toe oxford style they call Canterbury, made in dark-brown suede.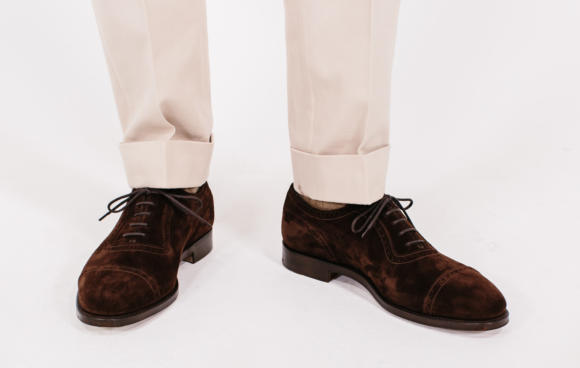 Style breakdown:
Shoulder width: 5¾ inches
Shoulder padding: Thin canvas plus felt
Sleevehead: Nothing, natural
Sleeve: Moderate, narrows sharply to cuff
Lapel: 4 inches
Gorge height: 3¼ inches
Drape: None
Outbreast pocket height: 9¾ inches
Buttoning point: 18½ inches
Waist suppression: Moderate
Quarters: Open, sharply below second button
Length: 30½ inches
Back seam: Suppressed
Vent height: 9¾ inches
Trouser circumference at knee: 19½ inches (not made by Solito)
Trouser circumference at cuff: 15¼ inches
Photography: Jamie Ferguson