Yesterday's post raised a few questions about other aspects of the outfit - specifically the black suede shoes and cream-coloured cardigan.
I think it's interested to discuss both together, for stylistically they have many things in common.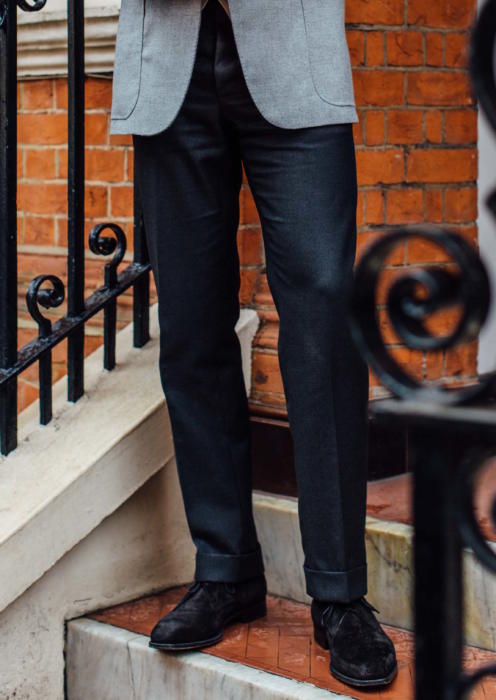 I'm a fan of black suede shoes for their rarity. You see very few people wearing them, and the light-sucking texture of suede is rather unexpected.
For that reason I think they work particularly well with smarter outfits than the one I was pictured in yesterday. For example a navy jacket, grey flannel trousers and open-necked white shirt is a great office combination, with black suede adding that touch of character.
However, their applications are relatively limited beyond that. They are surprisingly striking (given their dark uniform colour), and I find I only wear them with such formal outfits or other, relatively monotone ones.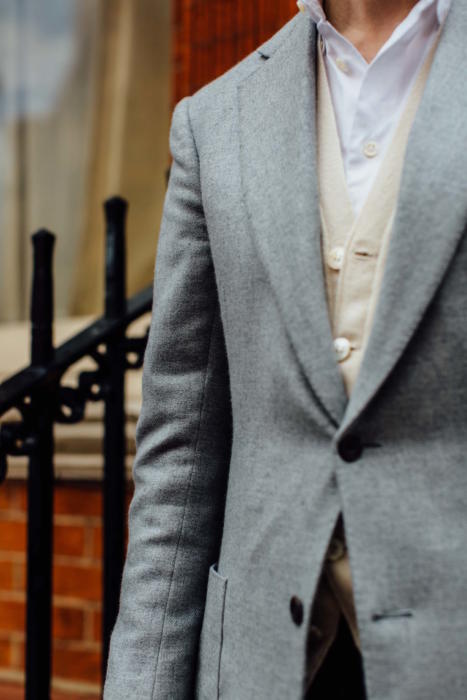 The cream cardigan is similar.
It is from Drake's - their sleeveless model - and I slimmed down the fit myself a little by sewing up the side seams. I love it.
But again it is surprisingly striking, given it is not patterned or particularly bright. It stands out perhaps for being unusual, and pale, and I find I only wear it with quite simple outfits - usually involving grey jacket or trousers.
By contrast, the navy and biscuit-coloured versions get worn all the time. To the extent that the navy is getting a little ragged. (But then I like that in knitwear...).
Both are worth exploring, but in their way are as expressive as yellow socks or a bright-green handkerchief.
Photography: Jamie Ferguson @jkfman