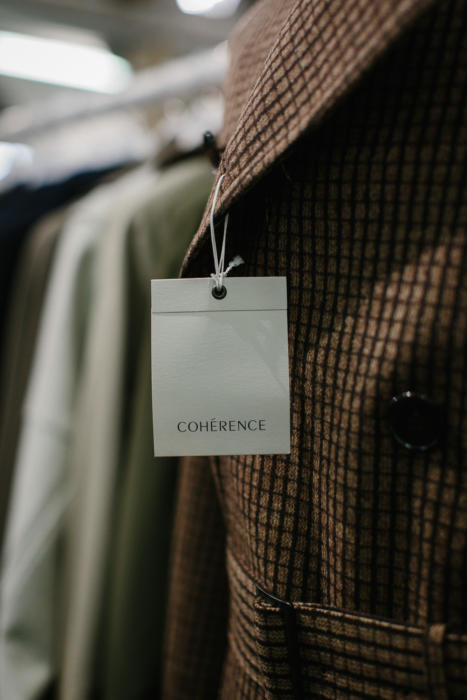 When I first heard about and tried Cohérence outerwear last year, I wasn't sure it would be for me.
I tend to favour outerwear that flatters the figure and creates a straight-cut silhouette. So long in the body, slim at the waist and high in the collar. Proportions largely drawn from traditional tailoring.
And I tend to prefer natural materials in rainwear, so cotton garbardine or Ventile rather than synthetics.
However, since seeing Cohérence more - and in particular stocking it in our pop-up shop last month - I've come to love some of the models.
I also think it's worth everyone understanding where the brand is coming from, as it is a genuinely original voice in a market often dominated by very traditional Macs and trench coats.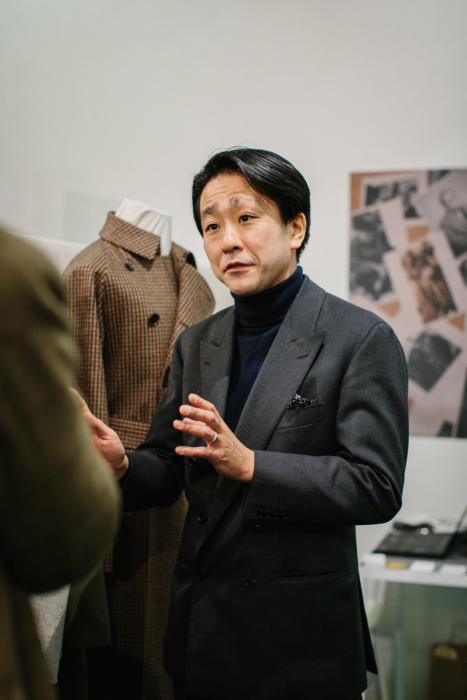 Cohérence is the brain-child of Kentaro Nakagomi, an industry veteran whose career was largely spent designing for a European brand, and managing European production.
He wanted to create a range of outerwear both because it is such a dramatic (and therefore satisfying) item in a man's wardrobe, and because he thought if it was well-made enough it could complement even bespoke tailoring. (Being a customer of both Japanese and Florentine bespoke.)
"You'll see some small details that come from tailoring around the coats," Nakagomi says. "For example, the armholes tend to be smaller than on most modern outerwear, to create freedom of movement in the same way a bespoke tailor tries to."
His designs all begin inspiration with images of artists, musicians and film stars of the first half of the twentieth century: Camus, Tzara, Matissse, Duchamp, Le Corbusier.
Nakagomi uses specific images of the stars wearing pieces of outerwear, and then refines them with the use of a physical archive. As a result, the models are all named after those men.
"Just copying old styles is not impressive, but each piece has some points of inspiration from vintage clothing," he says.
"I always work closely with the fabric development, for example, and try to add texture and weight even to synthetic fabrics - in order to give them more of a vintage feel."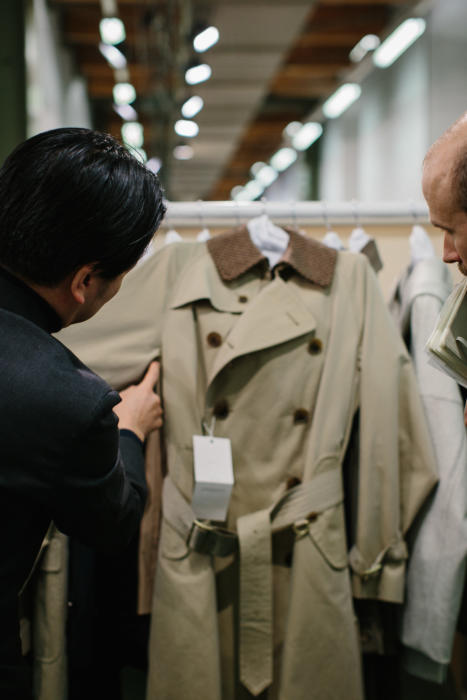 The models vary greatly - from short, loose jackets to long, fitted trench coats. But they all have two things in common: a love of volume and a lovely attention to detail.
So even if the trench coat is designed to be cinched at the waist (model 'Al', after Albert Camus, shown above), it has generous volume below the waist, opening into a full skirt.
This is something few modern brands feel confident enough to do, feeling everyone wants things neat, slim and short.
The unbelted models such as the 'Corb' (after Le Corbusier), have the same rounded, raglan sleeves as the belted, and are virtually A-line, from the arms downwards.
"Volume is something else I pick up on from vintage clothing consistently," Nakagomi says. "It feels generous and expressive."
Examples of attention to detail are the tabs that narrow a sleeve at the wrist, which are delicately arrowhead-shaped, with beautiful subtle horn buttons; or the blackened metal hardware Nakagomi uses, instead of the cheap and more common faux-leather.
There are nice cutting points too. For example, some of the raglan sleeves are cut in two pieces to enable them to be slightly shaped through the point of the shoulder.
This means you can wear a jacket with some shoulder padding underneath, without the sleevehead poking up and creating an odd kink in the raglan above it.
The raincoats are largely made in a synthetic jersey - which, while I like less than cottons, has a nice twill that lends it some surface interest, and some practical stretch.
(I should also mention that The Armoury has trunk shows coming up in Hong Kong and New York where the different models can all be made in different materials. Details at the bottom of this post.)
In the images here, taken at Pitti Uomo in the winter - where I met and interviewed Nakagomi-san - you can see a few of the models, as well as the texture of many of the materials.
Above is the 'Henri', for example, named after Matisse.
It's a slouchy, shawl-collared jacket with some nice details, although not really for me (probably because of those tailoring prejudices).
Better and far more interesting is the Mutt, shown below. (Named after the signature Marcel Duchamp put on his infamous urinal.)
This has an ingenious but very complicated internal-external belting mechanism, which finishes with two buckles on the outside at the front.
You can see the Cohérence proportions, particularly in the skirt, quite clearly from this image.
The Armoury are developing an exclusive version of this for Autumn/Winter 2017 with a simplified belting mechanism - which I'm keen to see.
Of the rest of the models, I like the length and details of the trench coat (Al) but not in the synthetic jersey - more likely a cotton gabardine.
And the 'Sid', which was developed again exclusively for The Armoury, is a nice simple fly-fronted coat (shown below.)
The Armoury has stock of three models: Al, Sid and Antoine (a short, double-breasted jacket based off the leather flight jacket worn by Antoine de Saint-Exupèry).
They range from $1,275 to $1,750.
These can be seen on the newly launched Armoury website - as well as silk-fur liner that can button into any of the Cohérence garments ($500; a nice, practical aspect of the brand).
Perhaps more importantly, they also have samples of almost all the other models, and are offering made-to-order during upcoming trunk shows with no increase in price.
(A nice point, given the made-in-Japan pieces are pretty expensive already). Delivery is early October.
The trunk shows are:
New York: Today and tomorrow, Friday March 31st and Saturday April 1st
Hong Kong: Friday April 7th to Saturday April 8th (Landmark branch)
Details at those links.
Other useful links:
All photography except 'Sid' image: Jamie Ferguson @jkf_man